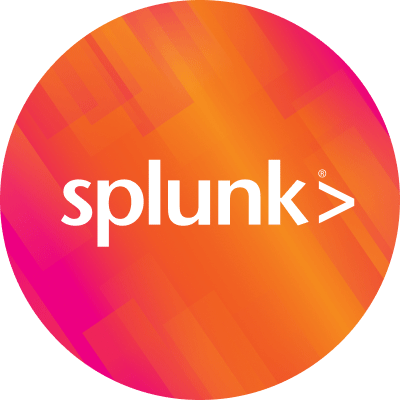 By Splunk March 27, 2019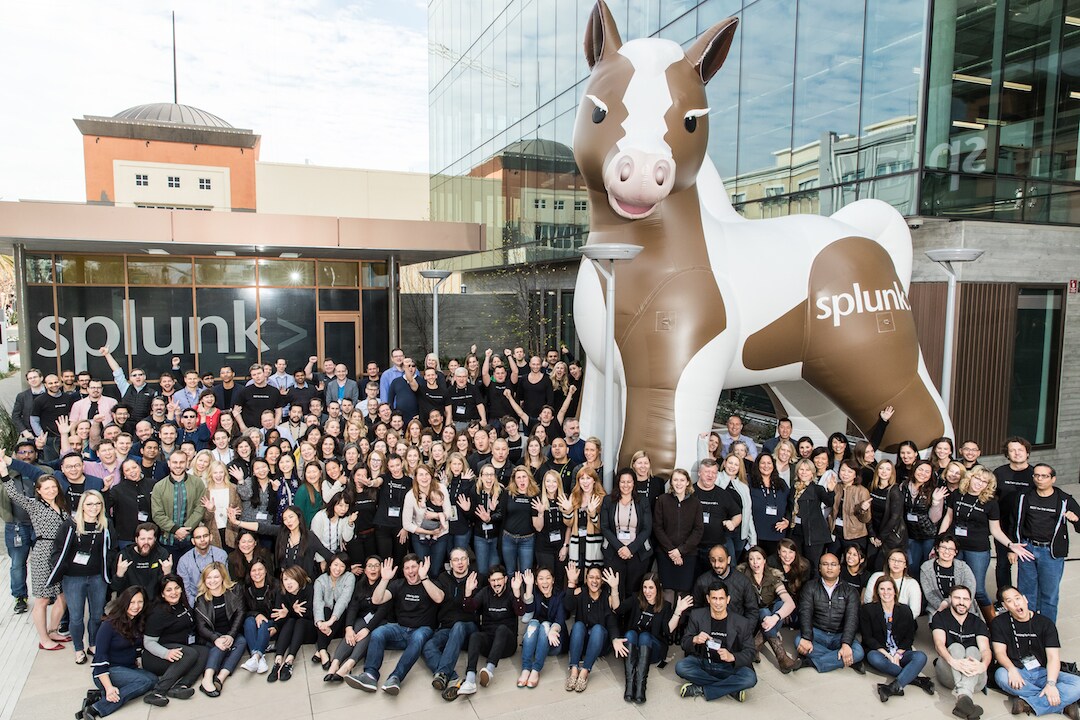 Here at Splunk, we are all about data. We know that embracing diversity and inclusion is the right thing to do. And as the data shows, organizations that are more diverse perform better.

As the world continues to digitize and technology capabilities are introduced at breakneck speed, successful organizations must embrace greater diversity in order to be successful. Diversity fuels greater innovation, a more competitive edge and helps attract, retain and develop a workforce that contributes to greater equality. It also paves the way for positive and sustainable change for this generation and for those who follow.

Since 2017, Splunk has publicly reported our global gender data and U.S. ethnicity data. In 2018, one focus was to increase our gender representation across the globe, and we are pleased to report we achieved our goal. As we continue to grow, we want to build on this success and continue to improve all forms of diversity. So how, exactly, did we do in the past year?
Gender Data (Globally)
Our efforts to recruit, retain and grow the careers of women at Splunk resulted in a 1.8% increase in female representation globally - from 25.2% to 27%. The representation of women in technical roles increased from 16.5% to 18.9%. The representation of women in management positions increased from 23.2% to 26.3%.

An increase in women compared to last year was a result of our focused efforts to increase our female representation at Splunk. It's motivating to see our dedicated work across every organization lead to meaningful change. We have grown quickly to nearly 5,000 employees, and we are proud to have moved the needle this far, but we have more to do.

Breaking out these numbers further shows some progress and some setbacks. Our gains were in some of the hardest areas, including technical roles, which can be attributed to a dedicated leadership team, research-backed and innovative recruiting strategies, and committed employees. We were also able to grow the number of women in management through organic promotion and hiring. We were disappointed to see a drop in our female representation in senior leadership, but with focus and effort we are confident we will improve.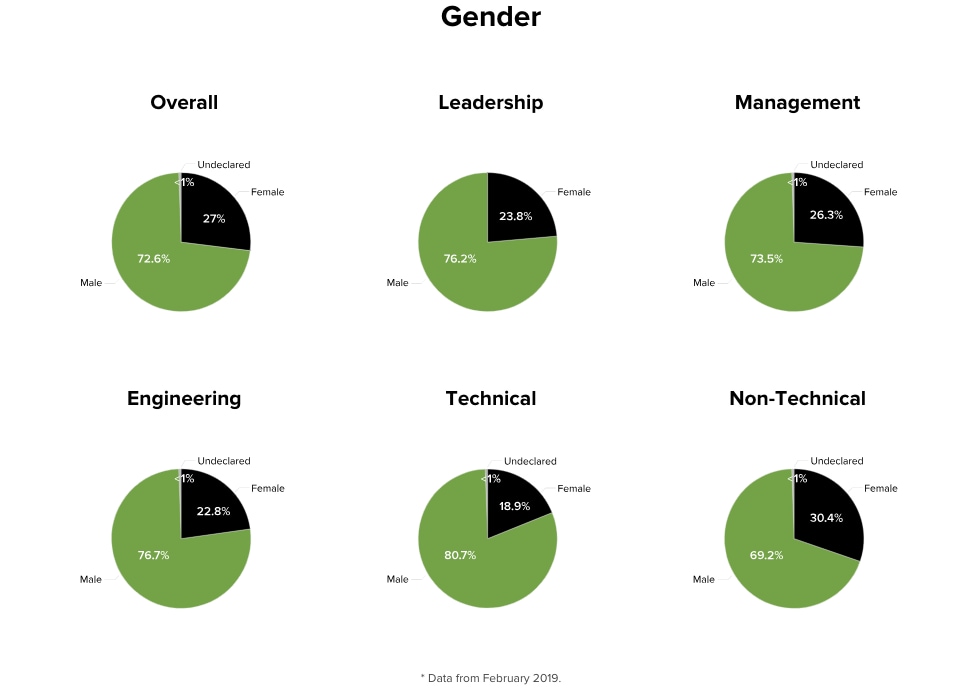 These charts show gender representation globally from February 2018 to February 2019. Technical is defined according to our internal job code structure as engineering design, product, QA, data analytics, information technology and some consulting roles. Non-Technical is defined as all employees who are not considered Technical (i.e. HR, marketing, sales, etc). Engineering is defined as all employees in the Splunk Products Organization. Management is defined as employees who have at least one full-time direct report. Senior Leadership is defined as Vice President or above.
Race & Ethnicity Data (U.S.)
Our efforts to recruit, retain and grow the careers of under-represented minorities at Splunk resulted in a slight .3% increase – from 11% to 11.3%. The representation of African American/Black employees increased from 2.9% to 3%. The representation of Hispanic/Latinx employees increased from 4.3% to 4.6%.

It is important to note that this chart contains U.S. data only. In February 2019, Splunk in the U.S. was comprised of 64% white or caucasian, 24.8% Asian, 4.6% Hispanic/Latinx, 3.1% for two or more races, and 3% Black or African American. This year, we will look to broaden our diversity efforts to all under-represented groups. We are hopeful that through a concentrated effort, we can improve these numbers next year.
Race/Ethnicity data refers to the EEO-1 categories established by the U.S. government.
Our D&I Strategy in Action
While we live and breathe data here at Splunk, data and percentages are just one part of our D&I story. Our D&I strategy is built around three pillars: growing an increasingly diverse workforce, continuously cultivating a culture of inclusion, and driving change in our industry.

Workforce
Our workforce pillar is focused on our hiring and internal promotion efforts. Our efforts to recruit, retain and grow the careers of women at Splunk resulted in our overall increase of female representation last year. Our leadership commitment allowed us to continue to focus on hiring the best candidates, sourced from increasingly diverse talent pools. We used tools to mitigate unconscious bias in job postings and interview feedback, and we endeavoured to have more diverse hiring panels during the recruitment process.
Workplace
We want to continue to create a culture of inclusion. We believe diversity is more than just someone's gender or ethnicity—our Million Data Points effort was created based on the belief and the importance of intersectionality. There is so much more to a person than what you initially see—whether they are an immigrant, veteran, musician, or LGBTQIA, each one of us is made up of a myriad of different data points. Each Splunker is unique and special.


We recognize these differences in the benefits that we provide to our Splunkers. In the last year, we rolled out a number of new initiatives to better support the needs of all Splunkers and their families. For example, we continue to roll out expanded paid parental leave benefits, paid military reservist time-off, and global family planning programs.

Additionally, our Employee Resource Groups (ERGs) provide a community and a sense of belonging for under-represented groups and allies, and they are quickly growing. This is my very favorite part of our amazing Splunk culture! We currently have six ERGs including Pride@Splunk, Women@Splunk, Veterans@Splunk, Latinx@Splunk, BEAMs@Splunk (Black Employees and Mentors), and Disabled=True@Splunk. These grassroots groups drive change and offer Splunkers support, mentoring and networking opportunities as well as host events that promote cultural awareness.

Marketplace
Beyond improving our diversity and our company culture, we want to move our industry forward and drive positive change in our communities. Through Splunk4Good, we work with community partners to use data to power real social change. Splunk4Good works with nonprofit organizations around the world, and provides Splunk licenses at no cost to qualifying humanitarian organizations, disaster responders, community service providers and more.

We also partner with organizations like Year Up and the Wounded Warrior Project to support our recruitment efforts. Through our BEAMs ERG, Splunk recently donated over 40 laptops to the Hidden Genius Project, an organization that trains and mentors black male youth in technology creation, entrepreneurship and leadership skills to help transform their lives and communities. The laptops will be used by the students to study STEM related curriculum.

We know that successful D&I efforts include those across the ecosystem, so we are proud to have even extended our Million Data Points efforts to our customers like Arnold Donald, CEO of Carnival Cruise Lines, who shares his Million Data Points, here.
Probably more than any other industry, the technology industry has a unique opportunity to be a force for good in the world. And to do that, it starts with being champions of diversity and inclusion. We will continue to hold ourselves accountable for creating a more diverse workforce, and for growing our culture of inclusion. You can learn more about our Diversity & Inclusion efforts on our website.
----------------------------------------------------
Thanks!
Suzanne McGovern