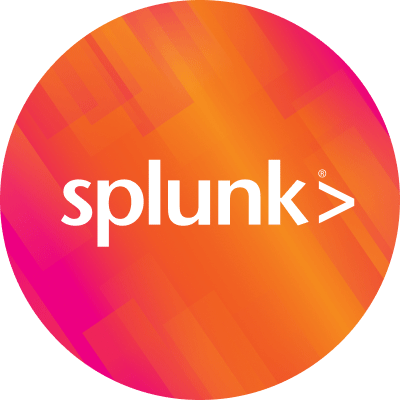 By Splunk May 16, 2014
Let me set the scene for you… It's February 19th and the Splunk Global Field Enablement Team is busy delivering on our Annual Sales Kickoff Event in San Francisco. It's about 6:00 PM and I am heading back to our office (aka war room) to take a little break and check my email. Sounds like just another day in Field Enablement, right?
Well this time it wasn't.
Our small team (five people at the time) submitted an application for an Excellence in Practice Award from ASTD back in November. It was our first time submitting so we didn't really know what to expect. We just knew that we had an excellent program that we believe in, and that is showing very positive results with our new field hires.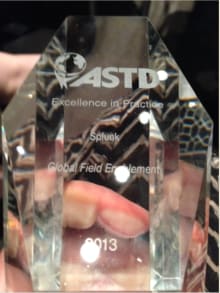 Checking my email that evening I learned that we had won the Award for Sales Enablement and beat out 141 other organizations! This win had a massive impact on our small team, now a hearty team of nine.
Our mission at Splunk is to create compelling, mixed media; mobile learning; processes and tools to decrease the ramp to revenue timeline for all field employees. We have multiple practices that the team focuses on but a large one is the Field Onboarding Practice. We want our newest Field Splunkers to get up to speed as fast as they can.
We are incredibly honored to be awarded the 2013 Excellence in Practice Award for our practice, Global Field Onboarding, in the Sales Enablement category.
ASTD's Excellence in Practice program recognizes organizations for results achieved through training and development practices and solutions. Awards are presented to organizations with proven practices that have delivered measurable results in achieving organizational goals. ASTD received 142 submissions in 2013 from organizations around the world in nine practices including career development, diversity and inclusion, coaching and mentoring, and sales enablement.
Award recipients were honored May 5 at an awards ceremony held during ASTD's International Conference & Exposition in Washington, D.C.. Three of us were able to attend and accept the award!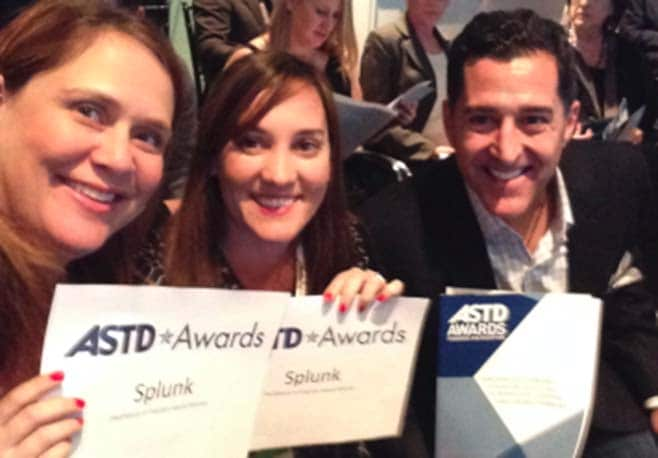 I hope to blog again this time next year about us submitting and winning in multiple practices!