"Congratulations! You were nominated and selected to receive 1 ticket to see Michelle Obama…Wednesday, March 28 at 8pm!"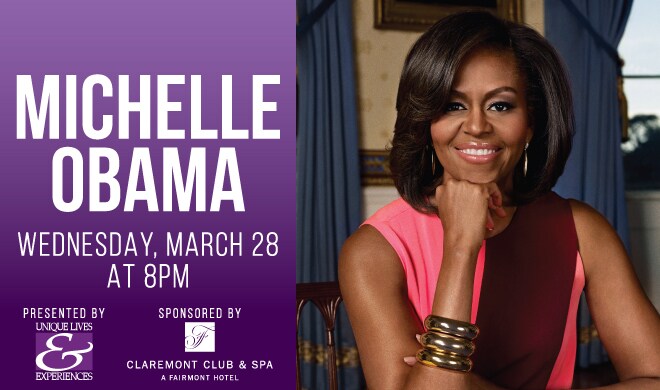 My heart skipped a beat. Maybe four. I had to pinch myself. I re-read the email over 15 times. I was ecstatic. After spending years admiring one of the most amazing women of the 21st century, I would be listening to her speak. In person. In the next 48 hours.
The conversation with Michelle Obama was moderated by the CEO of Task Rabbit, Ms. Stacy Brown-Philpot. Two powerful women influencers in the same room? I knew this was going to be a life-changing event. And it was. That night, I took away seven inspiring life points.
1. "You can't count on the system to be fair or take care of you."
You have to be able to read, write, analyze, and communicate your ideas in order to be taken seriously and regarded as an effective contributor or leader. Never assume that someone else knows your capabilities or understands your full worth.
2. "It's ok to be the 'first' to do things that may have never been done, or that people may never do."
Don't let the fear of being "the first" to do something stop you. We have to be willing to be disruptive to what is considered the norm in order to facilitate positive change and progression.
3. "Kids have to see what they can be in order to achieve it."
Mrs. Obama spoke about the importance of thinking about what kind of workforce we would want our daughters to enter. There is an overwhelmingly low number of women and people of color in leadership positions throughout the US, and we have a moral obligation to work toward improving the perception of what career or position is perceived as "achievable" to them.
4. "Men have to be willing to give up seats of power."
A bunch of men around the table will never give the best answer. Look around and observe who surrounds you. If everyone looks alike, or if the majority is men, then there is a problem.
5. "Success is not "roughing your way through it" or closing your mouth and internalizing difficult situations at work."
Mrs. Obama emphasized how this sort of mental thinking affects women, as well as our daughters and what they are trained to believe about equality and fairness in the workplace, and in life.
6. "Disappointment has to happen in order to know what victory feels like."
The first time Mrs. Obama attempted the bar exam in Illinois, she failed it. However, she still went on to successfully practice law. In 2007, Michelle Obama was noted as one of Harvard's most influential alumni!
7. "Think about ways to be compassionate with people that disagree with you."
Michelle Obama encourages us to not let differences of opinion cause us to stop caring for each other and working toward common goals.
As a remote employee, I can whole-heartedly say that my manager, Charles Rattray, has been one of the most supportive and encouraging people I have met during my time at Splunk. Charles has always invited me to share my feelings regarding diversity and inclusion and my experience at Splunk. He graciously allowed me to fly across the country to spend time with fellow women at Splunk based in our HQ office to see my icon, Michelle Obama. Spending time with the women at HQ made me feel more connected to them.
The support among women at Splunk is very strong. Much like Michelle Obama, there are so many women at Splunk willing to mentor other women in order to help them advance professionally and personally. As a co-leader of the Women @ Splunk Remote Working Group and Lean In Circle, Splunk is allowing me to leverage my Psychology and MIS degrees to pursue my passion for engaging employees and empowering women. My only hope is to one day impact other women in the way that Michelle Obama has impacted me!