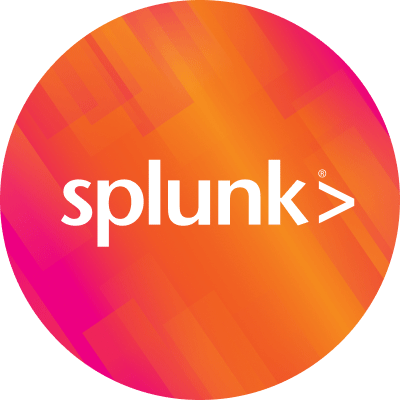 By Splunk December 07, 2017
I'm really excited about the direction we're headed at Splunk. We are committed to recruiting, retaining and developing high-performing and engaged Splunkers from and with diverse backgrounds. We're also promoting a workplace where people feel connected, included, accepted and supported. The way we're doing that is by differentiating our approach.
Starting with a better job description
Today, many companies have taken a fairly blanket approach to how they write job descriptions, and that was true until recently at Splunk as well. We're in the digital age, and people want to consume relevant content, whether it's for entertainment, news or even a job description. At Splunk, we're trying to communicate to a distributed audience and be relevant—especially as competition goes up—so we can get our unfair share of qualified talent.
Recently, Splunk adopted a new partner tool called Textio—a promising addition to the front-end of our talent acquisition process that is helping us remove our own biases about how we write job descriptions. Connected with Splunk's homegrown talent insights platform, Textio analyzes global hiring data to find language patterns that cause some job posts to succeed where others fail. Based on the data, Textio provides guidance so that we can write job descriptions that attract more qualified and diverse talent.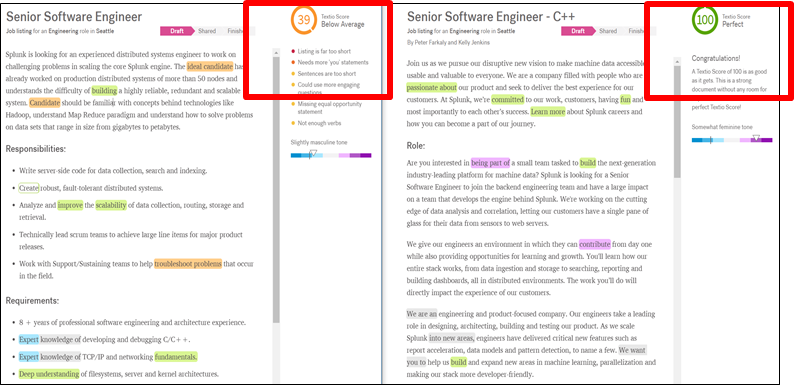 To that end, we are taking existing job descriptions and putting them into the Textio tool for scoring. The tool evaluates the words and phrases that we choose, provides feedback about whether the job description is written with bias or not, and assigns it a score from one to 100. As we continue to make changes to the job description based on Textio recommendations, the job description score improves.
Initially, when we started this process, some job descriptions were scoring 15 to 20, and after going through the full Textio review and making the changes, they are now meeting our goal of scoring at least 90 out of 100.
Building a diverse and inclusive workplace
We fundamentally believe in the environment and culture of Splunk, and we want to make sure we are articulating that in a way that attracts and engages all qualified candidates. I believe that our new job descriptions are communicating our true value proposition better than before. We are purposefully trying to remove bias, and in doing that we hope it will allow more people to read about opportunities here, become interested, and want to engage in coming in and learning more. By doing that we'll not only hire a more diverse employee base but we'll perform better, since diverse teams are stronger than homogenous ones.
The front-end of our process—attraction and engagement—is certainly an important component, but it is just part of our broader approach and strategy around diversity and inclusion that we're considering, contemplating and focusing on at Splunk. As we build a diverse workforce, we also want to have a culture of inclusion in our workplace. And, through some of our efforts like Splunk4Good, we are mindful of our role in the marketplace.
I believe that Splunk is a place where all types of people can do their best work. Stay tuned for future posts about diversity and inclusion at Splunk, from our employee resource groups to our work around unconscious bias training through the NeuroLeadership Institute.
Thanks,
Grant Bassett
VP of Talent Acquisition and Diversity
Splunk Inc.
----------------------------------------------------
Thanks!
Grant Bassett