By guest November 15, 2016
The following is a guest blog post by Splunktern, Kristen Farabaugh who served as the first ever Sales Intern at Splunk this past summer. This is part of our ongoing Meet the Splunktern blog series.
What initially drew me to Splunk?
I am currently studying Management Information Systems at Cal Poly, San Luis Obispo. I've always had a fascination with technology (mainly understanding how things work), and also consider myself to be outgoing and people-oriented. I decided to merge these two interests by working in the field at a revolutionary technology company.
My first few days at Splunk foreshadowed that my summer would be full of learning, exposure to new opportunities and success. I quickly learned how Splunk uses machine generated data to help customers gain business value and a competitive edge; something I have yet to learn in a classroom. Machine data is one of the fastest growing and most valuable segments of the IT realm, yet conversely the most difficult to understand.
Role Details
I had the pleasure to serve as the first Sales Intern under the Area Vice President of America's New Business, John Zarour. After completing my 10-day onboarding, I was equipped with a mentor (who thankfully answered my constant questions this summer) and jumped right into my role and the field.
My time at Splunk exposed me to aspects of the business world that I had yet to experience. My first week was spent in New Hire Training; learning about the company, products, and sales tactics. By my third day on the job, I was able to confidently present the Splunk platform to my colleagues and leaders, while answering technical, scenario based questions. I also participated in my first Quarterly Business Review, which taught me how to assess the performance of a company and myself.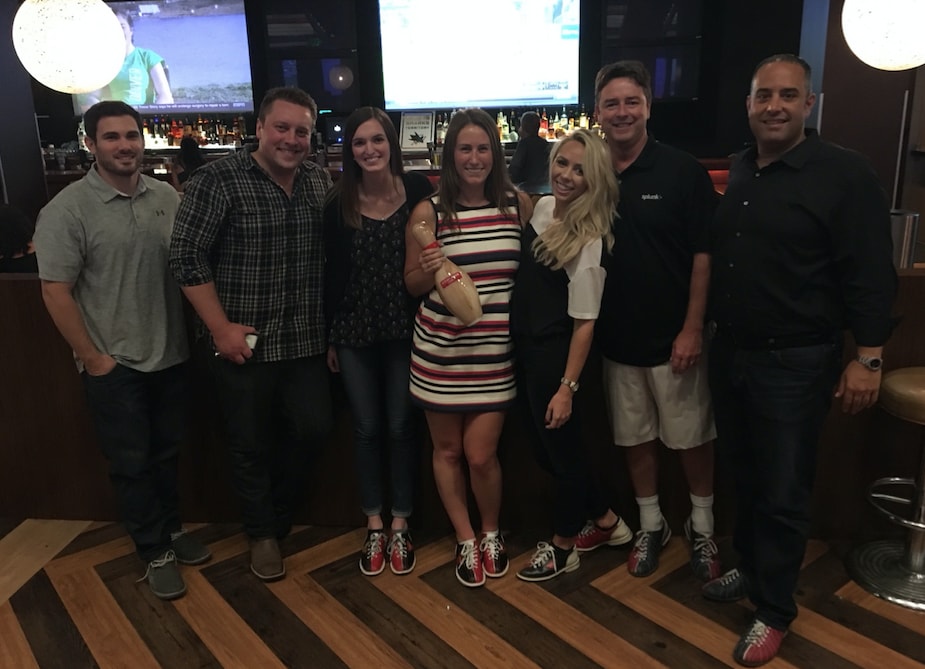 I was quickly exposed to vital sales tools like Salesforce, LinkedIn Sales Navigator, and RainKing, all of which became my go-to navigating instruments for the summer. I used these tools to support the greenfield inside sales team located in the Cupertino Office. My weekly tasks included setting up 5 discovery meetings for the sales representatives, combined with various support activities: qualifying accounts, importing contacts, brainstorming/sending out email campaigns, creating a monthly newsletter, calling contacts, conducting research on accounts, consolidating spreadsheets, and helping my team with various needs. Working directly in the field taught me how to successfully communicate the Splunk platform to prospective customers, which improved my technical knowledge, interpersonal skills, and ability to think on my feet.
My largest project consisted of creating an excel workbook that contained vast amounts of information for each of my teams 1000+ accounts. My project was used to communicate issues with our accounts (such as duplicates, invalid accounts, or accounts missing contacts, etc.) to sales operations. This will ultimately help clean up these accounts and make the sales team and representatives lives a little easier.
My role coincided with intern social events throughout the summer, where I met and networked with my fellow talented "Splunkterns." We were fortunate enough to grab lunch with Splunk's CEO and the SVP of Products, participate in a Meals on Wheels volunteer day, attend a casino game night, and conduct a San Francisco wide- scavenger hunt.
Takeaways
My summer at Splunk was a period of learning, growth, and success. As an intern, I felt that my work was truly appreciated. I enjoyed being challenged by my work, and was able to learn from the intelligent, experienced colleagues that constantly surrounded me. I am entering my senior year of college with a better understanding of the technology world, and I am ready to use the skills I acquired in both my personal and professional life. I can confidently say that I contributed to the bottom line at Splunk, and am ecstatic for future sales interns to follow in my footsteps.
Thanks!
Kristen