By guest August 01, 2018
The following is a guest blog post by Moshe Abramovitch, a current MBA student at Duke University and MBA intern for the IT Markets Product Marketing team.
More than halfway through my Splunkternship (yes, we excessively attach "Splunk" to nouns) and armed with diverse experiences, I'm excited to share my journey at Splunk thus far.

A Day in the Life of a Splunktern
As you might expect, joining a technology company during its rapid growth phase can be challenging. Things change quickly, and you need to be flexible to get things done. For summer interns, the challenge is even higher because the internship is short and interns are expected to onboard quickly. Coming into Splunk, I expected to be challenged, although no one in business school prepared me for the number of acronyms I would have to memorize!!
But on a more serious note, during the recruiting process, I was looking for an internship program that would leverage my past experience and help me grow professionally by rounding up my professional tool set. I wanted to work for a company that would trust me with real work and would also have great people and culture. My goal was to avoid ad hoc projects that provided little to no value to the company. At Splunk, I was fortunate to work on real projects and gain meaningful experience all while having fun with great people (and yes, I truly mean fun—I'll elaborate later).
As a product marketer in Splunk's IT Markets group (where we create product messaging for how customers use Splunk software for IT use cases), I'm expected to lead without authority. I work cross-functionally with Splunkers across the company, including product, creative, web, marketing and sales. It's both challenging and rewarding, as I have the opportunity to collaborate with and learn from extremely smart and genuinely nice people. Thus far in my role, I've had the opportunity to co-lead a Splunk Insights for Infrastructure product launch and take an active and meaningful part in the launches of two other products. I represented Splunk at several industry conferences and managed the content creation for more than 20 sessions that will be held at Splunk's annual conference .conf18.
I started my Splunk journey in uncharted waters, but by being nimble, utilizing my past experience and relying on my team at Splunk and what I learned during my MBA at Duke University, I was able to reach safe waters (i.e., get things done).
Internship Program
Apart from individual summer projects, Splunk's internship program also provides great networking and professional development opportunities. Splunk makes its executives—including CEO Doug Merritt—accessible to interns through a series of executive lunch and learns. If interested, interns can also choose to take part in an ongoing Splunk4Good project, where interns form teams, use Splunk to research a social problem and present their findings and recommendations to Splunk's management teams. There are also many social events for interns.
People & Culture
Another core aspect that made Splunk an easy choice for me was its commitment to its core values. I feel that the values are not a slogan, but rather the way Splunkers conduct themselves. For example, Splunk's "fun" value is a real thing; Splunkers take their work seriously, but they don't take themselves too seriously. Whether it's quarterly group meetings starting with funny questions like "what's your most unpopular opinion," or doing the floss dance with CTO Tim Tully during an executive lunch and learn, Splunk is a unique, exciting and fun place to work.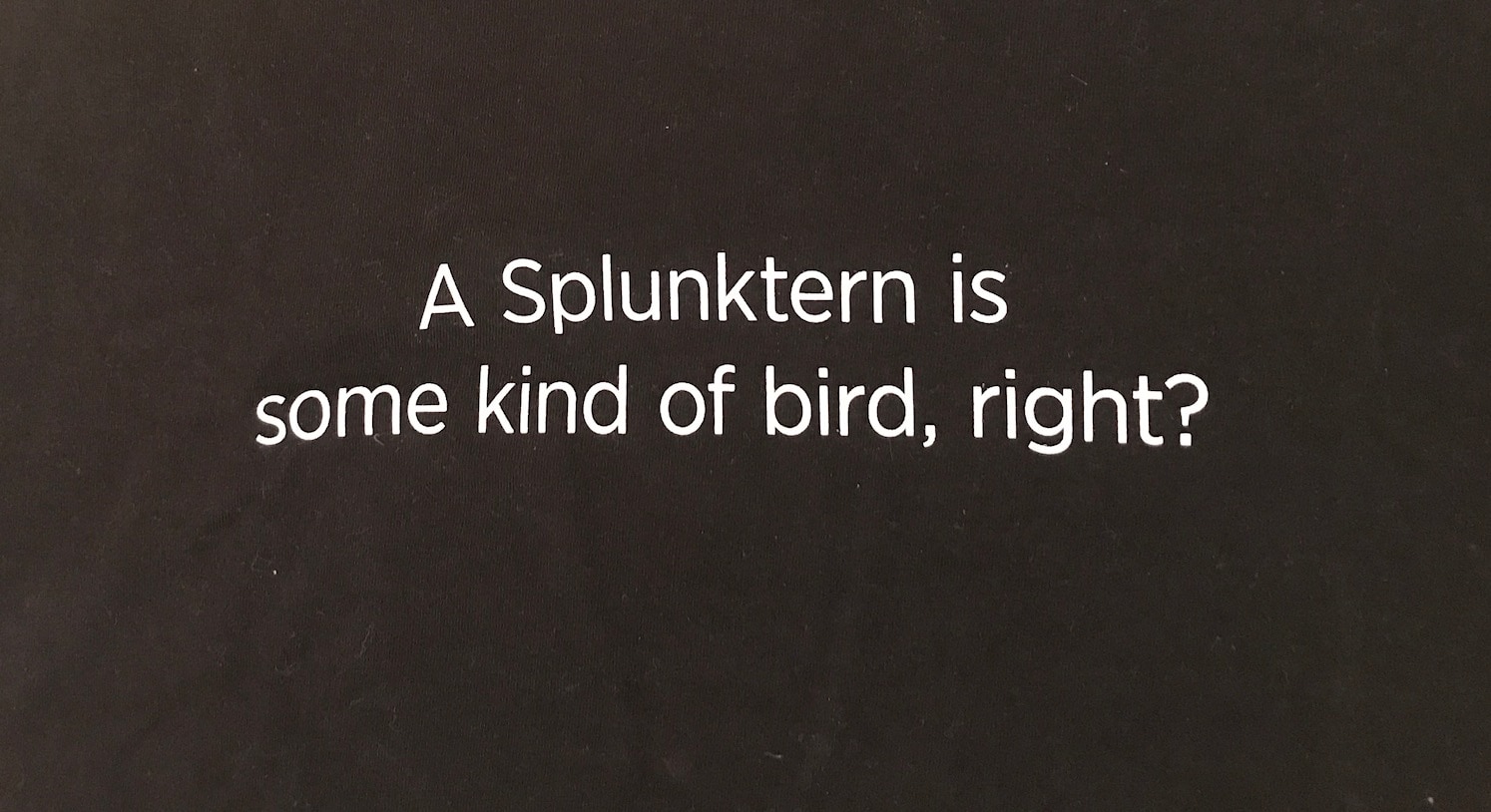 Splunk's renowned for its awesome t-shirts, and I'm happy to report that the 2018 intern class received its very own custom-made t-shirts with a special slogan: "A Splunktern is some kind of bird, right?". There are A LOT of other things that make Splunk a fun and unique place to work, but I've reached my allotted word count, so you'll need to take my word for it.
As my Splunkternship comes to an end, I feel fortunate and empowered by this great experience and what's to come.

Thanks!
Moshe