By Matt Davies April 30, 2018
Last week Splunk, our WIT team and I were lucky enough to be invited to Oxford University's OxFest Women in Technology event. We were extra lucky as we had Splunk's Marva Bailer in the UK, passing on advice of a hugely successful career as a woman in the technology industry.
The event started with a windswept tour of Oxford by our outstanding guide, Chika. It was great to see "behind the scenes" of some of the colleges. Once on stage, we opened with some of the big technology trends currently being seen, and moved into the importance of realising our own bias, something I documented recently about my daughter, coding and how it got me thinking about my own personal bias.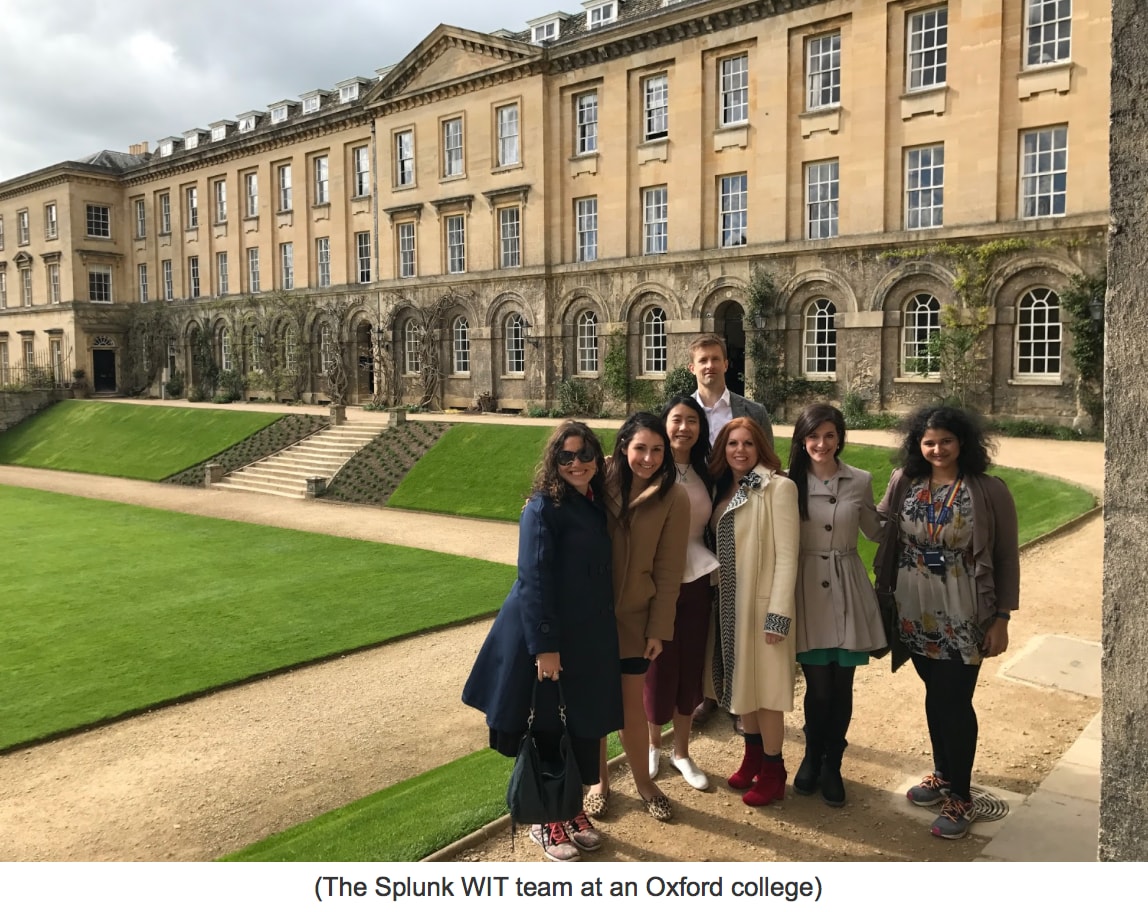 We then got stuck into the panel discussion, and it was one of those panels where you really don't think you're worthy to be in such company. As well as Marva, we also had the following people talking about their careers:
- Prof Angela Russell from Oxford University who is doing astonishing work around stem cells
- Dr Ronald Clark who is a research fellow at the Dyson Robotics Lab at Imperial College
- Dr Michelle Van Velthoven from Oxford University who is an expert in regulations, standard and safety in digital health
- Shuyu Lin (who runs the OxFest WIT program), a PhD student at Cyber Physical Systems Group in Oxford's Computer Science Department
We covered a wide range of topics including:
- How technology is changing our industries with a focus of using data, research, machine learning and AI to solve specific problems
- Using technology to go that stage further, and challenge the progress being made in research
- The challenges of so much data, sharing it and the ethics and morals vs. collaboration
- Hypothetically, which startups we would personally fund if we had $100m
- Do we think Google will be replaced by another technology in the next 10 years?
- How technology needs to be made more accessible to people
- How technology can actually be part of the problem, and the impact it is having on children and social interaction
- Not just creating technology for the sake of it
- How today's technology fosters an "inventor mindset"
- What it's like in the business world, in light of technology advancement
Perhaps the most poignant moments of the day was a question from one of the students asking about the culture she's seen of "lots of men getting together to form cool startups, drinking beer and not creating an environment where women would feel welcome". This lead to an important discussion around the importance of diversity, and how it actually makes a company perform better.
Marva coaches and mentors a lot of students back in the US, so the event came to a close with her sharing some career advice. What seemed to resonate most with the audience was "find your own voice". I was sat next to a student called Rebecca who asked a great question to this; "how do you make that authentic?" Now, I'm going to do Marva's answer a huge disservice, but to paraphrase; "find the thing you're passionate about, be yourself, and your own voice will naturally come through when you start talking about the things you care about".
Thank you OxFest for inviting Splunk, letting Marva and I be on the panel and for a truly inspiring day.
As always, thanks for reading.
Matt