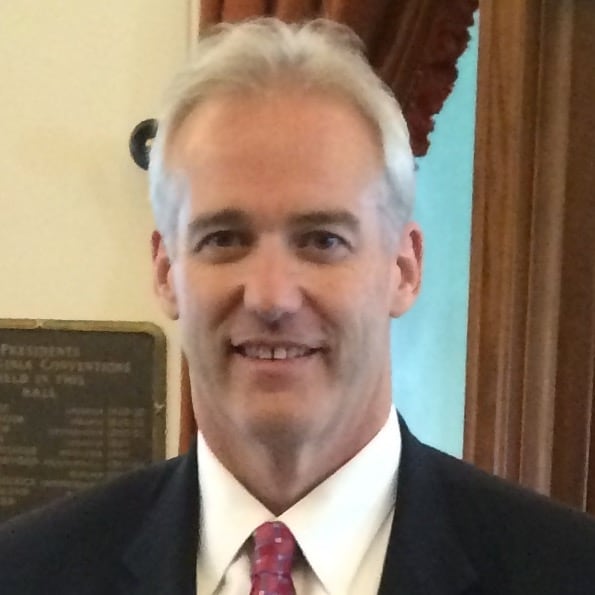 By Lerry Wilson January 30, 2018
Most conversations about business focus on the financial—how do you prove that the investment of resources brings value back to the organization? What's the return on investment (ROI)? It's at the heart of virtually every business decision.
But what about the personal ROI when we look to invest our most precious commodity—TIME? Given our business passions, family commitments and finding time for ourselves, there is little of this valuable resource for us to share with others. But there is no doubt that investing our time with others offers an unmatched ROI.
My greatest personal ROI comes from my Chair role of the annual Night to Shine Special Needs prom. Night to Shine is a one-night prom experience for special needs young adults—an audience that is often forgotten in their high school years and beyond. Borne from the Tim Tebow Foundation, the true joy of the event for me is aligning more than 1,500 men and women behind a single mission—creating a once-in-a-lifetime experience for our special needs Kings and Queens—irrespective of their religious beliefs.
For the third year in a row, Night to Shine will create a magical evening of limo rides, professional hair and make-up styling, prom photos, karaoke and of course, a paparazzi-packed red carpet entry to the dance floor. 250 Kings and Queens of the Prom will be paired with 250 local HS students, 600 volunteers and a full dinner for their amazing parents and guardians.
In only four years, Night to Shine has become an international phenomena growing as rapidly as Splunk—nearly 40 percent per year. Just four years ago there were events in 44 locations; in 2018 there will be 550 locations creating magic for more than 200,000 Kings and Queens. Our goal is to add two more locations in Silicon Valley next year and welcome another 1,000 special needs young adults and 2,000 volunteers to experience the greatest personal ROI event around.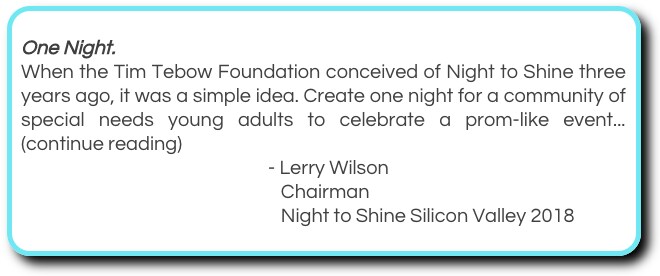 My ROI can be classified, but not measured. I am humbled by these amazing young adults who face personal challenges and societal unacceptance at every turn, yet have the courage to get out of bed each day. I am inspired by the heroic parents that sacrifice everything to create the most normal life they can for their children. I am encouraged by finding shared passion with professionals from the private and public sector, students and others that simply want to be part of celebrating these special families. And of course, I am moved beyond words to witness the unbridled joy that can only be experienced by people that are full of gratitude and humility.
What am I most proud of? Businesses just like Splunk using our event as team building for their entire staff. Giving tireless parents three hours of relief and celebration. Local police and fire departments giving their staff time off to attend the event without on-duty requirements (YMCA on stage is a crowd favorite). A group of loyal volunteers that has been with me since our inaugural event only three years ago.
If you would like to experience an unforgettable experience with me in Silicon Valley, please sign up to volunteer here or find a Night to Shine event near you.
Details: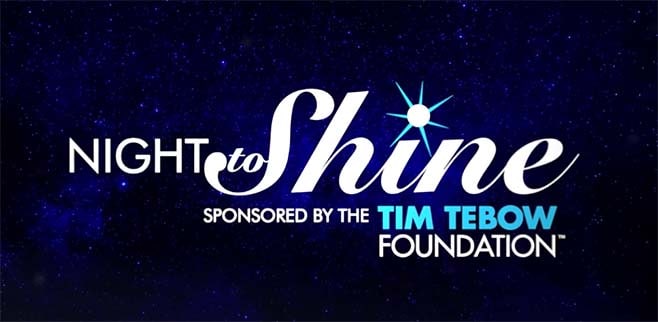 Night to Shine Silicon Valley
When: Friday, February 9th, from 6-9 pm
Where: The Home Church, 1711 Winchester Blvd, Campbell, CA 95008
Volunteer on your own, with family and friends, or with co-workers.
How can I help?
Join me at a Night to Shine or find an event in your local community.
Pledge your time to community. How do you want to give back? Let us know how you want to spend your time—whether employee, customer, or partner.
Spread the word about the Splunk Pledge. It is our $100 million commitment to research, education and community service.
Share your stories! We want to hear your stories of how you are giving back, and how we can help you support the causes you care about.