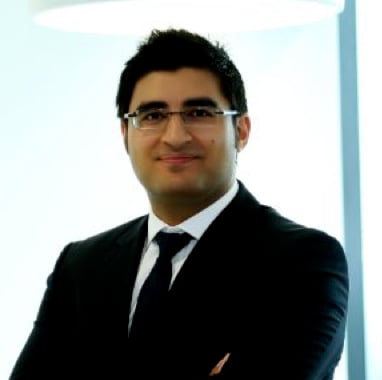 By Haider Al-Seaidy August 01, 2017
As the deadline for MiFID II nears, financial institutions and trading venues are ramping up their efforts to put in place the technology, processes and procedures required to be compliant on 3rd January 2018.
Many have left it very late, partly due to the lack of clarity in the regulation. As one large financial services organisation told us the other day, it's like a moving target.
Transparency, reporting and traceability underpin many of MiFID II's Regulatory Technical Standards (RTS). Including, requiring an accurate record trail of events for audit and compliance.
Accurate timestamping on financial transactions and messages involved in a trade life-cycle is a must, because this is essential for conducting cross-venue monitoring of orders, and detecting instances of market abuse. It also allows for a clearer comparison between the transaction and market conditions prevailing at the time of execution. RTS 25 stipulates the following:
Operators of trading venues, and their members or participants, shall establish a system of traceability of their business clocks to UTC.
Operators of trading venues, and their members or participants, shall be able to provide evidence that their systems meet the requirements.
MiFID II requires that application servers are synced to UTC time with a maximum allowable divergence from UTC based on the type of trading platform. Problems in the network such as jitter, network load and instability can cause time offset inaccuracies creating divergence from UTC. TimeKeeper® Clients by FSMLabs can set and ​measure the accuracy at the endpoints where the timestamps are applied for reporting purpose ensuring clients can stay within the MiFID II boundaries specified below:
High Frequency Trading Operations

- 100 microsecond maximum divergence from UTC
- 1 microsecond granularity

General Automated Trading Operations

- 1 millisecond maximum divergence from UTC
- 1 millisecond granularity

​Manual Trading Operations​

- ​1 second maximum divergence from UTC​
​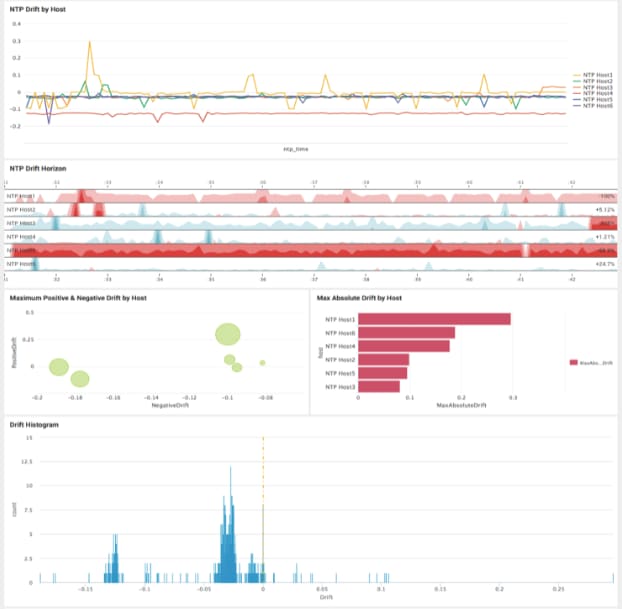 Reportable events, such as servers with clock drift beyond the tolerable thresholds and impacted trades, must be made available to regulators either continuously or on-demand with a five year history. Using established protocols such as NTP and PTP, point monitoring solutions can be leveraged to report on clock drift across the infrastructure. However, identifying trades that have potentially been impacted with inaccurate timestamps is more difficult.
A Global Swiss investment bank, aware of the challenges associated with becoming MiFID II compliant, was able to quickly prototype a solution to address the various reporting and monitoring requirements with Splunk in days instead of weeks. Ofni Thomas, in charge of Global Monitoring within the Low Latency Organization, stated that "Building a bespoke solution integrating disparate data sources to address the regulatory reporting requirements of the different MiFID II RTS's would take months of dedicated resource time to develop, which could be easily achievable in days or weeks with Splunk"

As a platform that is able to ingest and visualise all types of machine-generated data, Splunk is well placed to report on clock drift across the trading infrastructure. Offering capabilities to correlate PTP and NTP time sources with trade messages (e.g. FIX), this gives trading venues and regulators a consolidated view of their compliance posture. Clock jitter can be visualised and alerts automatically raised in real-time when drift exceeds allowable limits.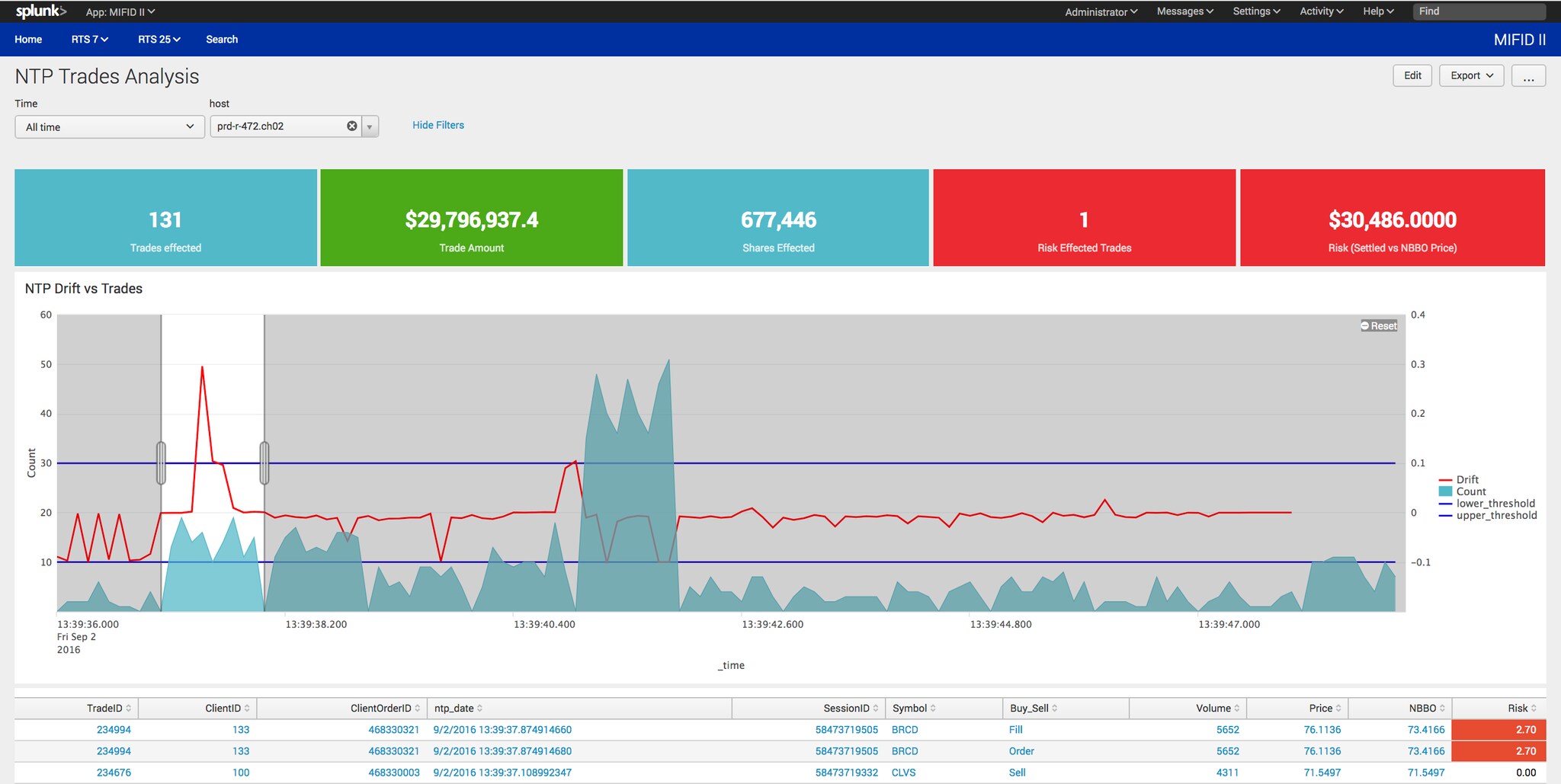 The screenshot above shows how it's possible to quickly isolate trades (yellow) that may have inaccurate timestamps due to excessive clock drift (blue), for further investigation and reporting to the regulators. The dashboard also highlights trades that have a different price from the Market National Best Bid and Offer (NBBO, or EBBO for the European market), due to inaccurate clocks.
Check out a full demo which is based on a real example with a large trading firm here:
Ingesting trade messages and clock drift data into Splunk to become compliant with RTS 25 can open many other unintended areas of optimisation. Banks often struggle to troubleshoot failed trades due to complex workflows and disparate systems. Troubleshooting the why and where a trade failed can take a significant amount of manual effort and time to rectify. Splunk can reduce the time to investigate failed trades down to minutes, ensuring fewer failed transactions. Check out the ITSI workshop we ran in London late last year for providing visibility into compliance, performance and availability of an FX trading application.
If you're interested in hearing how we can help you with MIFID II compliance (not just RTS 25 but also others), you can Ask An Expert: https://www.splunk.com/en_us/ask-an-expert.html
To see what else you can do with FIX data and Splunk, checkout this great demo, here. Or view Duncan's presentation on processing FIX data here.
Thanks for reading.

High Frequency Trading Operations
100 microsecond maximum divergence from UTC

1 microsecond granularity
General Automated Trading Operations
1 millisecond maximum divergence from UTC

1 millisecond granularity
​Manual Trading Operations​
​1 second maximum divergence from UTC​