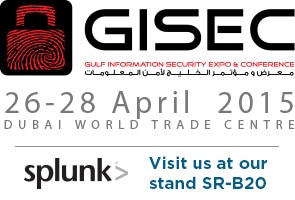 Needless to say security is a hot topic right now with the numbers, sophistication and impact of threats ever increasing. It seems like the upcoming GISEC event in Dubai is well timed. Splunk is exhibiting at the event and we'll be showcasing how Splunk is used as a security intelligence platform by thousands of organisations worldwide. Splunk has a number of customers in the Middle East from the very large international companies to smaller ones, as well as public sector organisations.
A lot of our customers in the region are using Splunk as a security intelligence platform because they need more than a traditional SIEM can offer. In December last year we had the Head of IT Risk for the Commercial Bank of Dubai present at SplunkLive! Dubai on how they use Splunk for enterprise security. We also have a case study from the American University of Sharjah (AUS) who use Splunk for:
Security incident investigation and resolution
Infrastructure and Operations Management
Troubleshooting of potential incidents
What's particularly interesting about the case study is the ROI that AUS got from their use of Splunk and the value they got from machine data. AUS achieved ROI through bandwidth management savings of 92,000 AED (over $25,000) per month. They also improved security awareness and ensured a clean computing environment.
We have a lot of security case studies that show what's possible with Splunk (just filter the customers by "Security & Fraud" in the drop down at the top). A couple of great examples in EMEA are Telenor in telco and Finanz Informatik in financial services.
If you're not aware of Splunk's capabilities in security then there's a short video that gives you a good overview below:
If you wanted to see Splunk in a bit more detail then there's an overview of our Enterprise Security application below:
If you want to find out more then please drop by the Splunk stand SR-B20 and the Splunk team will be there to answer your questions, show you the product and explain how other customers use Splunk as their security intelligence platform.
Looking forward to seeing you there.