By Jennifer Roth November 04, 2016
The exhibit hall is now open & we're ready for you #EDU16! Come visit us at booth 545 to learn more about @splunk's #highered data solutions pic.twitter.com/nL9a0Rd3Ys

— Splunk Public Sector (@SplunkGov) October 26, 2016
Last week, Splunk was at the EDUCAUSE Annual Conference in Anaheim, California. The Splunk higher education team met with thousands of attendees and nearly 300 other exhibitors over the course of the week.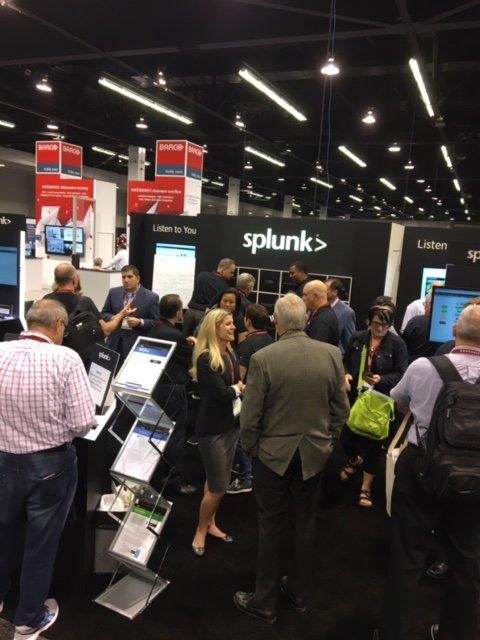 The Splunk booth was packed at all times with people interested in learning more about Splunk solutions and how higher education institutions can use Splunk to ensure a safe, connected campus and a high-quality student experience.
Chris Kurtz from Arizona State University (ASU), who was selected as one of the conference speakers, gave a presentation about using Splunk data analytics to protect students, faculty and the university.
In his session, Chris explained how ASU uses the Splunk Platform to protect thousands of students, staff and faculty across the globe. He explained how Splunk has helped detect and prevent payroll fraud and reduce the impact of phishing by tracking phishing transactions. Attendees left the session with a better understanding of how Splunk data analytics can empower an IT staff to protect the entire university; how to be proactive in solving security concerns and do more with limited resources; and how analytics can help you prevent fraud on your campus.
We also had the pleasure of having the University of Nevada, Las Vegas (UNLV) at our Splunk booth to give interactive presentations about how they use Splunk to not only troubleshoot their networks, but improve student performance as well.
Stop by booth 545 at 2:15pm or 5:45pm to hear from @unlv on using @splunk for IT troubleshooting, predicting student achievement, & more! pic.twitter.com/fuqPIPQzto

— Splunk Public Sector (@SplunkGov) October 26, 2016
This was clearly another successful EDUCAUSE conference for Splunk, and we are already looking forward to EDUCAUSE 2017 in Philadelphia!
Best,
Jennifer