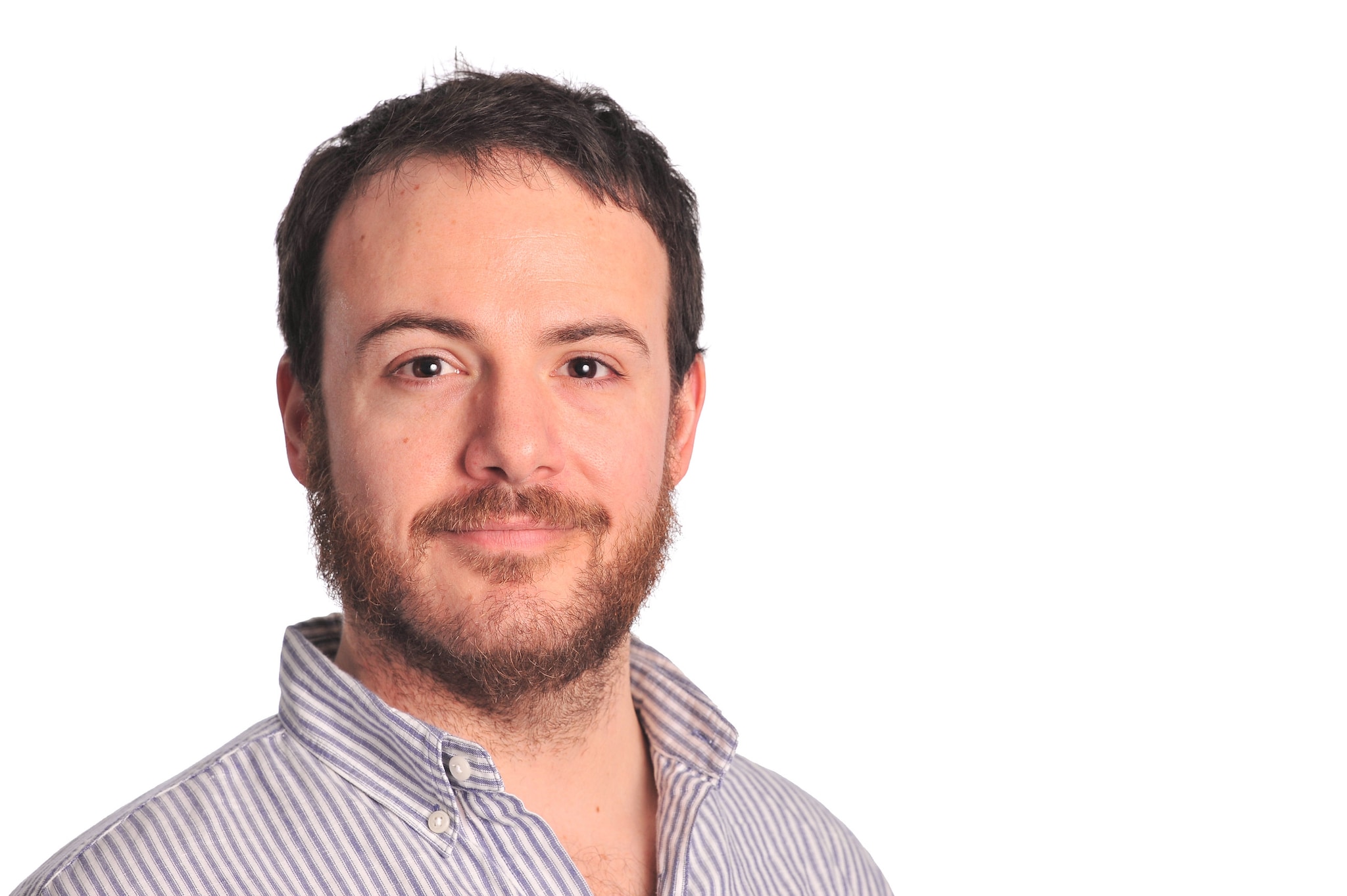 By Eric Six June 17, 2019
Today, we're pleased to announce the availability of the Splunk Essentials for Telecommunications app!
This Splunk app is based on the Splunk Essentials framework and is heavily focused on addressing the challenges that our Telco and Communication Service Provider (CSP) customers use Splunk software to solve. It contains common Use Cases and Example searches, and provides a growth path to take customers from reactive Search and Investigate activities and into the proactive and predictive realm.

The first release of this app is focused on five use cases:
Prepaid Mobile
Content Delivery
Subscriber Services
Service Availability
Physical Monitoring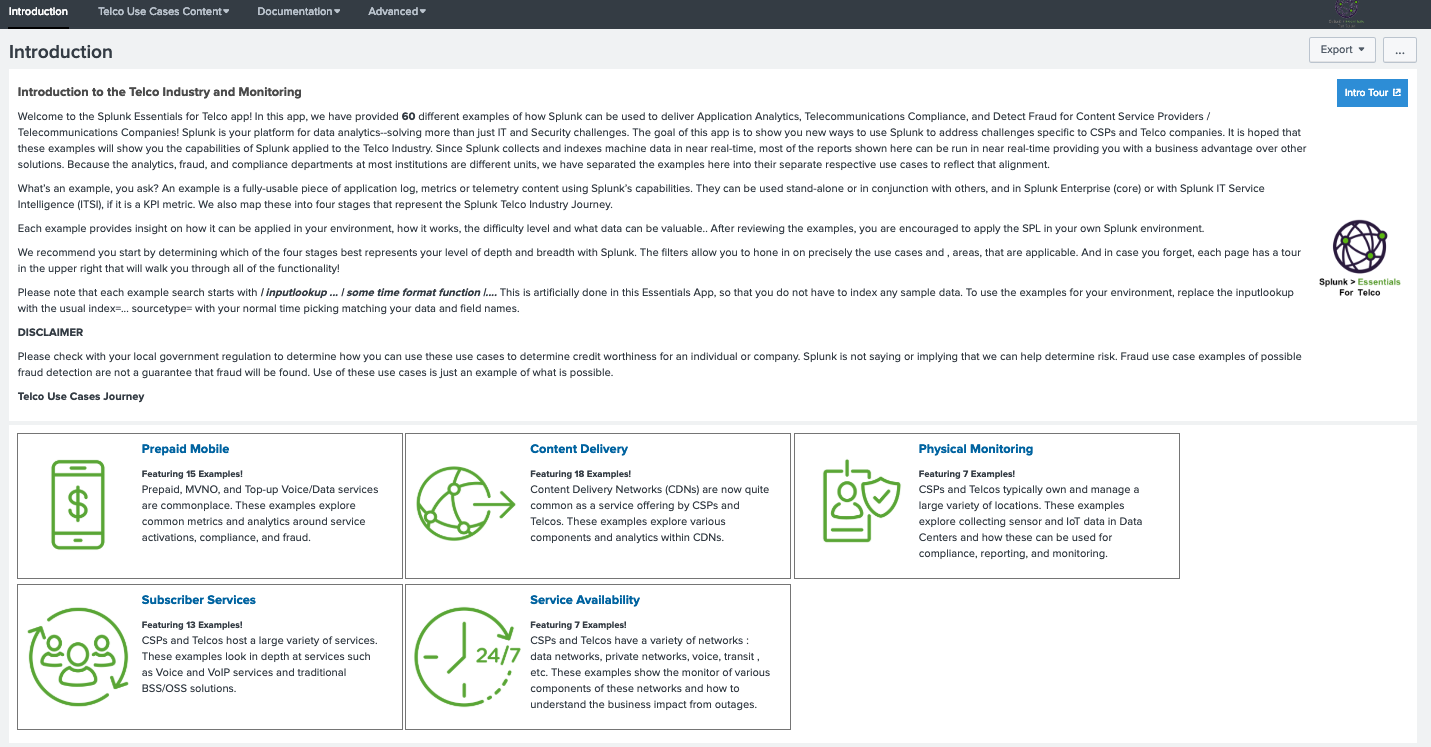 Within these use cases, there are examples of searches that walk through typical customer maturity journeys, enabling you to derive value no matter the stage of your Splunk adoption. Some examples included in the app are Content Delivery, Geographic Tracking of Content Request and searches that show how to associate revenue to content delivery.


Associating a revenue stream to content being delivered, that's Operational Intelligence!



What Makes This Cool?
If you aren't familiar with any of the other Essentials Apps by Splunk—Splunk Security Essentials, Splunk Essentials for the Financial Services Industry, Splunk Essentials for Wire Data, just to name a few—please check them out in Splunkbase. This app is built on the same framework, making the searches easy to understand both from a high-level conceptual point of view and all the way down to the nitty-gritty technical SPL.
The Essentials App allows us to filter and choose our Operational Intelligence Journey Level, Use Cases, Data Sources and Capabilities.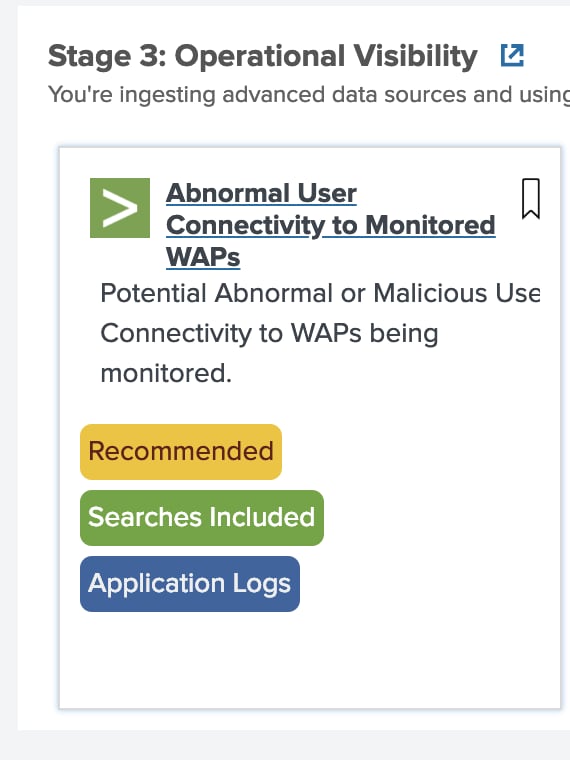 From here, we're able to choose our Use Case and Search of Interest and open this, or even bookmark it for later review. This view also gives us a general summary of this particular example and should help you think about how this may be applicable to what you are doing in your line of business.
Once we open the example, we are in the heart of what makes this app cool.
This gives us a general overview of what the search does and the capabilities of the search. In this example, we can use this search for Alerting, Compliance, Monitoring, and even Security. How you adopt this is up to you!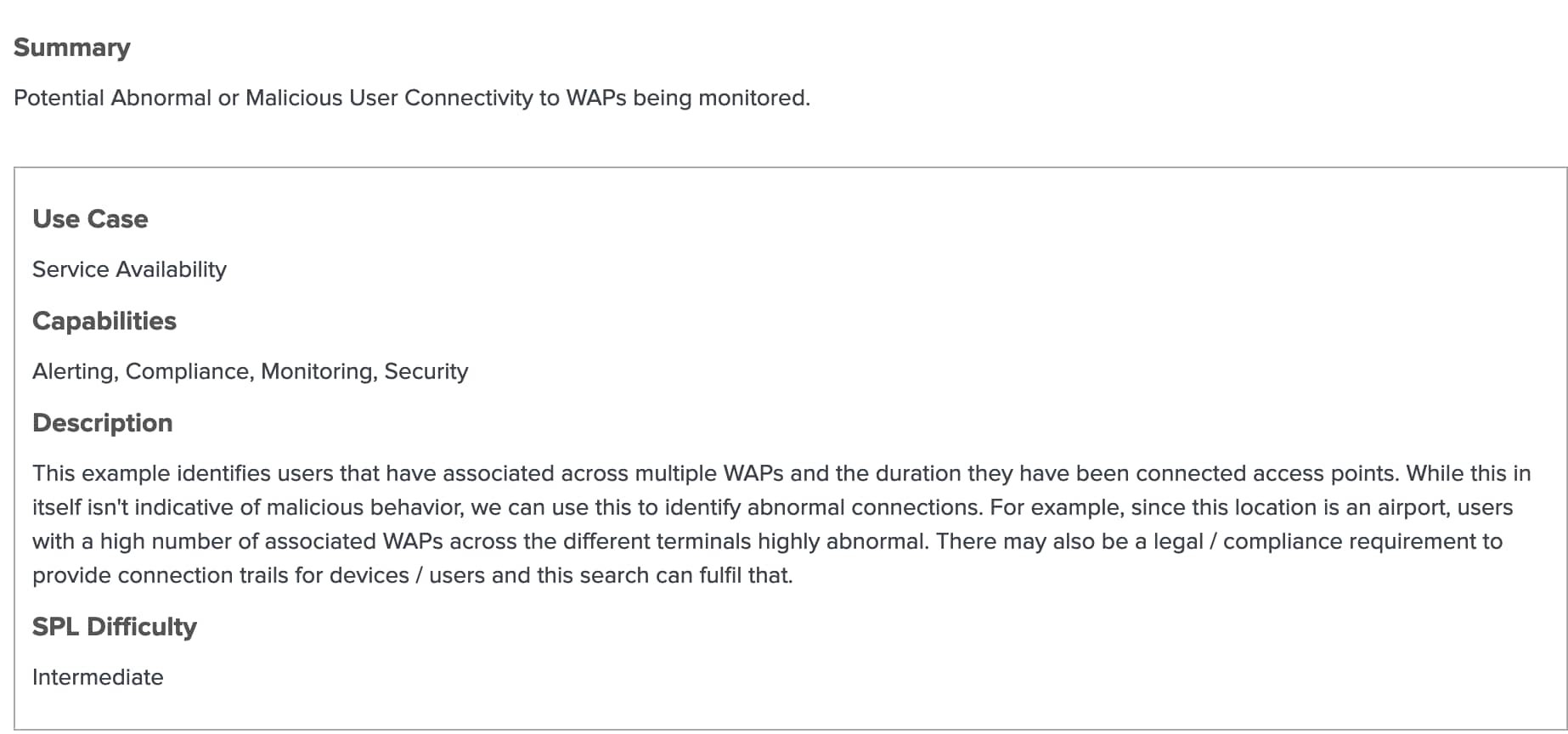 We also give a rating on the SPL Difficulty, but more on that in a bit. Beyond this, we also discuss why this search is relevant.

In this example, this search shows us potential malicious user activity around WAPs, and why it's important for us to be able to identify what may be considered malicious.
Next up, we talk about how to implement this search—as in what type of data you need in order for this search to work.
After that, for those of you that enjoy getting dirty, we can go through the SPL and get a better understanding of what this search is doing. (If you're a SPL pro, then this may be a bit boring, but bare with me!)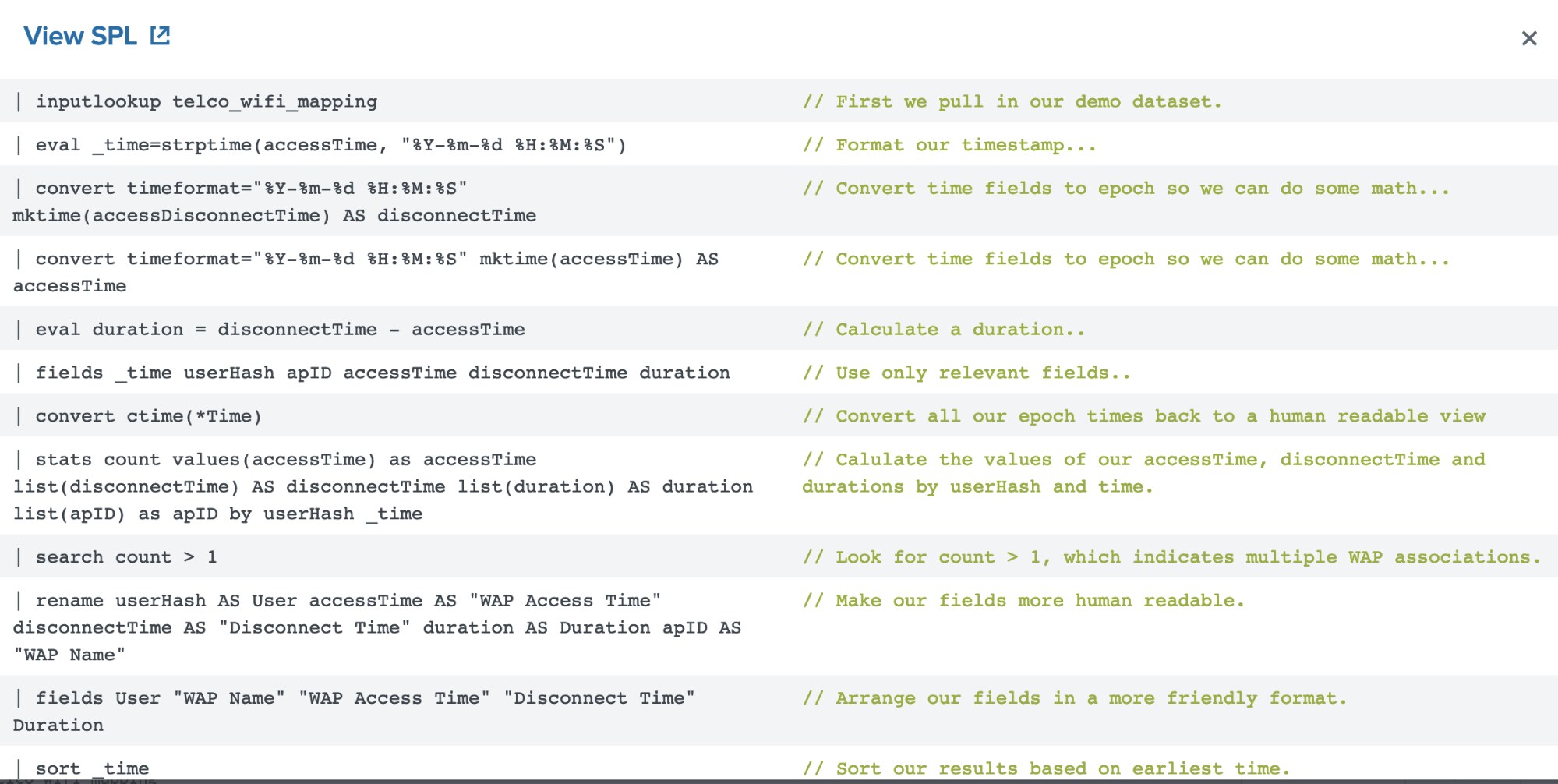 The final part of the example search is the actual search and running it against our sample data sets.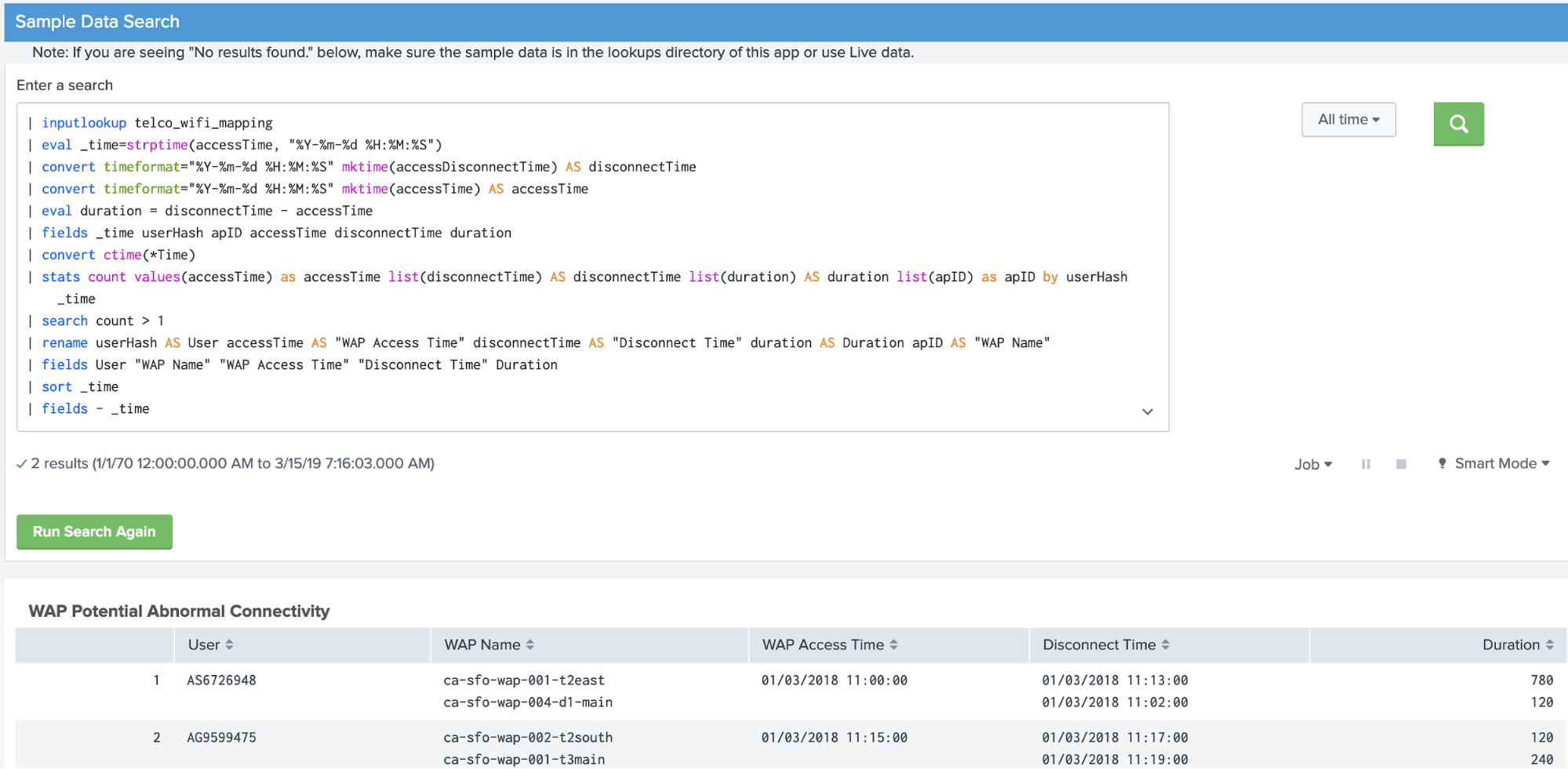 This is interactive, as in, everytime you load this page it will kick off a search! This means you can adjust and change the search and see how it affects the results in real time, or even just cut the search and tailor it for your environment.

The visualization portion of the search example has been predetermined. If you want to play with other visualizations, you'll need to use the Advanced -> Search functionality of the App. Aside from that, there are over 50 examples for you explore and play with!
How Do I Check This Out?
As of now, Splunk Essentials for Telecommunications is live in Splunkbase as a stand-alone app that includes sample datasets relevant to the included use cases. Simply download the app and drop it on your favorite (non-production *wink, wink*) Splunk Instance. (This will work in stand-alone and distributed deployments.) From there, you're behind the wheel and ready to merge into the fast lane!
What's Next?
This App has been created by the Splunk Field SE and Telecommunications and Media Industry Team as a group effort to help you think about your current technology stacks (BSS/OSS) and what additional value you can get out of them..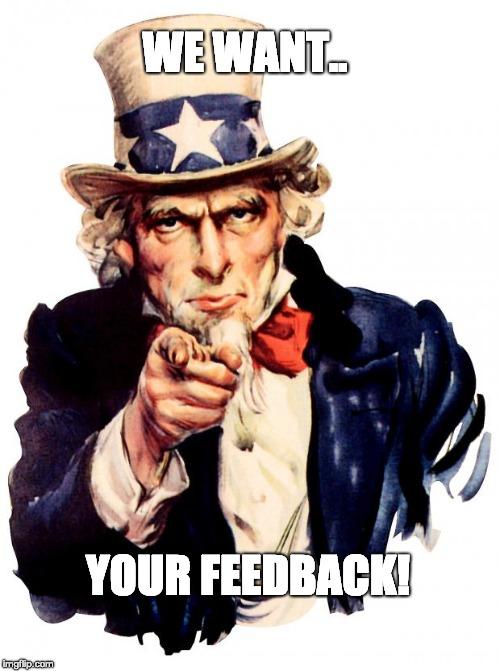 We recognize these use cases barely scratch the surface of what we can be doing out there, and we want your help to grow these. Do you have an awesome use case? We need to hear from you!
Please reach out to us. You can find us at telco@splunk.com, or #telco-media on Splunk-Usergroups Slack. If you're not already a member of the Splunk-Usergroups workspace, what are you waiting for? Register here.
Happy Splunking!