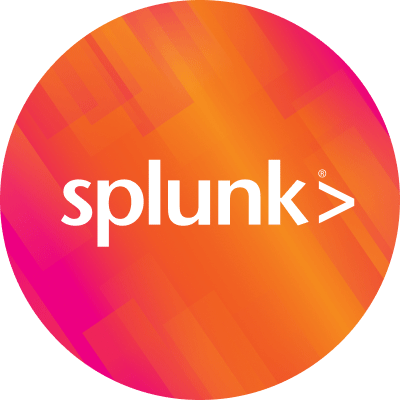 By Splunk June 22, 2016
If you've ever wondered how Splunk and AWS work together to drive customer success in the cloud, hear it directly from AWS CEO Andy Jassy and Splunk CEO Doug Merritt in this new 4-minute video:
What's best is that this message is not just coming from Andy and Doug – so many of our joint customers have publicly shared the value they gain using Splunk and AWS together: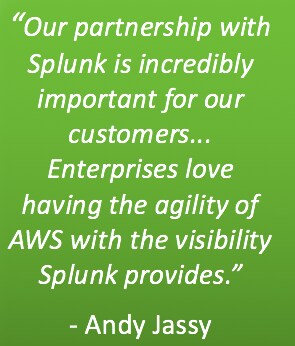 What's our "secret sauce"? It's simple… customer obsession paired with end-to-end product investment:
We built Splunk Cloud (the SaaS version of our flagship Splunk Enterprise platform) on top of AWS, and made it available globally across over ten AWS regions, including AWS GovCloud (US).
We built integrations not with just select AWS services, but end-to-end across AWS (including AWS CloudTrail, AWS Config, AWS Config Rules, Amazon Inspector, Amazon RDS, Amazon CloudWatch, Amazon VPC Flow Logs, Amazon S3, Amazon EC2, Amazon CloudFront, Amazon EBS, Amazon ELB, AWS Billing, AWS IoT, AWS Lambda, AWS Kinesis and Amazon EMR).
We made our integrations available to our customers not from a diverse set of siloed solutions, but from one integrated Splunk App for AWS that we offer to our customers free of charge.
We gained an unparalleled set of AWS credentials (AWS Advanced Technology Partner, AWS Security competency, AWS Big Data competency, AWS Government Competency, AWS MSP Technology provider, AWS Marketplace partner, AWS IoT launch partner, AWS Security by Design Program partner, SaaS Program Partner, first partner with Lambda blueprint, first partner to pass AWS Well Architected Review).
We made our products available on the AWS Marketplace via AMIs and made it easier to deploy in distributed environments with AWS CloudFormation templates.
If you're moving to the cloud and want to know more about how Splunk can help, read our cloud vision, contact us, or sign up for a free cloud trial.
Thanks for reading.
Praveen