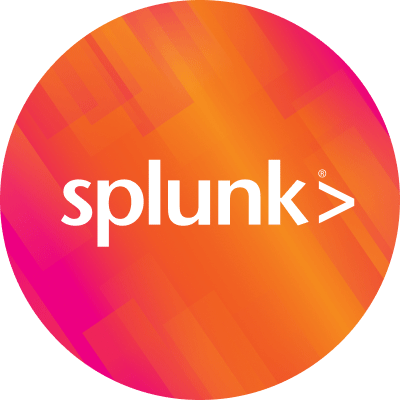 By Guest September 16, 2016
The following is a guest blog post by Robert Novak, Big Data Partner Consulting SE & Certified Cisco Big Data Hat Wearer…
There's never been a better time to check out the partnership between Cisco and Splunk!
You would be forgiven for thinking that line is a nod to Cisco's marketing team and their catch phrase for this year. But sometimes even a catch phrase is valid, and there's a lot going on in the relationship between Splunk and Cisco (and between Cisco and Splunk) that you can learn more about in person very soon.
Repping @mapr @ChrisWahl @MyServerMonkey @vBrownBag @platfora @splunk @cisco on the ipad #splunkconf via @ReneeYao1 pic.twitter.com/axG0TTHBYq

— Robert Novak (@gallifreyan) September 24, 2015
EVERYBODY NEAT AND PRETTY? THEN ON WITH THE SHOW!
.conf2016, the annual worldwide Splunk user conference, is taking over Walt Disney World's Swan & Dolphin resorts the week of September 25-29, 2016. Cisco will have a big presence at .conf this year, and we'd like to invite you to join us.
WHAT'S THE DEAL WITH SPLUNK AND CISCO?
Cisco has been a Splunk customer for over 8 years, and we've had a strategic partnership between our technology groups and the Splunk teams for over 4 years. From the innovative Cisco Unified Compute System (UCS) platform, to wired and wireless networking including Application Centric Infrastructure (ACI) and Connected Mobile Experience (CMX), to numerous security platforms including Identity Services Engine, CloudLock, and Threatgrid, you can pull plenty of Cisco platforms together using Splunk Enterprise.
Cisco ACI for Splunk Enterprise: Comprehensive Visibility into Cisco Application Centric Infrastructure
Cisco ISE and Splunk Integration At-A-Glance
And of course, the UCS server platform provides a scalable, manageable, high-performance platform to deploy and grow your Splunk environment. Use cases and user involvement will grow virally, and data volume will expand exponentially, as your business learns just how powerful the combination of Cisco technology and Splunk software will be.
LET'S GET BACK TO .CONF2016!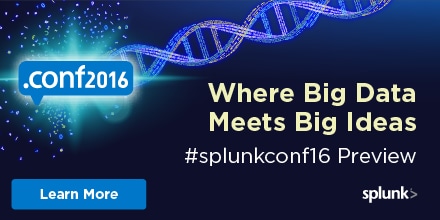 Cisco will be a top level sponsor of .conf 2016, with booth presence in the "source=*Pavilion" expo hall around IT operations analytics, security analytics, OpenDNS, and an occasional surprise or two from other parts of Cisco. Stop by and meet the Cisco team and our speakers throughout the event, beginning with the Welcome Soiree on Monday night.
Cisco and Splunk technical folks will bring you "Finding Your Faults Before Mom" on Wednesday, Sept. 28, at 12:05pm, featuring live automated deployment of Splunk Enterprise on Cisco UCS with our UCS Director Express for Big Data offering, followed by live Splunk demonstration around application stack troubleshooting and capacity planning. Join my Cisco colleague Karthik Karupasamy, and my Splunk counterpart Wissam Ali-Ahmad, for this great demonstration.
Cisco Distinguished Engineer Matt Birkner and Director of Technical Support Ian Hasund will be joining me on stage Wednesday at 2:15pm for "Infrastructure Analytics: Driving Outcomes Through Practical Use Cases and Applied Data Science with Splunk." We will discuss how Cisco's services organization uses Splunk to solve real-world issues affecting our customers in terms of capacity planning, anomaly detection, compliance, and of course detecting and resolving problems in the network itself.
Cisco Security Solutions Architect Steven Carter will be presenting "Securing the Enterprise using Event-Driven SDN with Threat Intelligence," showing how you can use Splunk to efficiently detect and respond to security incidents in a modern datacenter environment.
WHAT DO YOU HAVE THAT I DON'T HAVE TO SIT DOWN FOR?
With at least 20 apps and technology add-ons in Splunkbase today, Cisco isn't standing still on the customer-facing innovation front either. We'll have announcements of new Cisco-developed apps to follow the recent addition of a customer-developed Meraki TA and an August update to the very popular Cisco Security Suite.
https://splunkbase.splunk.com/app/3018/
And finally, if there wasn't enough already, we're planning to release new reference architectures for Splunk on Cisco UCS, taking into account improvements in hardware, software, and networking in the time since the previous reference architectures were released. You'll find guidance on 40 Gigabit Ethernet, the updated Cisco UCS C3260 dense storage server, and more… as well as the intersection of Pallet-To-Production and New-and-Improved… but stay tuned for more about that update soon.
AND WHERE DO WE GO FROM HERE?
I'm going to Disney World, of course. Hopefully you'll be joining us at the most magical .conf ever (and I wonder where they'll find a pair of mouse ears big enough for Buttercup), but if you can't make it, keep an eye on the Splunk and Cisco blogs, and follow the Twitter handles and hashtag listed below!
Thanks,
Robert Novak
Big Data Partner Consulting SE
Cisco
Follow all the conversations coming out of #splunkconf16!