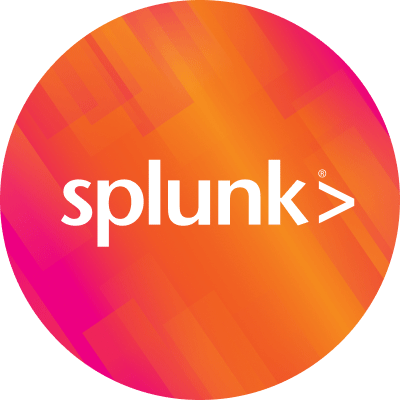 By Splunk November 01, 2016
Digital transformation is changing the world in virtually every industry, opening up new opportunities, but also introducing unprecedented risk in the areas of IT, security and business operations. Recognizing these evolving needs, Splunk CEO Doug Merritt recently introduced the concept of an Enterprise Machine Data Fabric.
The Enterprise Machine Data Fabric, which is enabled by the Splunk platform, effectively integrates with and leverages all of the data across an organization's heterogeneous technical landscape.
Splunk is at the core of a tectonic shift in how organizations collect, correlate and gain insights across massive volumes of real-time data. This shift is driving a constant need for bigger, faster and flexible data storage. At the same time, organizations must retain historical data for extended periods to support focused security investigations, meet evolving compliance requirements, and – increasingly – to take advantage of machine learning and predictive analytics.
This is why I'm pleased to congratulate Cisco on today's announcement regarding the new Cisco UCS S-Series Storage Servers.
Cisco UCS S-Series Storage Servers represent an important step forward in helping Splunk customers keep pace with their insatiable appetite for real-time operational intelligence without busting their budget. The UCS S-Series platform provides web-scale, high-performance storage that makes it more cost-effective to index, store and search across hundreds of terabytes or even petabytes of real-time and historical data. The combination of Splunk software and Cisco UCS S-Series enables organizations to derive insights from machine data at massive scale to realize the full potential of digital transformation.
The S-Series is the latest example of how Cisco's innovative approach with UCS – and the close relationship between Splunk and Cisco – is helping organizations continually transform and reinvent their business.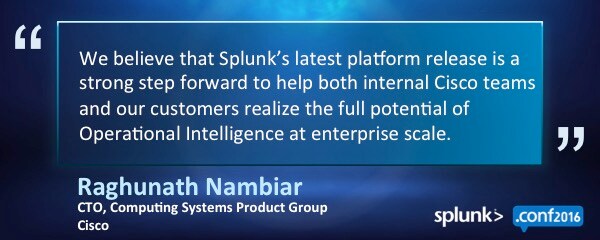 For the past two years Splunk and Cisco engineers have worked closely to optimize the deployment of Splunk software on Cisco UCS servers. Our joint performance benchmarking and tuning are the foundation of detailed deployment guides that include reference architectures, end-to-end specifications and best practices for both IT and security analytics. Cisco recently published an updated reference architecture and a prescriptive, pallet-to-production Cisco Validated Design for Splunk environments. Cisco has further streamlined Splunk deployments by automating installation and provisioning for Splunk on UCS environments with UCS Director Express for Big Data with Splunk Enterprise.
Cisco is also tightly aligned with new Splunk software releases.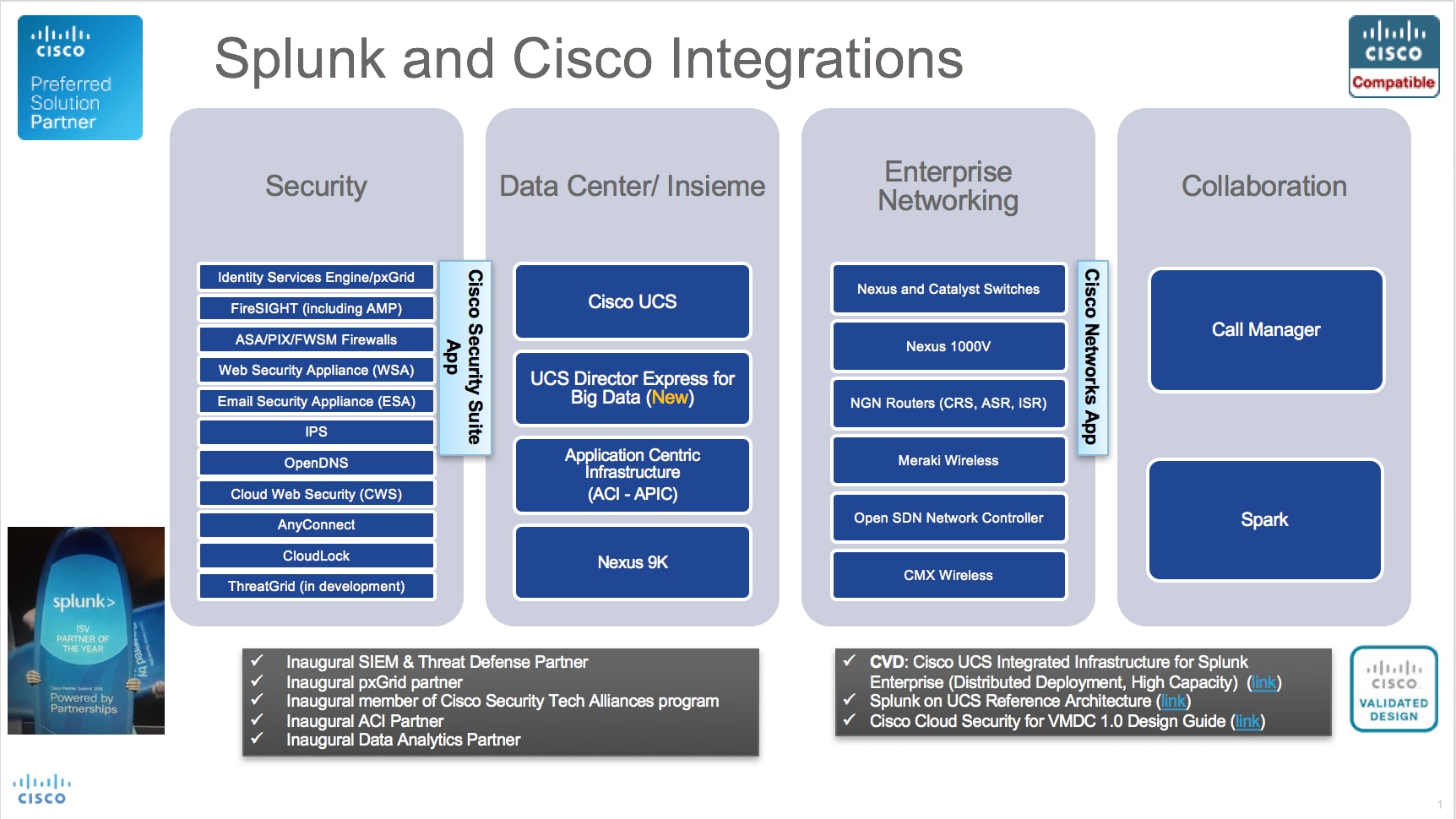 Last year the Splunk engineering team worked with Cisco to test and benchmark vertical scalability capabilities that allowed Splunk Enterprise to better leverage high-scale multi-core servers. In a future blog I'll share how the Cisco networks team participated in the beta of the Splunk Enterprise Machine Learning toolkit. (Spoiler Alert: They presented their impressive results to a sold-out house at .conf2016 a few weeks ago. If you can't wait, check out the recorded session.)
And of course, there are more than 20 free Splunk integrations for Cisco networks, servers, firewalls and more that help you extract value from data generated by Cisco's industry-leading security, networking, wireless, data center, and collaboration products.
There's more goodness brewing. Stay tuned.
Thanks,
Kevin
----------------------------------------------------
Thanks!
Kevin Faulkner