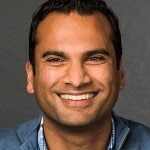 By Karthik Rau June 20, 2017
I am thrilled to welcome Mark Cranney to SignalFx and announce his appointment as our Chief Commercial Officer. Mark will lead the entirety of our customer facing operations, which includes sales, marketing, business development, customer success, support and services.
Over the last few years, we've had the privilege to build relationships with CxOs at some of the most significant brands across the world, thanks in no small part to the introductions brokered by Mark's market development team at Andreessen Horowitz. All of these CxOs face the same challenge – re-orienting their companies to execute on new digital strategies to get ahead of the disruptive trends in their industries. This is no small task for a large enterprise. They need partners, not vendors, to help them along the journey.
We've built the core of an exceptional go-to-market team here at SignalFx that has led to high impact deployments with Fortune 500 accounts across several verticals – financial services, apparel, media, telecommunications, industrials, and technology to name a few. These customers recognize that they must rethink their operational support systems to support today's high-velocity software development cycles and cloud-native architectures. In each case, they have made meaningful six or seven figure per year investments in SignalFx, not just for our products and technology, but also for our help with the people and process challenges operationalizing a new approach to software development. In other words, they were seeking a partner.
This brings me to Mark. I can't think of a better person on this planet to build a highly customer-oriented, consultative go-to-market organization than Mark Cranney. Throughout his career at places like PTC, Opsware, and most recently at a16z, Mark has differentiated his companies by providing his customers a more comprehensive and practical approach to solving their problems than any of the competition. The market development function at a16z is a great example – it has transformed the expectations around what a Tier 1 venture investor is expected to provide its portfolio companies.
On a personal level, Mark is a very familiar figure at SignalFx. I've known Mark for more than 10 years. My co-founder Phil and our Series A investor Ben Horowitz worked closely with Mark when he led field operations at Opsware. Since we started SignalFx in 2013, Mark has gone above and beyond the call of duty in his role at a16z to help us. As a product-oriented founder and CEO, I've looked to him often to help cover any knowledge gaps related to how best to set up our customer facing teams. He's helped us with everything from how to best communicate the value of what we do, to sales team structure, to helping us hire our exceptional VP Sales Jim Brzezinski. I'm excited that we now get to formalize a role for Mark and get his full attention in this critical period of growth for the company.
Read more about Mark's reasons for joining SignalFx.
In the coming quarters we will be significantly expanding our customer facing operations under Mark's leadership. Please stay tuned for lots more news!