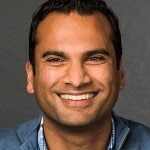 By Karthik Rau June 12, 2019
I am excited to announce SignalFx's $75M Series E equity financing, led by Tiger Global Management with participation from previous investors Andreessen Horowitz, CRV, and General Catalyst. The round comes on the heels of a breakout year in which we close to tripled revenue, continued our strong technology momentum with new product introductions, and established ourselves as the go-to vendor for organizations seeking an enterprise grade observability solution.
When we started SignalFx in early 2013, we had a vision that two major secular trends would fundamentally disrupt the systems management ecosystem and create opportunities for great new companies. The first of these was an architectural change. We believed the world would move away from proprietary datacenters with physical hardware appliances, static VMs, and monolithic application architectures towards cloud-based, software-defined, and elastic microservices architectures. The second was an operating model change. As more software was being delivered as a service, the organizations developing applications were increasingly the organizations responsible for operating those applications. In this new world the CTO and her development organization, not your classic IT manager, had outsized influence in technology platform and tooling selection.
We built SignalFx from the ground up to solve the monitoring and observability challenges for organizations making both of these transitions. In this new world, monitoring is an analytics problem. We built the industry's only true streaming analytics platform for monitoring time-series data, with the ability to process, detect, and alert on sophisticated conditions at web scale within seconds. In a world where infrastructure and applications are increasingly programmable and responses to high-quality alerts can be automated, the difference between seconds and minutes can be the difference between meeting your Service Level Objectives or becoming a trending topic on Twitter. We built industry-leading infrastructure monitoring and APM solutions on top of our platform to make it easy for anyone on the Cloud or DevOps journey to get immediate value.
In the past several years, the market has unfolded as we had anticipated. Hundreds of organizations have leveraged our industry leading products. Many of these customers are recognizable names at the forefront of the consumer web and SaaS technology industry who opted to replace homegrown systems with SignalFx. Many others had a false start with other commercial solutions but opted to switch to SignalFx when they discovered the unique advantages in speed, scale, and flexibility of our solutions. In the last 18 months we have also seen substantial momentum with Global 2000 enterprises at the beginning of their cloud journey. They are opting to get it right from the beginning and deploy SignalFx as their standardized observability platform as they lift and shift onto the cloud.
Our goal is to be the comprehensive monitoring and observability platform for any organization that is serious about delivering a high quality of service to its customers. The additional financing from our Series E round will allow us to accelerate our investments in several new initiatives. You will see more on the new product front, more on integrations and partnerships with ecosystem vendors, along with continued investment in our core products. You will also see us continue to invest in our go-to-market team, expanding our presence in EMEA, Latin America and APJ, and expanding our ecosystem of go-to-market partners. We have a leadership team in place that is ready and excited to invest in the opportunities ahead of us.
Lastly, I'd like to thank our fantastic customers for their ongoing partnership. We are here because of you and for you. We look forward to investing all of our team, technology and resources on your behalf to help you deliver flawless digital experiences. The best is yet to come.