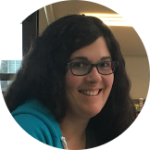 By Rebecca Tortell January 22, 2016
At SignalFx, we're not subtle. Whenever we add new features to our product, we want to make sure everyone knows it. So we've added What's New to the top navigation bar. It's highlighted when new product changes have appeared since your last visit to SignalFx. Clicking on it opens a list of changes in the product, ordered by the date on which they appeared.
We asked our poet-in-residence for his take on this newest improvement to the SignalFx experience.
At SignalFx we have a blast
Releasing new features fast
We think it helps make us the best
And separates us from the rest
However, don't you wish you knew
When there is functionality new?
So the Head of Product Management team
With passion proclaimed "I, have a dream …"
Naturally, that set gears in motion
To implement that useful suggestion
"What's New" – the first launch this year
For all customers far and near
Right there at the top of the page
In bold, your eye to engage
Click on it any time to view
Latest 'new's from the released queue
We hope this feature you'll like
and express your happiness with a mike
Perhaps, this blog post goes to show
Our actions have both rhyme and reason – you know?