IP Expo London (at the ExCel Centre in London) is upon us and it promises to be a great couple of days. Splunk have three presentations and I'm interested to hear what the current views are around IT operations, monitoring and application management. Hopefully you've had a chance to read Matthias' blog on securing the digital enterprise. I wanted to focus on the role of IT in operating the technology that is underpinning digital transformation.
IT operations is going through a period of significant change and disruption (when isn't it?). The pressures of companies undergoing digital transformation whilst trying to ensure uptime, reduce the cost of IT, making sure they are secure and enabling the CIO to show value to the business isn't making IT operations a quiet life at the moment. There are more channels that customers are interacting through, decisions have to be made about what and how much goes to the cloud, DevOps that promises multiple releases of applications a day and more data than ever before that promises valuable insight.
There is hope however. All the elements of your IT, be it a mobile device, your network, your cloud based infrastructure, hypervisors, operating systems or your mainframe generate machine data. Every company has this data and they are generating it every second of every day but many haven't unlocked its value to help manage their IT operations. IT Operational Analytics has emerged as a way of visualizing everything that is happening in your IT.
ITOA allows you to see and understand what's happening in your technology estate but these analytics tend to focus on one element of the IT stack. You may have data visualizations of what's happening in your virtualization or network but these are still silo-ed views of data. Faced with the challenges we discussed at the beginning of this post, how do you turn these silo-ed arrays of technology into new levels of visibility into the health and key performance indicators of IT services. Services is a key term here and that's the questions IT ops often get asked – "how's ecommerce doing?", "what's up with the datacenter?", "is mobile banking working properly – it seems a bit slow?". Ecommerce, the data centre and mobile banking are really IT services made up of a number of technologies.
A great example of this is Vodafone (case study). Their IT operations team lacked visibility into the health and performance of the services that were getting rolled out constantly by the project teams, designers and architects. Since deploying Splunk IT Service Intelligence, Vodafone has seen benefits including proactive addressing of issues, improved operational visibility and rapid issue resolution
We recently released a new video from Surrey Satellite, who are using Splunk ITSI for analytics across their IT estate and also starting to bring in satellite data. They got started with the free version of Splunk and started find IT service issues within a day. You can see the watch the video below:

Services made up of multiple technologies in itself isn't anything new. What is changing is the way these services are seen and relied upon. Data driven service intelligence allows you to take all of your machine data and turn it into real-time ITOA. This operational intelligence is abstracted to a service level measured by key KPIs presented on a dashboard that is real-time. It offers a predictive, machine learning based approach to ensuring your IT operations are delivering to customers and the business.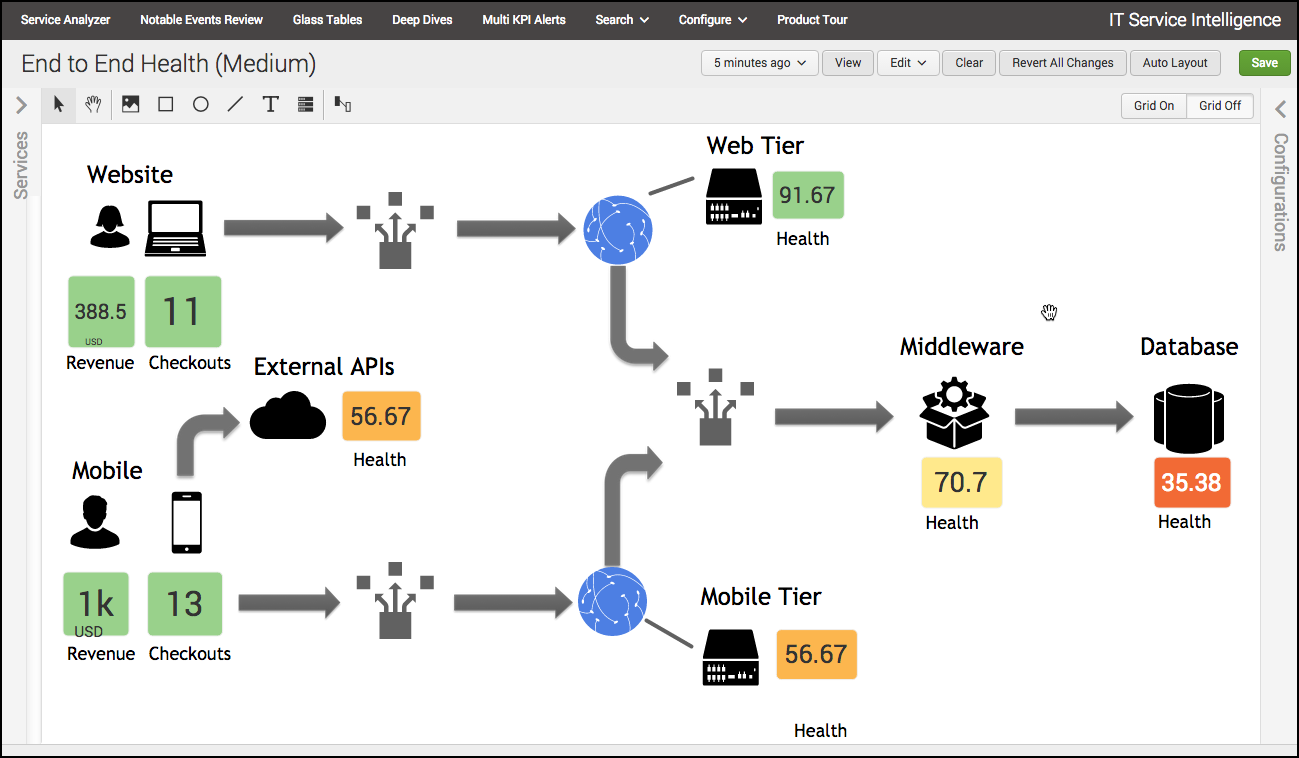 If you're at IT Expo this week then you can find out more about this by attending Splunk's session "Reinventing IT Operations with Data Driven Service Intelligence".
Time & Location:
Wednesday 5th October 2016. 11:40-12:10
Monitoring & Operations Theatre
Speaker:
Crispin Page, Head of EMEA IT Operations Analytics Practice, Splunk
If you want to give Splunk ITSI a try then there's a free cloud ITSI trail which gives you a great idea of what's possible.
Hopefully see you at IP Expo…