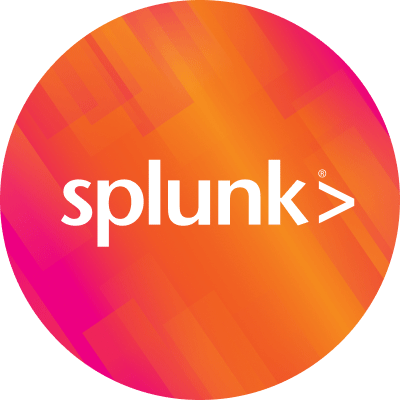 By Splunk September 08, 2017
We are excited to announce the latest release of SignalFx's capabilities for Kubernetes environments. These new capabilities empower dev, service, and ops teams to better monitor and manage their Kubernetes environments, containers, and applications. Read the press release here.
Kubernetes has gained significant momentum as the go-to tool for enterprises to embrace modern software development. However, the features that make Kubernetes so powerful and easy to use – including the automated, dynamic placement of containers and services as well as the variety of new abstractions it introduces such as pods – bring fundamentally different operational challenges. Organizations ready to for a more cloud-native approach to application development should consider the implications of these environments for their monitoring and alerting strategies.
SignalFx Smart Agent
In these highly dynamic environments where Kubernetes automatically provisions and decommissions containers depending on demand, teams need to be aware of changes and understand any downstream impact. Monitoring dashboards and alerts must immediately reflect the latest changes.
The SignalFx Smart Agent automatically discovers and monitors third-party applications running in every container on every node. The lightweight agent ensures that monitoring is consistently up-to-date in highly dynamic environments, allowing teams to know what components are running where at all times.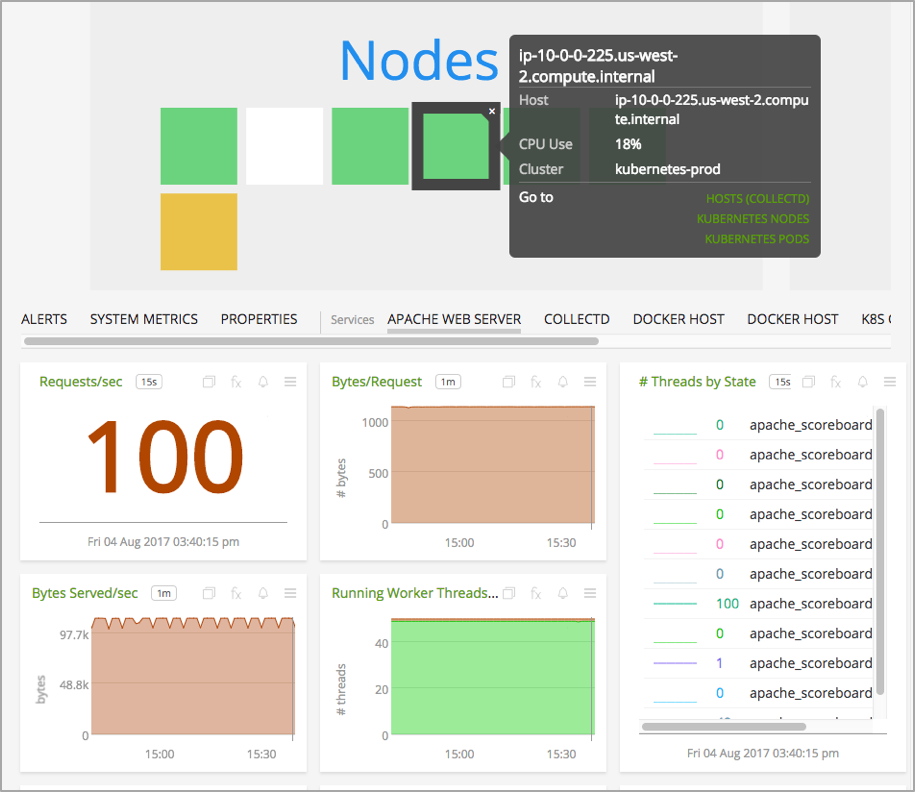 Out-of-the-Box Kubernetes Visualizations
Today's modern infrastructures are no longer a collection of software tools running in isolation, but one stack composed of a web of interdependent services, with host instances, containers, open-source middleware, and business services working together. Real-time, comprehensive visibility allows teams to instantly explore across their entire Kubernetes environment.
| | | |
| --- | --- | --- |
| | | |
| Architecture View | Node and Pod Dashboards | Built-in Container Content |
| See patterns in membership and resource utilization within or across clusters. Use this as a launching point to drill down into individual components. | Dive deeper into your service and visualize individual containers while maintaining context of the relationship to the original node. | Leverage out-of-the-box dashboards for key metrics for individual containers, starting with aggregate views of containers and infrastructure metrics. |
Dynamic Detectors
There are three factors that determine how 'on-time' your alerts are: discovery delay, data resolution, and evaluation time.
Discovery delay: Time lag between datapoint for new resource (e.g. container) arriving at monitoring service and being incorporated into existing alert detector or dashboard.
Data resolution: The frequency of datapoints being sent. The finer the resolution, the more detail provided and the coarser the resolution, the more averaging out needed.
Evaluation time: The time elapsed between alert condition being met (e.g. above threshold) and actual triggering of alert.

Built on industry leading massively parallel streaming analytics technology for time-series metrics, SignalFx's dynamic detectors are built to detect and fire within seconds of a condition being met across populations of thousands of instances. Whereas most monitoring solutions take minutes to alert on simple conditions, SignalFx can alert within seconds of a more meaningful pattern emerging in these dynamic environments.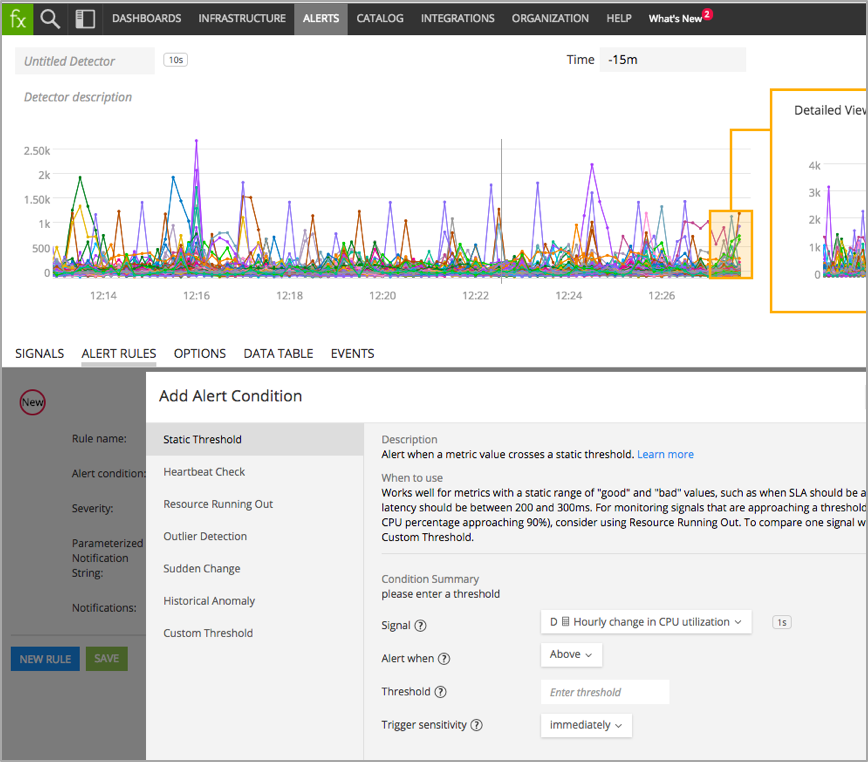 Accelerate Cloud-Native Transformation
These capabilities from SignalFx enable modern dev and ops teams to eliminate manual configuration of monitoring, immediately visualize data and explore relationships across components, and deliver accurate alerts that adapt to fast-moving data in Kubernetes environments. Now enterprises are empowered to innovate at faster rates with confidence.
Join our live weekly demo on cloud monitoring »

Thanks,
Jessica Feng