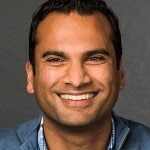 By Karthik Rau March 17, 2015
Today we sit down with co-founder and CEO Karthik Rau to get his thoughts on how SignalFx came to be and why.
How do you describe SignalFx?
SignalFx is a modern approach to monitoring that uses analytics to help product organizations understand how their living, breathing applications are operating.
How did you and Phil decide to start SignalFx?
Phil and I have known each other a long time. We worked together at a company called Loudcloud, which was attempting to do in the dot-com bubble days what Amazon Web Services is doing so successfully today–build a public cloud. Phil and I were responsible for the customer-facing monitoring services at Loudcloud, he on the engineering side and me on the product management side. The company had a great vision but was just ahead of its time.

In the years that followed we went on our separate paths but kept in touch. I spent a number of great years at VMware while Phil was at Opsware and then went on to Facebook. In late 2012 we got together and thought the timing and opportunity might be right to start a company together.
Phil had a lot of conviction about the monitoring problem space given his experiences at Facebook. After spending a few months diving into every detail and making sure we could build a great independent company around the problem space, we decided to move ahead and start SignalFx.
What was missing from the market that inspired you both?
What struck us as remarkable was how little the products in the monitoring space had changed in the past twenty years. The Big 4 (BMC, CA, HP, and IBM) seemed to be largely in maintenance mode with incremental feature development, and in the web community people were using open source tools like Nagios and Ganglia that had been developed in the late 1990s/early 2000s, with a very few moving to a newer paradigm around metrics using tools like Graphite.
A lot has changed in the past fifteen years: application architectures have become distributed and development organizations have moved to agile methodologies with a much higher rate of change than with traditional enterprise software. Most importantly, we now see product organizations running their own software for their customers. Product organizations require a very different kind of monitoring platform from what an IT administrator would need to manage someone else's software.
And we're not even getting in to how much the technology landscape for collecting, storing, and analyzing data has changed. Looking at all of these trends in totality, we felt there was a real opportunity to drive significant new value in the monitoring space.
How is SignalFx uniquely changing monitoring?
There are three things that we are doing that are new:
SignalFx recognizes that monitoring is an analytics problem. Instead of alerting on metrics and health checks for individual components, as has been the case the past 40 years, we've made it possible for organizations to alert on much higher-importance aggregate measurements within seconds of the events occurring. For example, it's much more useful to know that the 95th percentile of latency on a key API call is exceeding a critical threshold than it is to know that one out of your twenty nodes in a service has a failed a health check.
We have created a service that enables operations data to become part of the business discussion. Because it's so easy to send any kind of metric data into our service, we see organizations sending customer-specific metrics so they can ask questions like "Which customers are taxing my infrastructure the most?" or "Which customers are experiencing the worst latencies on my service?"
And finally, we've created a developer or product organization centric service. In the past, monitoring vendors assumed they knew the applications they were monitoring better than their customers and built solutions that were black boxes. We've built a developer-friendly product that solves all of the hard plumbing problems around metrics collection, aggregation, analytics, and alerting at scale, but provides complete flexibility to more advanced users to customize their own solution.
What value do you aim to bring customers?
Our goal is to enable them to focus on answering the important questions they have about how their applications are performing, scaling, and operating without having to spend unnecessary resources building out a monitoring infrastructure that isn't going to differentiate their business.
If customers get in the habit of using our product not just as a pure monitoring service but also as an general application intelligence solution, where they can understand their customers' behavior as it relates to their services and infrastructure, then they can start to drive even greater business value from SignalFx.
What's been the most exciting part of this journey?
All of it! We have an incredible team at SignalFx that cares very deeply about the problem space and shares our goal of building a great company. They come into work every day with great enthusiasm, smiles on their faces, and a desire to make our customers successful. It's incredibly fulfilling to see customers use the service to draw meaningful insights into their business.
What is your vision for the company?
Phil and I started SignalFx because we want to solve this tough problem of monitoring, but also because we want to build a great company. We've talked previously about our core values here.
We aim to be a trusted partner that helps product organizations across the world proactively monitor their applications, deliver high quality software, and answer critical questions about their infrastructure and customers. In the process, we hope to build a company with great values where people learn from each other and solve challenging, high-impact problems.