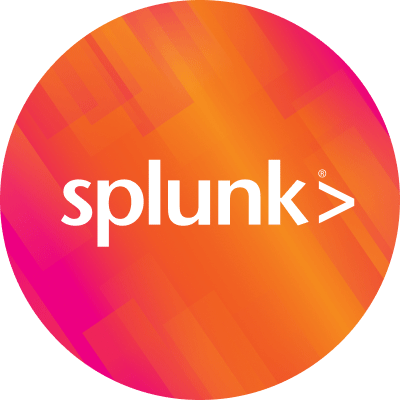 By Splunk December 19, 2019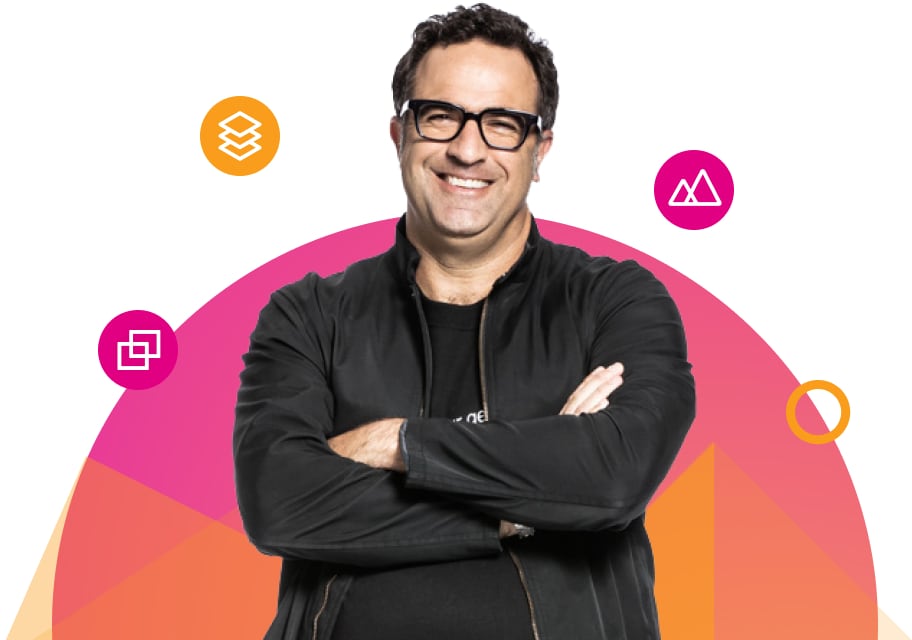 UPDATED 6/21/2020: Splunk Business Flow is no longer available for purchase as of June 20, 2020. Customers who have already purchased Business Flow will continue to have support and maintenance per standard support terms for the remainder of contractual commitments.
---
As the leading provider of IT operations monitoring solutions, organizations have come to rely on Splunk to deliver higher service levels with their IT systems. But we didn't want to stop there. One department in IT that is often overlooked when delivering the best service is the friendly help desk folks on the front lines! New solutions like Splunk Business Flow are perfect for service management teams who need to deliver continuous improvement for business processes and maximum satisfaction to their end users.
The service management team, the Service Desk, or the helpdesk is part of the IT organization that receives "help me!" types of requests from end users, such as internal employees. This organization typically has a wide range of tasks and projects that are each associated with Service Level Agreements (SLA) expectations. The role of the service management team can be daunting — managing an ever-growing active request queue at any given time, while requiring complex orchestration between different teams to fully resolve end user requests. With hundreds of thousands of IT service requests in queue, it is very easy to lose track of tickets and inadvertently deliver poor service quality to end users.
Ashley Sprague, head of service operations at Splunk, faced many of these same challenges. As Splunk's organization has continued to grow over the years, naturally IT service requests have grown proportionately. Despite numerous innovations in delivering IT services, the team has also extended its service offerings to meet the needs of an ever diversifying employee based in more locations around the world. Ashley needed a way to find the problematic needles in the haystack — to discover and investigate which of the thousands of requests in queue were not meeting service level expectations. So Ashley's team turned to Splunk Business Flow to drive continuous service improvement and keep all of their users loving Splunk's IT.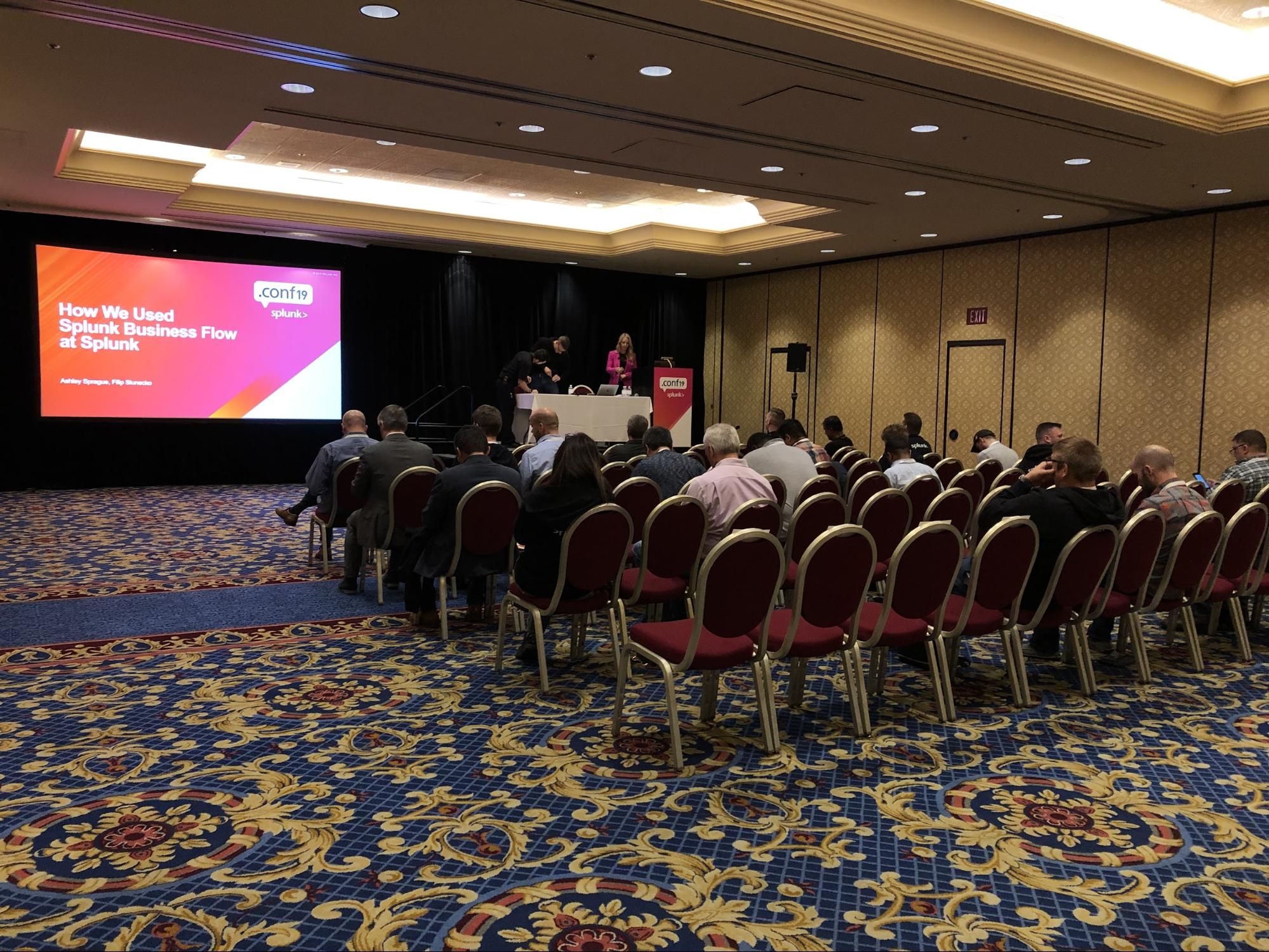 Ashley presented her team's case study of using Splunk Business Flow at .conf19 recently!

In her talk, she noted two areas where Splunk Business Flow helped her team discover and investigate anomalous ticket resolution behavior. The first was something her team calls "Black Holes." These are the tickets that get lost in the massive queue without being updated, progressed or clear line of sight to towards resolution. This unique pattern of problematic behavior is very difficult to detect with static reporting tools that can only provide a view of the current state. A process mining solution like Splunk Business Flow, on the other hand, stitches together ticket statuses using their timestamps to provide visibility into the end-to-end dynamics of the entire system.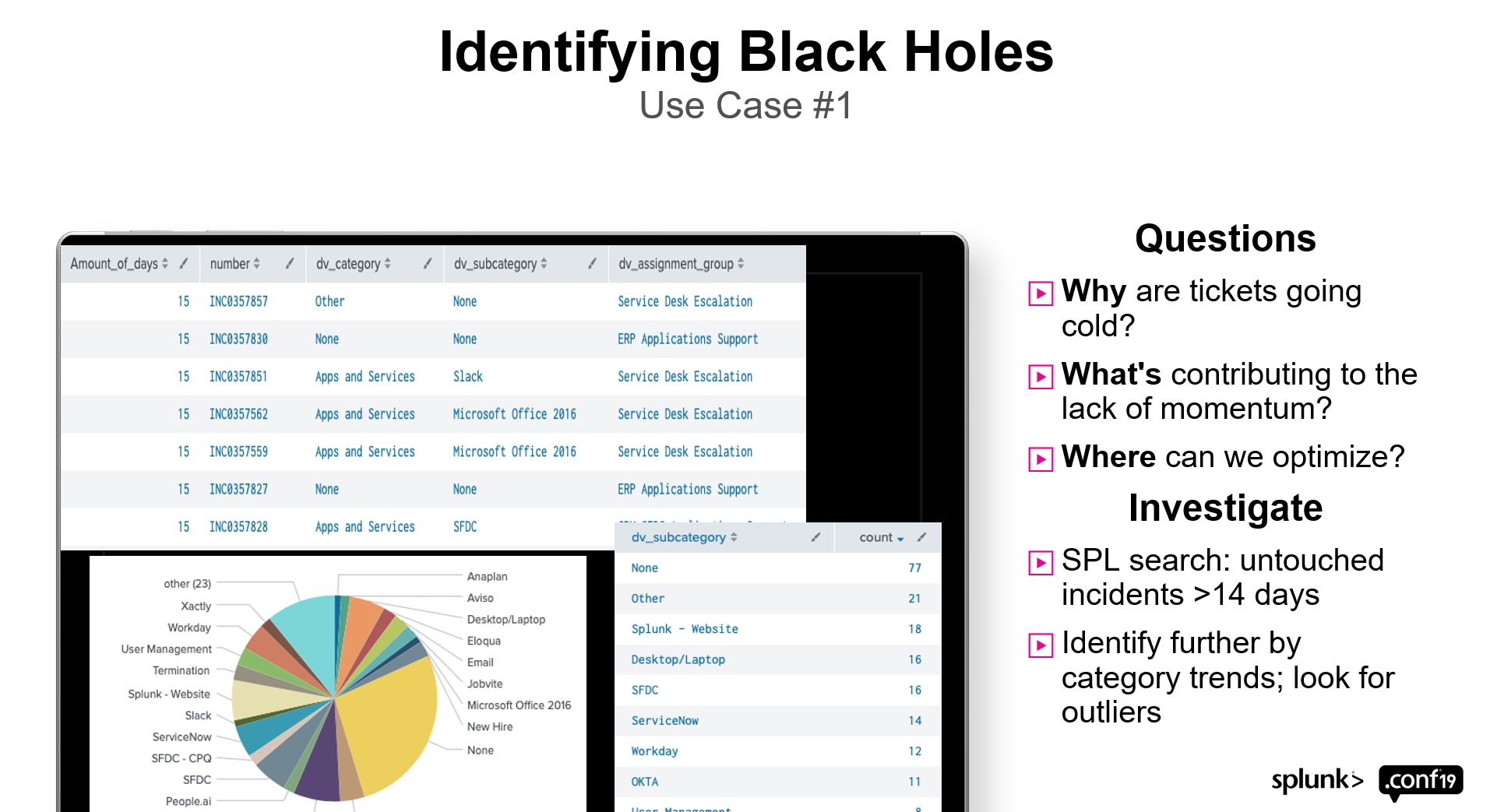 Ashley also noted how Splunk Business Flow helped her team discover and investigate tickets that just got delivered late. With the growing volume of requests, requests can breach promised SLAs even when they are delivered correctly and completely. Again, traditional reporting tools might be able to provide static metrics around completion times, but can't provide much insight into WHY SLAs were breached. A process mining solution like Splunk Business Flow, on the other hand, empowers service desk analysts to explore ticket resolution pathways very easily to isolate requests that were delivered late and identify potential causes for delays.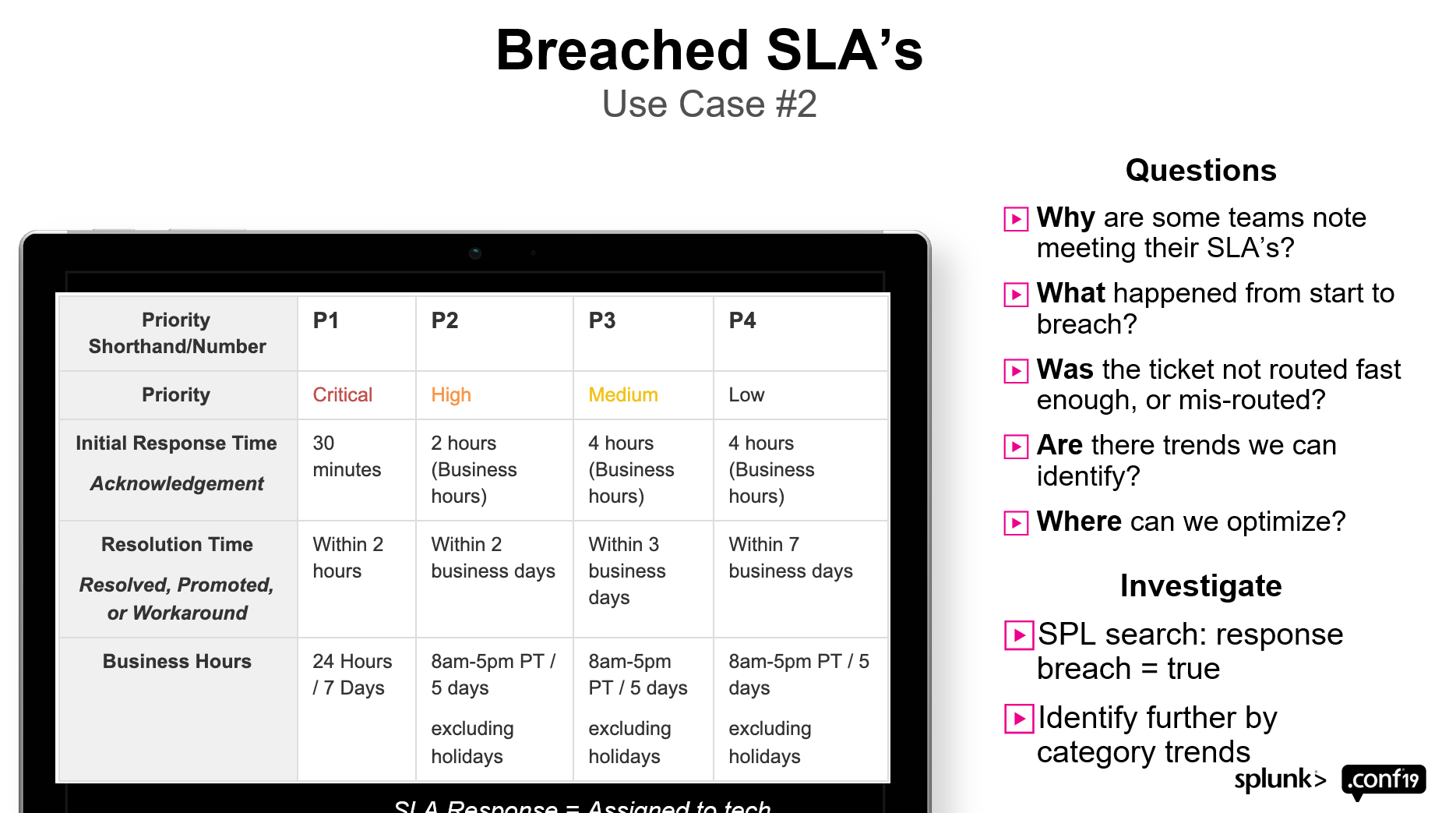 Using Splunk Business Flow, Ashley's IT service management team has been able to dramatically increase the throughput of service request resolution and lower the mean time to investigation and resolution. With IT service operations under greater pressure to do more with less, process mining can offer a unique way to deliver at greater scale and drive increased satisfaction from users.
Process mining is an emerging discipline that can help continously improve processes not only for IT teams, but also for other lines of business like manufacturing, marketing, or finance. Process mining can provide valuable insights into what IT service requests are causing the most problems and provide introductory investigation into why so IT service management teams become more proactive and productive.
Click here to learn more about Splunk Business Flow today!
----------------------------------------------------
Thanks!
Murthy Mathiprakasam