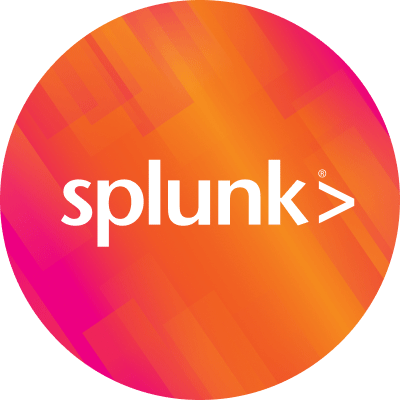 By Splunk March 13, 2015
Last week, I attended techUK's Public Sector 2030 Conference. The focus was on how the adoption of technology will help deliver the next generation of UK government digital services. There were four main areas that were discussed; IoT, mobile, data analytics and cloud. Francis Maude, Minister for the Cabinet Office, kicked off the event with a presentation that called out government as a platform and included (impressively) the importance of APIs and how Apple's App Store is the model of how UK Government digital services should evolve. He described government digital services as a critical piece of national infrastructure and drew an analogy with the Victorians building the sewer system. There was standing room only for his opening.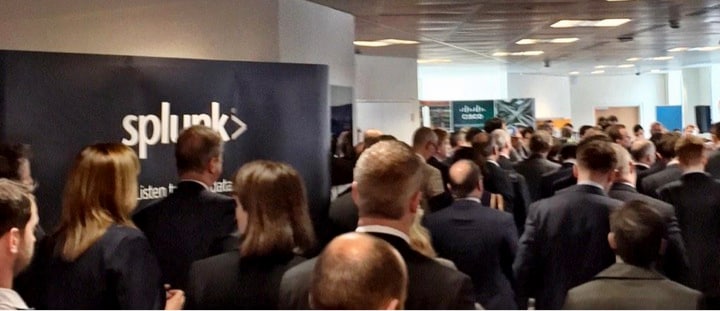 The event was highly interactive, both in person and on social media. You can catch up on the Twitter conversation here. I've been on a few of the panels at techUK events over the past 18 months but this was the most interesting and wide ranging yet, in terms of the impact technology can have and a consensus on the biggest challenges public sector faces in the UK. There were a number of votes throughout the day but the first, and most enlightening, was "what is the biggest obstacle you face in technology adoption":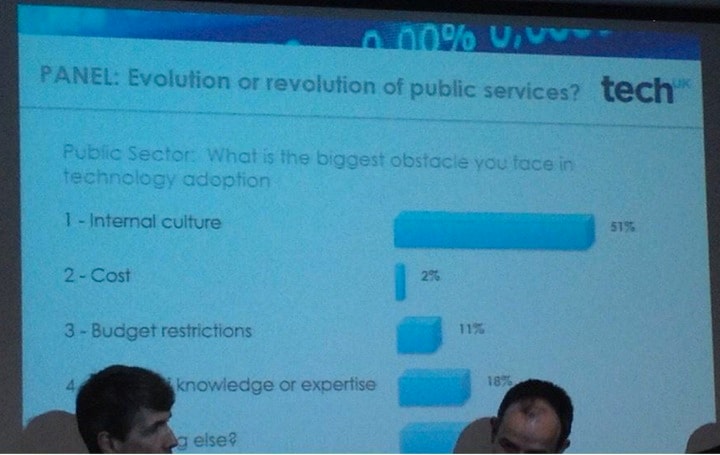 The biggest blocker, by a long way, was internal culture (not cost, budget or lack of knowledge). This certainly echoes one of the big discussions around big data right now which is "what's the value" and the demonstrable benefit of technology adoption. Quite often, culture is the hardest thing to change inside any organisation. If this is the biggest obstacle to delivering better digital government services then what's the answer? I've got a few thoughts on that later on but I wanted to highlight some of the key discussions in each of the major technology areas.
In an opening presentation from McKinsey, there was a poll of which of the four main technologies to be discussed (IoT, mobile, cloud and data analytics) were the most important for transforming government. There was a tie for first place between mobile internet and data analytics. My own view is that by 2030 we'll see quite an understanding that these aren't completely separate and they impact each other significantly, but that conversation is for another time perhaps.
We then started a series of panel discussions and Q&A on each technology area:
IoT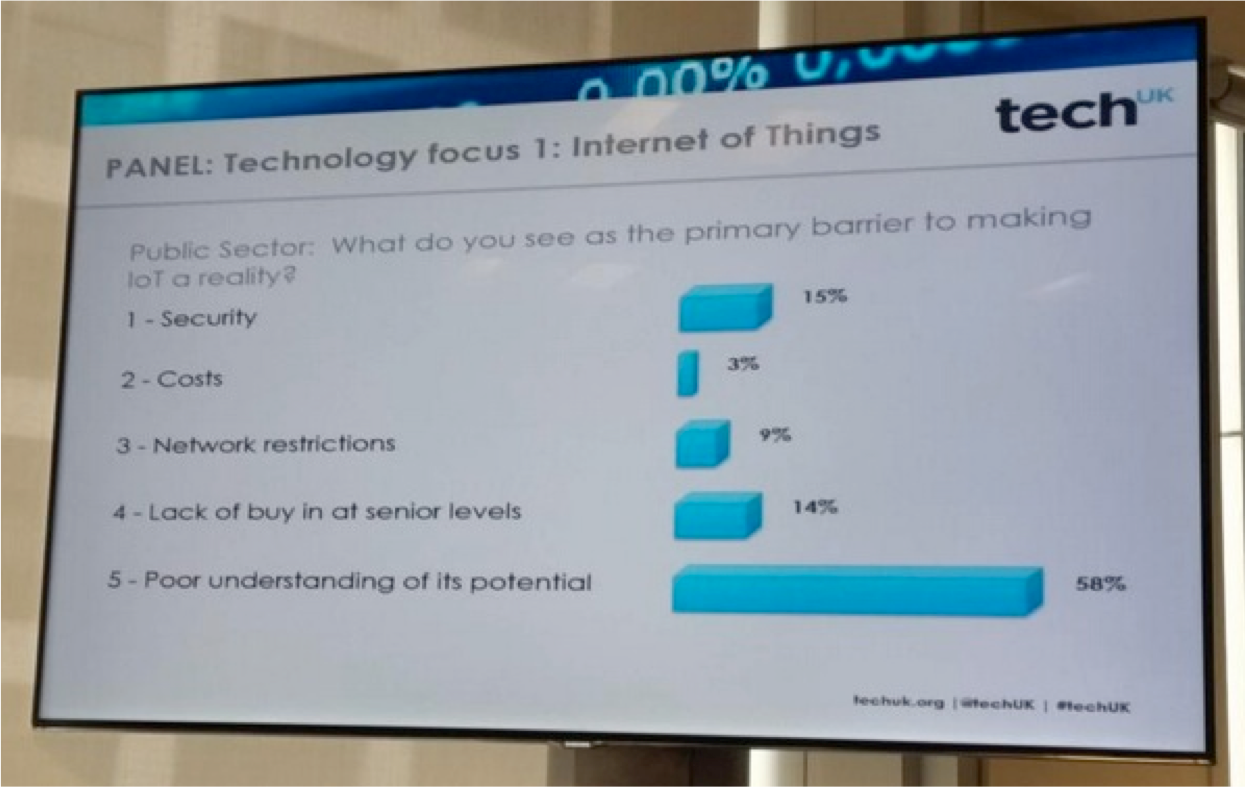 Some great examples here from Cisco and ARM about what's possible and where there is success around the world that the UK can learn from. Lots of good discussion about the positive implications of IoT on healthcare with an ageing population and the demands it will place on the NHS. A theme that came out was that a lot of the real value from sensors was the data and what we can do with it. The biggest obstacle to making IoT a reality for the audience was "poor understanding of its potential".
Mobile
Some really great examples here of how mobile is already making a difference to digital government. In a vote, the audience was very clear (80%) when they see that mobile will dominate the consumption of public sector services. A lack of common standards and open APIs is hindering some of the potential innovation according to Facewatch. Maybe it is just where I live but it still seems like we need to get much better mobile network coverage (I still only have GPRS most of the time) and a faster national broadband for everyone to really make these services ubiquitous. My one hope is that we make sure that the engagement with these digital services is a consistent one, regardless of channel. This will be underpinned by using the data correctly to create a 360 view of the citizen but I think that there are a lot of lessons government could learn from the omni-channel approach that retailers are taking.
Cloud
In a way the cloud discussion was the furthest ahead in terms of government adoption. The G-Cloud and digital marketplace was held up as a success story throughout the day. There still remain some issues with government adopting a cloud-first approach and shifting production services to cloud. There needs to be a policy change to enable it to have maximum benefit. The panel discussed that for government to be a platform (as highlighted by Francis Maude), cloud is key and public sector organisations need support in making the change from on-premise or outsourced. Looking ahead to 2030, the point of view that cloud just becomes an enabler for service provision seemed to be a very mature way of looking at something 15 years away.
Data Analytics
I was on the panel for the data analytics discussion along with SAS, QinetiQ, Deloitte, EMC and Paul Maltby (the Cabinet Office's Director of Open Data and Government Innovation). Paul sees data as "THE big reform paradigm in public services" and the work that has been done to publish and share government data both internally and externally has certainly made significant progress over the last few years. In a vote, 61% of the public sector organisations at the event didn't understand the concept of data analytics. This is probably a fair reflection of where we are at the moment. The data is there but how do we make best use of it? One issue that we started discussing but didn't get a chance to dive into was the need for security and governance of that data. If we want to get the trust and confidence in these digital services we need to make sure that security is front of mind. We ended with a great point from Deloitte if we look to 2030 – "What matters is the value of services that can be delivered, rather than the data itself".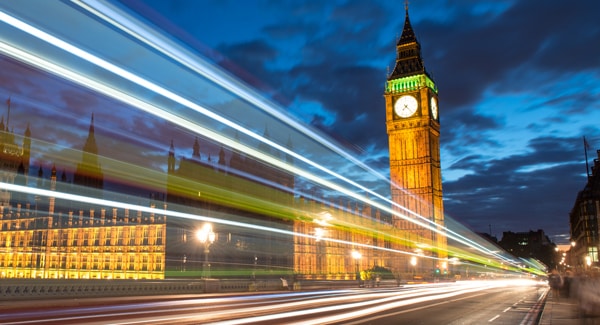 The day ended with a great presentation from Mark Thompson saying we need a revolution not an evolution. I think he's right but considering the results of a lot of the votes I did have the question of "how to you deliver the revolution?" Across all the sessions and all the discussions, I thought the most important theme was "how do you change the culture?" to remove those obstacles highlighted at the start of the day. There are already a lot of good success stories in UK public sector that we've seen at Splunk. I'm sure that there are a whole lot more. I can say from the position of being both a technologist (which some of my colleagues my laugh at) and a marketer that telling some of these success stories and socializing them would help show the value and start to change the culture.
This is by no means a criticism but by enabling both private and public sector to showcase the government success stories and the value of some of the new digital services would go a long way to starting to change the culture. This, together with some more imaginative leadership and not being afraid to learn from mistakes, would really help us accelerate some world-leading public sector digital services in the UK.
(Originally posted as a guest blog post at TechUK)
----------------------------------------------------
Thanks!
Matt Davies