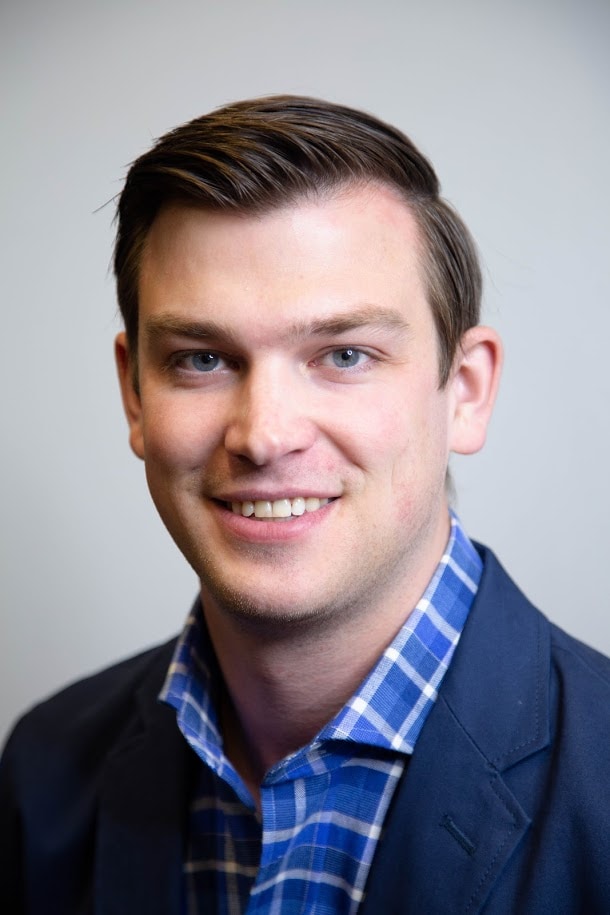 By Michael Sondag August 27, 2019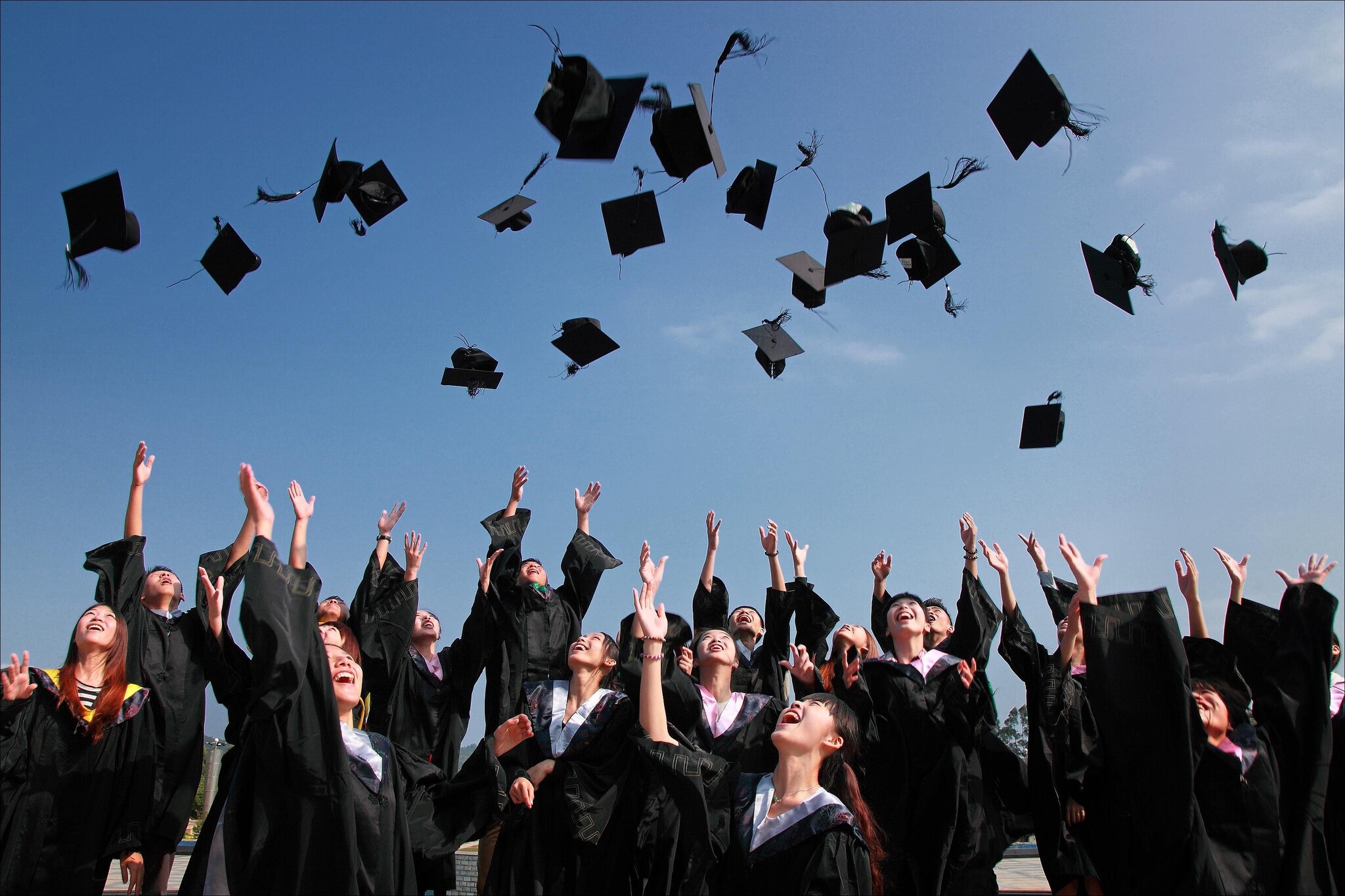 Higher education institutions leverage data and predictive analytics to varying degrees in support of their various institutional priorities. In the case of student success, the field of learning analytics is still in its early stages, but published research has identified a high degree of potential for improving teaching and learning.1 To apply learning analytics, institutions need data. Fortunately, they have increasingly been designing digital, highly connected spaces for students since the explosion of the world wide web. Many institutions have continuous wireless networks, federated access systems, digital classrooms, virtual learning environments, computing labs, and learning management systems, among many other technologies. There are significant volumes of data created at higher education institutions that can drive new insights into teaching, learning, and student success.
Despite the outlook for learning analytics' potential to impact student success, student-level learning analytics are far from pervasive today. While some 56% of institutions are planning or expanding their student success predictive analytics, a mere 7% of institutions have successfully deployed an institution-wide capability.2 Given the low or incomplete adoption to-date, the natural question is, "What's getting in the way on the student learning analytics challenge?"
Existing Challenges
By studying industry content, academic research, and technology surveys, consistent sources of friction against developing learning analytics emerge. The following challenges have historically inhibited institutions' ability to fully operationalize learning analytics and student success predictors to date.
Scale and Complexity of Environments: The number of systems, volume of data, and division of business units within a higher education institution make accessing and working with relevant data sources challenging.
Low-Density, High-Latency Data: Systems and methods for measuring student performance and engagement tend to use infrequently captured and often human-generated data.
Retroactive Success Measurement and Analysis: Many learning analytic efforts are conducted late or retroactively due to the the high-latency data challenge. This timing often results in a failure to identify changeable behaviors or recommend actionable interventions.
Splunk for Higher Education and Student Success
Splunk is used by more than 100 higher education institutions, in areas such as security operations, application monitoring, and even research in areas such as learning analytics. Given the close alignment between Splunk's core capabilities, the challenges above, and some initial customer successes in this area, we have created quick-start a solution to enable institutions to rapidly overcome these historical inhibitors by operationalizing learning analytics on top of Splunk Enterprise software.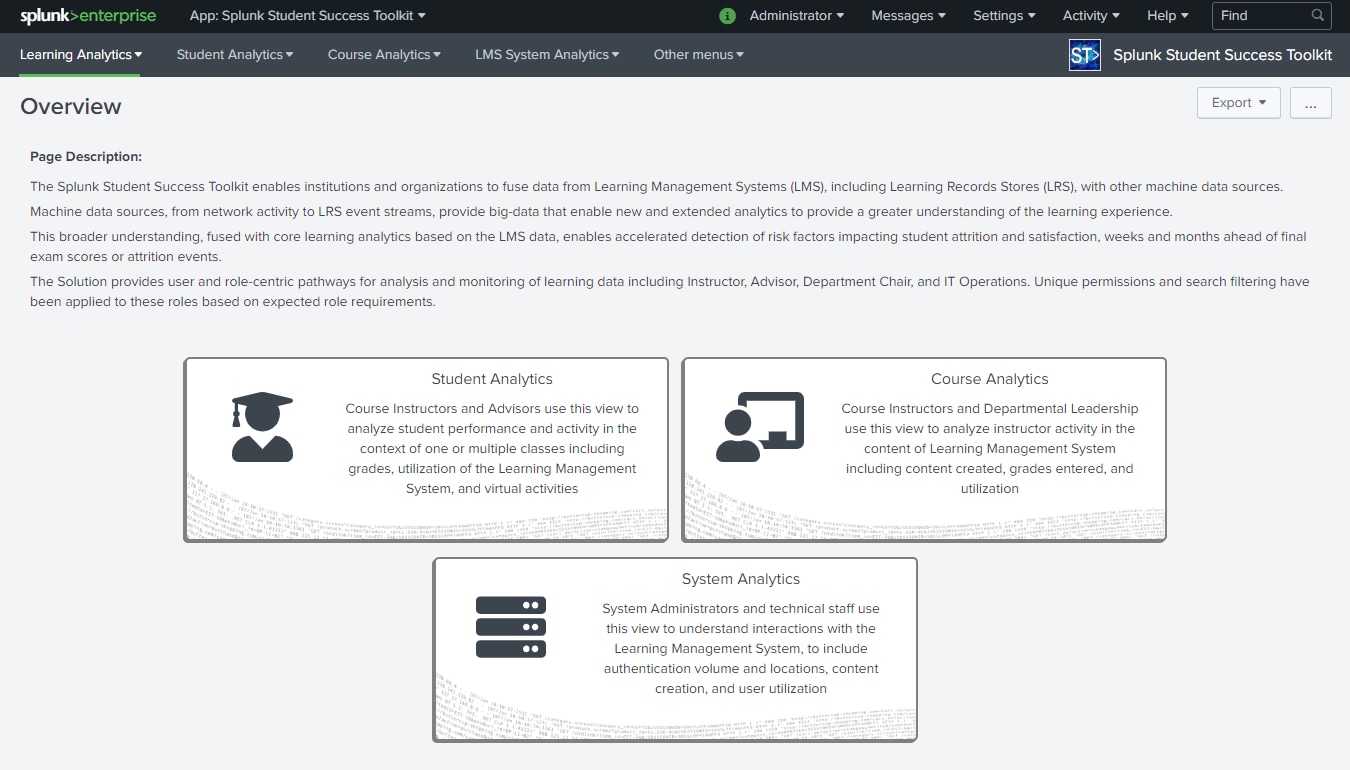 The Splunk Student Success Toolkit provides a prescriptive framework for operationalizing learning analytics within Splunk. The solution streamlines the ingestion of Blackboard or Canvas LMS data and Caliper event data streams. The solution then aligns these learning-centric data sources with other machine data sources that enrich our understanding of student experience and engagement. The solution includes pre-built dashboards aligned to student, course, and system views. These views enable comparing activities between students within courses, course activities and content by instructors, and overall use of the Learning Management System (LMS). Additionally, the Splunk Student Success Toolkit provides a pre-built data and machine learning pipeline aligned to learning analytics research. This pipeline provides not only example models, but a prescriptive workflow for building, tailoring, and deploying new analytics. The pipeline utilizes Splunk's free Machine Learning Toolkit (MLTK) to enable citizen data scientists to hack away on new models and rapidly deploy them into the solution.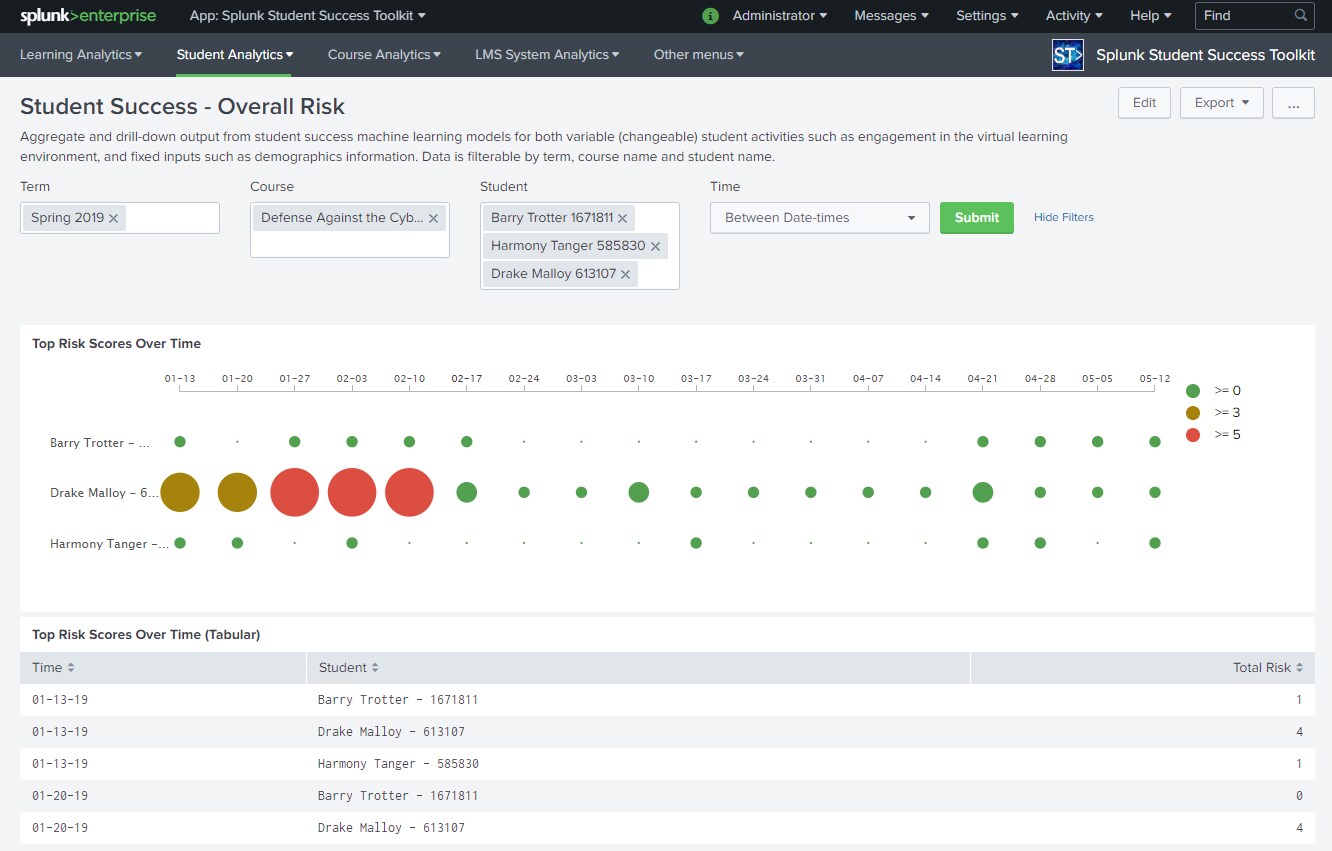 To learn more about the Splunk Student Success Toolkit, register for the webinar, "Operationalizing Learning Data with the Splunk Student Success Toolkit," on November 20th at 2pm EST / 11am PST.

---
Citations:
1"The current landscape of learning analytics in higher education": https://www.sciencedirect.com/science/article/pii/S0747563218303492