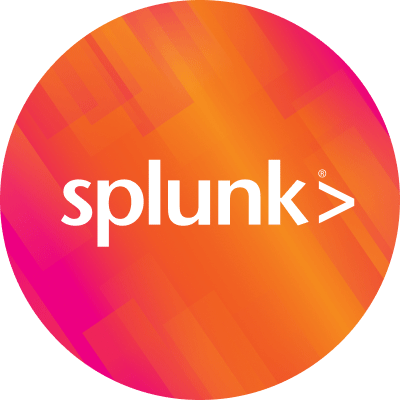 By Splunk November 02, 2018
Every day, nearly 4 million American veterans awake to lives forever altered by disabilities incurred during their time of service to our country. Splunk is proud to support our nation's veterans as a gold sponsor for the Disabled Veterans Winter Sports Clinic, where over 400 disabled veterans with amputations, traumatic brain injuries, visual impairments, neurological conditions, and other injuries participate in adaptive sports and community fellowship.
Over the course of a week in the ski village of Snowmass, CO, these veterans are given an opportunity to participate in a wide array of challenging and empowering experiences meant to develop new skills and positively influence their lives. According to the Disabled Veterans of America, the clinic began in 1987 and is the largest event of its kind throughout the world. This April, Splunkers from Public Sector—including the Veterans Affairs Account team—traveled to Colorado to volunteer.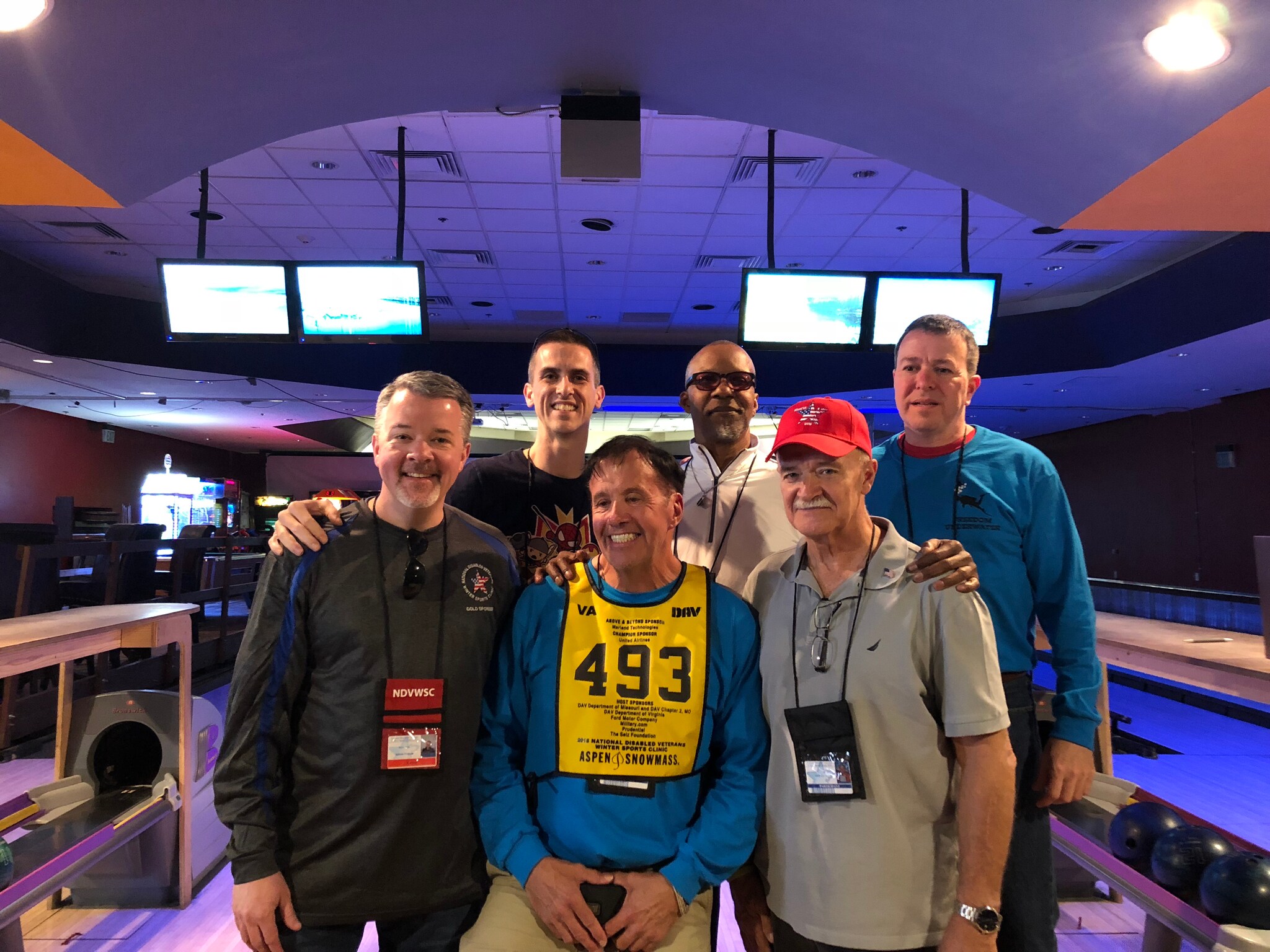 Splunkers (Bart Vey and Bob Lyons) with their teammates after a round of bowling
"I feel so fortunate to work for a company that repeatedly demonstrates its commitment to veterans both within and outside the workplace," added Grace Balancio, SE for Veterans Affairs. "It was an honor to support the participating veterans, who were seriously wounded while protecting our freedom. Watching these veterans participate in activities like skiing, fly fishing, and rock climbing was a wonderful reminder of the wonder and achievement life still has to offer, despite their disabilities."
Joe Phelan, Account Manager also supporting the VA agreed, saying that "[e]ach year, without exception, I'm profoundly humbled and inspired by these courageous men and women and am grateful for the chance to support this extraordinary event."

For Splunker Jillarae Reyes, the cause of supporting veterans hit close to home. "As a military kid, I am always so blown away by the strength of the men and women who serve our country. The opportunity to support the disabled veterans this year allowed me to witness miracles on the mountainside and that a disability is not an obstacle to an active, rewarding life."
The clinic—which is free to all veteran participants—is made possible through the generous support of companies, individuals, non-profit organizations and the Department of Veterans Affairs. "I strongly encourage everyone to work with your company to help sponsor and support this amazing event," said VA Account Manager Bart Vey. "We owe it to these Vets and are fortunate to have such a great venue to give us the ability to give back!"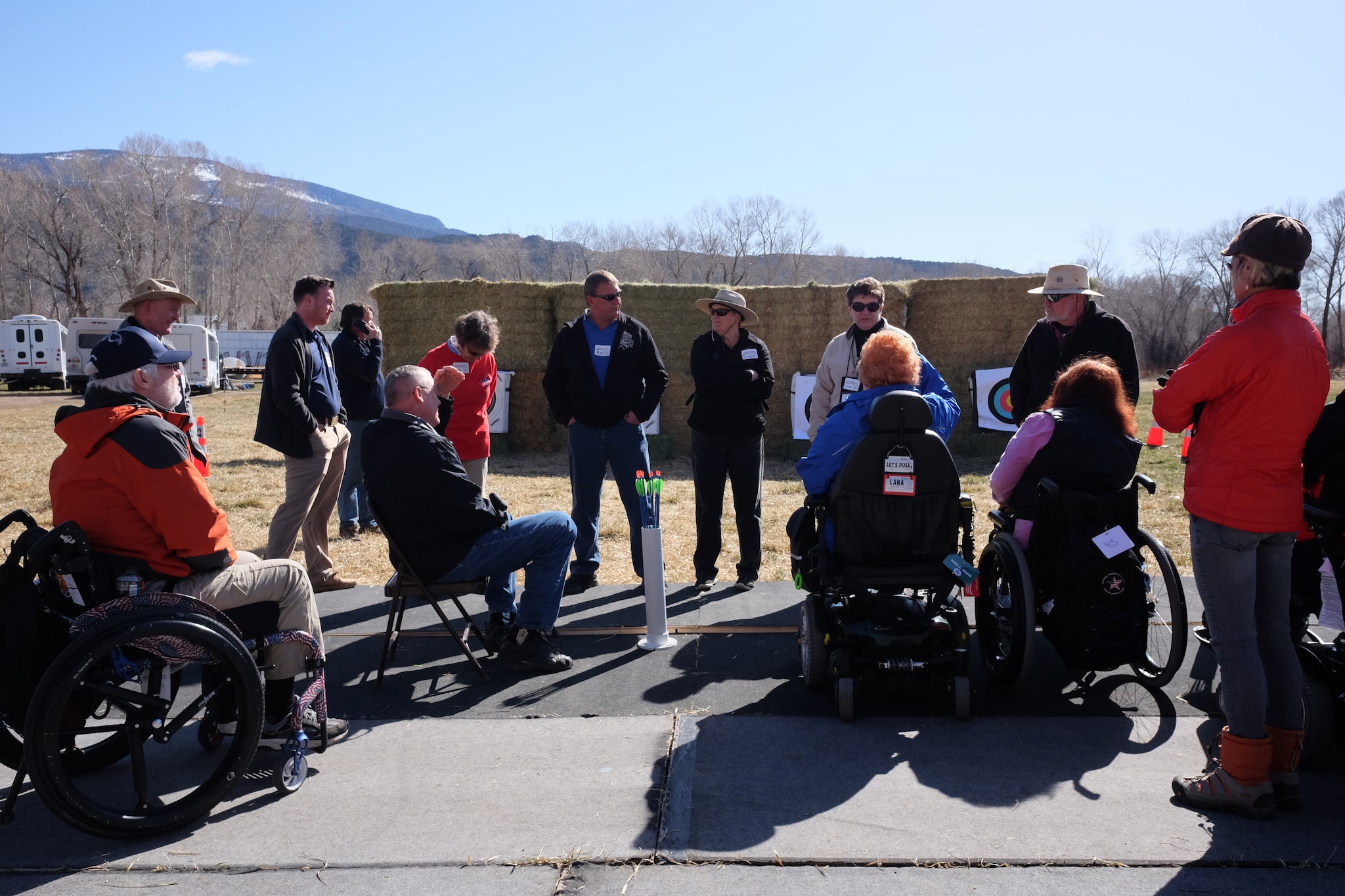 Veterans and volunteers share stories after a morning on the Nordic Ski course
"I am so proud to say this was Spunk's third year as a Gold Sponsor and that we were once again able to volunteer at such an incredibly worthy and humbling event," said Vey. "We owe these men and women everything for the tremendous sacrifices that they have made for all Americans.".
Read more about the Disabled Veterans Winter Sport Clinic and learn how Splunk is supporting the veteran community in our previous blog post, "Celebrating Our Veterans at Splunk."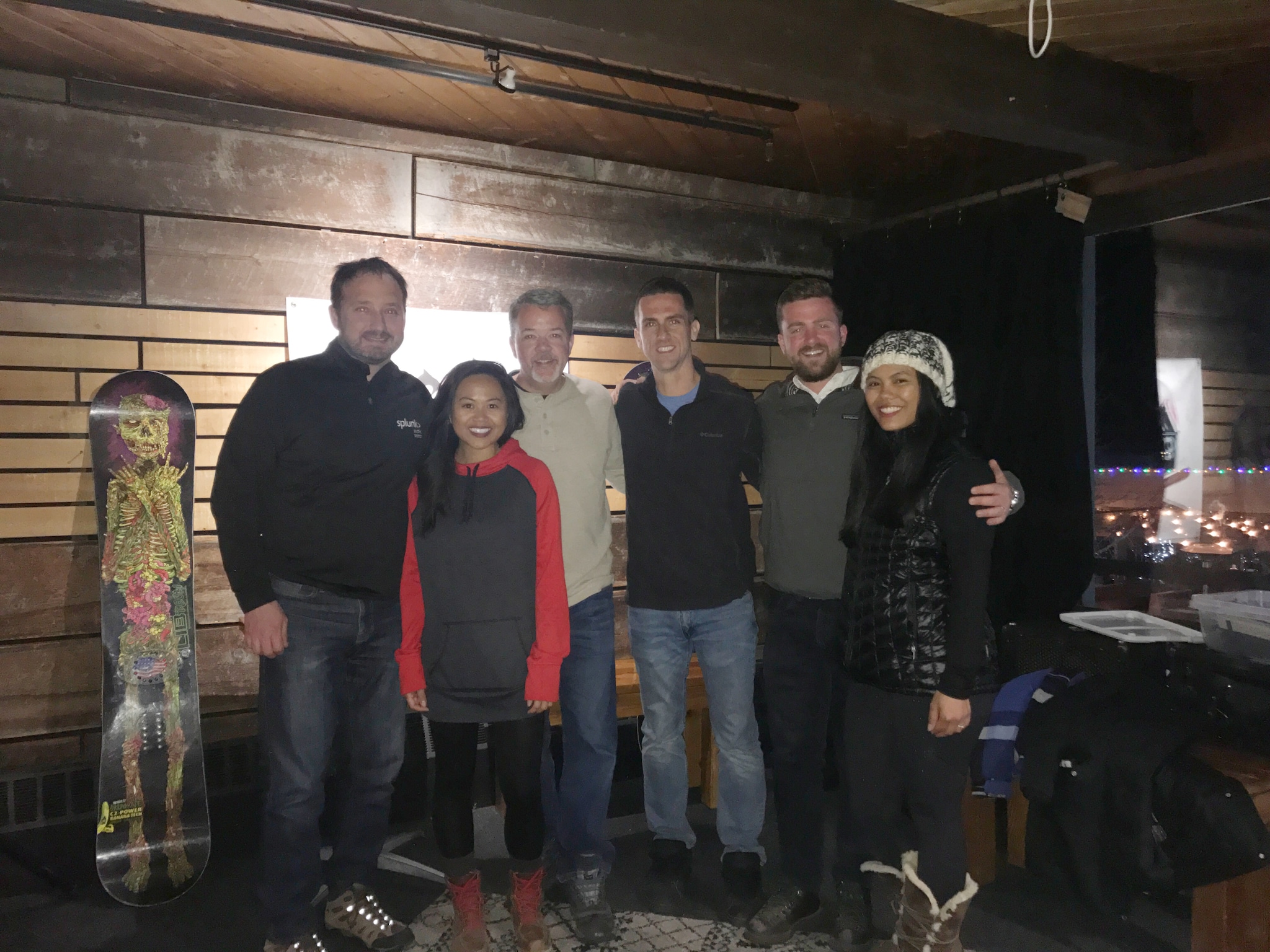 Splunk Public Sector volunteers (from left to right); Nate Russ, Jillarae Reyes, Barton Vey, Bob Lyons, Joe Phelan, Grace Balancio
----------------------------------------------------
Thanks!
Grace Balancio