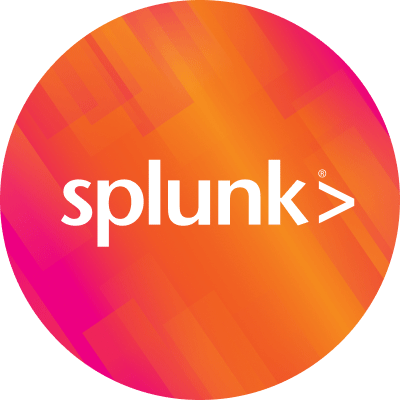 By Splunk October 26, 2015
#GovSummit in Washington DC – #countererrorism @splunk @Carahsoft pic.twitter.com/I9cU94eYNo

— Corey Moss (@Cbmoss) October 22, 2015
It was a packed house at our first ever Splunk GovSummit at the Marriott Marquis in downtown Washington, DC last week. More than 1,000 government and industry leaders, as well as technology partners, came together to discuss the latest innovations and trends in public sector around data analytics, cybersecurity and cloud software.
The day kicked off with an opening keynote from our Chairman and CEO Godfrey Sullivan who emphasized the more machine data government organizations bring in for analysis, the more insights and value will be gained. He also highlighted the immense growth of Splunk Public Sector, acknowledging that a significant portion of Splunk's overall business comes from supporting cybersecurity analytics. Cybersecurity is never far from the minds of the government agencies these days, but one of important points of GovSummit for me was that security is just one of the many challenges enterprise analytics can help agencies address.
Teresa H. Carlson, Vice President of World Wide Public Sector for Amazon Web Services took the stage next to discuss the future of cloud. Teresa described cloud software as a business-enabler that allows you to move faster and more efficiently. She emphasized that customers need the right information in order to ask the right questions, noting "Splunk provides the insights to help customers make better, more informed decisions." This is something that sounds obvious when you hear it, but we've found that many customers don't fully understand what the right questions are until they have a platform that allows them to do so.
"Cloud works. Customers love scalability & flexibility and only paying for what they use" – @teresacarlson, @AWS_Gov pic.twitter.com/cXmw6cWAnt

— Splunk Public Sector (@SplunkGov) October 22, 2015
Perhaps the biggest highlight of the day was having former joint leader of NSA and U.S. Cyber Command General Keith Alexander deliver our guest keynote. General Alexander reiterated the importance of visibility and discussed the need for effective cybersecurity strategies. In fact, he said the government's biggest challenge right now is the lack of visibility into federal networks. According to General Alexander, "if you can't see it…you can't protect it." He explained that federal organizations should be visualizing all of their data to detect what is happening on their networks and see who is accessing it.
LIVE at Splunk #GovSummit 2015: Gen. Keith Alexander (Ret.) talks strategic national #cybersecurity pic.twitter.com/pXmveEEYmz

— Splunk Public Sector (@SplunkGov) October 22, 2015
General Alexander also stressed the need for industry and government to work seamlessly together, adding that we should all think of cybersecurity as a "team sport" that requires contributions from everyone. I certainly agree with the General's assessment that collaboration between public and private sectors is critical to address today's far reaching cyber threats. However, we should realize that while cyber may be a "team sport," the "game" is something is continuously changing and will never really end.
"We are the nation that created the Internet. We should be the nation to secure it"- Gen. Keith Alexander (Ret.) talks #cyber // #GovSummit

— Splunk Public Sector (@SplunkGov) October 22, 2015
After General Alexander's keynote, attendees split off to attend different breakout sessions before coming back together for our industry lunch panel. The panel was moderated by Michael J. McGlynn, Vice President, Security Solutions of World Wide Technology and featured Michael Dent, Chief Information Security Officer of Fairfax County, Virginia, Dan P. Houston, Jr., PMP Manager, IT Analytics at the United States Postal Service, Eric Jeanmaire, Chief of the Cyber Defense Branch at USCIS and Major Steve Pugh, Cyberspace Defense Officer at the White House Military Office.
The discussion focused on the most pressing public sector IT topics including big data and analytics. The panelists also outlined how their organization uses Splunk. Major Steve Pugh explained that the White House Military Office uses our software to be proactive in their security efforts, adding "since enabling Splunk, it has been a total mindset shift." Additionally, Dan Houston talked about how there was initially resistance to using Splunk within USPS because departments were already using other analytics solutions. However, he explained that after the agency started using Splunk, the real value of comprehensive visibility and visualization became clear and now those same departments are regularly asking about how they can use Splunk in more areas.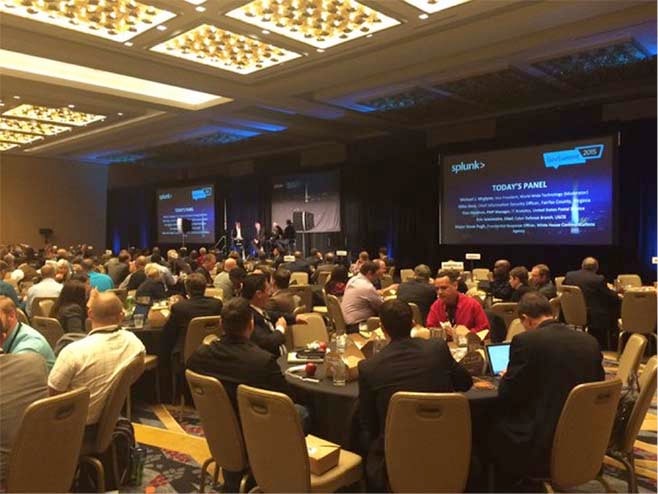 Guests attended two more rounds of breakout sessions for the remainder of the afternoon. Many of these sessions featured our public sector customers who shared their experiences and lessons learned. Chris Kurtz, a System Architect at Arizona State University, discussed how real-time analysis capabilities have helped them cut response times from several days to minutes. He described the experience as the invention of a microscope, "We didn't know what we couldn't see." Similarly, Justin Brown, IT Engineer at Pacific Northwest National Laboratory, discussed how PNNL participated in the beta program of our recently released IT Service Intelligence (ITSI) solution. Justin said the only downside of Splunk ITSI was realizing all the time they wasted before integrating it.
Additionally, the day was not only focused on public sector technology innovation but also supporting the military families of our servicemen and women. We partnered with Our Military Kids to raise awareness and donations for their cause. For every event survey completed, Splunk donated $10 to the organization. If we received over 350 completed surveys, we would double the total donation amount. I am pleased to announce we reached our goal and were able to donate $7,000 to this important cause.
Thank you again to everyone who was able to join us. Our inaugural Splunk GovSummit was a resounding success due to your participation and contributions.
I look forward to seeing you all next year!
Thanks,
Kevin
Kevin Davis
Vice President, Public Sector
Splunk Inc.
Related:
Federal News Radio — Justin Brown: Data analytics can help agencies prioritize budget requests