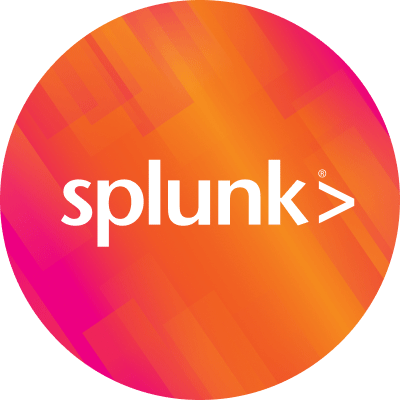 By Splunk September 10, 2020
As part of our ongoing collaboration with Atlassian to make Splunk Infrastructure Monitoring the best monitoring and observability platform for Atlassian users, we are pleased to announce today that we are bringing another integration to market, this time with Jira Software. Building on our existing Opsgenie integration that routes notifications to the appropriate team and provides deep insights into what caused the problem and how to immediately resolve it, our new Jira integration immediately triggers a Jira issue once an alert condition is met, to quickly and efficiently start the resolution process.
Splunk Infrastructure Monitoring alerts are the fastest and most accurate alerts in the industry. With our real-time streaming architecture and SignalFlow analytics, we provide DevOps teams with the fastest mean time to detect (MTTD). But this is just the start of the alert-to-resolution workflow. Developers still need to troubleshoot and resolve the incident quickly, and are under constant pressure to reduce mean time to clue (MTTC) and mean time to resolution (MTTR). Capturing anomalous events in Jira provides developers the right information in the right system for them to track diagnosis and resolution through the release cycle. With more than 65,000 customers worldwide, Jira is the industry's leading project and issue tracking platform, and automating the issue creation and assignment process takes all of the upfront latency out of the workflow while also ensuring the accurate and detailed capture of events.
How the Integration Works
The Splunk Infrastructure Monitoring Jira integration supports both Jira Software Cloud and self-managed versions of Jira Software (Server and Data Center). Once the integration has been set up, Splunk Infrastructure Monitoring automatically notifies Jira to create and assign a new issue when an alert is triggered, serving up the relevant information to the right developer without any delays. As part of the issue creation process, we include detailed context of the event that contains the alert severity, rule, and metrics that met the alert condition as well as relevant links to views in Splunk Infrastructure Monitoring, the organization's runbook, and any tips. Key highlights of the integration include:
The following fields are currently supported in Jira: Project, Issue Type, Summary, Reporter, Description, and Assignee.
The Assignee for the Jira issue can be set in two places in Splunk Infrastructure Monitoring, either the integration settings or the alert configuration. The latter takes precedence and helps ensure that the right issue gets assigned to the right developer rather than having all issues funnel through a single team member.
When the Splunk Infrastructure Monitoring alert condition clears, a comment is added to the Jira issue so that an accurate operational state is maintained with the issue at all times. This also helps improve MTTR and reduces effort by helping teams avoid chasing down issues that have already cleared.

Why it Matters
With this integration, we eliminate the risk of a human operator missing the alert (especially if it is broadcast to a noisy channel) and bypass the slow and error-prone process of having an operator interpret the alert and manually log into Jira, create an issue, and find the right developer to assign it to. It also reduces the need for developers to log into Splunk Infrastructure Monitoring or perform any data collection of their own. During customer- or revenue-impacting incidents, time is critical, and this integration helps streamline the alert-to-resolution workflow, improving collaboration, increasing developer productivity, and reducing overall time-to-resolution.
When Atlassian reimagined Jira last year to make it more user friendly and powerful, co-Founder and co-CEO Scott Farquhar highlighted the need to support modern software development teams building software in the cloud. In his blog, he pointed to dozens of new integrations that automatically sync with the redesigned Jira issue so that all team members can effectively collaborate without having to update Jira manually. We share this vision and are happy to bring a best-of-breed alert-to-issue integration with Atlassian to our mutual customers.
Configuring Splunk Infrastructure Monitoring to Automatically Trigger Jira Issues
Setting up the integration between Splunk Infrastructure Monitoring and Jira can be done in three simple steps:
Click on the Jira tile in the Splunk Infrastructure Monitoring Integration page.




Select "New Integration" and point Splunk Infrastructure Monitoring at your Jira Cloud or Jira Software instance with the appropriate credentials, email, and API Token for Jira Cloud or username and password for Jira Software. Configure the Project, Issue Type, default Assignee, and other applicable fields to capture the alert event.




Once the integration is set up, an alert can be configured, for instance based on a sudden change in application latency.



Now, when the application latency is anomalous an issue will automatically be created in Jira with the specific application metric for the specific instance of the application at the specific time of the anomaly. (For more on how Splunk Infrastructure Monitoring alerts work, read this blog post. For tips on creating alerts, download our Alerts Best Practices Guide.)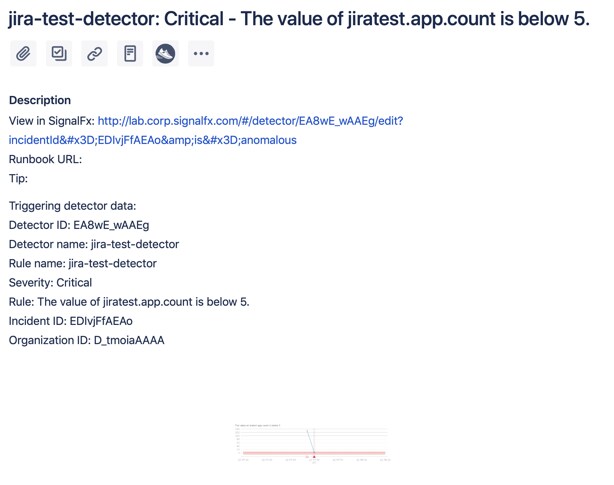 Armed with that context, developers can look deeper into the application metrics and transaction traces to rapidly isolate the root cause.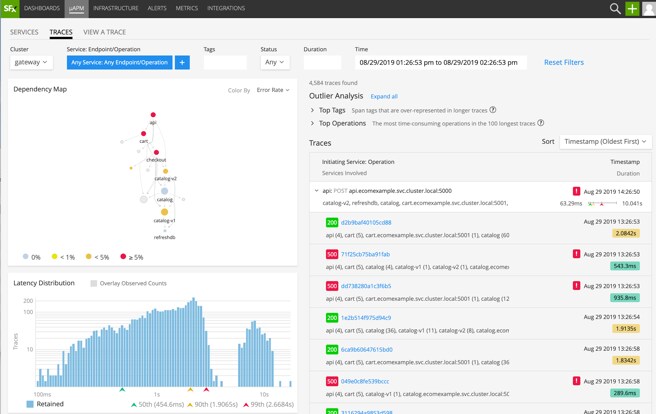 Note: In order to set up the integration, you must be an administrator in Splunk Infrastructure Monitoring and have the appropriate level of permission in Jira to browse projects, create issues, and add comments. Refer to our documentation for additional details.
Splunk Infrastructure Monitoring is currently available in the Atlassian marketplace with our existing OpsGenie integration.
If you're not already using Splunk Infrastructure Monitoring, get started with a free trial.
Who is Splunk Infrastructure Monitoring?
Splunk Infrastructure Monitoring is the only real-time monitoring and observability platform for cloud infrastructure and microservices. The platform collects metrics and traces across every component in your cloud environment, replacing traditional point tools with a single integrated solution that works across the stack. Splunk Infrastructure Monitoring is built on a massively scalable streaming architecture that applies advanced predictive analytics for real-time problem detection. With its NoSample™ distributed tracing capabilities, Splunk Infrastructure Monitoring reliably monitors all transactions across microservices, accurately identifying all anomalies. And through data-science-powered directed troubleshooting Splunk Infrastructure Monitoring guides the operator to find the root cause of issues in seconds.
----------------------------------------------------
Thanks!
Jeff Lo