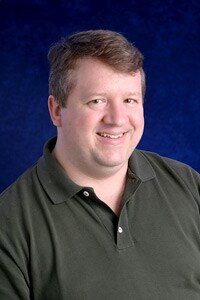 By Tom Chavez January 30, 2019
Splunk and its suite of products have always been at the forefront for solutions that help the IT and security industries. Moreover, many of the problems that Splunk solves go beyond traditional IT/security use cases and positively impact other departments, including application development organizations and those in operations who support the apps. Or for those that are combined, DevOps teams.
Introducing the Splunk Essentials for App Analytics app, available on Splunkbase.
What is Splunk Essentials? Splunk Essentials is a series of no-cost learning apps on Splunkbase created by Splunkers to teach users how to address use cases with advice, relevance, sample searches using the Search Processing Language (SPL) with included sample data, and screenshots for relevant content. No new data is indexed with this app without the user's consent and all examples are self-contained with their own sample data that's input through a Splunk Enterprise inputlookup command. A use case in Splunk Essentials has a common task to monitor or analyze and it contains multiple examples that help actualize the use case.
Let's get started with the Splunk Essentials for App Analytics app, which contains 28 examples across five use cases.
Essentials for App Analytics
After downloading the app and installing it on a standalone Splunk instance, the app is ready to go. The introduction page contains all the use cases: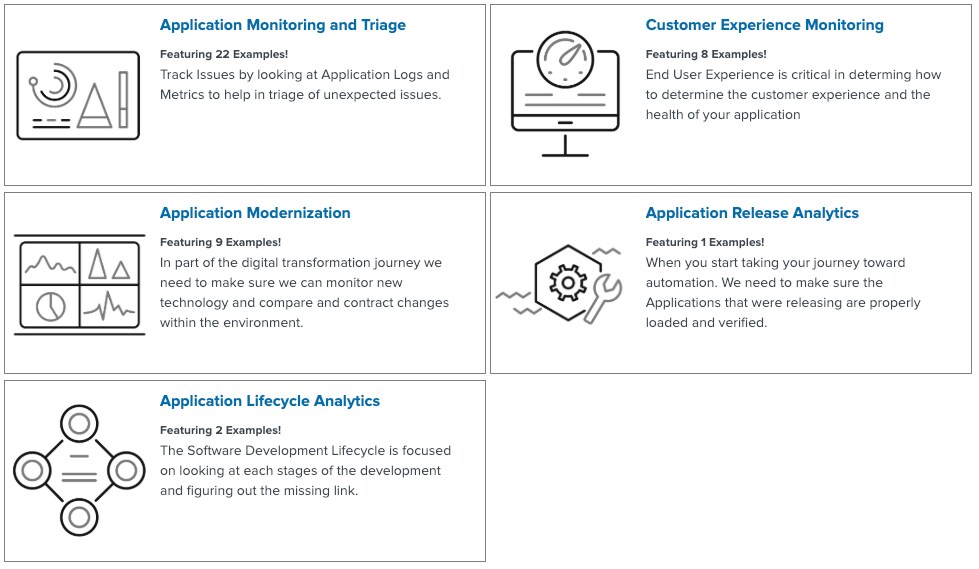 We've broken down the use cases to five themes:
Application Monitoring and Triage

Application Modernization

Application Lifecycle Analytics

Customer Experience Monitoring

Application Release Analytics
Within each of the use cases are examples, so let's look at each use case and some of the examples. Follow-up blogs will go into each example in detail.
Application Monitoring and Triage
For app monitoring, there are 16 examples included showing how to track issues by looking at application logs and metrics to help during triage of unexpected issues.
Application Modernization
For app modernization, there are 9 examples for monitoring new technology and comparing and contrasting changes within the environment.
Application Lifecycle Analytics
For app lifecycle analytics, there are 2 examples which focus on looking at each stage of the development lifecycle and figuring out the missing link.
Customer Experience Monitoring
For customer experience monitoring, there are 8 examples detailing how to measure the customer experience and health of your application.
Application Release Analytics
For app release analytics, there is one example for tracking automated releases and configuration changes.
Use Cases
Click on any use case from the Introduction page, or click Application Content > Application Content in the navbar and you'll see all of the examples. Examples are broken down by how they fit in the Splunk customer journey for operational intelligence (OI). Splunk OI has four stages, and each example is placed in one of the stages. The higher the level, the more operational value is obtained. You can also filter the examples by stage in the journey, use case, capability, and data source.
Now that we've seen all the use cases, let's visit a specific use case to see how to use the app.
Finding Examples
Click on Application Monitoring and Triage from the Introduction page and you'll see all its examples. Examples are broken down by how they fit in the Splunk customer journey for operational intelligence. Splunk OI has four stages and examples are placed in one of the stages. The higher the level, the more operational value is obtained.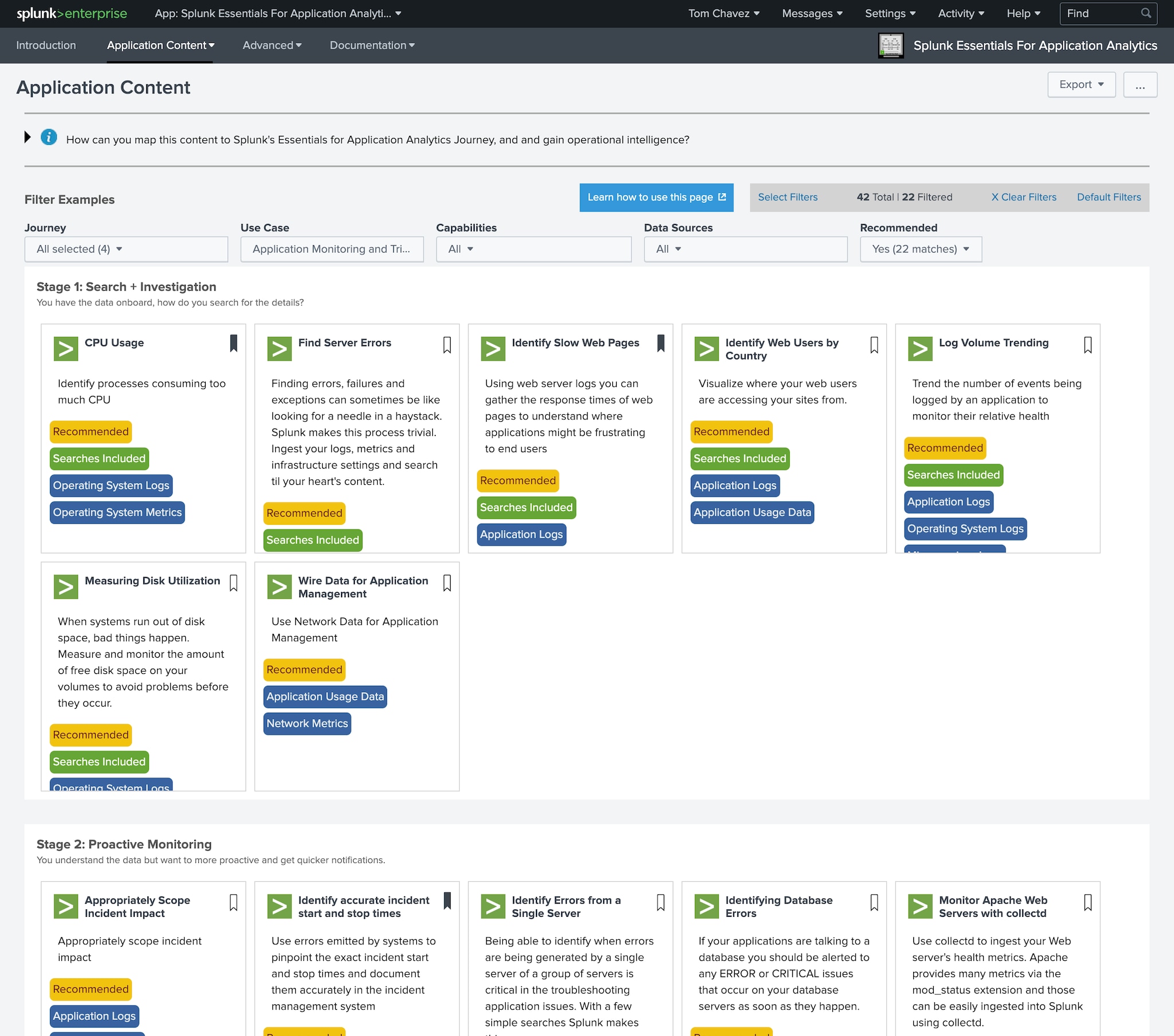 Partial view of examples for Application Monitoring and Triage
One way to monitor applications is to track response time to web pages served by those applications. Click on Identify Slow Web Pages. This example shows how collecting and analyzing web server logs helps you find the worst performing pages so development teams can focus on the worst performing parts of the application for improvement.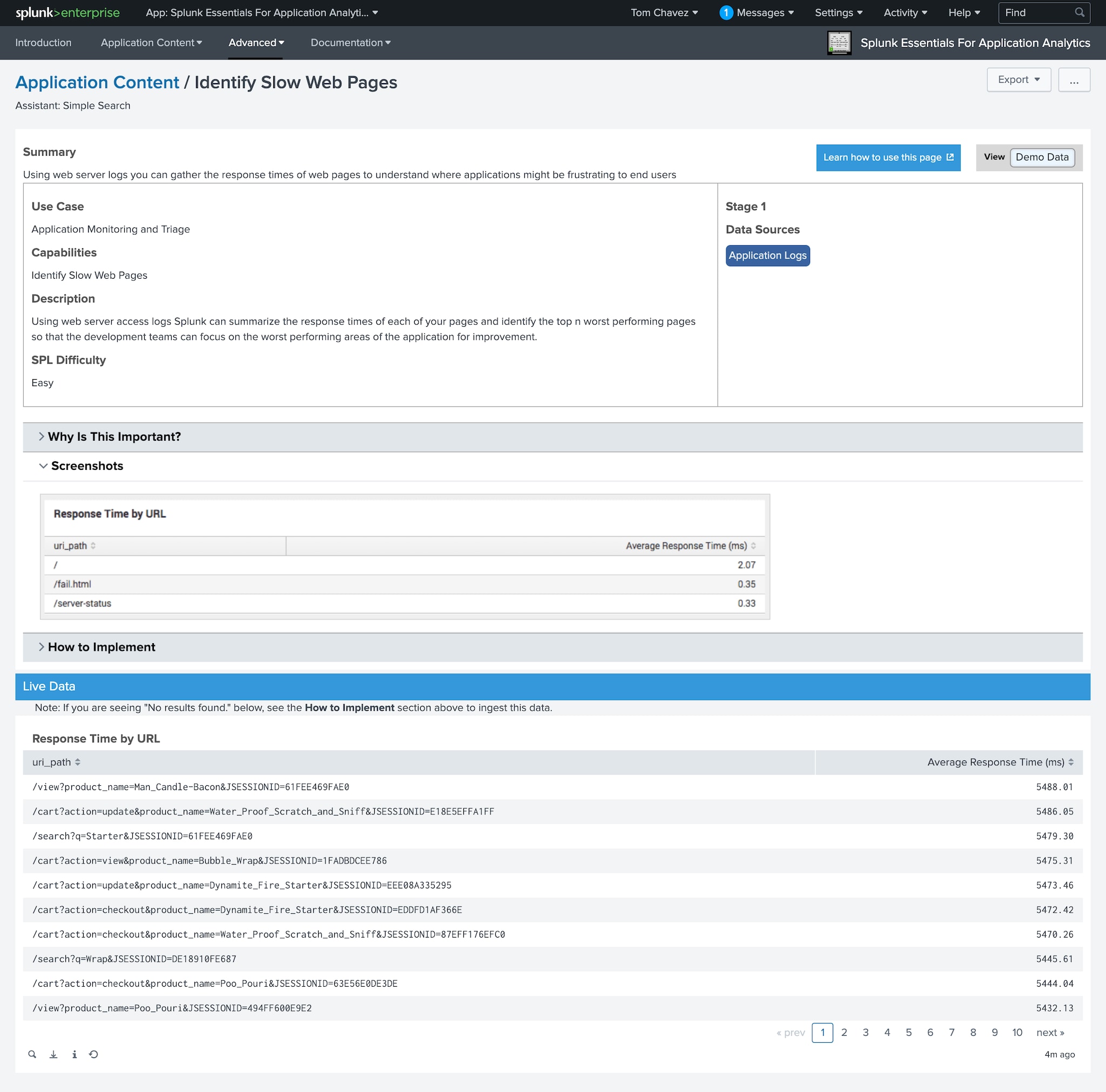 As you see above, each example has a description—why is this important, screenshots, and how to implement. If you expand the How to Implement, you can see sample SPL:

Bookmarks
The framers of the Essentials series created a nice feature that allows you to bookmark an example so that you can visit it later or call it out for other users of the Spunk search head to see. To use it, click on the little box next to any example that enables a bookmark in the examples screen for a use case: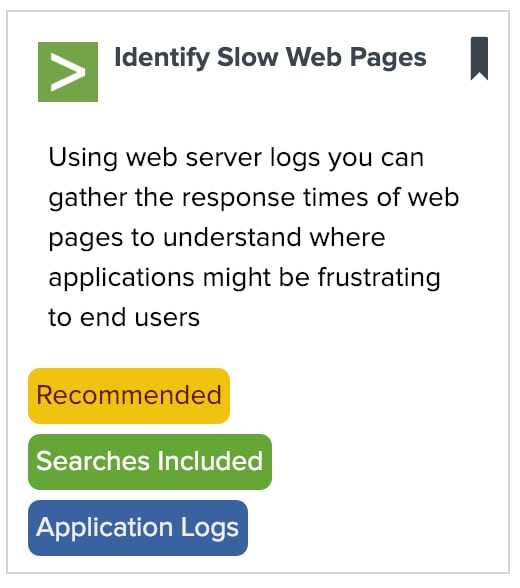 Then from the top navbar, in the Application Content menu, you can navigate to your bookmarks in Bookmarked Content.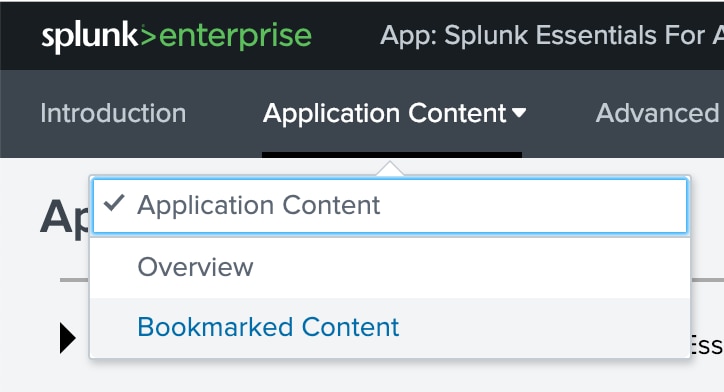 There are some advanced uses for these bookmarks—such as involving the use case example in a workflow for your own implementation—but for now, just bookmark use case examples that are interesting.
Conclusion
Hopefully, this Essentials app shows some useful ideas for using Splunk in DevOps and Application Analytics.
Click on as many examples as you wish to find something that may be a nugget for understanding your applications, from development to production. Each page in the Essentials app has a "Learn how to use this page" tour button on the upper right in case you aren't sure how to use it. More examples will also come out in future releases.
If you want insights about how you can get insights from your DevOps tooling, download the "Driving DevOps Success with Data" white paper.
I would like to thank Splunker Domnick Eger for his support for the Splunk Essentials series. Happy Splunking!