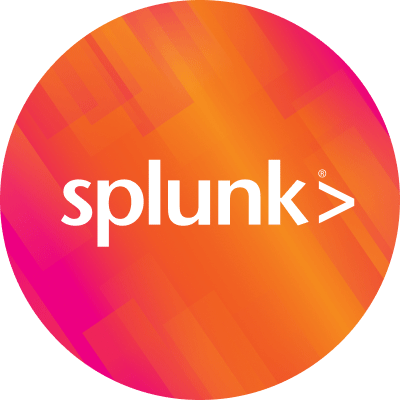 By Splunk April 07, 2016
SignalFx has a goal of enabling our customers to have great insight into their infrastructure, applications and the overall health of their digital world. To achieve this goal, we've worked hard not just to deliver on superior functionality for metrics monitoring and alerting, but also to make it as easy as possible for you to send in metrics. We strive to support any and all mechanisms you choose to use. Our belief is that this open approach to instrumentation is the best one for customers, and not just because you aren't locked into any single vendor's proprietary agent. Open instrumentation benefits from the efforts of the community at large and ultimately provides more robust, deeper, and broader access to the metrics you care about.
Over the past year we have been working to expand our collection of out of the box integrations. These integrations go beyond just ingesting data from a technology source to including pre-built dashboards that include that technology's most useful metrics and pre-configured alert detectors for the most common signal issues. We're making it easier for you to find the integrations you need, and provide pro-tips on monitoring and alerting for your evolving modern infrastructure technologies and platforms.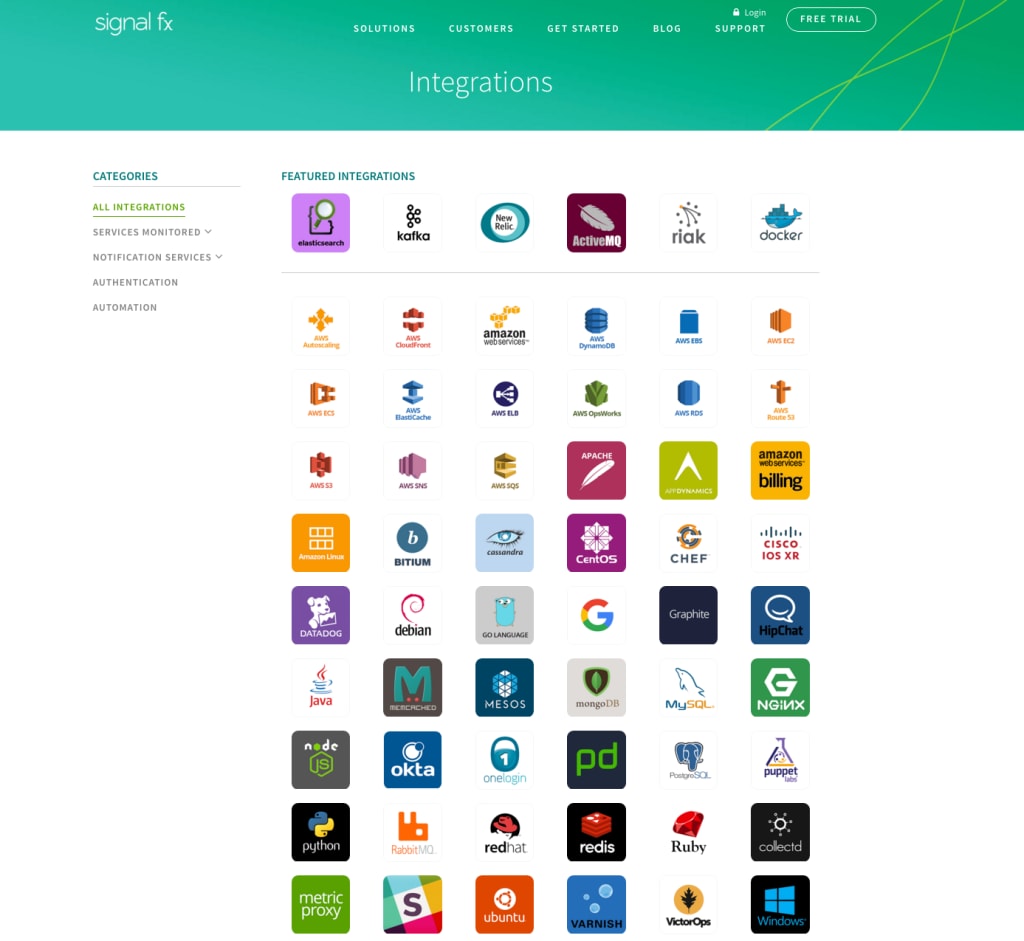 Now you can access all this information in one place — our new Integrations Directory provides a brief overview of all the integrations SignalFx has released, organized by what you want to monitor, what alert management systems you want to integrate with, what authentication systems you use, and automation tooling you use. Take a look and let us know what you think. We're also looking for input on what to integrate next. So if you have ideas, let us know!
In addition to the Integrations Directory, we also wanted to provide a developers with information on building and testing their own integrations. Many customers and partners have already used our open APIs to build integrations, CLI's, libraries, and more; and now we have a single place where you can find them all and contribute your own. At signalfx.github.io we are looking to build a community around metric instrumentation and integrations with the wider DevOps ecosystem.
To make metric collection both more straightforward and more robust, we have aggregated integrations that we have built in-house with those from our community. We've updated documentation, enhanced functionality and provided some guidance on how best to monitor many of the popular services that make up our users' modern infrastructure — like AWS ELB, Apache Kafka, and Apache Cassandra. We've validated these integrations against SignalFx and made them available to everyone.
"SignalFx makes it very easy to get data in. The team here was very excited with how easy is it was to create an integration to send the telemetry data from IOS XR to SignalFx. It was then straightforward to create charts and dashboards, set alerts, and visualize the data with SignalFx's real-time analytics once data was flowing."
-Shelly Cadora, Principal Engineer at Cisco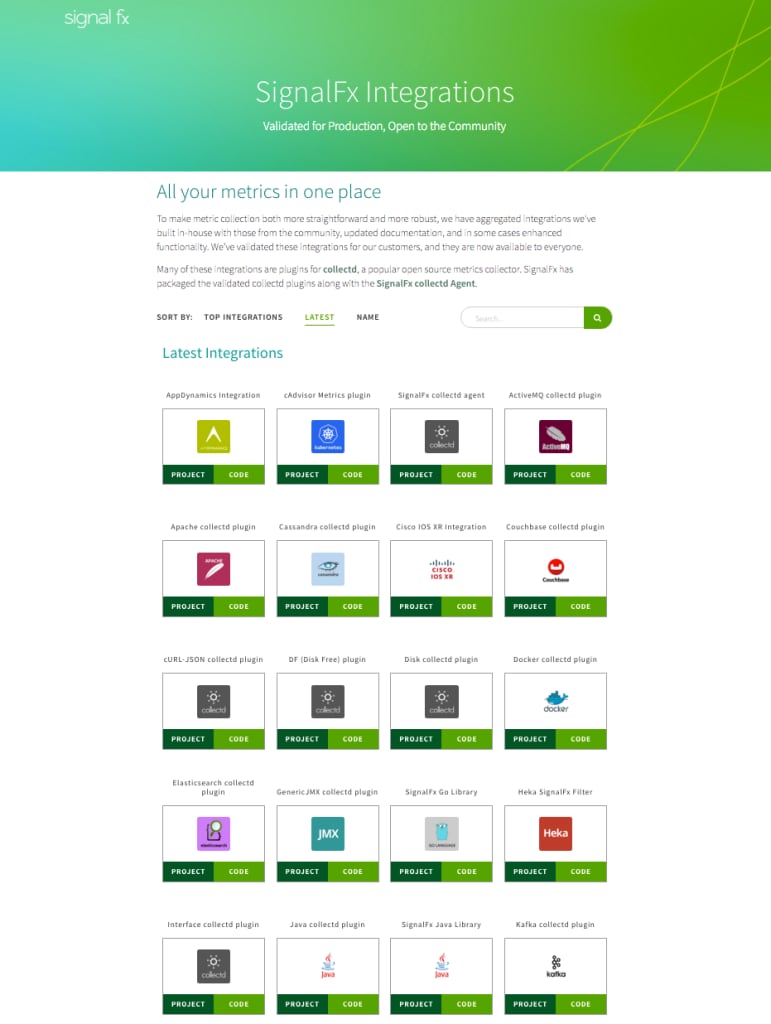 Many of these integrations are plugins for collectd, the popular open source metrics collector. We've packaged all the validated integrations with our own SignalFx collectd Agent. Additionally, you'll find integrations with other collection platforms and metrics pipelines such as Heka, Fullerite, and Diamond.
SignalFx believes in open source and values the contributions of a broad community. Since our inception, SignalFx has sought out open source projects both to increase the depth and breadth of our service offering, and to give back to the communities that help make the services successful. If you question metrics as much as we do and would like to provide an integration or contribute to the SignalFx collectd Agent, we'd love to hear from you. Open a pull request or send us an email here.
Thanks,
Adam Zimman