To tie in with the recent news that Valve have standardized on Splunk, we hosted a Team Fortress 2 Smackdown event in the Splunk London office. A team of journalists faced off against a group of UK Splunkers. As a bit of background, Team Fortress 2 (or TF2) is one of Valve's most popular games. Valve are also creators of some of the best-selling game franchises including Counter-Strike, Dota 2, Half-Life, Left 4 Dead, Portal as well as leading technologies Steam and Source. Valve have over 100 million active accounts and they are using Splunk to get Operational Intelligence into how games are being played, uptime of servers and ensuring the security of Valve and Steam games. Valve will rely on Splunk software to analyze more than five terabytes of machine data daily from a large volume of servers and to interpret network traffic events.
The idea of the evening was find out who was best at TF2 – journalists or Splunkers (the title might give you a clue as to who was the winner) and to demonstrate the Splunk App for TF2. You can see what happened in the video below:
The Splunk App for TF2 collects the log data from the TF2 game servers and gives you insight, analytics and data visualizations into what's going on in the game. The app gives you real-time gameplay intelligence about current game stats and very detailed information including:
Kill zones (overlaid on the game map)
Player relationships
Weapons of choice, usage, adoption etc
An individual's game performance
This last point didn't work out great for me as it showed just how bad I was at the game (more on that later). Here's an example of the real-time gameplay stats. Click to make full screen (my favourite is the weapon icon in the Real-Time Kill Updates):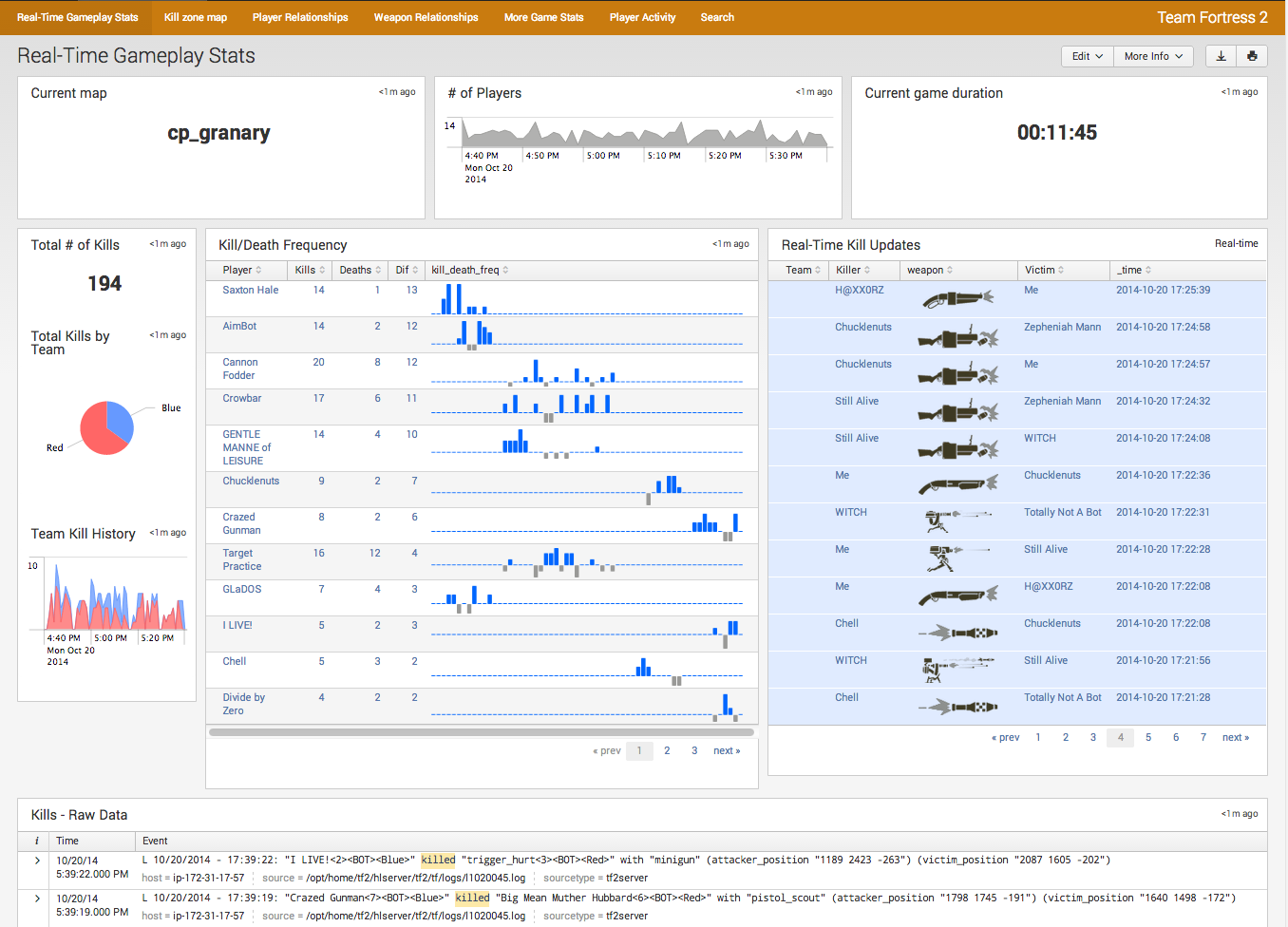 Well stocked up with beer, pizza and Red Bull, the journalists arrived at the Splunk London office. There had already been some excuses given by the journalists on Twitter but they were definitely lulling Splunk into a false sense of security. The Splunk team went from the sublime to the ridiculous to downright useless cannon fodder (me). We had Graham Morris (the UK presales manager) on our team who was a bit handy and tried to get our team working together effectively. Duncan Turnbull who can be seen doing a celebratory fist pump in the video was determined to kill someone with a frying pan, which he successfully achieved.
The Smackdown was broken into two halves with a number of different maps, game types and a chance at half time to look at the TF2 app in Splunk and how the match was going. The first half started with a glimmer of hope for Splunk as the journalists figured out to work as a team and Splunk made use of their numerical advantage with more people on team blue. Once the last couple of journalists arrived and they'd figured out how they were going to play, it went south very quickly for Splunk. I spent the first 30 minutes stood in a corner trying to figure out which way was up, generally marveling at the graphics and laughing at Duncan's frying pan exploits. I seemed to have most success hiding somewhere in defense and shooting anything that moved. Sadly this often included myself and the members of my own team.
I had very, very, very limited value as a member of the Splunk TF2 team. I could use age as an excuse and the fact that the last time I seriously played a First Person Shooter it was the late 90s/early 2000s and it was Doom 2 and then Quake. Even then, I was pretty poor. The odd occasion I've played Halo, my unique skill seems to be driving the jeep or acting as a human shield for my teammates.
Some low lights of the TF2 Smackdown included blowing myself off the top of a very high tower with a rocket launcher, being killed by the same journalist disguised as a spy 25 times in a row in exactly the same spot on the map and being last on the kill list (I was killed the most and did the least amount of anything for my team). I guess its true that you can't teach an old (incompetent) dog new tricks as proven by the league table below – congratulations to Graham for being the winner (click the image for full screen).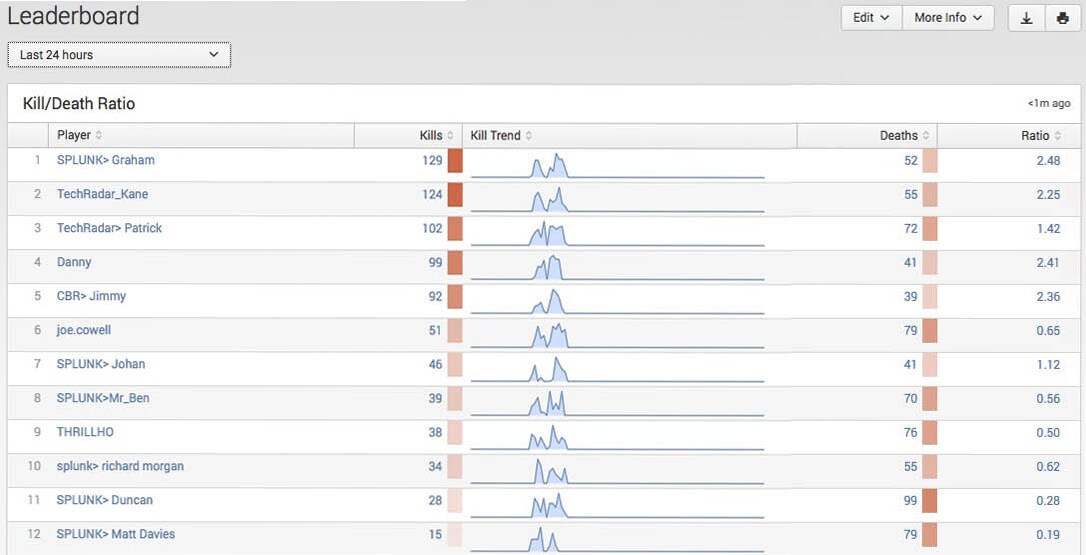 I had one Hollywood moment stood on a bridge defending a teammate as he rescued the flag. Shortly afterwards was a lot of virtual blood, shouting and three simultaneous headshots.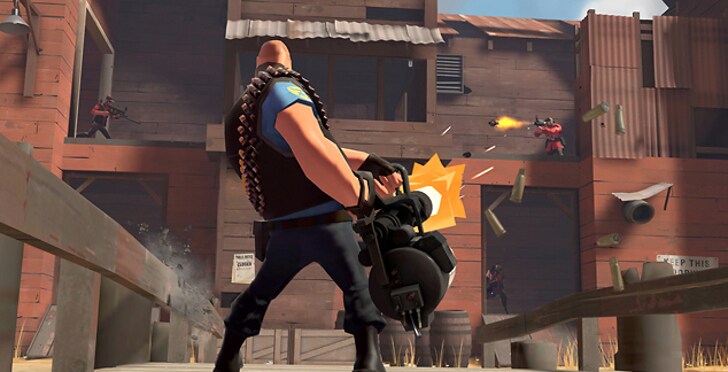 It was a great evening and quite a cool way to show off what kinds of analytics you can get from real-time data generated by servers, a network and user behaviour. If you play TF2 and want to get some interesting and entertaining real-time game intelligence you can use the free version of Splunk and the TF2 app and find out if you're as bad as me at the game – I suspect you're not. In fact I've got a feeling that my 8 year old son would have done a better job as he doesn't have the reaction times and eye-hand coordination of a concrete block.
Thanks to the journalists and the UK presales team for setting it up, coming along to play and not ridiculing me as much as perhaps they should have done…