By Steve Sommer October 29, 2010
Corporation Services Company: Weblogic Environment, Providing Value Across the Organization
Chris Daly, Director of Infrastructure and Application Support for Corporation Services Company (CSC), made a compelling presentation to a full house of Splunk customers and prospects in upper Manhattan this week.
CSC is a privately held organization headquartered in Wilmington, Delaware, providing legal and financial services for corporations, law firms, and financial institutions. CSC offers their Registered Agent for nearly half of all Fortune 500 organizations. More than half of the 100 best global brands trust CSC for domain name, trademark, and brand protection services. CSC offers software as a service (SaaS) solutions for matter and entity management, requiring no IT involvement or seat licenses.
CSC is a great example of a Splunk customer who keeps finding new uses for Splunk–and uncovering new sources for ROI. CSC is using Splunk for security, agile development, IT chargebacks and analytics, along with providing business data to HR and sales. Their environment relies heavily on WebLogic and the company sends 240 different application logs, network data and other data into Splunk. Given their broad use of Splunk, it's not surprising that they've created many different roles to support their user base.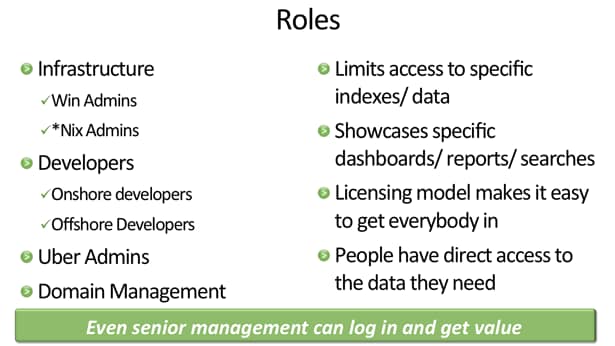 Like many SaaS providers, they use Splunk both to ensure higher service levels and provide valuable information to sales account teams (who need to understand customer usage of their service, accounts that might be in danger of not renewing, etc.).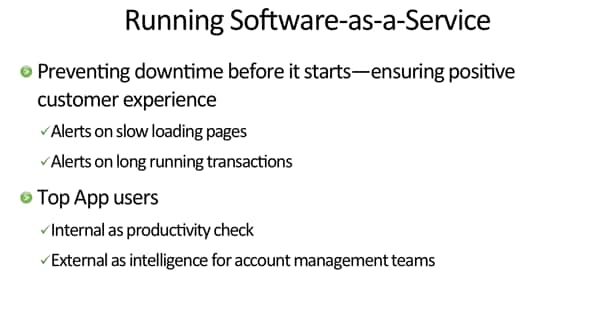 The value of avoiding service downtime, and the ROI of Splunk, became clear when Phil said that one minute of downtime results in 60 minutes of overtime for 60+ customer service reps.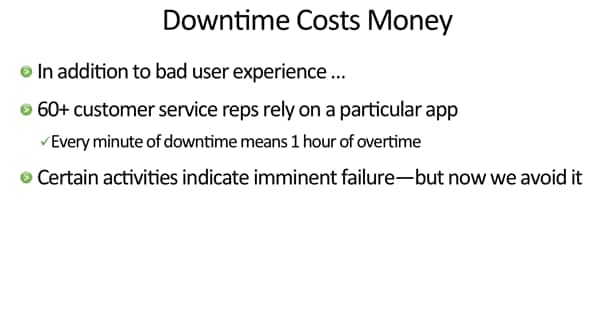 CSC clearly has made extensive use of Splunk to gain complete visibility into their WebLogic environment.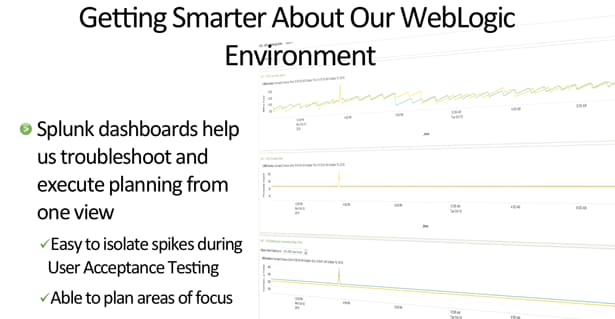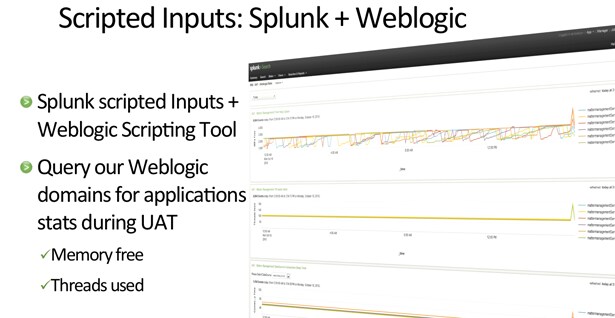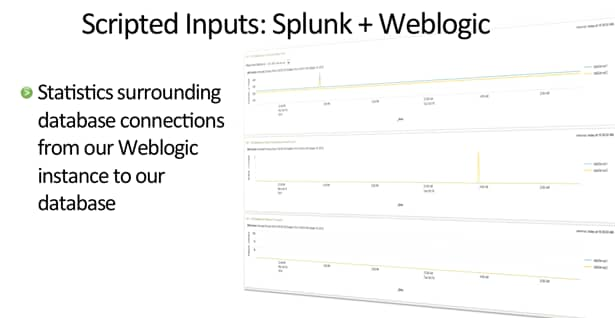 CSC also uses Splunk to monitor for security incidents. For example, they monitor the top 20 failed logins from their domain controllers–a useful stat for tracking ex-employees. Other examples include monitoring SSO Oblix auditing logs (which indicates failed login attempts), identifying user-facing issues and alerting account managers to follow up. They also use Splunk to identify and block brute force attacks from FTP servers.
Chris' last slide progressively shows the value CSC gained as their Splunk usage spread across the organization.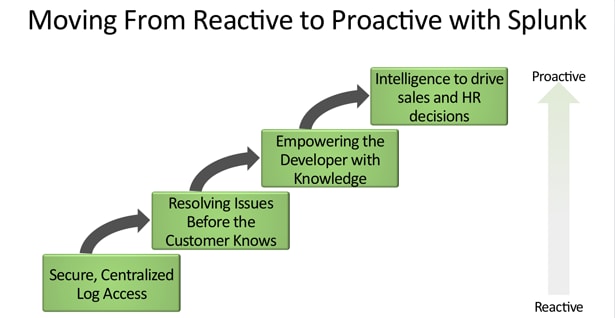 He summed up CSC's experience with Splunk when he said, "I've never seen so many people in my company excited about something. Getting Splunk in has been one giant 'Aha!' moment."
Risk Focus
Also at SplunkLive New York, Vassil Avramov, a risk management consultant from Risk Focus, presented how Splunk is used by their leading capital market clients. Risk Focus are experts in risk technology and complex trading systems. They provide services for risk management, human resources and business operations.
In the capital market environments where Risk Focus operates, systems are expensive and complex, with large operational and support teams. Downtime in these environments is extremely costly. Not surprisingly the Risk Focus philosophy is around mitigating risk and maintaining uptime: "Preventive is better than corrective, and corrective maintenance better be quick and replicable."
So why do these risk management consultants use Splunk? Splunk gives them the ability to provide "cross-cutting"—the ability to aggregate and correlate key data from different systems and silos. Only Splunk lets them see a consolidated view that cuts across the application, system, and organizational level. Splunk is at the core of their pattern-based detection strategy—which uses IT data to detect patterns and either resolve issues very quickly or avoid them wherever possible.
Risk Focus also uses Splunk throughout the application development lifecycle.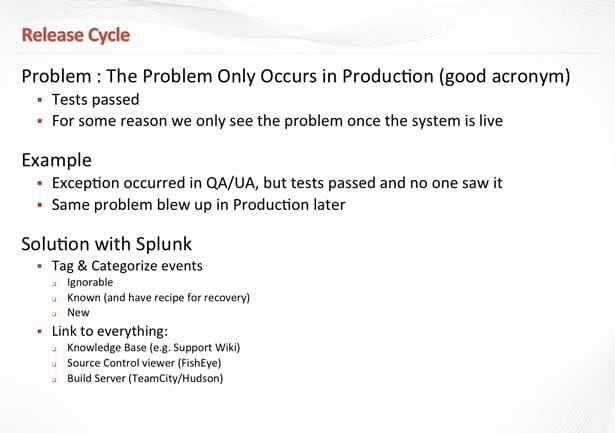 Splunk lets them gain operational intelligence into these complex systems.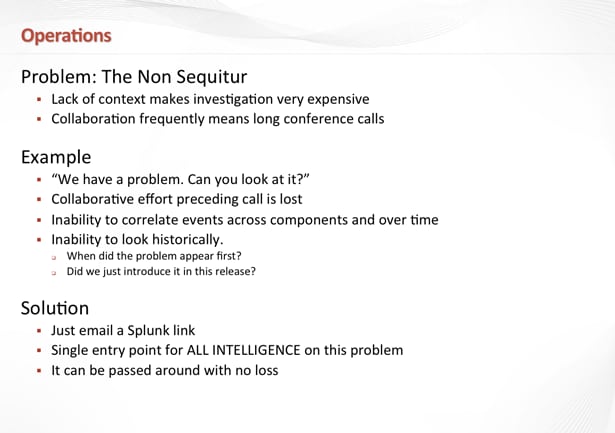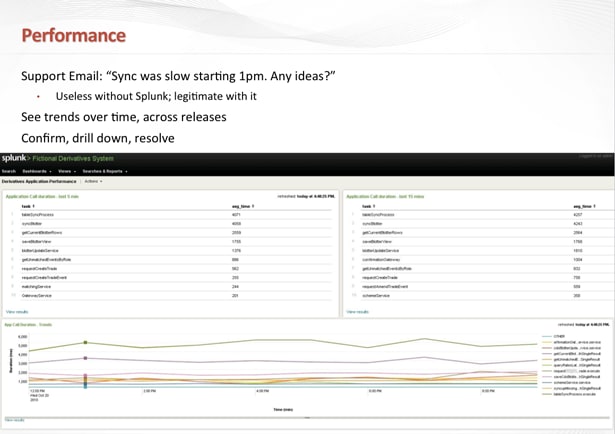 The last bullet in Vassil's final slide best summarizes his presentation, "Splunk unifies all."