Cycling is a data lover's sport. This year, partnering with my colleague Erick Mechler, I got a firsthand look at how pro-cycling powerhouse Trek-Segafredo turns data into cycling success. We helped them use Splunk insights to boost men's and women's team performance and increase their competitive edge, and also keep the business secure and profitable. The only thing better than the work we did with Trek this year is the opportunity to take our successes to the next level in 2020.
Renewing our partnership with Trek for next year is the first exciting step toward this goal. The 2020 season will bring new insights, innovations and strategic decisions for the team and the business — as well as a return to the Tour de France. We accomplished a lot this year, but 2020 is when we'll really shift things into gear.
Data Reshapes Nutrition, Security
Even in the early stages of the partnership, Erick and I saw a lot of promise in helping individual Trek-Segafredo riders make more accurate, predictive, and data-driven nutritional decisions. Using our Data-to-Everything Platform, Trek-Segafredo nutritionist Stephanie Scheirlynck created meal plans tailored to the cyclists based on their weight, body type, health and recent performance — with data that the athletes captured in their Garmin devices every day. She was also able to customize race program nutrition around the demands of course terrain, duration, altitude, weather and more.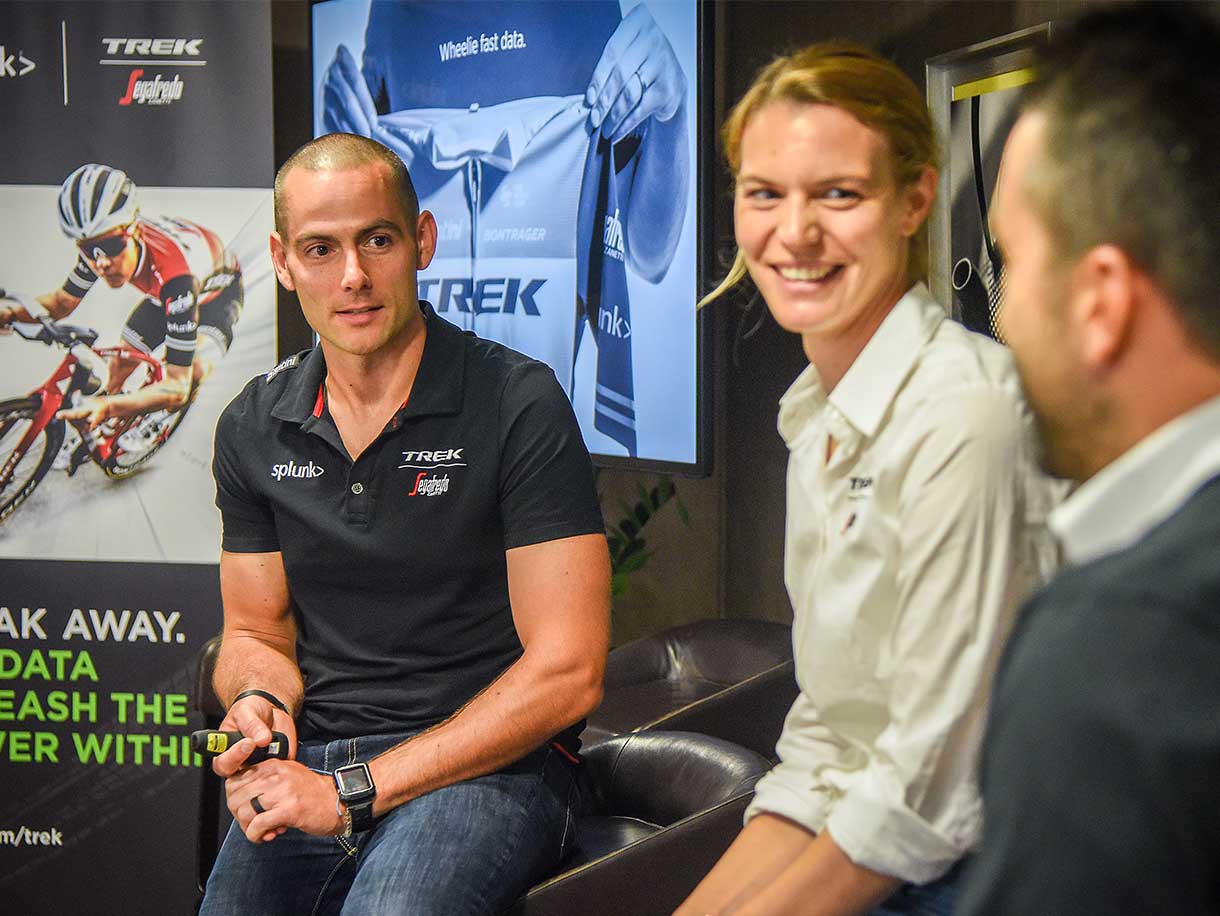 At a discussion of the power of nutritional data, I got to present with team nutritionist Stephanie Scheirlynck and Head of Performance Josu Larrazabal.

And it's not just the athletes who are benefitting from actionable data. Behind the scenes, Splunk customer success manager Robert Garvito and our Customer Success Team helped Trek global information security engineer Kevin TeStrake and his colleagues stand up a comprehensive, Splunk-fueled security initiative that helps keep the company safe from cyberattacks and disruptions. Now Trek security analysts can drill down into systems, conduct meaningful searches, and rapidly sift through data to choose the right course of action. Trek can also identify network anomalies that could indicate the presence of botnets, DDoS attacks or malware that could otherwise cripple critical company systems.
On the retail side, Splunk is also helping Trek learn new things about its customers and what they want so that the company can provide a more personalized experience for each customer, whether a recreational enthusiast or a pro racer. Further down the road, Trek could use data to give customers a better overall experience with each new bike — from purchase, to bike rides, to all of Trek's support and service offerings and more.
A Tour de Force
All of this work was in support of a great company and two phenomenal cycling teams. Both the men's and women's squads had a great season. The men had a strong showing at the Tour de France, finishing second out of 22 teams. Erick and I were lucky enough to be there — truly a bucket-list experience. It was a thrill to shake hands with the entire team, and exhilarating to see everyone ride their final laps on the Champs-Élysées. The women had a great season, too, performing well in Italy on the Giro Rosa, at the Emakumeen Bira in Spain, and many other races. Watching the women in Pasadena at the end of the Tour of California was another experience I'll never forget.
Another highlight was off the roads: The Homestretch Foundation, a nonprofit organization founded by Trek evangelist Kathryn Bertine, achieved its goal of setting a base salary for women cyclists mandated by UCI, starting in 2020. This was a long-sought milestone for women riders around the world. Trek's ongoing mission to achieve parity of pay and access for both men and women athletes — values shared by Splunk — are another reason this partnership works so well.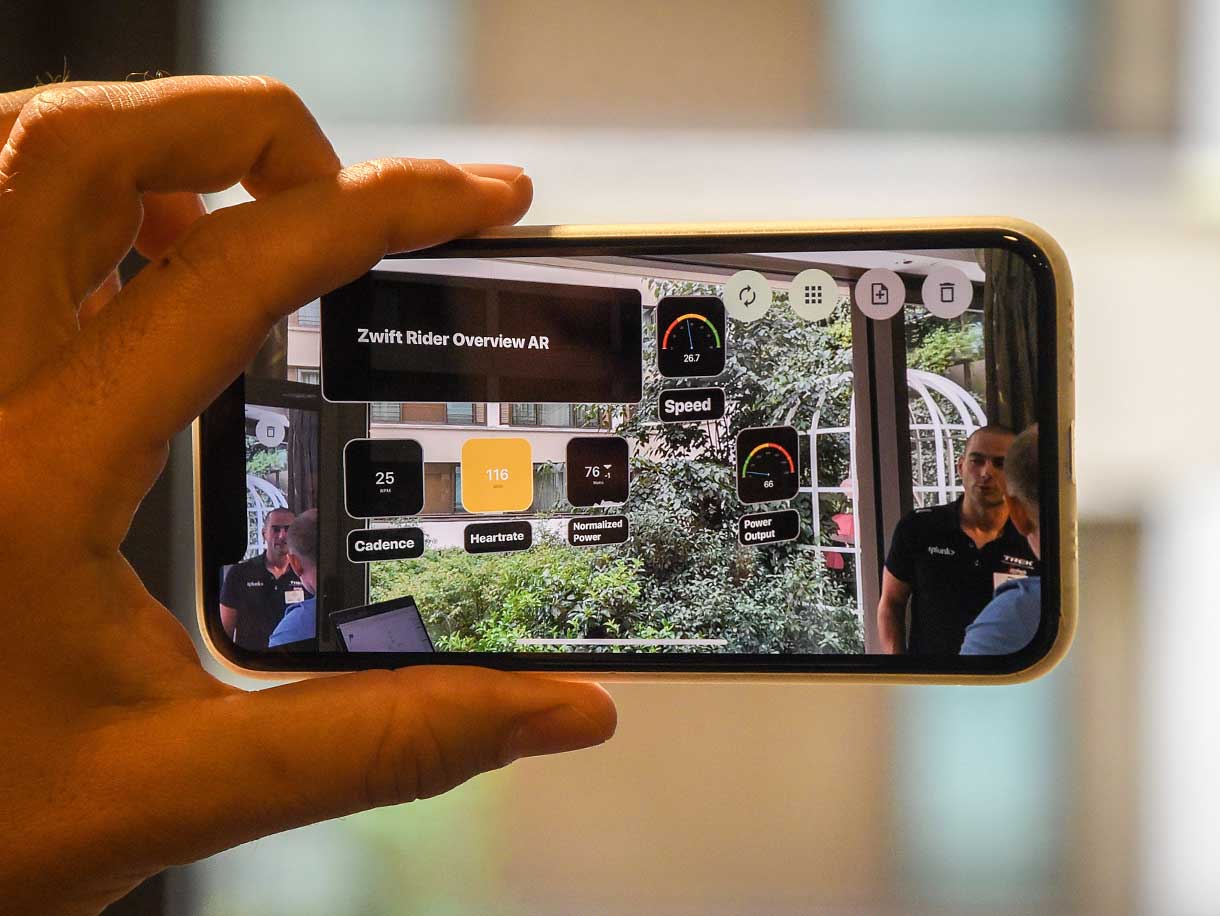 This view shows the Splunk AR application receiving data from a stationary bike. (The rider is just barely in the lower right corner.)

Charging Ahead
As Trek prepares for a 2020 season that will include more than 100 races worldwide, the team is eager to explore new ways to use data to improve the performance of the individual cyclists and the overall team. Beyond nutrition, Trek-Segafredo coaches plan to use Splunk's Data-to-Everything Platform to monitor performance data and other metrics to determine the rate at which the cyclists are improving. On the business side, Trek wants to investigate new uses for data that will give them a competitive edge across its brand, from retail stores to their BCycle ride-share platforms.
And in addition to seeking new ways of querying and analyzing the data, our shared values around equality, diversity and philanthropy, as well as our commitment to innovation and achievement, will continue to make the partnership even better. We're looking forward to helping Trek and the cycling teams reach even greater heights by bringing data to every decision.
Allez, Allez, Allez Trek-Segafredo and Splunk!