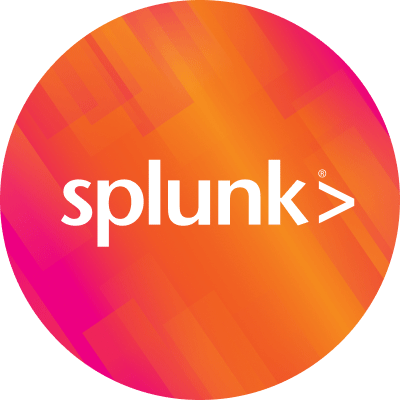 By Splunk April 25, 2017
Real-time insights matter and here is why. A couple of months ago, on a Friday evening, my and a friend's family decided to have a meal at one of the chain restaurants. Expecting a wait time of almost an hour, we were pleasantly surprised when we were told that the wait would be about 30 minutes. Our worst fears came true when we were seated 90 minutes later, the manager was apologetic, gave us some free desserts to make up. But it was too late, by then my friend had already given the business a poor review on Yelp. This got me thinking, what if the manager got an alert as soon as our wait time exceeded the SLA he had promised, he could have managed our expectations, offered us a couple of bottles of water to keep us hydrated etc. It could have probably prevented my friend from writing the negative review and turned it into positive experience.
The wait time was a leading indicator for the restaurant, yet most businesses are run based on lagging indicators like revenue, profits etc. This was the message from Hamish Purdey, CEO at Intelliflo and Robert Walton, COO at Intelliflo as they spoke about their use of Splunk at. conf2016. It was one of the best business talks I had the opportunity to attend in my career.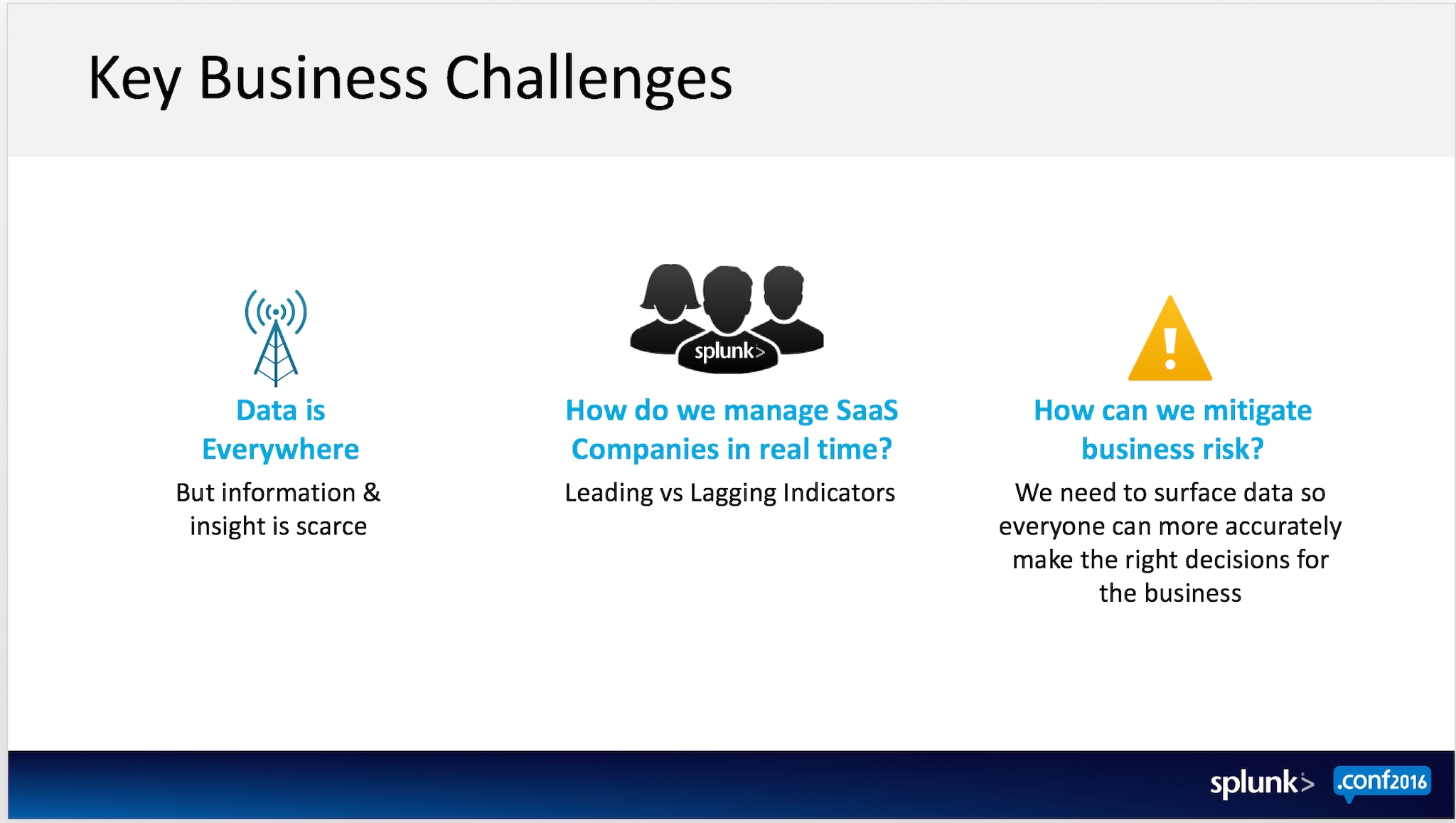 Intelliflo is true multi-tenant SaaS company that provides financial and wealth management services in the UK. They service about 30% of the UK market, have 1300 customers and 13,000 end users. Their customers in return serve over 7M people, and manage just under 200B in assets.
Being a SaaS provider, they measure their business success based on leading indicators like net $ retention, adoption of their service, usage and utilization. This is indicative of customer health and how customers like their service. By gaining deep insights into these metrics in real-time they are able to avoid customer churn which eventually impacts their revenue and profits. This completely turns the notion of running a business based on lagging accounting based metrics like revenue and profits, upside down.
Every time a user interacts with their SaaS service it creates a business event for Intelliflo. They quickly realized that this event is relevant for both IT Operations and Business Analytics. By using Splunk this way they are able to learn how their customers are using their service, how satisfied they are and enables them to make decision that are data driven rather than by gut.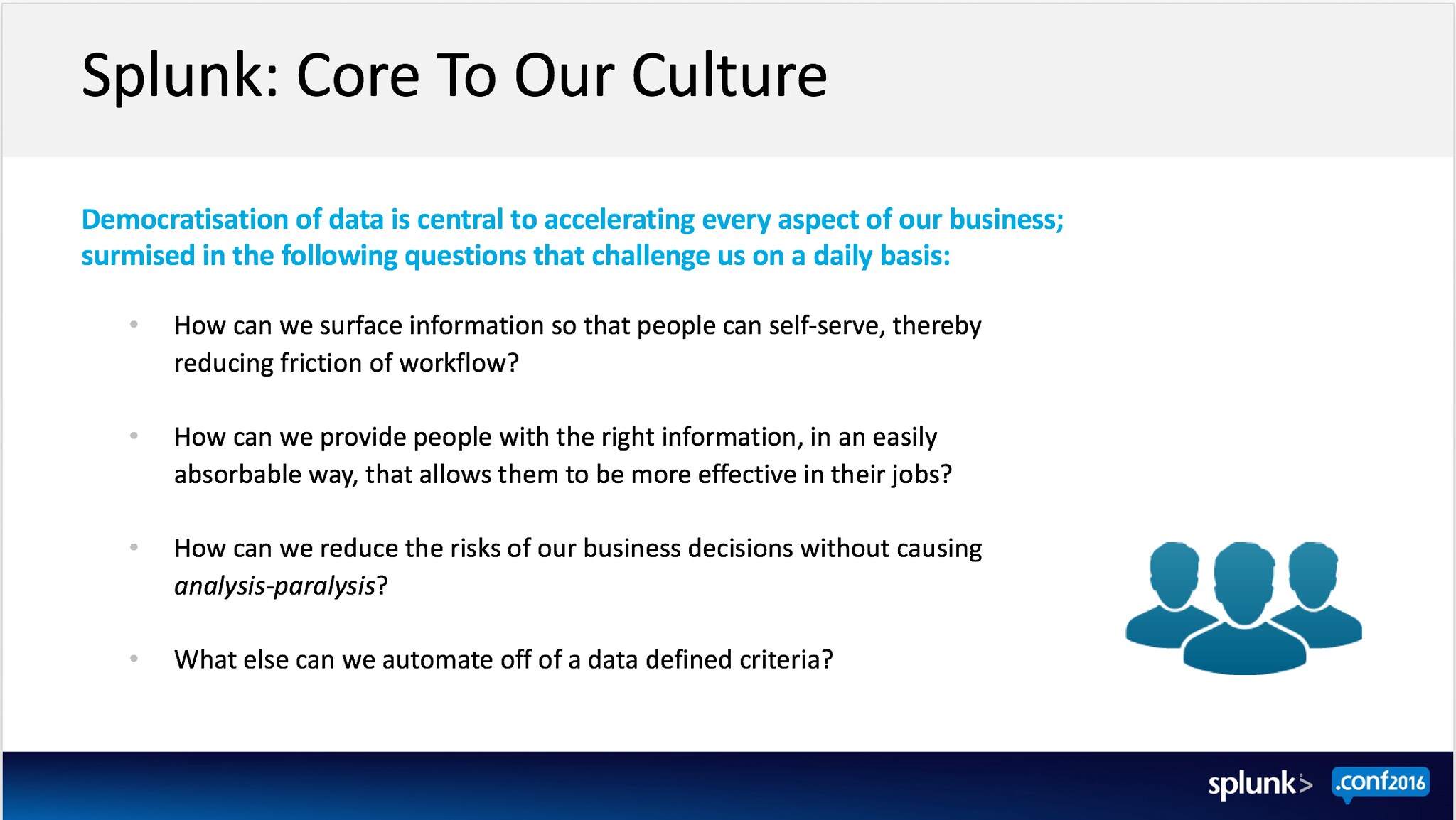 They talked about how Splunk is the point where they coalesce technical data (windows events, firewall logs, application logs etc.) with business data (SalesForce for e.g.) and this it has enabled them to deliver better customer experience and improve employee satisfaction. For example, when a customer calls in, by combining data from telephony systems, their CRM systems and application logs and correlating the caller id with customer ID, their support organization knows how the customer was using the system today. The support professional can now provide a more personalized, context aware service to their customers. This has helped them improve first call resolution rates, customer satisfaction with their service has gone up and their employees feel empowered by serving their customers quickly and effectively.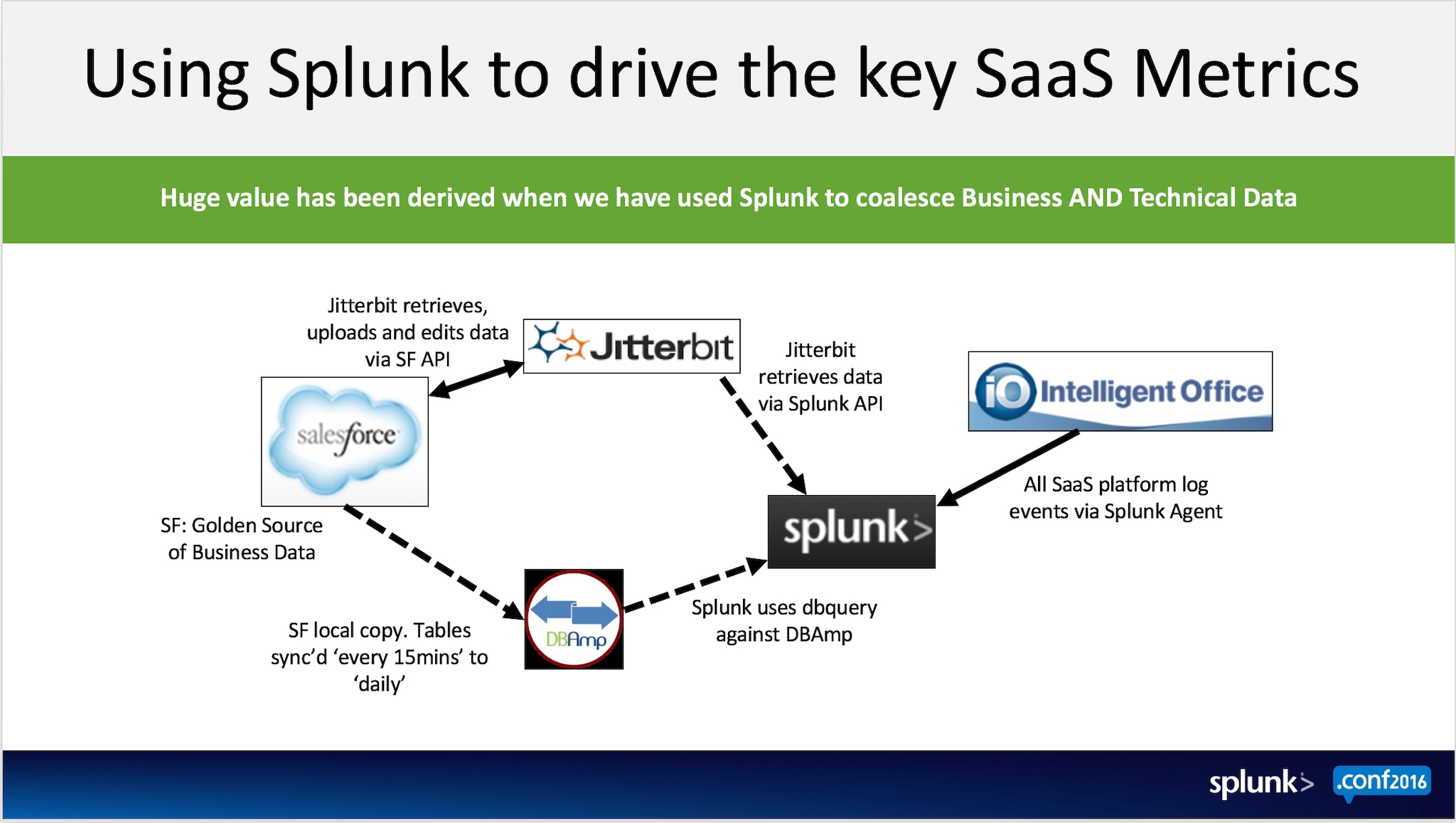 Splunk is enabling them to be more proactive to and react to events in real-time. For example, a Splunk alert about performance issues with their infrastructure, enables them to insert a recording when a customer calls in, letting them know that the slowness they are experience is due to an issue, Intelliflo is working on fixing. Intelliflo is able to manage the customer experience, giving them a feeling that Intelliflo is in control.
Lastly, as they look to ramp up to be even more successful and onboard new business Splunk is helping them with capacity planning to ensure that they set up success and that they continue to deliver world class customer experience and service. The Splunk dashboard is used by COO and the insights are reported to the board!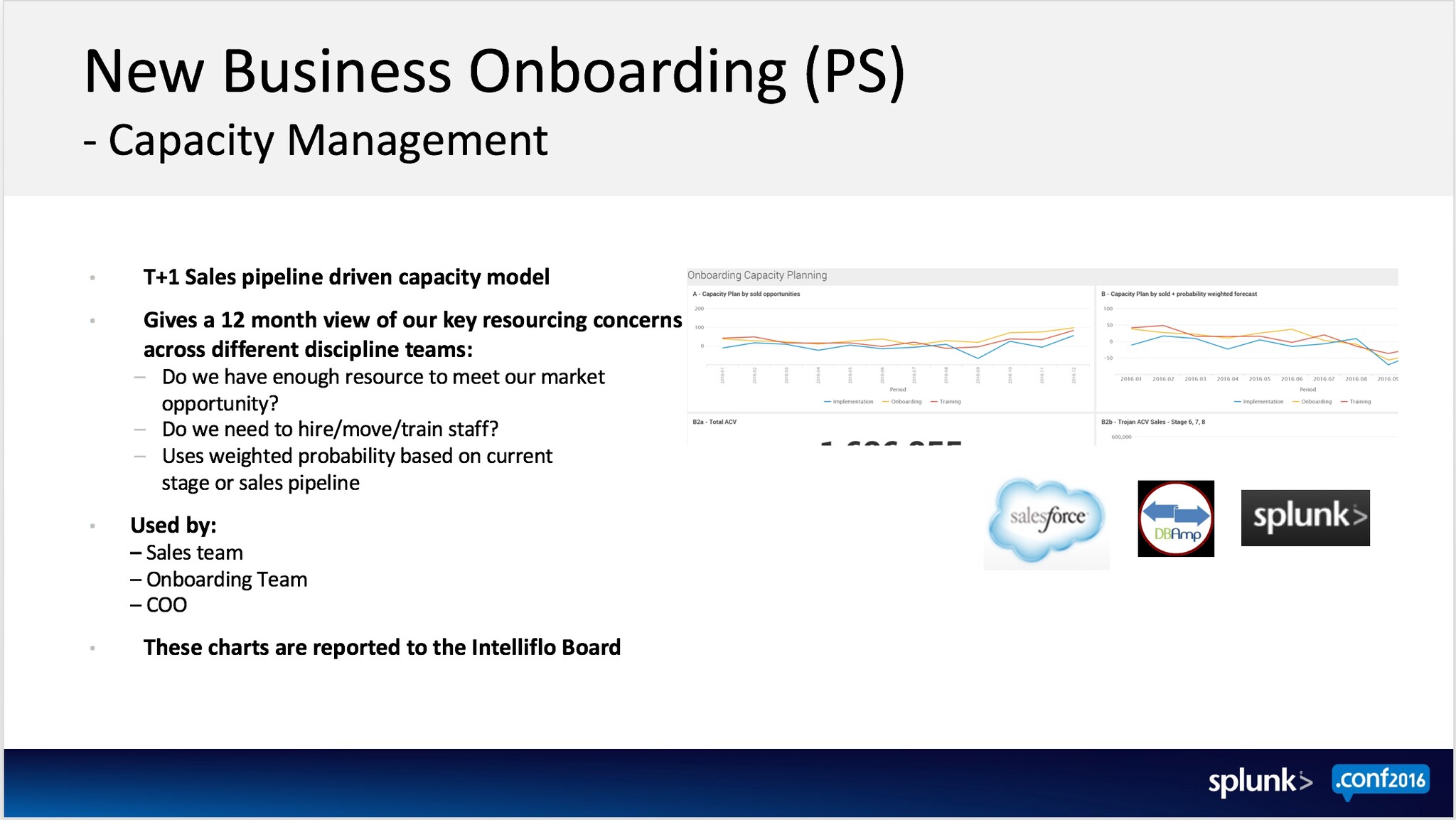 This is a fascinating case study by thought leaders like Hamish Purdey who are leveraging Splunk to make the art of the possible happen. Whether you are a budding CEO or a company going through digital transformation, I highly recommend you to listen in to the recording or check out the presentation.
You can also register today for Splunk .conf2017: The 8th Annual Splunk Conference where you'll hear from customers and partners first-hand.
----------------------------------------------------
Thanks!
Manish Jiandani