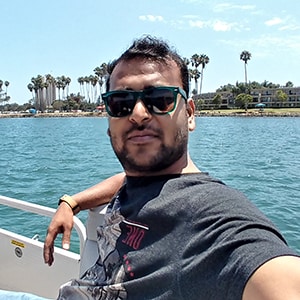 The Splunk community of users is a vibrant bunch full of incredibly bright, passionate, fun, and helpful individuals that change lives every day. Working with them on Splunk Answers for 3+ years now, there is one person in particular whose presence has stood out since the beginning, and that is Somesh Soni (also known as somesoni2)! He has recently surpassed 100,000 karma points after consistently answering users' questions which is no easy feat. After successfully solving people's issues, the responses he receives as thanks range from "Let no one ever say you aren't a Splunk ninja" or "Have my babies sir, have them all" because he is that good.
It's no surprise that he is a member of the SplunkTrust due to all the time and energy he has dedicated to the Splunk community throughout the years. If you ever ask a question in the forum and you receive an answer from Somesh, you're in good hands. We can't thank him enough for educating and empowering everyone he has helped!
aaraneta_splunk and I have witnessed Somesh's hard work first hand and we wanted to give him a community spotlight for users to get to know the man behind the computer. We've had the pleasure of asking him these questions to learn how he got started with Splunk, what has helped with his success, and advice he has for the greater community. In his own words:
When and why did you first start using Splunk?
I was introduced to Splunk back in 2011, but I actually started working full-time using Splunk in May 2013. I was originally a .NET developer, but with limited opportunity in that domain, I was looking for something new, challenging, and an interesting technology. When I was offered a Splunk Developer/Admin position, I researched about Splunk and just loved it. I have never looked back since.
What motivates you to answer people's questions on Splunk Answers?
When I initially started with Splunk projects, I had a very steep learning curve. With no labs available for me to play with Splunk, I asked a lot of questions in the forum and I found people's questions as a way to virtually (without breaching any security protocol) see their environments. I still see posts in Splunk Answers as a way to experience more than what I have access to. Of course, the recognition that I receive after answering more questions keeps me motivated too (a free pass to .conf2017 is a nice perk of the SplunkTrust).
What do you love most about the Splunk user community?
The Splunk user community brings the best and diverse minds in this industry together. With many interesting questions, you would often see multiple ways of solving the same problem—some solutions even I couldn't think of. It's an absolute feast for learning (and many users will second that).
What advice do you have for users who want to achieve your level of Splunk knowledge?
Come out of your shell of just solving the problem; instead, always look for the best possible solution.
Visit Splunk Answers whenever you can. First start reading other Splunk gurus' answers to questions, and after some time, start writing your own answers and compare how far or close you are from the solutions.
Splunk documentation has gotten bigger and better. Make a habit of reading everything you can before you work on a particular topic and learn something new.
Thank you for all your amazing contributions to the Splunk community, Somesh, and congratulations on earning 100,000 well-deserved karma points and beyond!
Patrick Pablo
Community Content Manager, Splunk