By Matt Davies June 06, 2016
Increasingly, healthcare is becoming digital and multi-channel. The National Health Service in the UK is no stranger to this and recently rebranded its online services to be NHS Digital. I'm delighted to share our latest customer story from NHS Choices, the "front door" to the NHS and the UK's biggest healthcare website. They are using Splunk to transform data into improved visibility of their infrastructure to deliver these critical online services.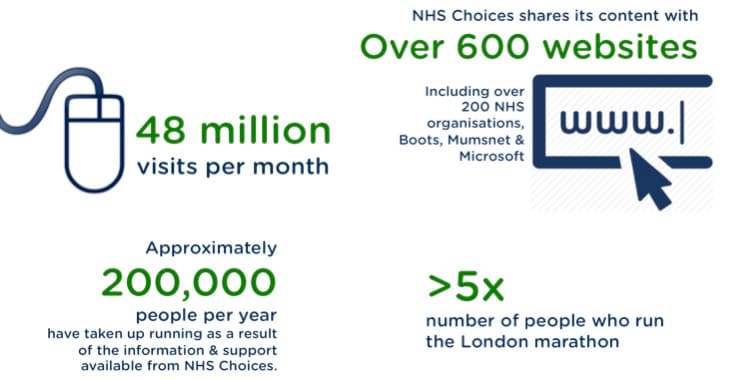 NHS Choices traffic
NHS Choices has a complex infrastructure so gaining performance insights wasn't easy. In the past, NHS Choices used an external service to monitor site availability, resulting in a lengthy troubleshooting process which impacted the usability and performance of the website. NHS Choices now uses Splunk Enterprise to monitor the large volumes of machine data generated each day by visits to the website. This allows the technology team to quickly identify and address problems, effectively manage website traffic and enhance reporting within the organization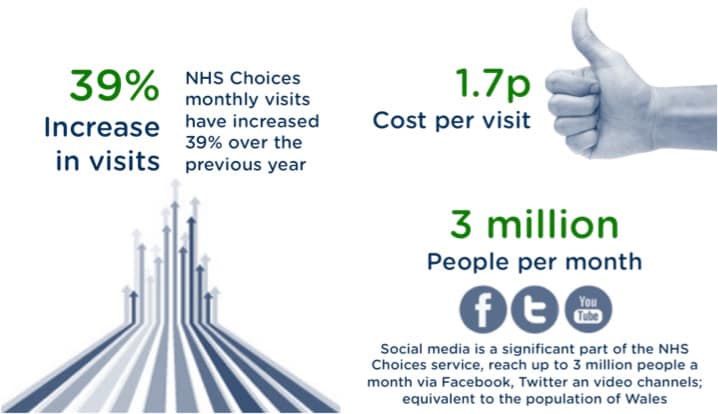 NHS Choices is growing fast but delivering great value across multiple channels
Splunk's analytics capability gives NHS Choices a single dashboard across all the data generated by the website infrastructure. The NHS team can now search this data, be alerted and see patterns, which enables them to take proactive steps to deal with any issues before they cause a problem. They can also get down to the root cause of issues, such as being able to see whether a recent DDoS attack that was stopped had previously gone undetected.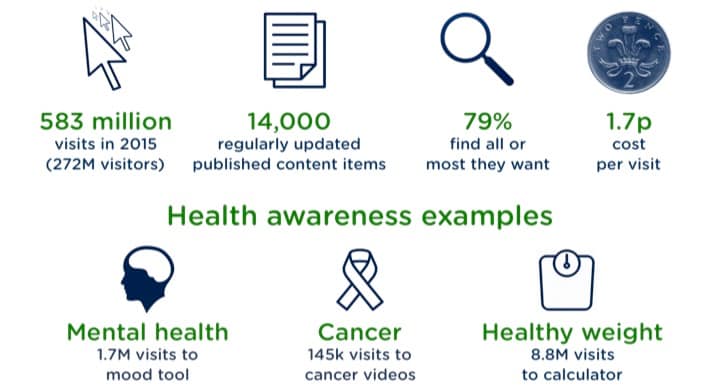 NHS Choices statistics
The NHS Choices team also use the Splunk platform for real-time monitoring around how the website is performing and where there is scope for improvement. They monitor this performance through IT Operational Analytics (ITOA) dashboards in Splunk Enterprise. This makes Splunk an important part of the monthly release cycle of the NHS Choices website. This monitoring is also very important as the website has to be able to cope with big spikes of unpredictable traffic. When a particular condition is featured on a television program or there are peaks due to a health campaign (such as the anti-smoking "Stoptober initiative), the team uses Splunk to identify what drove a user to the website.
Splunk is also being used to help improve the customer experience of the NHS Choices website and they are now investigating how they use the goldmine of data they have to share with other parts of the business. This includes delivering analytics around content usage by their 600 syndication partners.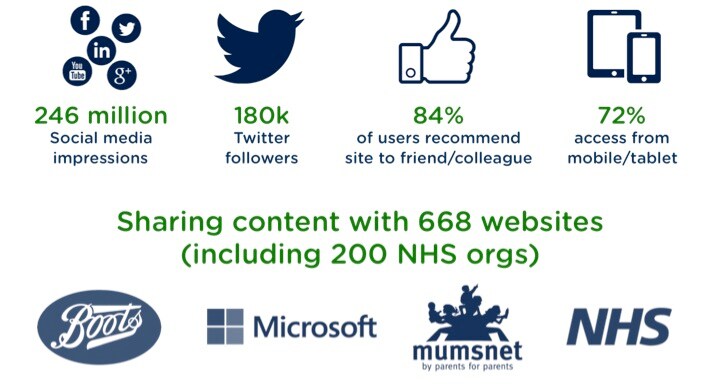 Multiple channels and sharing content from NHS Choices
The full case study can be found here and NHS Choices presented at our recent GovSummit in London and their full presentation is below.
We also had another part of NHS Digital (HSCIC) speak at SplunkLive London about Splunk is used in Spine 2 and you can see that presentation below.
There's more to read about Splunk for Healthcare and you can always try Splunk for free if you want to check it out.
As always thanks for reading.