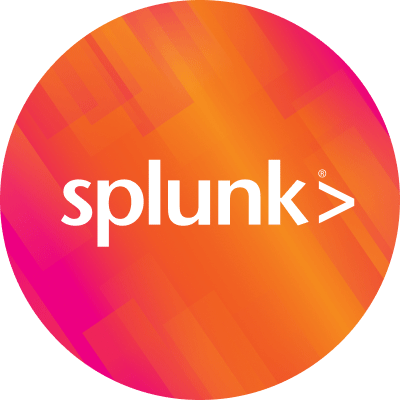 By Splunk April 01, 2014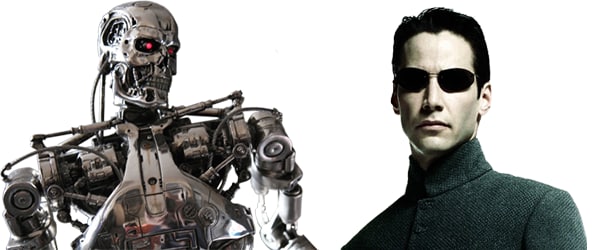 Firstly – apologies – this isn't going to be a blog post about how Skynet wins and Terminators take over the earth. It also won't be about how Keanu Reeves wearing cool sunglasses(AKA Neo) saves us, via The Matrix, from sentient robot squids. Splunk recently commissioned Quocirca to conduct a piece of market research about the state of machine data adoption in EMEA and where organisations are in getting Operational Intelligence from that data.
We have a webinar this Thursday, 3rd April at 10am UK time (11 CET) and we'd love to have you come along and hear Bob Tarzey, the Quocirca analyst who conducted the research go through the findings.
You can get a copy of the report here and the infographic summary of the report here.
We wanted to conduct the research to really get an understanding about the overall perspective on machine data but also to drill down into different industries and how specific job roles are adopting Operational Intelligence. Splunk's presence in EMEA is pretty significant now and we wanted our own regional insight and how it differs from the US and APAC markets. Quocirca surveyed around 100 senior IT decision makers in each of Germany, France, UK and around 50 from both The Netherlands and Sweden.
There are a lot of interesting findings in the report and Quocirca have really got into the detail of what organizations are doing in EMEA. The stand out, high level finding for me was that 82% of European businesses believe they could benefit from the use of Operational Intelligence.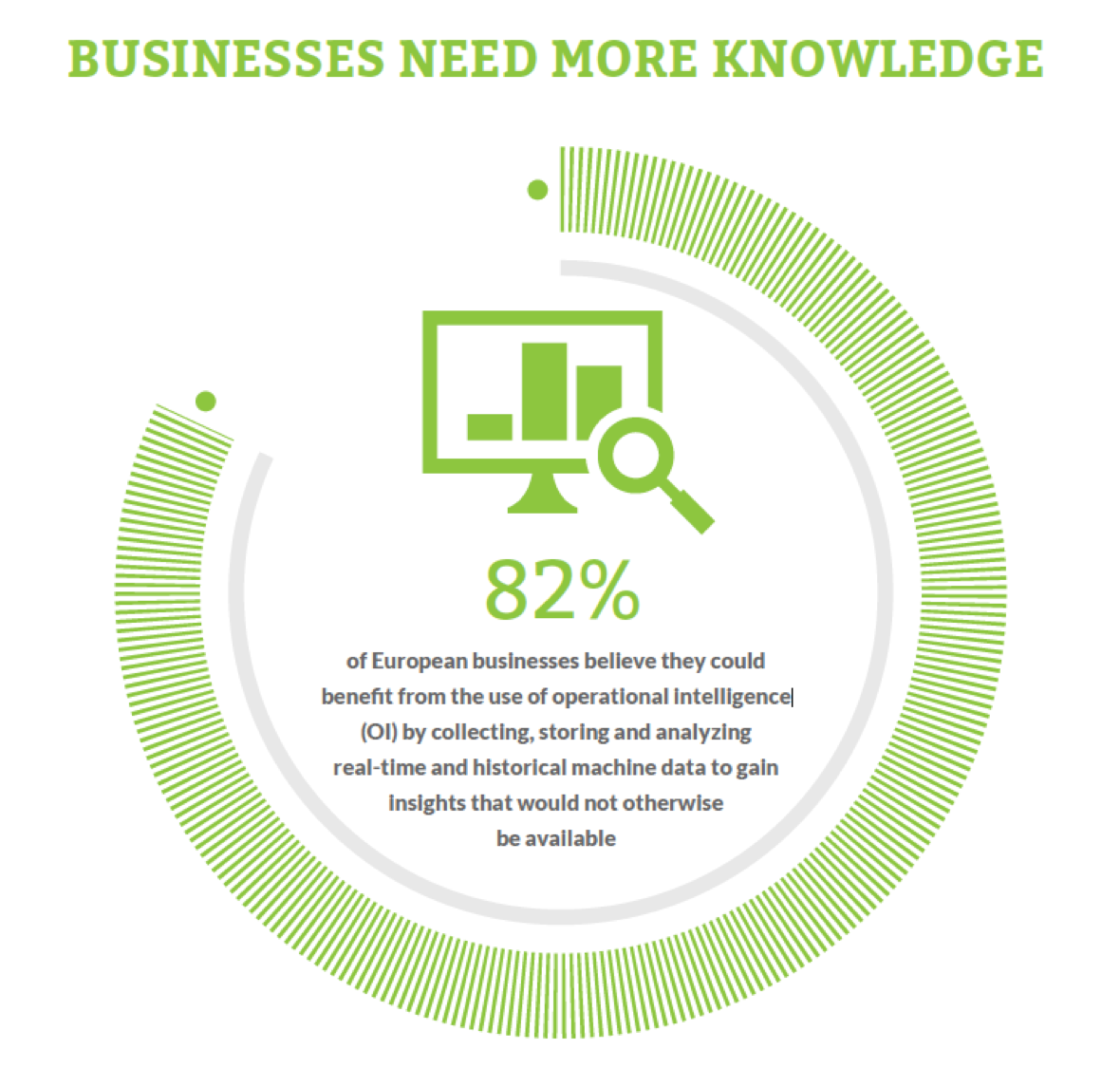 There are a lot of things to take away from the report but from my perspective – here are a few that I found most compelling:
The technology mix generating machine data
The IT estate of EMEA organizations is a diverse mix of technology deployments approaches: own data center, virtualization, private cloud, SaaS and IaaS. This hybrid blend is a great use case for Operational Intelligence to give companies a holistic view of their operations regardless of cloud, on-premise or hosted.
Collecting, searching and analyzing large amounts of machine data is the biggest challenge according to the businesses we asked, followed by integration of multiple data stores and correlating machine data in real-time. Only 48% of machine data is collected from virtualized infrastructure and only 50% of IaaS/PaaS machine data is collected. It struck me that this does leave considerable insight that is being left untapped.
Transactions drive the machine data that drives Operational Intelligence
The average volume of commercial transactions across all industries is 40,445 a day each generating considerable machine data in the process. Telco systems generate over 111,000 transactions a day and finance nearly 66,000 a day. These transactions are typically generated from applications and related IT. The machine data from these transactions stores a lot of data about business operations, processes, behavior, errors and customers. This presents an opportunity to ensure effective operations, quality of service and improve visibility in a wide range of areas by using the transaction machine data for improved business insight.
B2B transactions, machine data exchange and the electronic communications across a supply chain are considered the most essential transactions overall. Operational Intelligence is perfect for ensuring these mission critical transactions through improved monitoring and correlating of transaction machine data events.
The industry angle
82% of organizations, overall, said they could benefit from Operational Intelligence. In telco this was 90% and in finance this was 88%. At the same time telco and FS were the most mature industries in the "Operational Intelligence Maturity Index". This shows that having understood the benefits of OI they are starting to see value from it, but there is still considerable room to grow. This was reinforced by the fact that 90% of telcos deemed that machine data is very or somewhat necessary for delivering Operational Intelligence (only 10% said it wasn't). Similarly, 87% of FS organizations thought that machine data is very or somewhat necessary for delivering Operational Intelligence.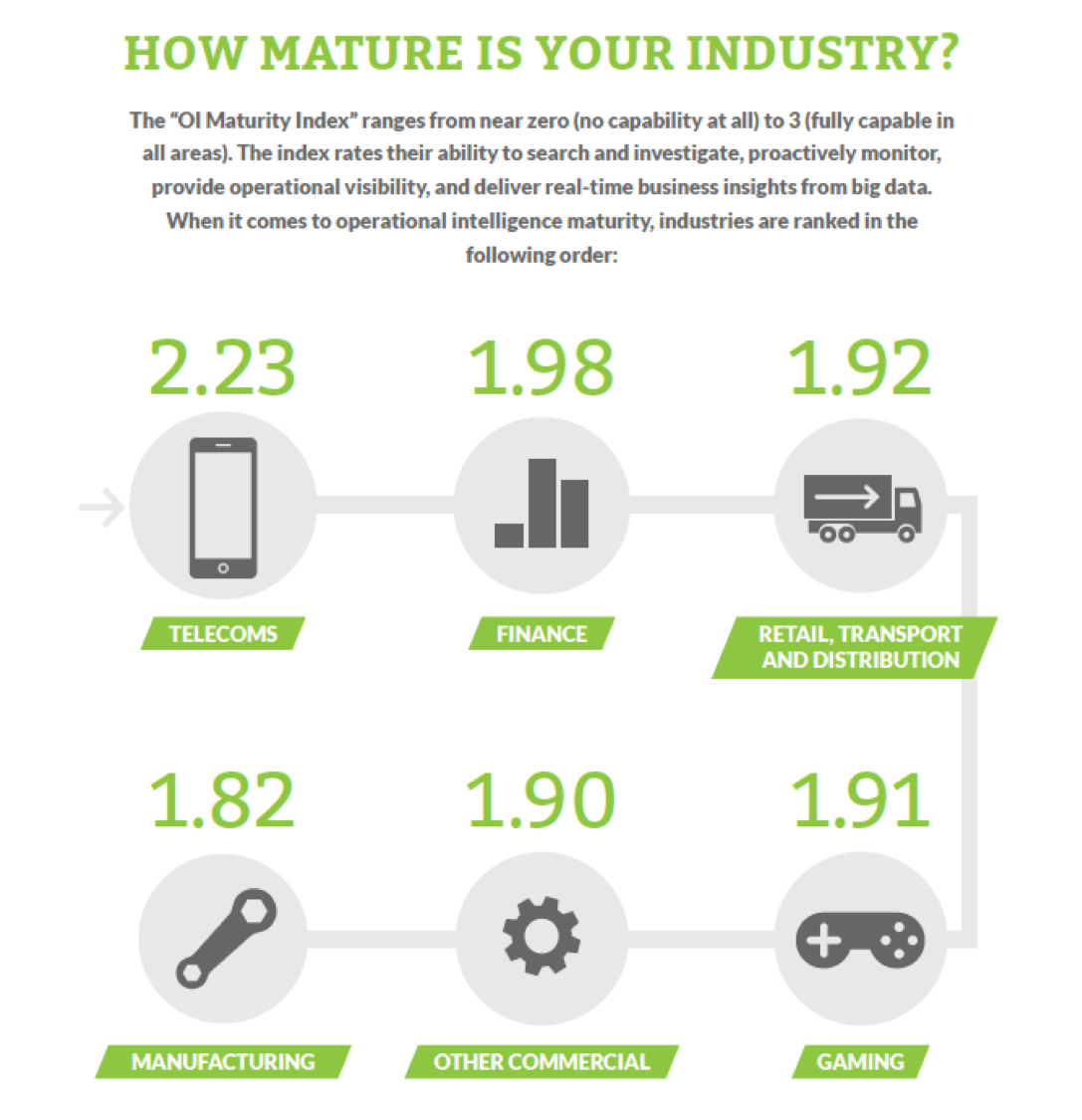 I was surprised that service providers have the largest opportunity to improve their OI with only 17% having a comprehensive view. Maybe I've just been lucky enough to work with good ones! If you're offering an end-to-end service, potentially in the cloud, having a holistic, hybrid view of all your data can really help ensure the SLA of your service offering.
The stages of Operational Intelligence and the maturity cycle
To get the maturity index detailed above, we asked the organizations where they were in each of the four stages of adopting Operational Intelligence. I took the findings below to show that searching and investigating is starting to be adopted (thought with considerable growth to come) and real-time business insight was lagging slightly behind:
1. Search and investigate: On average 65-70% of organizations would like to improve or aren't able to search and investigate machine data.
2. Proactively monitor: On average 70-75% of organizations would like to improve or aren't proactively monitoring IT and machine data.
3. Operational visibility: On average 75% of organizations would like to improve or aren't getting operational visibility from their machine/IT data.
4. Real-time business insight: On average 75% of organizations would like to improve or aren't getting real-time business insight from their IT/machine data.
Roles and responsibilities
IT managers have the best view of Operational Intelligence with just over half (56%) having a comprehensive view – meaning there is still a massive opportunity for the (nearly) half that don't yet have a comprehensive view.
Two thirds of board level executives don't have a comprehensive view of operational intelligence and hence could benefit from improved business dashboards.
Approximately three quarters of marketing and product managers don't have or would benefit from improved OI.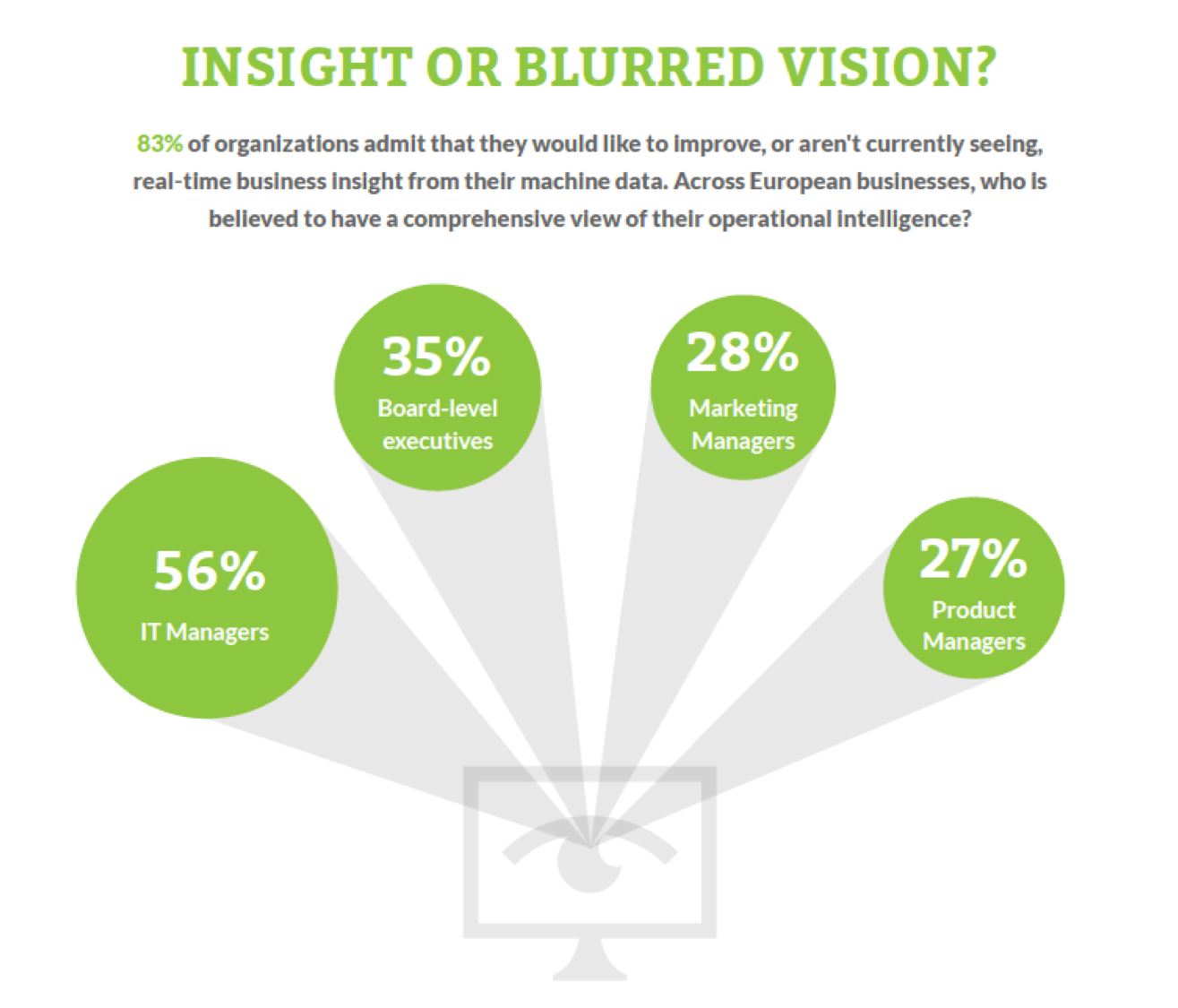 If you're interested in finding out more and hearing Quocirca explain the findings and where EMEA goes next I hope you can join us. After Bob from Quocirca has explained the findings, I'll be running through some real life customer examples.
Hopefully see you there.
----------------------------------------------------
Thanks!
Matt Davies