As I write this, I'm somewhere over France on my way back from the Splunk EMEA Partner Kick Off (PKO). We've been to sunny Barcelona at the Rey Juan Carlos Hotel (a place I've spent many a happy corporate event). After confessing to being an A-ha fan in Oslo, having frozen hair in Stockholm and apologising for being English in Paris – I foolishly decided to confess to looking like the lovechild of Beavis and Beaker from The Muppets. I'll let you decide and comment below. Be kind!
We had about 150 partners from across the region telling their stories, sharing experiences of how their customers are using their machine data and getting a comprehensive, and hopefully useful, update from Splunk. The first afternoon started with the Splunk executive team going through the Splunk strategy, go to market, new products and features and the addressable market for big data, cloud, IoT, machine data etc.
The theme of the event was "Breakthrough". For me, this really meant a couple of things with regards to the Splunk partner ecosystem.
Firstly – how partners are really doing great (breakthrough) things with their customers. We had an awards dinner on the first night and looking through the winners there were a huge range of Splunk use cases. There were customer stories ranging from mission critical IT operations, real-time fraud detection, security analytics and a great Internet of Things use cases around a major city's transport infrastructure. This was my first Splunk PKO but the feedback was that the depth and breadth of partner/customer use cases had really moved on since the event in 2013 – again showing why "breakthrough" was a suitable theme.
Secondly – the feedback from people at the event and on social media was that the breakthroughs that Splunk had made in the product family were significant for partners to go and have more and different conversations with their customers. One major change from last year was the fact that we now have a multi-product family with Splunk Enterprise, Hunk and an increasing number of premium apps.
On the second day we split into sales and technical training. The audience had the dubious pleasure of me presenting a number of the sales tracks ranging from IT operations and application management, Splunk for Microsoft, Big Data, Hadoop & Hunk.
My colleagues James Hodge (@jameshodge_uk) and Andrew Roussow took the technical tracks with some great technical demos and workshops. We were also lucky enough to have Joe Goldberg, our global security specialist, over for the security analytics tracks. Splunk's security analytics capabilities were featured on the BBC website earlier this month – worth reading if you haven't seen it already.
I didn't get to many of the sessions presented by other Splunkers but I did manage to finally see Damien Dallimore (@damiendallimore), our developer evangelist, present in person. There were some fantastic (dare I say "breakthrough") demos that Damien built on the Splunk platform using our REST capabilities including a live Twitter app. I know it was live because I tweeted Damien halfway through building the app and as he finished the app – the first tweet that appeared was mine. If you haven't checked it out, the Splunk development and DevOps story is really catching on. Check out the "Developer's Smorgasbord":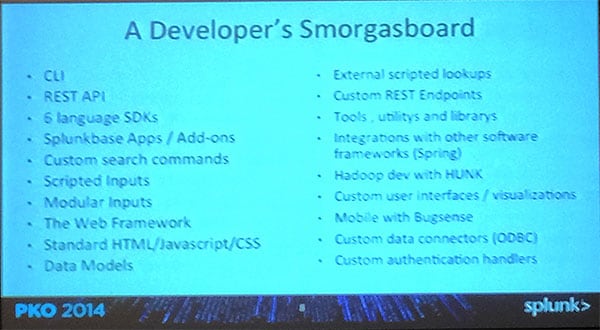 On the second evening we had the solution showcase where partners got to come and talk to Splunk experts in detail about specific solutions. I was on the Microsoft solution showcase highlighting what the Splunk Apps for Exchange, Active Directory and Windows can do. If you are using any of those products from Microsoft it is worth checking out where the Apps add value to what you're already doing.

(there was more than one person in the audience)
The final day ended with me going through where Splunk fits in the worlds of Business Analytics, Digital Intelligence and the Internet of Things. There are some really interesting use cases in these three areas – especially in the area of analytics across the data from IoT – literally "Planes, Trains and Automobiles" (most recently we announced the work we've been doing with VW on the connected eUp cars). Next up was Brian Lanigan presenting how Splunk is used by Managed Service Providers. Jenny Darby (@splunk_jenny) ended with our busy marketing calendar for this year.
As Andrew Morris (@andrewmorrisuk) closed PKO 2014 I thought back to a tweet from Nico Luedemann ‪(@NicoLuedemann):
This was the second day of #Splunkpko – even more info, more ideas and more to do when back home 😉
We packed a lot into two and a half days but I hope everyone left informed, excited and with their imagination triggered to go and do some great things with their customers' machine data.