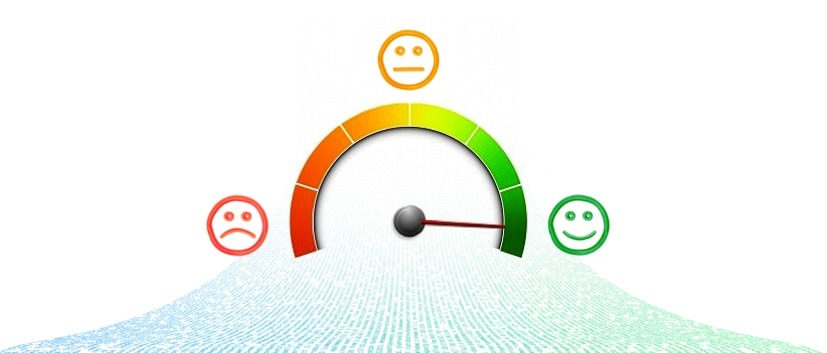 A couple of months ago, the UK Institute of Customer Service in the UK published its Customer Satisfaction Index for the previous six months. The overall rating for the UK Customer Satisfaction Index has dropped for the last two years. In the last six months, the only sectors that have gone up in the UKCSI are Banks/Building Societies and Utility companies.
The three biggest areas and UKCSI metrics where the score has fallen are: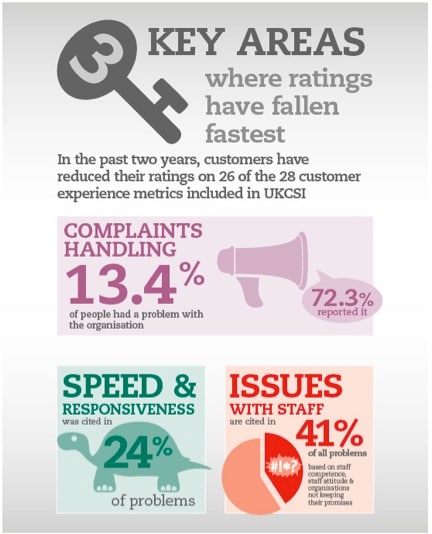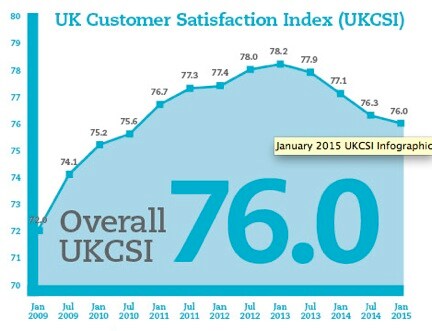 With the continued growth of e-commerce, mobile devices and social media, lots of customers are having lots of experiences across lots of channels. Some of the experience is good and some of it is bad. From the UKSCI, it seems like the customer experience is worsening on the whole.
This negative customer service is increasingly publicised on social media and is highly visible to the wider world via Twitter, LinkedIn, Facebook and others. There is a lot of discussion at the moment about differentiating via customer experience and how long it takes to get a customer back once you've lost them. With the star rating on a website an important factor in making a purchasing decision and word of mouth spreading via a customer's social networks, their experience, satisfaction and feedback is increasingly important factor for most B2C organisations. I can vouch for that having been asked to complete three SMS customer satisfaction questionnaires from a leading telco, airline and car manufacturer in the last 3 weeks.
As you can see below, those food retailers with higher than average UKCSI have a positive sales growth. Those with lower than average UKCSI are in negative growth: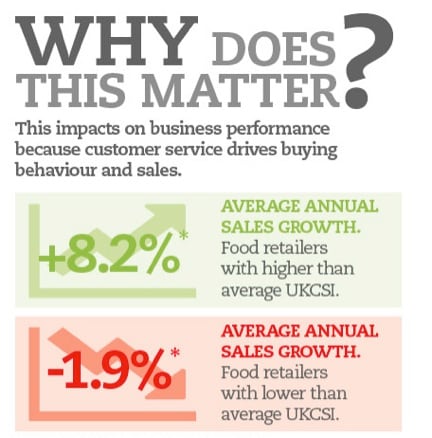 Quite simply – customer experience improves business performance.
One of the possible reasons for this decline is the increasing complexity of IT systems that a lot of organisations have to manage to deliver a good online customer experience. Ask yourself this question, how often have you stopped shopping online with a particular retailer because the site is too slow leading to "browser rage"?
Add to this that there are now more channels than ever before that all need to offer some form of consistent, joined up personalisation and view of you as a customer. If you order something online on your PC/Mac and want to see, the next day, when they might be delivered on your mobile – you'd expect your customer experience to be joined up.
Add to this that across the hybrid mix of IT deployment models and omni-channel retail, security is also an essential factor that must be front of mind. Ask yourself this question, how badly would you rate the customer experience if it turns out your credit card details were stolen?
The UKCSI does suggest four ways to improve customer satisfaction – leadership, skills, agility with innovation and insight & measurement. There is something that binds all of the challenges, considerations and possible solutions together and that is data, in particular machine data.
It may not be an obvious link to take information from your data centre, network information, mobile application data, log files and security-generated events to improve customer experience. This is a different kind of data from the structured information we get from CRM, databases and data warehouses. However, the role of machine data in customer experience is making a real impact at a number of significant organisations whose main focus in on differentiating with customer experience such as:
Shazam – taking a mobile first approach to customer experience and using machine data to maximise engagement with their mobile app
John Lewis – modelling the customer journey, informing marketing behaviour and getting real-time checkout analytics
One of the world's top three fashion retailers – offering vouchers to customers who have abandoned their shopping basket due to a technical error
Auchan (in French) – getting a detailed view of a product, how it is performing and what kinds of customers are interested in the product
Karavel – ensuring the online holiday and travel experience is as good as it can be via their network of e-commerce sites and partners
Nordstrom – Unified visibility for omni-channel retail including online, Point of Sale etc
Domino's Pizza – rich customer analytics which enables real-time offers and promotions based on market trends
e-travel – multi-million pound ROI from the use of their machine data due to improved uptime and more informed, focused marketing activity
In part 2 – I'll talk about how companies like these ones are using their machine data to improve customer experience and hence improve business performance.