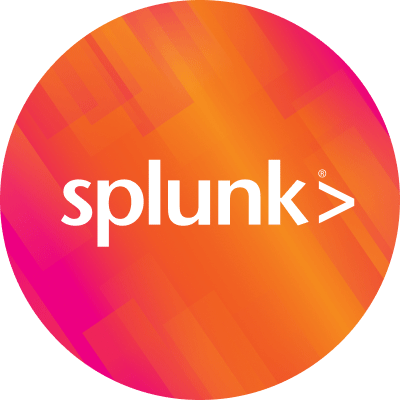 By Splunk July 11, 2016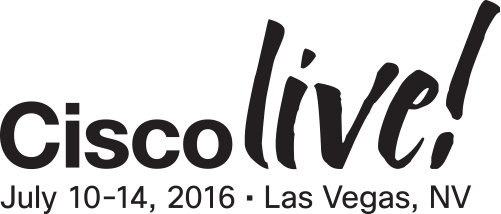 Thousands of Cisco customers – including more than 20 internal Cisco teams – leverage Cisco & Splunk solutions to do everything from improve infrastructure and application availability to defend against multi–dimensional cyber-attacks and advanced threats.
It's been an exciting year so far with Splunk and Cisco. Cisco recently named Splunk their 2016 Global ISV Partner of the Year, and now we're packing our bags for a week of Cisco and Splunk-y goodness at Cisco Live in Vegas July 10th-14th, 2016.
At Cisco Live you will see how Splunk and Cisco have teamed to deliver unified visibility into application and network performance, dramatically reduce in troubleshooting times, enable better and faster response into security incidents, and more. You'll discover practical ways to get even more value out of your existing Cisco environments – from Cisco ISE and FirePower devices to UCS and ACI to Catalyst and Nexus switches to Meraki wireless devices – and how Cisco is helping optimize Splunk deployments with pre-tested Cisco UCS Integrated Infrastructures.
Here's a sneak preview of what to expect in Vegas next week …
Splunk in Cisco's World of Solutions
Stop by Splunk's booth #3351 to update your t-shirt wardrobe and chat with Splunk product management and field engineering experts on searching, analyzing and reporting across massive volumes of real-time and historical data.
Check out live, fully interactive demos including …
Intro to Splunk. New to Splunk? No problem. In 5 minutes pick up the basics on getting data into Splunk and searching, alerting, reporting, and creating dashboards.
Enterprise Security. Learn how Splunk is used for continuous monitoring, security investigations & forensics, and advanced threat protection. You'll see how analytics-driven security helps defeat modern threats and why Splunk is a "Leader" in Gartner's SIEM Magic Quadrant.
Operational Intelligence at Enterprise Scales. Did you know IDC named Splunk Worldwide IT Operations Analytics softare market leader? See how Splunk accelerates troubleshooting, capacity planning, change monitoring, and much more.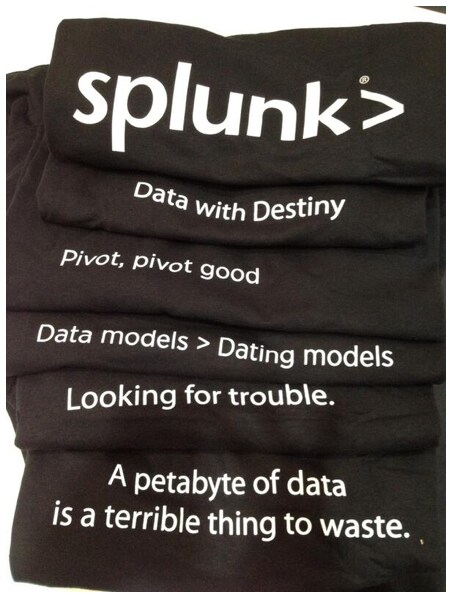 Alternately, join one (or more!) of the 21 presentations in Splunk's booth theater ranging from general Splunk overviews to security deep dives to Splunk's newest IT Service Intelligence offering. For the full Splunk theater schedule check out the official Splunk at Cisco Live page.
If security is in your appetite visit the Cisco Security booth where Cisco's Identity Services Engine (ISE) and pxGrid team will share how to quickly identify and remediate users out of policy compliance from Splunk dashboards via ISE, Splunk and pxGrid integration. You can also see how Cisco is working Splunk in the area of Branch Threat Defense with a demo on DNA Security for Branch with Direct Internet Access in the Cisco Enterprise Networks Pavilion.
For even more Splunk be sure to stop by EMC booth #2723 for a Splunk's presentation, Modernize Your Data Center with Operational Insights to learn how you can transform your IT Ops using Splunk's robust, real time analytics platform, Cisco UCS and EMC storage.
Finally, visit World Wide Technology booth #2219 for a live demo of how Splunk can be deployed with Cisco ISE and other technologies to enable endpoint visibility, AAA and response with a single pane of glass.
Speaking Sessions
Join Splunk senior sales engineer Michael Donnelly on Wednesday at 9:45am the Hub, Bayside B, Think Tank.
Greater Operational and Security Insight Within & Across Your Cisco Environment (PCSTHT-2004). Join us to hear how Splunk and Cisco are working together to provide unified visibility into your application and infrastructure health. Learn how to respond faster to security incidents and potential breaches, dramatically reduce troubleshooting times and proactively fine-tune your infrastructure capacity to boost your applications needs.
For even more opportunities to learn about Cisco's joint collaborations and integrations with Splunk can be found in a variety of Cisco sessions including:
Build and Operate your network using advanced Analytics in Catalyst Switches
(Mon 8:00-10:00; BRKCRS-2400)
Accelerate IT Troubleshooting with Splunk and Cisco (Mon 1:40-2:00; Data Center Education Zone)
How Cisco and Its Customers Deploy Splunk to Optimize Business Advantage
(Mon 3:30-3:50; Splunk Booth Theater)
Big Data and Analytics Architecture: From the IoT Edge to Core
(Mon 4 – 5:30pm; PNLAPP-2001)
Lessons and landmarks from Real-World Cisco UCS Big Data Deployments
(Tues 8:00-9:30; BRKCOM-2021)
Building Massive + Efficient Indexer Storage Environments with VCE for Splunk
(Tues 1:30-1:50; Splunk Booth Theater – EMC Presentation)
Combining Splunk with Threat Intelligence & SDN to Block, Throttle & Steer Threats
(Wed 1:30-1:50; Splunk Booth Theater)
Layered Defense: Improving Security with Splunk and Cisco Integrations
(Wed 3:30-3:50; Splunk Booth Theater)
Inside Cisco IT: Cisco IT's Assured Network Access: ISE Best Practices
(Thurs 10:30-12:00; BRKCOC-2015)
Mobile Presence and Operational Analytics with Splunk and Meraki
(Thurs 2:00-2:45; DEVNET-2051)
Who to Follow
For the live updates directly from the show floor:
Don't miss this opportunity to learn about how organizations around the globe leverage operational intelligence and big data analytics to drive informed decisions across the NOC, the SOC and throughout their businesses. See you in Vegas!
Friea Berg
Strategic Alliances
Splunk Inc.
----------------------------------------------------
Thanks!
Friea Berg