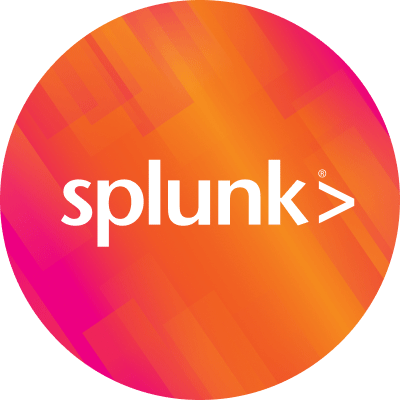 By Guest October 01, 2019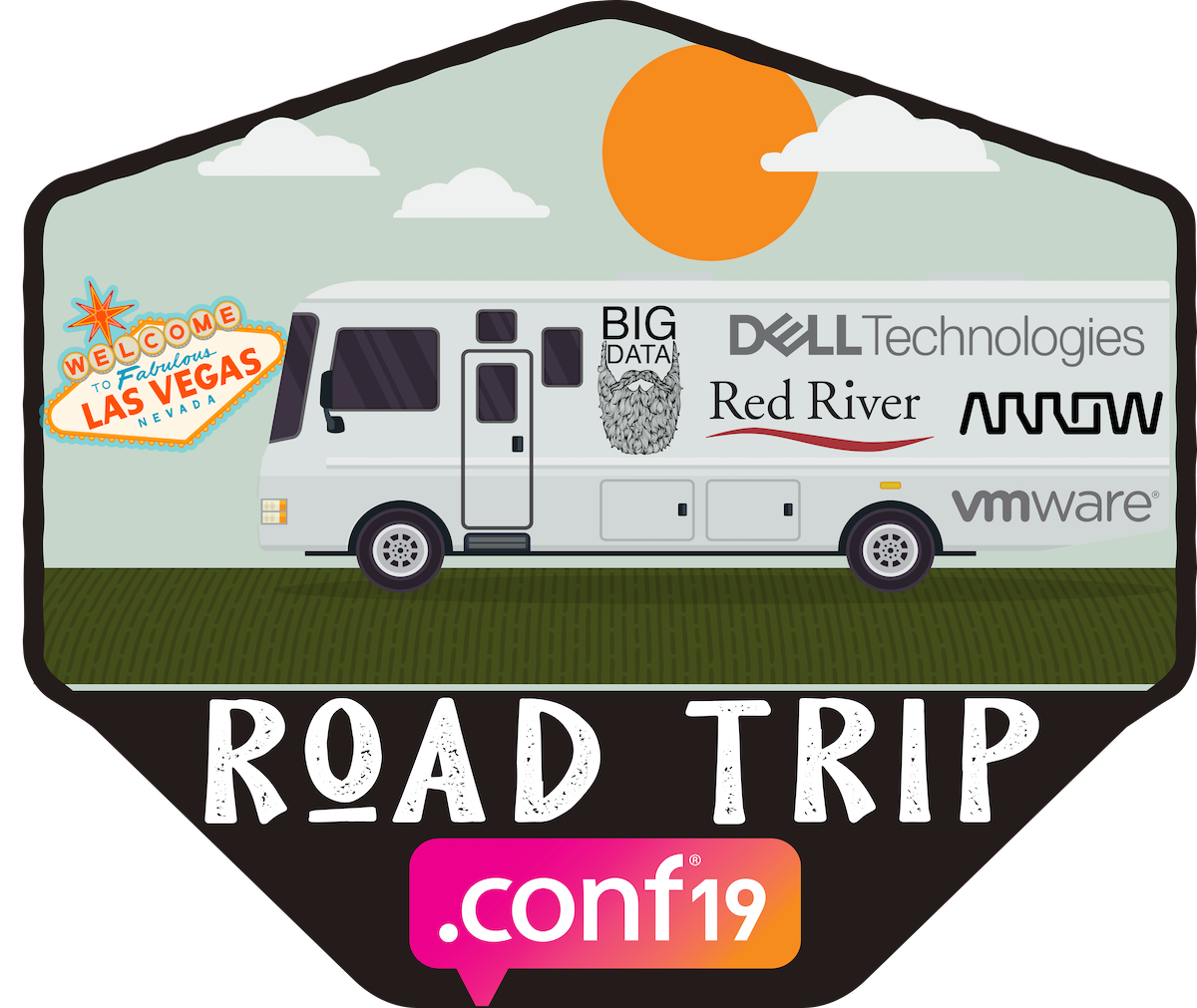 When most people think of fall, they think football, pumpkin spice lattes and leaves turning their autumn colors. For us, fall means that Splunk .conf19 is right around the corner! This year, .conf is a few weeks later than usual, and Cory Minton, Kyle Prins and I just couldn't wait any longer to get things started. Our idea was to get the festivities started early, so we decided to grab an RV, set up some IoT sensors, build an edge-to-cloud computing environment, and pack up the Big Data Beard recording equipment for an epic road trip across the country from Boston to Las Vegas for .conf19. We're calling it the Road Trip 2 .conf19!
The Trip
Over the span of our two-week journey, we'll be traveling across 15 states, driving over 3,700 miles and stopping in 13 different cities to meet with Splunk users, Splunkers and the rich ecosystem of Splunk partners to hear their exciting stories of how Splunk is being used to turn data into answers. Here's the route we're taking and the dates we'll be in each city.

If you live in or near one of these cities, make sure you stop by to check out the RV, talk with other Splunkers and get some highly coveted Road Trip 2 .conf swag. You can get the locations for where we'll be parking the RV for each city at our Road Trip 2 .conf19 webpage. We'll also be hosting happy hours in select cities, so stay tuned for those details.
Each morning we'll be livestreaming a daily talk show called "Breakfast with the Beards," where we'll be reviewing our trip progress via our Splunk dashboards and chatting with some interesting guests we meet along the way. Here's the calendar for Breakfast with the Beards; the links to the livestreams at will happen each day at 10am ET.
Breakfast with the Beards Show - Live Streamed Daily at 10am ET
Oct. 7, Boston - The Send-Off from Boston with John Roese, CTO of Dell Technologies
Oct. 8, Washington DC - Red River Technologies Use Splunk
Oct. 9, Charlotte - Dell IoT Strategy with Ken Mills
Oct. 10, Nashville - Splunking a Tesla with Chris Burnham
Oct. 11, Nashville - Decoupling Storage for Splunk with Kevin McDonald
Oct. 12, Memphis - IoT and the Smart Hotel Room with Keith Tomes
Oct. 13, Dallas - Insights into Splunk with Chip Winslow
Oct. 14, Austin - Customer Solutions Center Tour at Dell
Oct. 15, Austin - Big Data at Dell with Anthony Dina
Oct. 16, Amarillo - IoT RV Review from the Road
Oct. 17, Denver - Splunk and Security with Arrow
Oct. 18, Boulder - Making On Call Suck Less with VictorOps
Oct. 19, Moab - Road Trip Wrap Up at Arches National Park
Additionally, every Monday through Friday, we'll also be recording a podcast that takes a deeper look into the specific technologies and use cases of Splunk. Here's the schedule of podcasts.
Big Data Beard Podcast and Livestream from the Road Trip 2 Splunk .conf19
Oct. 7, Boston - Splunk Architecture with Splunk's Jeff Champagne (Podcast*, Live Stream)
Oct. 8, Washington DC - Red River IoT Vision with CTO Paul Krein (Podcast*, Live Stream)
Oct. 9, Charlotte - Splunk Powering Public Sector with Splunk's Juliana Vida (Podcast*, Live Stream)
Oct. 10, Nashville - Red River Conversation TBD (Podcast*, Live Stream)
Oct. 11, Nashville - Inside Look at The SplunkTrust (Podcast*, Live Stream)
Oct. 14, Austin - Digital Transformation at Dell (Podcast*, Live Stream)
Oct. 15, Austin - Splunk Powers Dell with Tanuj Arcot from Dell IT (Podcast*, Live Stream)
Oct. 16, Amarillo - How and Why Greg Woodcock Built Splunxter (Podcast*, Live Stream)
Oct. 17, Denver - Powering IoT Innovation at Arrow Electronics (Podcast*, Live Stream)
Oct. 18, Boulder - Strong Splunk Opinions with Splunk's Andi Mann (Podcast*, Live Stream)

*Podcast links to be added as they go live
This road trip would not be complete unless we went full "Splunky." To do that, we decided to turn our RV into a host=IOT_RV and Splunk all the data we collect as we roll down the highway. We've partnered with Dell Technologies, VMware and Arrow Electronics to build and deploy edge computing devices, hooked up several sensors, leveraged a few apps from Splunkbase and worked with some other Splunkers from Red River Technologies and Converging Data to transform our RV into a properly Splunked IoT playground! Here are just a few of the questions we're relying on Splunk to help us answer:
Location: Where are we currently and how long will it take to get to our next destination?
Road Quality: How does the quality of roads differ from state to state?
RV Comfort: How comfortable is our RV ride?
Health: With all this travel, are we taking care of ourselves? Do we need to walk a little more?
With three engineers in an RV for 14 days with only one bathroom, the biggest concern is cleanliness. In a take on the Dubai Airport's Golden Bathroom, we're using Splunk to create our very own Bronze Bathroom. With Splunk and VictorOps deployed, we can understand not only how best to optimize our cleaning efforts, but we can also be alerted when someone breaks the rules and fails to wash their hands!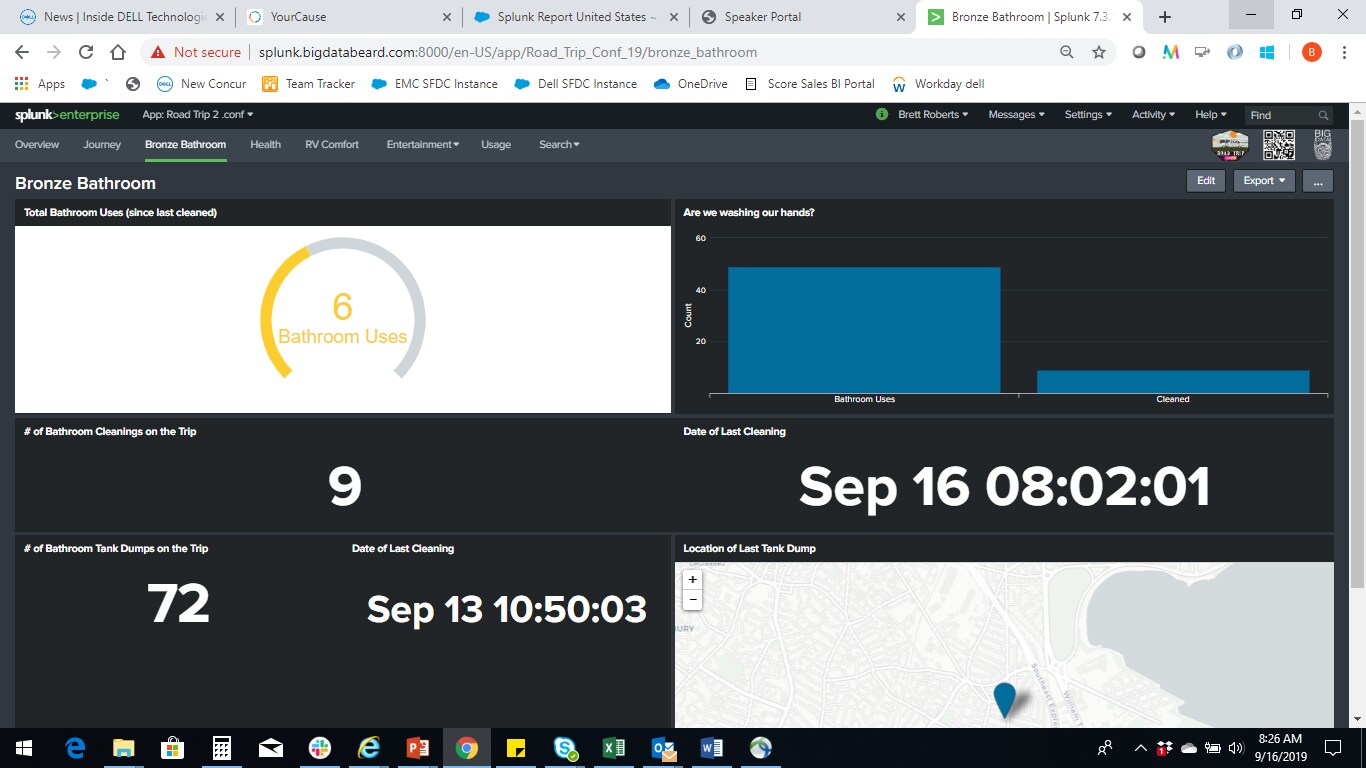 With an estimated 60 hours of actual driving time, you can bet that we will be listening to a ton of music. We've Splunked our Spotify account so we can see what songs, genre and artists we listen to the most. We also want to be able to share what we're listening to and even get your requests—you can engage with us on Twitter to recommend a song for us to play!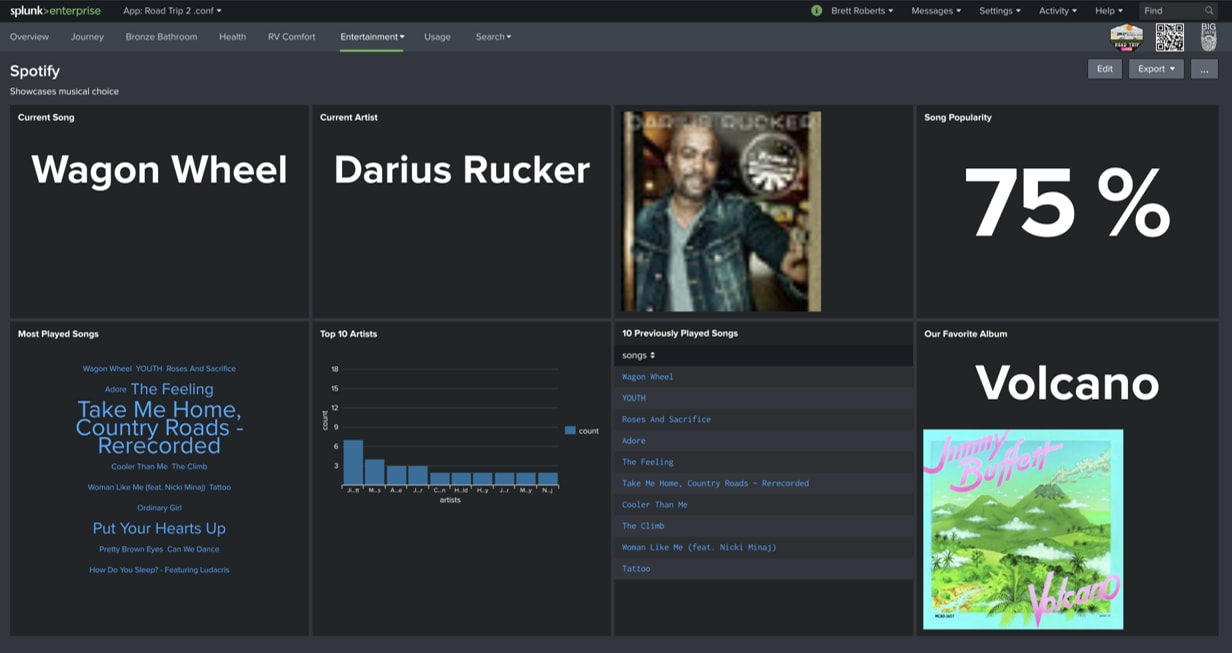 How to Engage
We will be publicly displaying all of our Splunk dashboards throughout the trip to provide real-time updates into our progress. We'll also be providing log-in information beginning on October 7th; check out our Road Trip 2 .conf website to get the link, username and password.
If you have any ideas on other things we can Splunk or have additional questions you want to ask from the data, lets us know on Twitter at @BigDataBeard.
Speaking of social media, get active and engage with us throughout the trip. Use #splunkconf19 and #RoadTrip2conf.
Check out our website to get access to the live streams and recordings, and get up-to-date information on our progress.
The RV at .conf19
For those of you attending .conf19, the RV experience isn't done yet; we'll be showcasing it in the expo hall starting with the Welcome Soiree on Monday night! Make sure you stop by to stock up on some cool RV swag and check out our dashboards using Splunk AR! We'll also be presenting a breakout session about the host=IOT_RV which will be taking place on Wednesday, 10/23, at 12:30pm PT. Make sure you add this session to your schedule.
All this awesomeness wouldn't be possible without our fantastic sponsors who helped turn this crazy idea into reality. Each of these great companies works hard to see their customers have success using Splunk and we cannot thank them enough for their investment and support on this wild ride: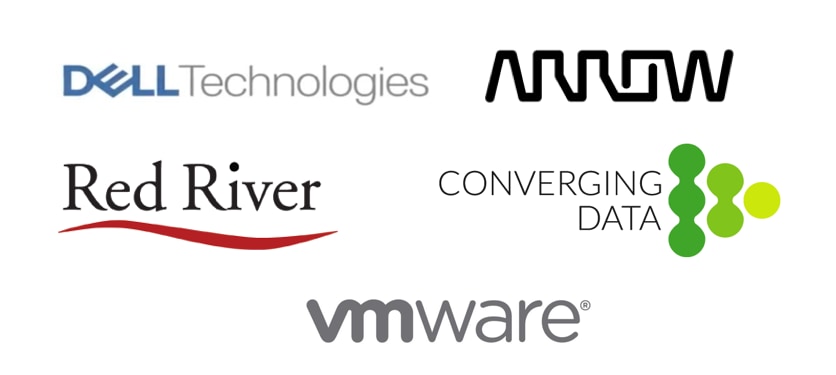 Lastly, we want to thank the Splunk community for their help in developing ideas to showcase the value of Splunk, and for helping us make these dashboards super impactful. Thanks Tom West from Converging Data and Brandon Ganem from the SplunkTrust!
Join us as we make this the MOST EPIC Road Trip 2 .conf ever! We are super excited and look forward to sharing the awesome experience with all of you.
Your Bearded Friends,