Earlier this month in the O2's InterContinental we hosted SplunkLive! London - my favourite working day of the year. I have fond memories of being in the audience only four years ago, and to see how it has grown to an attendance of one thousand people is a testament to how UK organisations are using their machine data.
We had some fun this year and showed off some of the more "emerging" use cases for machine data. We "Splunked your swing" with a golf simulator that showed the distance, direction and force of your drive. I managed to hit the golf ball four inches (Miss ball. Hit ground. Ball rolls off tee). We also "Splunked your driving" with a Formula 1 simulator that showed your performance in real-time, alongside all the sensor data coming off the car you were sat in.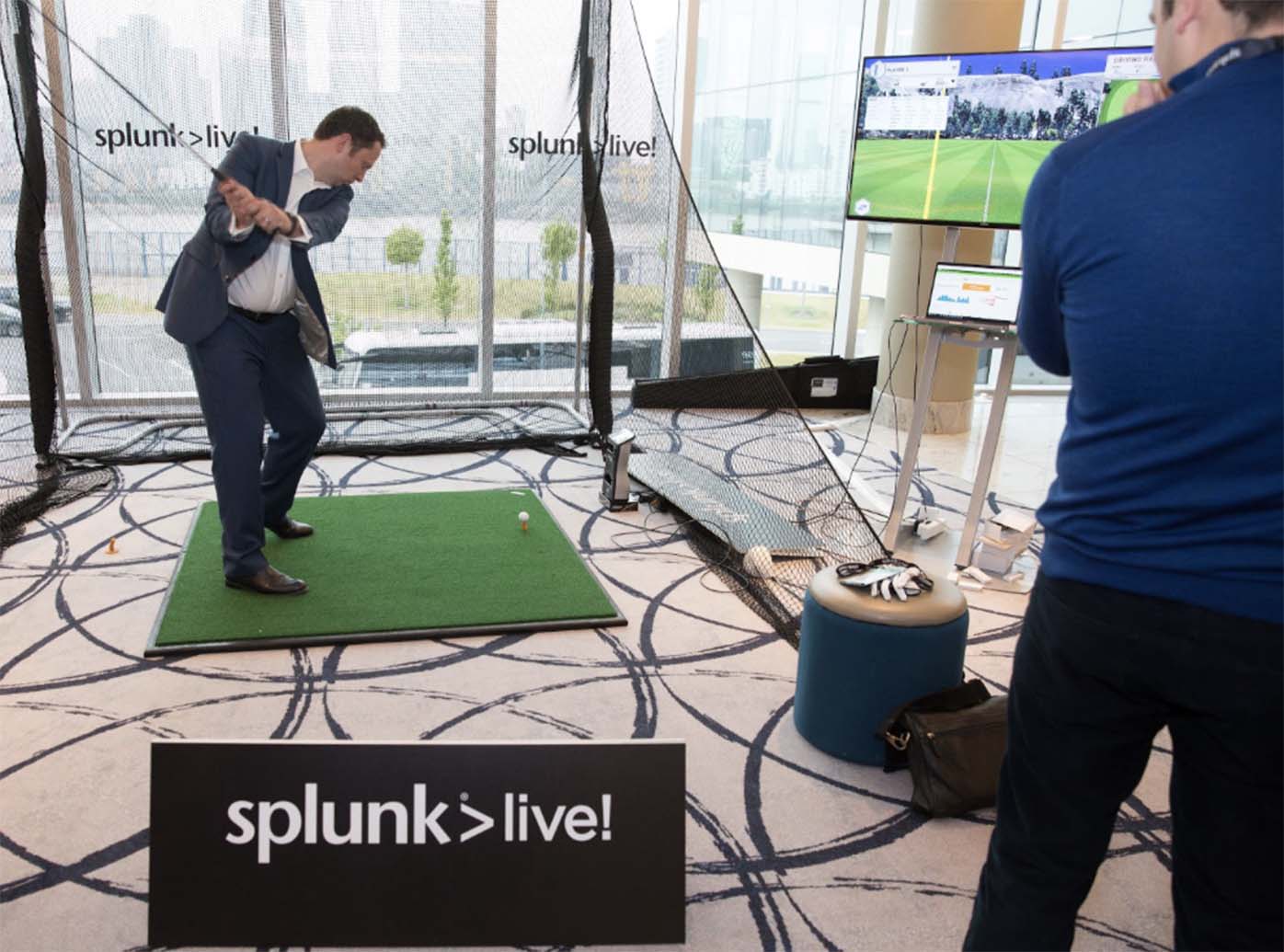 The day opened with an introduction to the "data revolution" we're living in and how machine data plays a key role in the way organisations run their IT, protect themselves from security threats, and improve a customer's digital journey. We also spoke about machine data being at the heart of an executive's priorities with examples from Gatwick, Dunkin' Donuts, NASDAQ and Dominos Pizza.

We announced the launch of our new research highlighting how organisations that use machine data are outperforming competitors in their digital transformation.
Following this, we then had some outstanding customer speakers share their use of machine data:
Shazam's Chris Kammermann – how the company is "datafying its business" and showcased its Augmented Reality capability by allowing the audience to Shazam a Splunk dashboard! Where else would you see sheep, kangaroos, a video and LinkedIn profile in AR hovering over a Splunk data visualization? Very cool.

UBS beamed us up (Scotty), with a great use of ITSI in the investment banking industry. A full write up of this presentation will be on the blog soon - so keep your eyes peeled!

Nick Bleech, Head of Security at Travis Perkins spoke about how the company moved its SOC to the cloud as part of a "cloud-first strategy". Now, bearing in mind that this was the day before WannaCry – Nick shared how with Splunk, his team detected 3,851 ransomware attacks over April, with a huge spike over Easter. You can find out a lot more on that, here.

Matthew Rowe, Director of Security for Nationwide discussed the challenges of maturing cyber threat intelligence and operations to deal with today's threats. There was a lot of great insight around how to have the conversation with the business, and how to balance prevention with detection.
We ended the morning with a prize giving ceremony for our "Boss of the SOC" contest that ran the day before. This "cyber war game" saw 22 security teams from many of the UK's leading banks, retailers, telcos and government departments trying to defend themselves from attack using Splunk. It was great fun with a healthy supply of sugar, caffeine and alcohol. There could ultimately only be one winner, so we congratulated the Sophos team as they came on stage to collect their trophy from Splunk's Head of Security Research, Monzy Merza.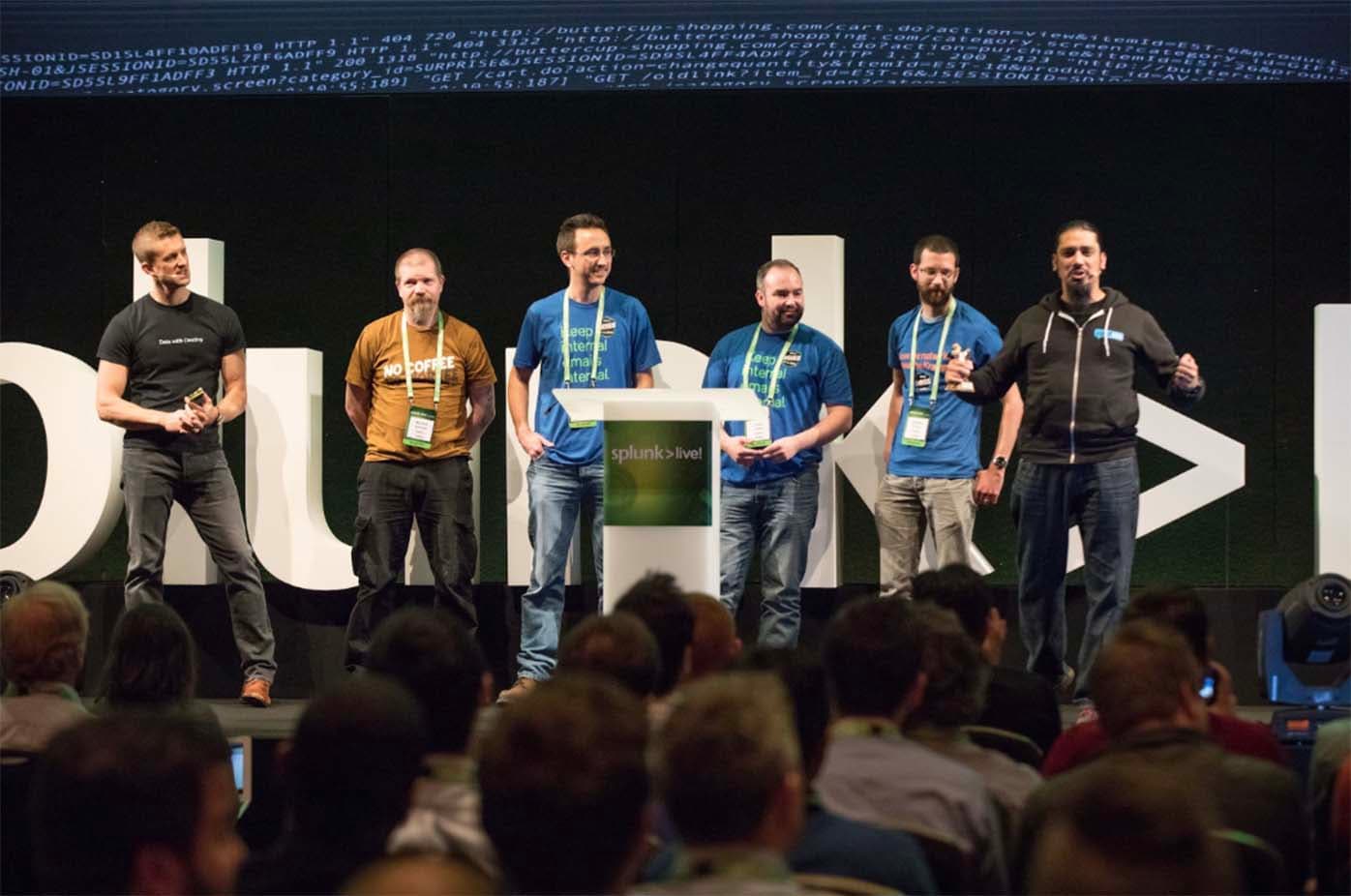 With so many games and contests at the event, we had a number of winners at SplunkLive! London – but I'd like to congratulate my favourite, Christopher Ritchie, for the best photo booth picture: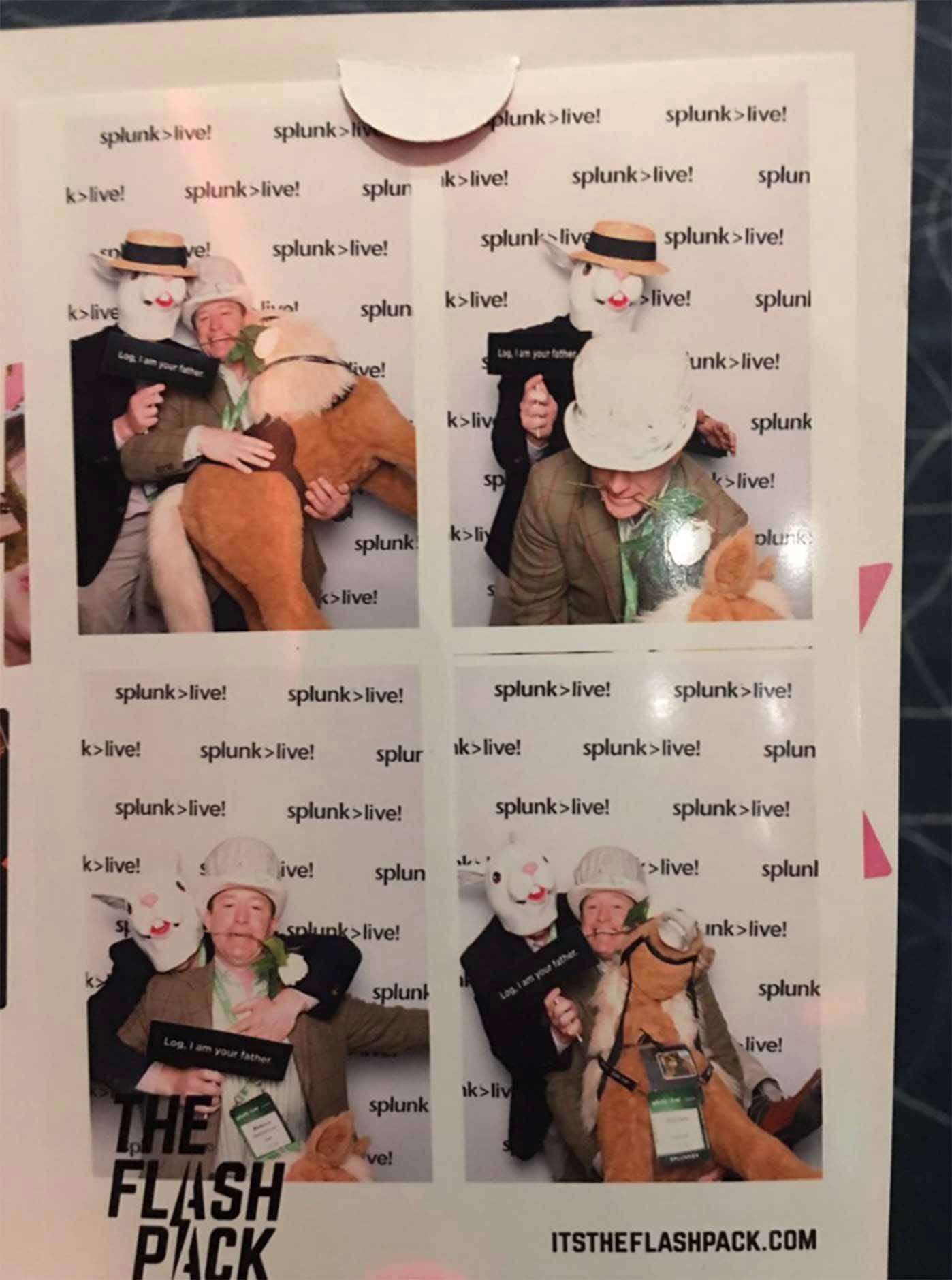 Thank you everyone for coming – it was a great day! See you next year hopefully, and as always – thanks for reading…