By Ashok Sankar September 06, 2016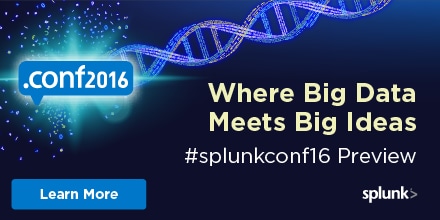 Splunk .conf2016 is just around the corner. If you are still contemplating attendance or have never attended one before, I highly recommend you take a look at some highlights from .conf2015. When our customers attend either our SplunkLive! or Discovery Day events held across the country, they walk away with a ton of information on the value Splunk can offer and how it extends their investments in it further. Well, .conf is the super bowl of events for Splunk.
Between Sept 26 and 29, hosted at the Walt Disney Swan and Dolphin resorts in Orlando, FL, the event will bring 4,500+ professionals from across the globe for non-stop education, networking, and fun. It is an opportunity to see how customers in a variety of industries are leveraging Splunk, learn new features and how to use them, and network with your peers to collaborate and learn from each other.
With over 175 sessions featuring Splunk speakers, customers and partners, it can be a bit daunting to decide which sessions to attend to maximize your experience. We do have an agenda builder that I would highly recommend you avail. It will certainly enhance your experience. To make it even simpler, here are two 'virtual session agendas' – one for government and one for education – you can use as guidelines to choose specific sessions from. This agenda is specifically patterned with you in mind, so you can maximize your learning and experience.
Additionally, there are keynote presentations throughout the week that will be of interest to everyone in attendance.
If you have not already registered, I encourage you to do so. Because this year promises to be the best yet, especially if you are with a government agency or an educational institution. Why? Because these 3 days in September are packed with learning and extracurricular activities aimed at helping you solve your challenges, address your concerns and extend your investments in Splunk.
Hope to see you there!
Best,
Ashok Sankar
Director, Solutions Strategy – Public Sector & Education
Splunk Inc.
Follow all the conversations coming out of #splunkconf16!