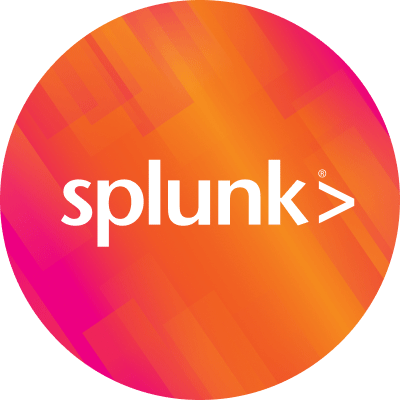 By Splunk August 30, 2016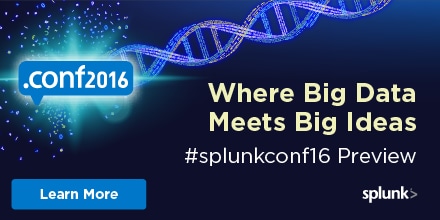 My favorite technology conference – Splunk .conf2016 is around the corner! Truth be told it feels more like a family reunion than an event. .conf2016 has grown leaps and bounds not only in terms of attendance, but also in terms of technical content, customer presentation, partners exhibiting, and just overall awesomeness!
.conf2016 promises to shine light on machine data like never before! Our amazing customers continue to push the boundaries of what is possible with Splunk, with their unique use cases and stories. No where is this more evident than our customers adopting Splunk for Business Analytics and IoT. If you plan to be at .conf2016, I would be sure to attend these sessions! These sessions will fuel your imagination, inspire you to look at machine data differently, and leverage Splunk in ways unimaginable before.
Splunk for Business Analytics
Tuesday, September 27:
10:30 AM – UniCredit Business Integrated Solutions S.C.p.A: Gaining New Insight Into the Payment Business Process. Speaker: Markus Sprunck.
11:35 AM – 2degrees: How Splunk Can Provide Real-Time Operational Insights to Drive Performance & Customer Excellence in a Call Center Environment. Speaker: Tracy Leighton.
11:35 AM – Shazam: Splunking the Systems that Support 120 Million Monthly Active Users. Speaker: Chris Kammermann
12:40 PM – Intelliflo: Business Analytics With Splunk – The Secret Behind our SaaS Growth Success. Speakers: Hamish Purdey. Robert Walton.
4:20 PM – BNW Consulting: Splunking SAP – Provide Instant Business Value by Unlocking SAP Data for IT, OT and Security Use Cases Across Your Enterprise. Speaker: Warwick Chai.
Wednesday, September 28:
11:00 AM – BBC: Splunk Cloud at BBC Worldwide: Operational and Business Analytics to Support a New Digital Service. Speaker: Zoe Bolton.
12:05 PM – UNLV: From IT Troubleshooting and Service Monitoring to Predicting Student Achievement: An Operations-Research Love Story. Speakers: Matthew Bernacki. Cam Johnson. Liz Whitaker-Freitas.
3:30 PM – MasterCard: Leveraging Splunk Analytics for Business Intelligence and DevOps: API Activity & Performance. Speaker: Tim Watkins.
4:35 PM – ICF Technology: Confidence in Conclusions: Leveraging Splunk for Data Driven Insights. Speaker: David Uslan.
Thursday, September 29:
10:15 AM – Gatwick Airport: – Gaining Business Analytics to build a data-driven airport – from vision to reality at Gatwick Airport. Speaker: Chris Howell.
10:15 AM – Splunk: Splunk at a Telco: Assessing Outages and Improving Customer Experience with Machine Learning. Speaker: Andrew Phillips.
11:20 AM – OTTO: Anomaly Detection on Business Items with Machine Learning Algorithms. Speakers: Andre Pietsch. Stefan Scholz.
11:20 AM – Splunk: Tracking Trading (FIX) Environments with Splunk. Speaker: Duncan Turnbull.
12:25 PM – Splunk: Monitor Your Business Transactions with Splunk to Gain Real-Time Insights Into Your Business Performance. Speakers: Romain Testu. Stephane Lapie.
Splunk for IoT & Industrial Data
Tuesday, September 27:
10:30 AM – Infigen Energy: "Listen to the Wind, It Talks" – Monitoring Wind Energy Production from SCADA Systems with Splunk. Speaker: Victor Sanchez.
3:15 PM – Myriad Genetics: Monitoring Automated Genetic Diagnostic Laboratories. Speakers: Ben Miller. Larry Shatzer.
5:25 PM – Splunk: Splunk Improving Soldier's Efficiency and Healthcare Logistics in the Battlefield. Speakers: Ramik Chopra. Justin Boucher.
Wednesday, September 28:
1:10 PM – DB Cargo AG: Internet of (Big Rolling) Things at DB Cargo's European Rolling Stock: Increased Customer Satisfaction Through Higher Availability and Reliability. Speakers: Marcus Gössl. Mathias Sebastian Thomas.
2:15 PM – Shaw Industries Group Inc.: Splunk on the Shopfloor: Improving Plant Operations with Splunk. Speakers: Lin Stokes. Erika Swartz.
Thursday, September 29:
11:20 AM – Kinney Group: Analytics at Speed. Speaker: Laura Vetter.
12:25 PM – EnerNOC: – Monitoring the Industrial Internet of Things: A Guide to Application Performance Management with Splunk. Speaker: Chris Winkler.
1:30 PM – Enterprise Product Partners L.P: SCADA and Splunk – Soul Mates Forever. Speaker: Chris Duffy.
1:30 PM – Splunk: MQTT, AMQP and the other LMNOP's of the IoT. Speaker: Brian Gilmore.
I can't wait to see everyone there!
Manish Jiandani
Director, Solutions Marketing
Splunk Inc.
Follow all the conversations coming out of #splunkconf16!
There is still time to register!!
----------------------------------------------------
Thanks!
Manish Jiandani