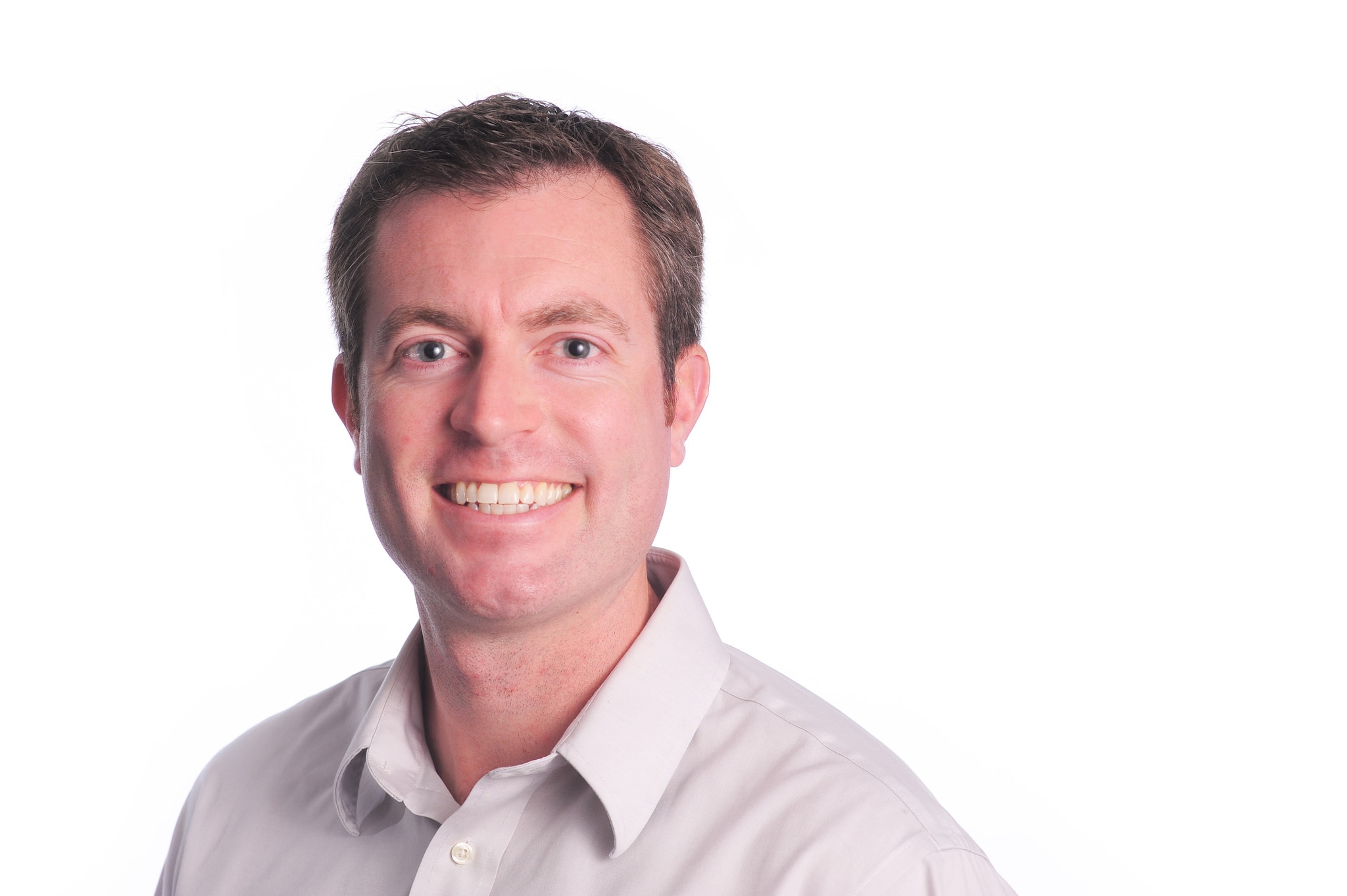 By Nate McKervey November 01, 2019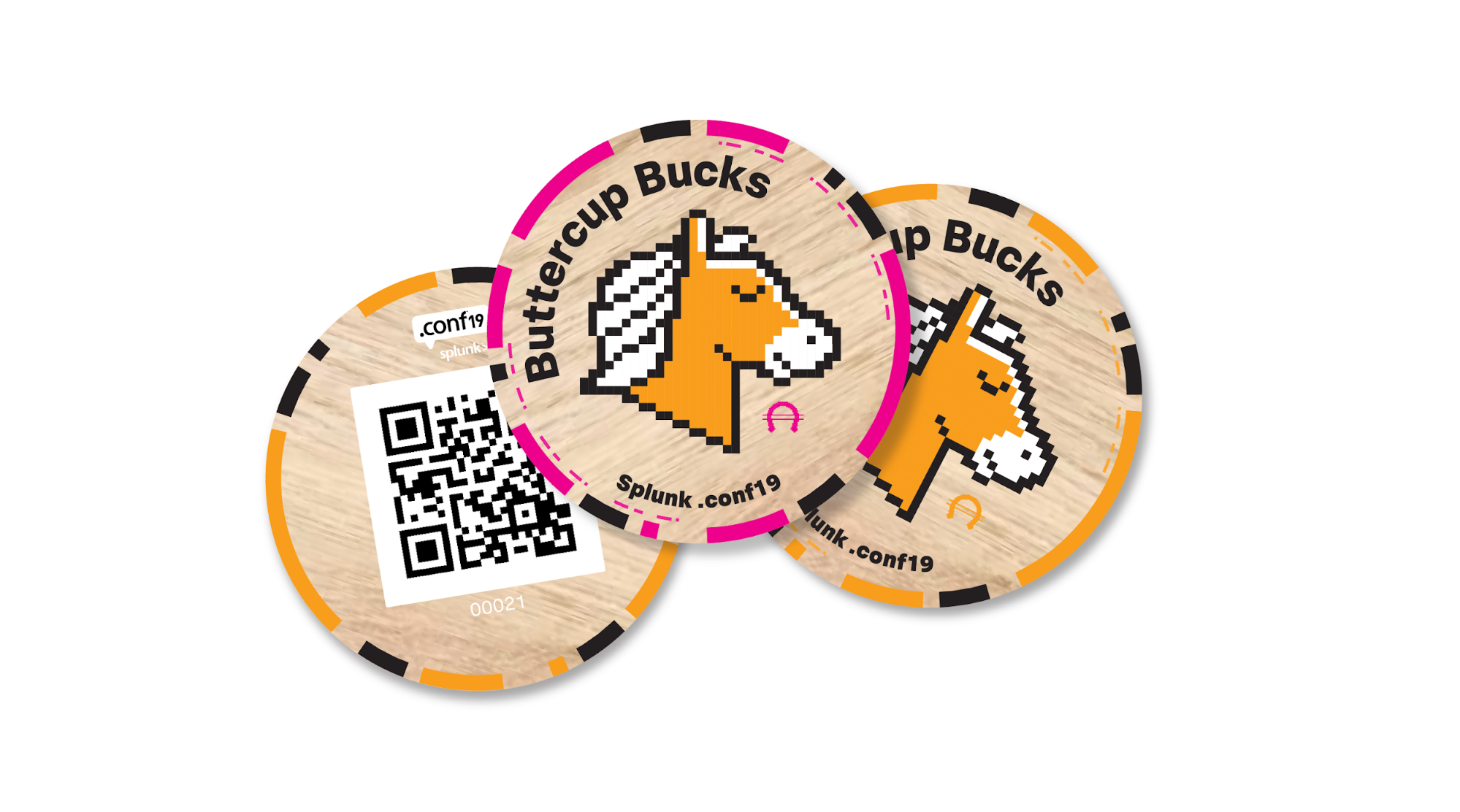 Wait what? Did Splunk just have an initial coin offering? No, but we did create digital tokens called Buttercup Bucks (BCB) on a fast, layer-two Ethereum compatible blockchain called xDai.
Attendees at .conf19 were turning data into doing throughout the event using Buttercup Bucks. Every attendee started with Ω5 (that's 5 BCB) in their pony purse, a web wallet inspired by Austin Griffith's burner wallet. Throughout the event they acquired more BCB in various ways — the most popular was scanning QR codes on physical wooden poker chips. These chips were earned in different ways such as giving product feedback, or arriving early to the keynotes.
Attendees spent their BCB in multiple ways such as acquiring limited edition swag or donating it to non-profit partners like NetHope, Global Emancipation Network and Conservation International. One splunker named Caroline was so passionate after learning more about Global Emancipation Network's mission to fight human trafficking with data analytics, that she donated all her BCB to the organization. This inspired other attendees to do the same based on her enthusiasm.

The SplunkTrust discovered what she did and helped spread the word to raise more BCB for the cause. It went viral at .conf, and she amassed an incredible Ω10,446 and donated it all! Splunk was so inspired that we matched and rounded up buy sending $30,000 real bucks to Global Emancipation network as well as an additional $10,000 to both NetHope and Conservation International.
The community didn't stop there, our awesome customers came up with even more ways to use our BCB. From exchanging them for bourbon to creating the first ever cryptocurrency powered pinball machine. The data generated is fascinating and really demonstrates what the Data-to-Everything can do. To showcase this fact we built a Buttercup Bucks Operation Center, we call it the BBOC.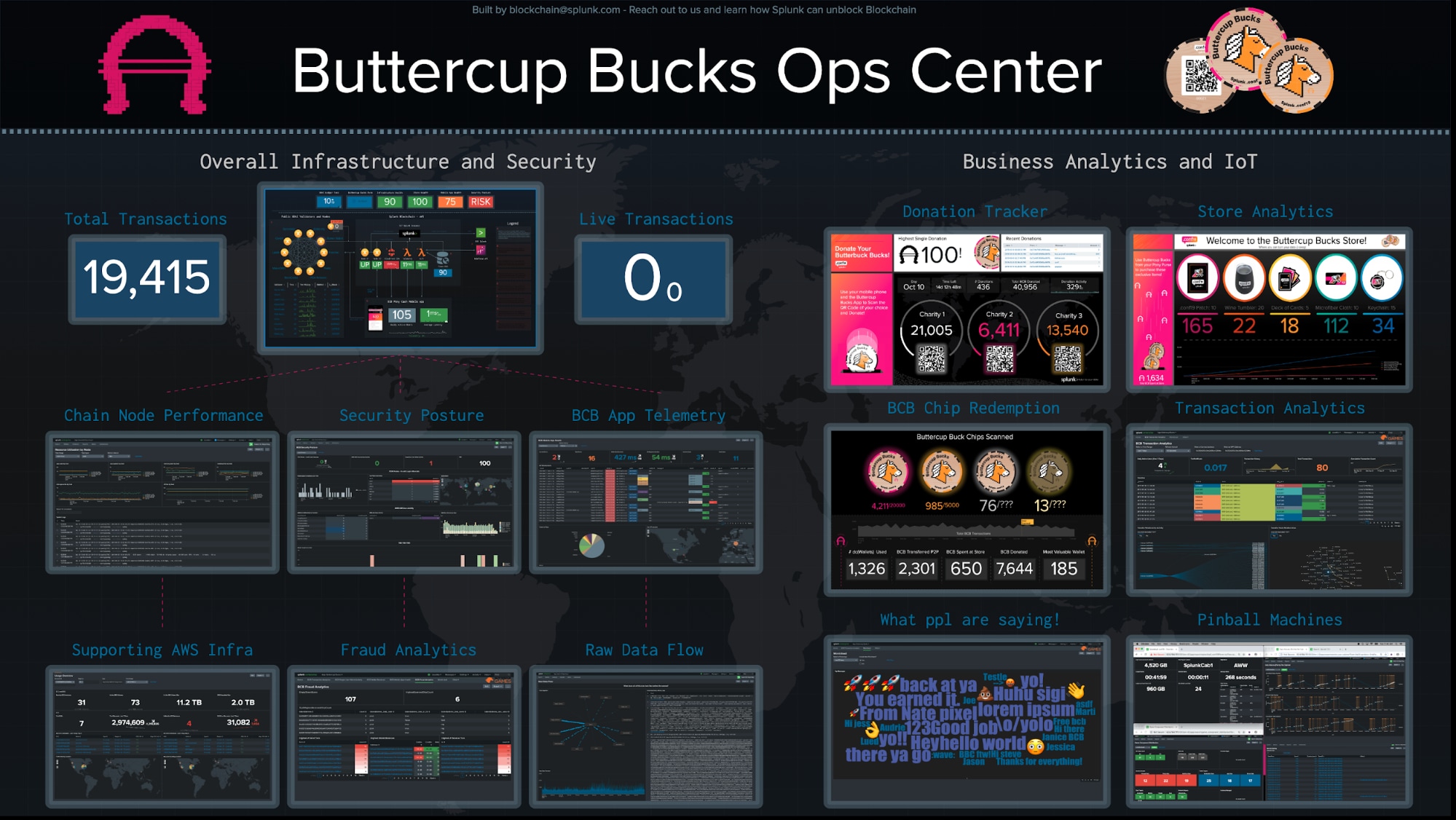 Operators in the control room were using the dashboards built on the new splunk dashboards app to gain insights into IT, Security, IoT and Business Analytics. Splunk users of the control room were receiving alerts on their mobile devices (including watches!) using the new Splunk Mobile app.
The Splunk Augmented Reality app was used to scan QR codes on the dashboards and bring up more detailed information. The AR app could could even scan any of the 10s of thousands of poker chips and gain insights instantly, such as what was the lineage of the coin, where did the BCB go and how was it used.
It was an epic display of bringing data to every question, decision and action. But why did we decide to build something using blockchain? We wanted to demonstrate how Splunk can turn chaos into control with data. Applications that integrate with blockchains are complex and have a lot of infrastructure behind them that generate a lot of data. To make matters more complex, Distributed Ledger Technologies (blockchain based or not) are often assumed to be immature and have problems with stability, scale, and security (fraud), as well as user experience. We decided to show that these problems can be overcome (like every problem) with data.
The splunk blockchain team set out to ambitiously build an application and launch it on a layer-two blockchain at a scale that hasn't been seen before. Over 10,000 attendees in a single location executing blockchain transactions while blending the physical and the virtual worlds using wooden poker chips loaded with digital tokens (ERC-20 and ERC-721). All this resulted in over 19,436 blockchain transactions totaling 234,401 BCB making it the largest pop-up cryptocurrency to date by many measures.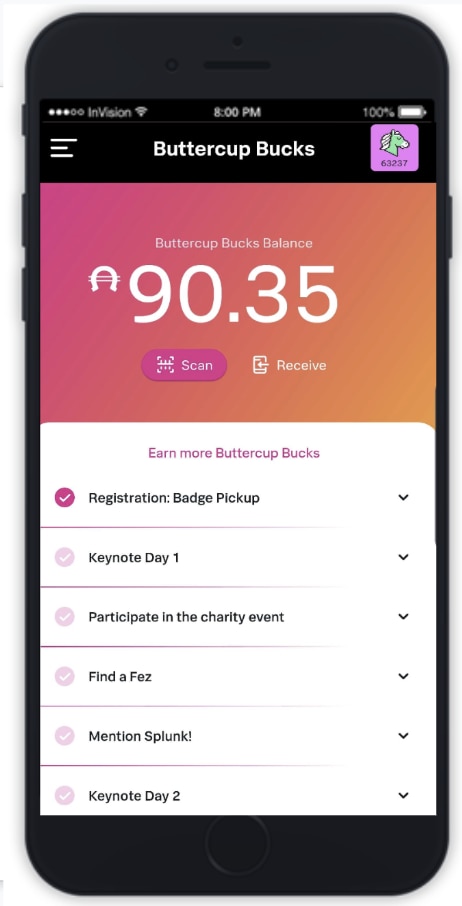 11,868 poker chips were scanned worth 79,080 BCB.
5,716 physical items were purchased in the store worth 75,812 BCB.
38,878 BCB were donated to charity.

Using a traditional payment provider these transactions would have cost over $4,000. Because of the increased efficiency of the xDai blockchain network, the total cost was $1.54 in gas fees.
One of the biggest user experience challenges with cryptocurrency is managing your private keys. If you lose them, you can't access your tokens anymore! We didn't want .conf attendees to have to deal with the stress of potentially losing their hard earned BCB. Our engineers came up with an elegant solution, we would onboard all attendees into BCB via. the conference registration app. This ensured only attendees would get BCB and if their Pony Purse™ keys were ever lost, they could be recovered via the registration app. With that problem solved, all that was left was to spin up AWS services for the authentication backend, write the frontend code for the mobile wallet, get the DNS and CDN working, make sure the xDai network and Infura were ready for the onslaught of transactions, test the mobile wallet on a gamut of mobile devices, write the point of sale app for the Buttercup Bucks Store, write a few smart contracts to pre-load all the user wallets, test and print over 10,000 poker chips, get all the signage printed, send all of the data into Splunk and build some awesome eye catching dashboards. The team had several weeks to do it all before the conference started, which meant they didn't have time to create things like a progressive raffle using smart contracts until the event started.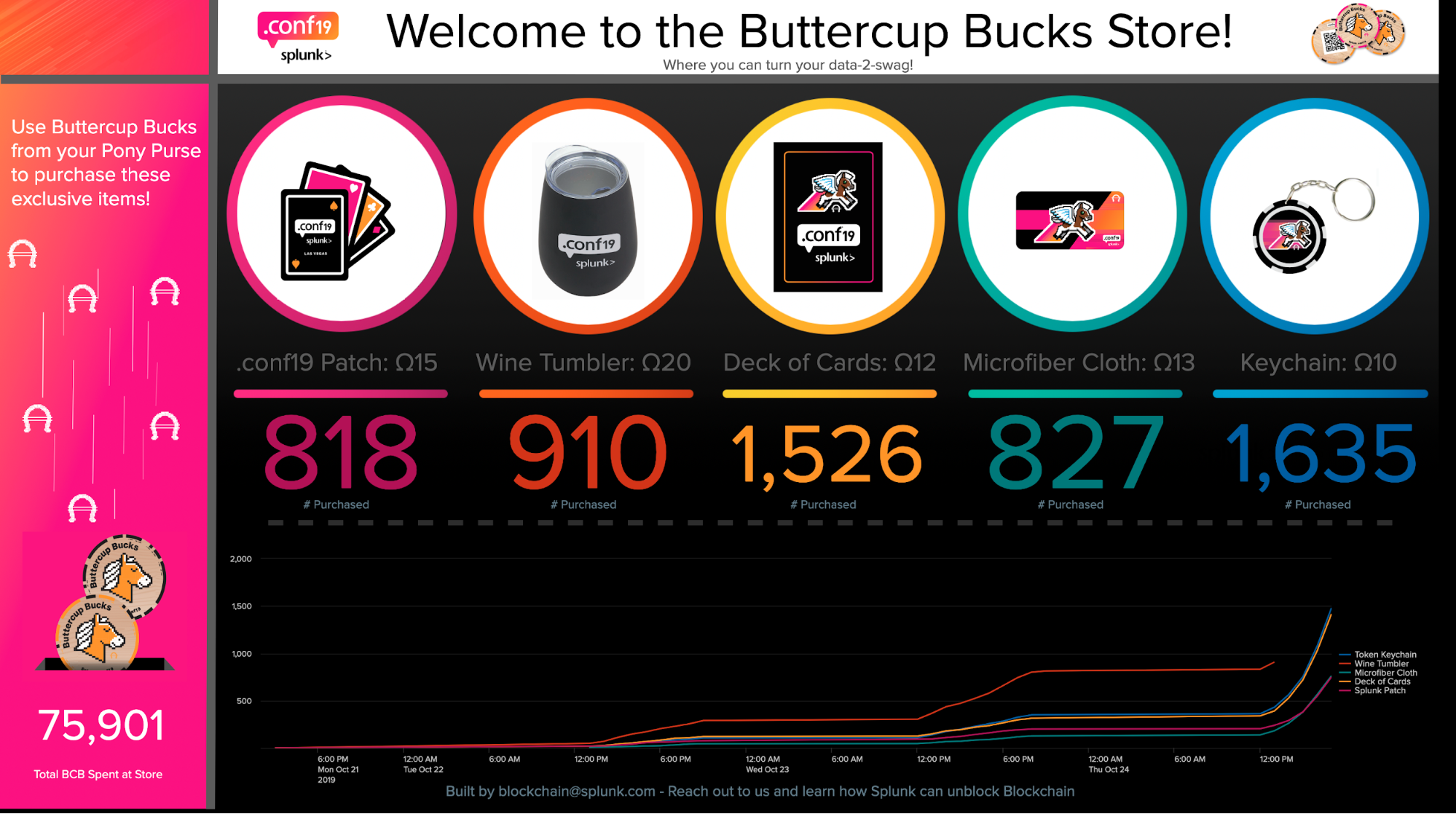 We also hosted a BCB raffle. The raffle was decentralized and un-riggable (unlike maybe some of the other games in Las Vegas). Each raffle had a set amount of tickets. Anyone could buy these tickets for one BCB by scanning the QR code above with their Pony Purse. Once there were 0 tickets left, half the pot went to a random ticket holder and the other half to charity. Since we used a smart contract on an ethereum sidechain there was no middle men, all transactions were publicly verified and the code was run as long as the network is alive.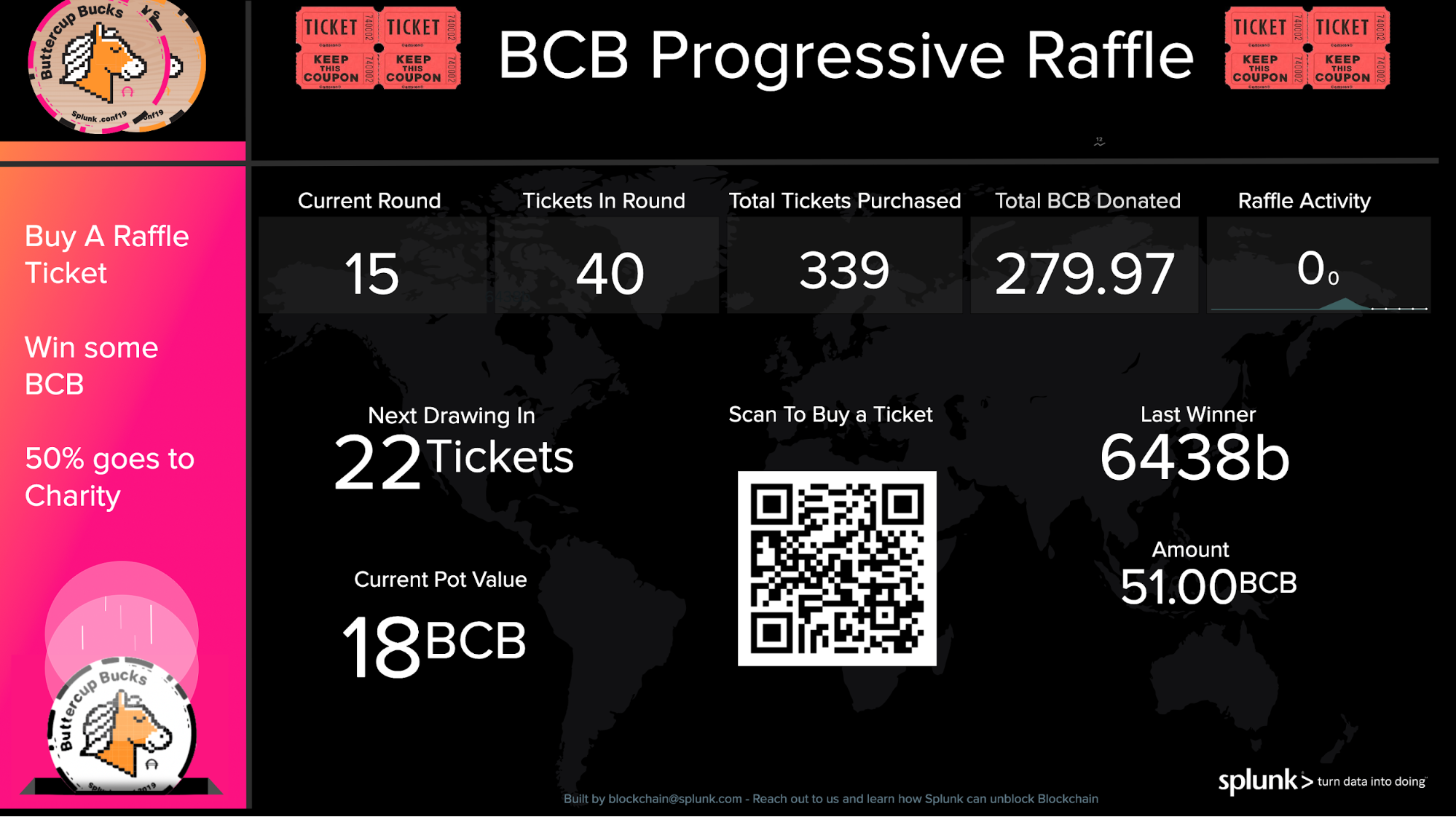 We also wanted to ensure that our attendees were getting a world-class cryptocurrency experience: the app was loading fast, the transactions were confirming quickly and reliably, and they could see their charity donations and store purchases in real time. We take security seriously at Splunk, so it was important for us to also monitor for fraud and cyber attacks — running on a public network has benefits, but also comes with some risk. With so many different data sources and limited time, we needed to be able to search and investigate quickly without fussing with schemas.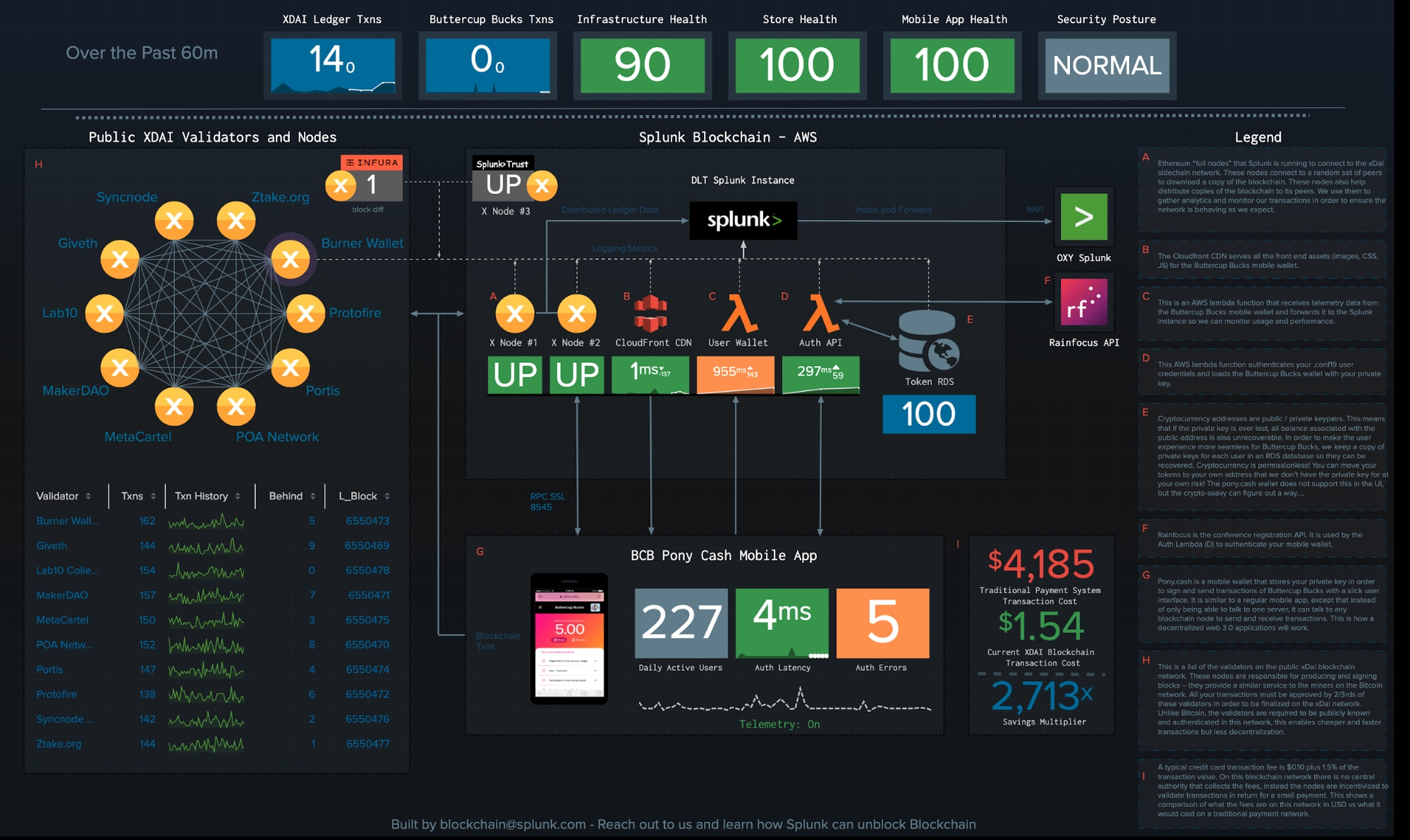 Splunk was born for these problems! Our customers who are deploying Enterprise Blockchains have the same challenges with observability, they need to know that their networks are scalable, secure and stable. The blockchain team at Splunk is here to help enterprises unblock blockchain. In subsequent blog posts, we will dive deeper and show you how we overcame these challenges by bringing data to every question, decision and action using the Data-to-Everything Platform.
---
Catch up on all the conversations from #splunkconf19!