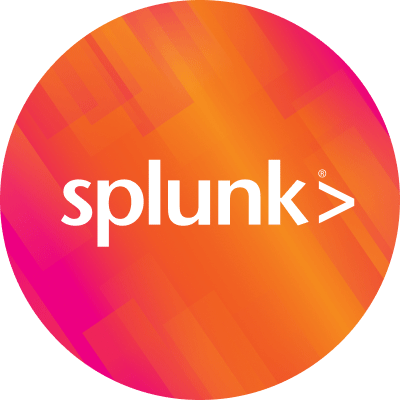 By Splunk January 08, 2016
Continuing with our theme around Business Process Analytics, this blog highlights how Northern Trust Bank leverages Splunk to gain an end-to-end view of their financial transactions. They presented at .conf 2015 and you can listen to their amazing story here or download their presentation by clicking the title slide below: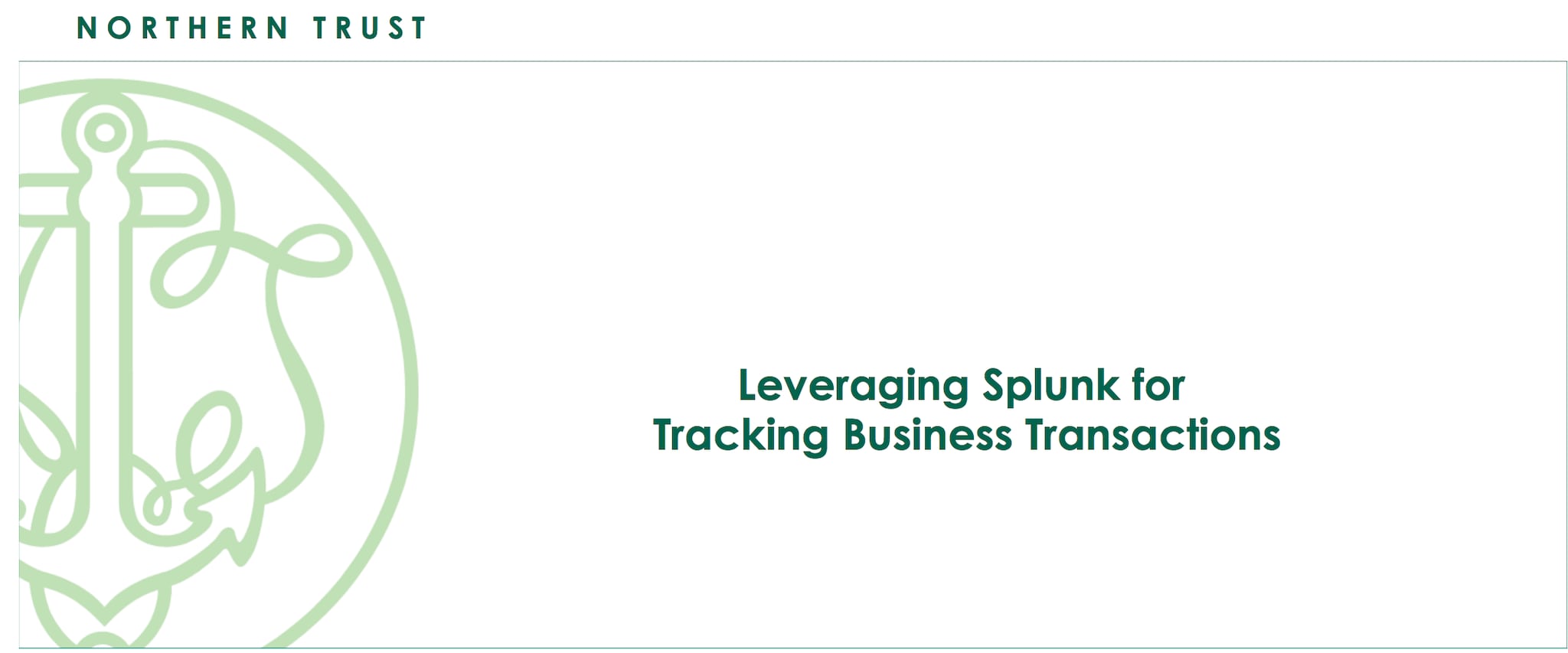 Headquartered in Chicago, Northern Trust Bank is a "Bank for the Banks". With over $120 billion in banking assets, $6 trillion in assets under custody, and $887 billion in assets under management, the bulk of its business is to provide services to other banks and institutional clients. While they have a retail presence it is minor subset of their business.
As a result, most of their transactions are of high value, in addition to also processing a high volume of transactions. With a large customer base, these transactions can be initiated by thousands of different systems outside the bank. These systems can be based on off-the-shelf vendor software or built organically by various institutions. Once a transaction is initiated, it goes through multiple different processes or steps within the bank. For example, a cash transaction might go through a validation step, fraud detection step, then liquidity checks etc. Each of these steps is processed by a different application or a system. These in turn are also often organically built by the bank or are based on off-the-shelf vendor software.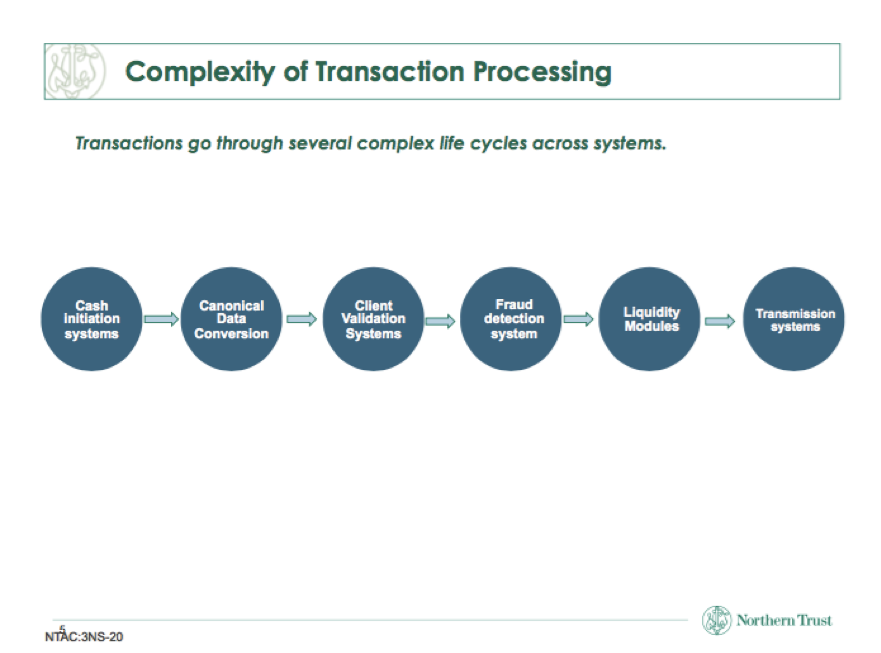 To add to the complexity of thousands of systems, as transactions flow through these systems, the structure of the data changes or the metadata of the transaction changes. For example, accountID in one system might be represented as accountNum in another or transactionID in one might be represented as documentID in another.
Hopefully the picture of complexity is clear ☺ – thousands of systems, having their own knowledge of the data, being conduits of high volume of high value transactions. In this complex landscape it was challenging for Northern Trust bank to get an end-to-end view of the process flow. This is where Splunk came in!
Leveraging Splunk's open platform, Northern Trust Bank was able to leverage its APIs to create a custom UI for its operations team, enabling them to view the entire lifecycle of a transaction and also provide them with a view of the system health.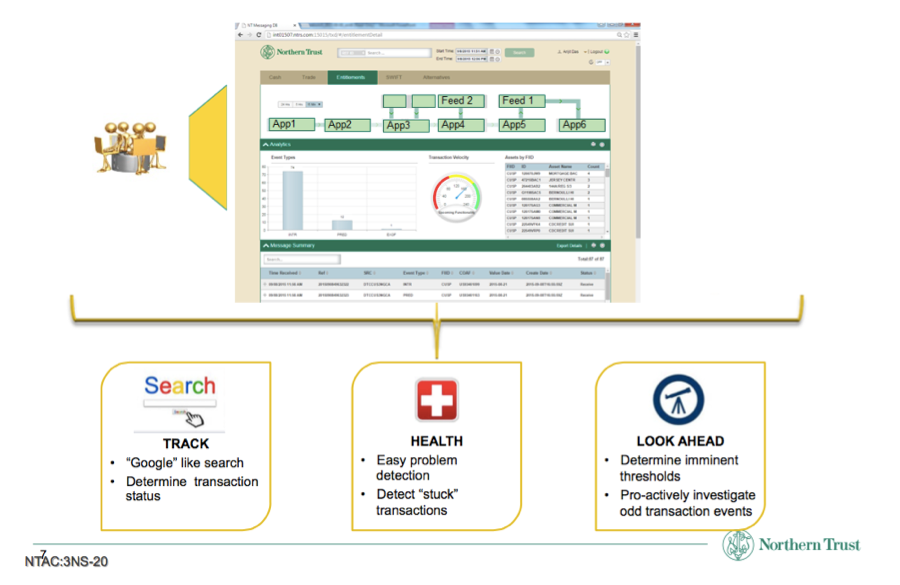 The operations team can now simply enter a Google like search criteria, for example, amount of a transaction, client name, date etc. and see where the transaction is in its lifecycle. They can also click on a transaction to understand issues if any.
In addition to being able to locate a transaction and gain an end-to-end view of the process flow, Northern Trust Bank is also able to perform analytics around transactions, measure the velocity of the transactions, and detect any abnormal events.
I can view the entire lifecycle of a transaction and gain an end-to-end view, so what?
Operating in a highly regulated environment, Northern Trust Bank has been able to improve their STP or Straight Through Processing (STP) through this end-to-end process view. STP is an initiative in the financial world to optimize the speed at which transactions are processed. Faster STP reduces settlement risk by improving the probability that a contract is settlement in time.
In addition, the bank is able to avoid/reduce financial penalties by reacting quickly.
Lastly, Northern Trust Bank is able to deliver a superior customer experience by being able to answer their status questions quickly.
Whether you are a financial institution looking to settle transactions or a retailer looking to gain end-to-end visibility into the order management process, the underlying challenges are similar and the upside is tremendous!
Splunk enables organizations to gain a data driven view of their business processes in real-time. Stitching together data from multiple different application silos, organizations are able to gain end-to-end visibility into complex business processes by correlating data across these data sources, and also rapidly on-board new data sources as the underlying process changes.
Stay tuned for more awesome stories from our amazing customers!
Happy Splunking!
Manish Jiandani
Director, Solutions Marketing
Splunk Inc.
Save the date and RESERVE YOUR SPOT for .conf2016:
Sept 26-29, 2016 | Walt Disney World Swan and Dolphin Resort
----------------------------------------------------
Thanks!
Manish Jiandani