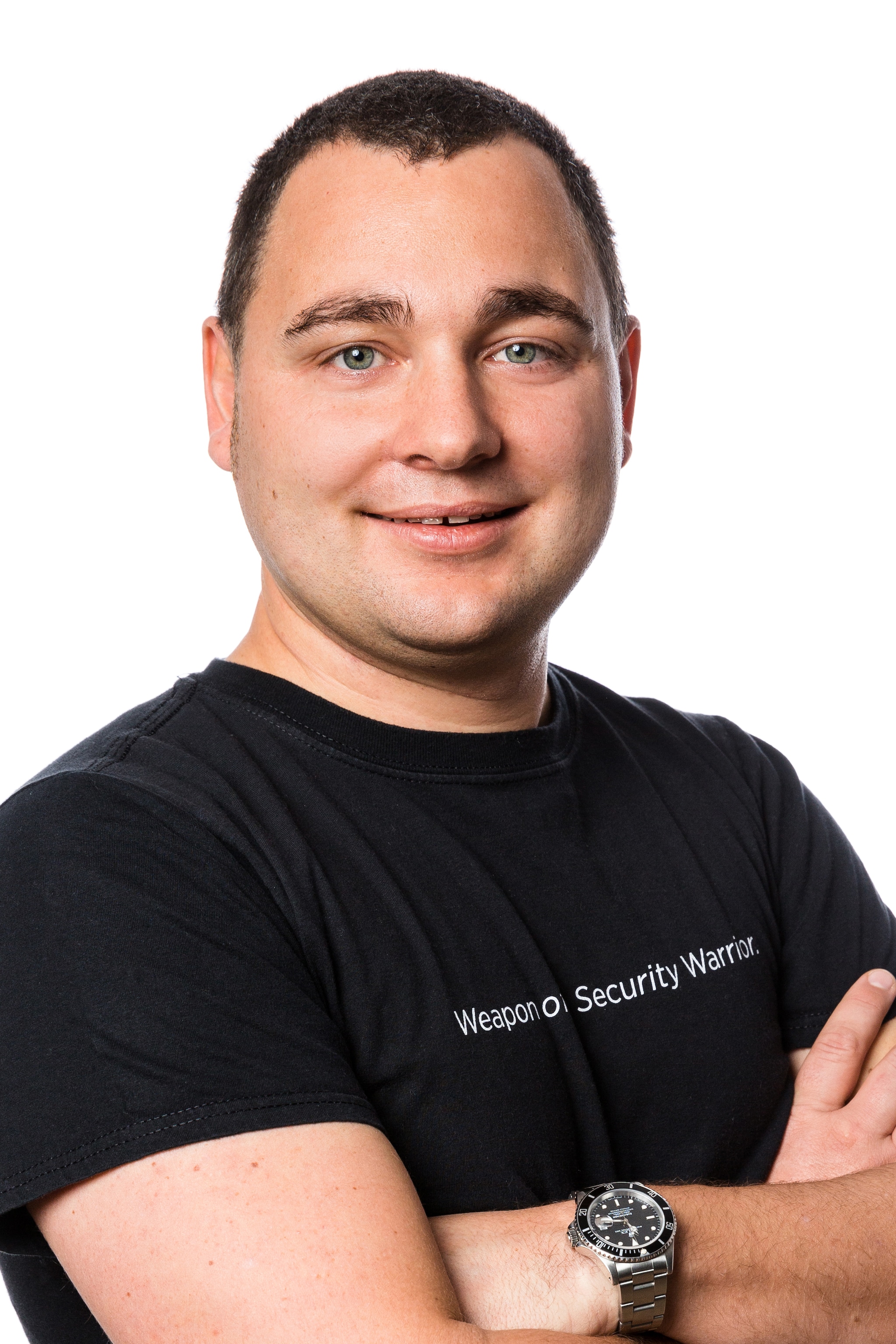 By Matthias Maier June 11, 2019
Another year, another set of awesome stories from German organizations showcasing how they use data analytics to reduce cyber risk, work more efficiently, and save costs. At Splunk we believe that it's important that "we make machine data accessible, usable and valuable to everyone" and this year we had an awesome mix of speakers to showcase this; we had admins who keep IT on-prem and running in the cloud, security managers operating a SOC, CISOs who have to plan a security program, communicate cyber risk, and justify investments to the board. We also had business leaders in need of business capacity management, and bringing transparency into business processes supported by information technology systems. Want to know more? Check out the customer stories that took the stage at this year's SplunkLive! Munich and SplunkLive! Frankfurt...
Fresenius
Marius Fetzberger, VP Cybersecurity Strategy Fresenius, shared the security challenges being faced and how the team is set up. The big question is: "Where should we focus first?" David Steng, Senior Manager Cybersecurity Economics, is tasked to make cyber security and cyber risk transparent to the CFO and board of directors. For this, they created a Fresenius Global Risk Score and shared the methodology of how it is calculated and the use of Splunk Enterprise Security. Also on stage, Daniel Speth, Senior Manager Cyber Analytics and Response shared how Fresenius uses Splunk Phantom for security automation and Ransomware use cases.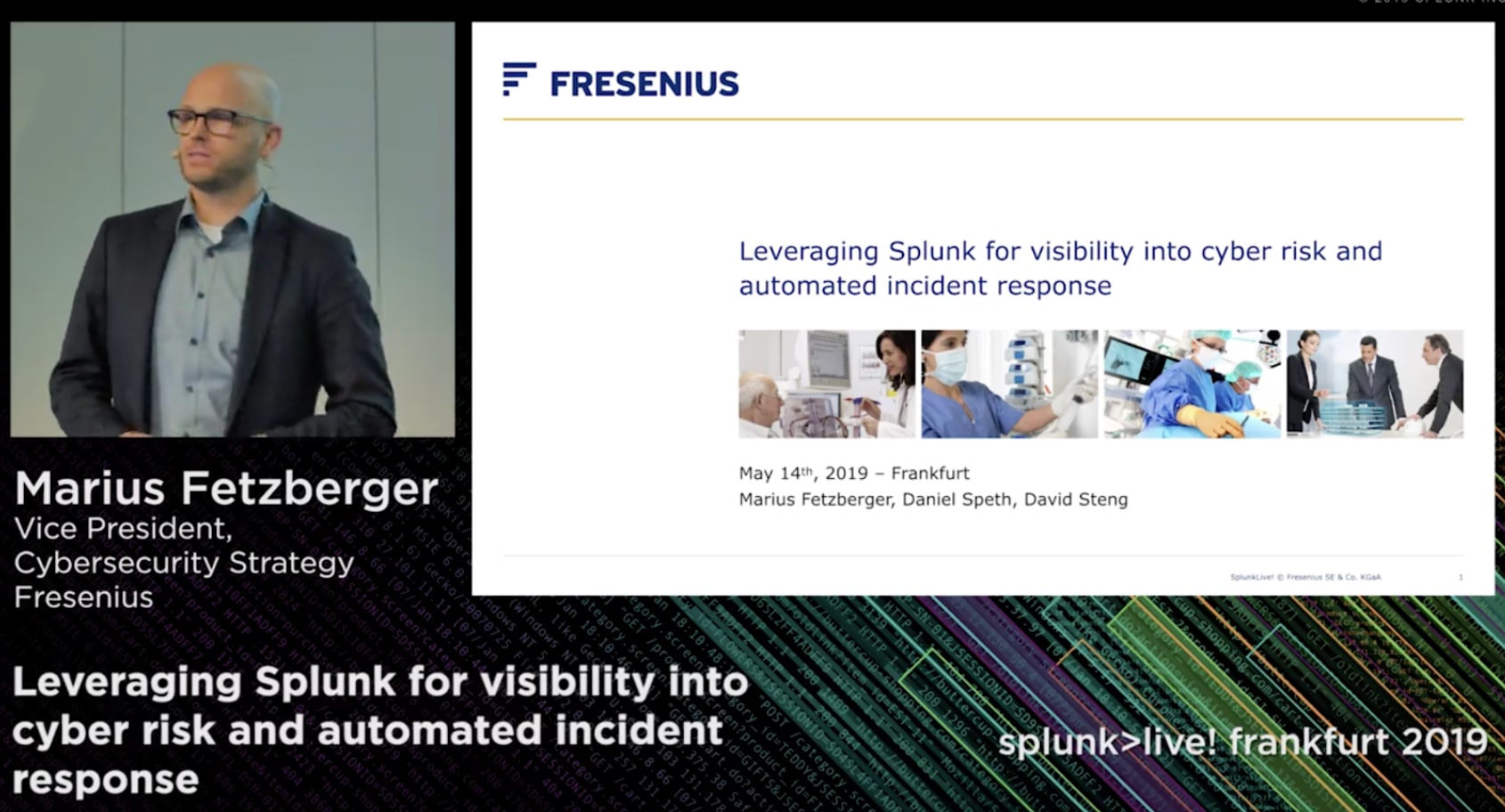 Generali Insurance
Stephan de Veen, Splunk Administrator at Generali, shared the organization's Splunk journey which started in 2013. From 20 Splunk users and a departmental solution initially, it has grown beyond 600 users with over 4,000 systems sending data in. Stephan shared the team's use on NMON Performance Monitor, usage in other departments, as well as insights into how Splunk helps teams to work better together with their global IT service provider.
DACHSER
Christian von Rützen, Department Head IT Security at Dachser, shared how it introduced Splunk as a SIEM and how it's being used today. Dachser has around 700 employees within IT, is ISO27001 certified since 2011 in their corporate IT, and maintains a mature IT compliance, risk assessment and audit practice. Christian shared Dachser's decision process for a SIEM, evaluation best practices, and why they ultimately chose Splunk. Additionally, he shared how through the MISP Platform, how his team are exchanging with the German BSI IoC's - which is exclusive for providers of critical infrastructure (essential service providers). Christian also gave insights on how data privacy has been mastered and agreements made with the worker's council.
Porsche
Berkin Aksoy, Service Expert Splunk at Porsche, shared why and how around 300-350 employees are using their Splunk Platform for various use cases - from creating transparency in the business, saving work and time efforts, to saving costs through tool consolidation in one platform. He shared strategies for scaling data analytics adoption for reporting IT and Business Applications, as well as critical End-to-End Monitoring for order transactions with automotive suppliers.
DHL
Dr. Peter Schulz-Rittich, VP Product Management at Deutsche Post DHL shared the organization's Splunk usage to measure, benchmark and improve logistics services in high growth countries. He highlighted a set of operational intellgience use cases, such as measuring service quality in business analytics to gain a deeper understanding of customer behaviour, and real-time visibility to gain key operational and customer KPI's for peak management, process disruptions, and providing proactive customer service.
Otto Group
Andre Pietsch, Product Manager and long-term Splunk Admin at Otto Group, gave insights into the practical use of Splunk's new premium app, "Splunk Business Flow". Otto has around 1,000 users accessing Splunk, from application monitoring in development and EU DSGVO, and BaFin end-to-end process and transaction monitoring, to fraud detection use cases. With Splunk Business Flow, Andre explained how Otto Group analyzed critical digitalized processes like calculating conversion rates, or running A/B tests and giving those results to the business. For example, Otto is using Splunk Business Flow for measuring GDPR delete requests and its processing, to ensure the company stays within its response times.
To all of the speakers - thanks a lot for sharing your stories! We're already looking forward to 2020!
Matthias