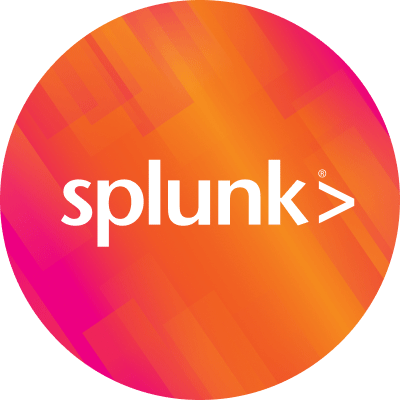 By Splunk November 13, 2015
UPDATED — February 2016
Register now for our webinar: Driving Efficiency With Splunk Cloud at Gatwick Airport
Date and time: Thursday, February 18, 2016 (2:30 am PT / 10:30am GMT)
Duration: 1 hour
Description: Discover how Gatwick Airport, the busiest single runway airport in the world, uses Splunk Cloud to gain a real-time view of the performance of terminals and the airfield, ensuring a high degree of efficiency for a record-breaking 925 daily flights and 38 million annual passengers.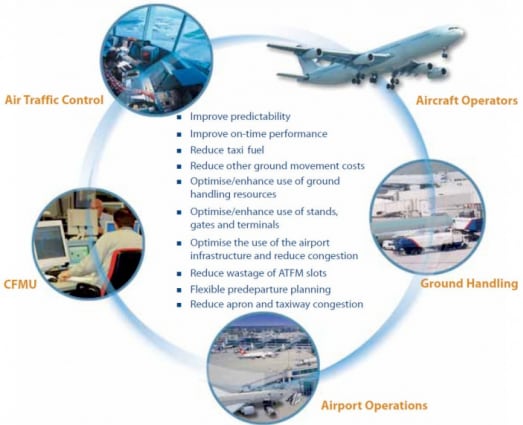 At Splunk .conf2015, Joe Hardstaff, Business Systems Architect at Gatwick Airport, spoke about the challenges his organization faced as an airport, trying to compete with other local airports with more runways. To give us background on the size of Gatwick Airport, he shared the following stats (you can share them too):
Gatwick is the busiest single-runway airport in the world hosting 925 flights per day
By 2016, the airport will have serviced 40 million passengers
52 airlines flying to 200 locations in 90 countries (more destinations than any other UK airport)
Hardstaff explained that to set themselves apart, his colleagues developed an on-time efficiency solution for Gatwick to allow for an increased number of slots/flights per hour.
However, the problem Gatwick still faced was IT architecture monitor processes, specifically: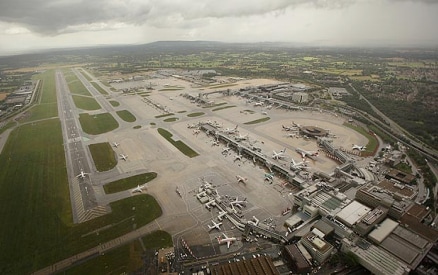 Radar – Zoned, Finals, Landed
Flight Information Displays
Resource on Stand
Stand Entry Guidance System
Fixed Electrical Ground Power
Steps & Air-bridge Attached
Service Vehicles Geo Tag & Fence
Baggage Reconciliation System
People Counting System
Electronic Flight Progress Strips
Airport Operational Database – Flight Status
Gatwick implemented Splunk Cloud in July 2014. In doing so, Hardstaff's team realized that combining ops data in Splunk Cloud gave them the agility and scalability they needed while providing insight into airport performance.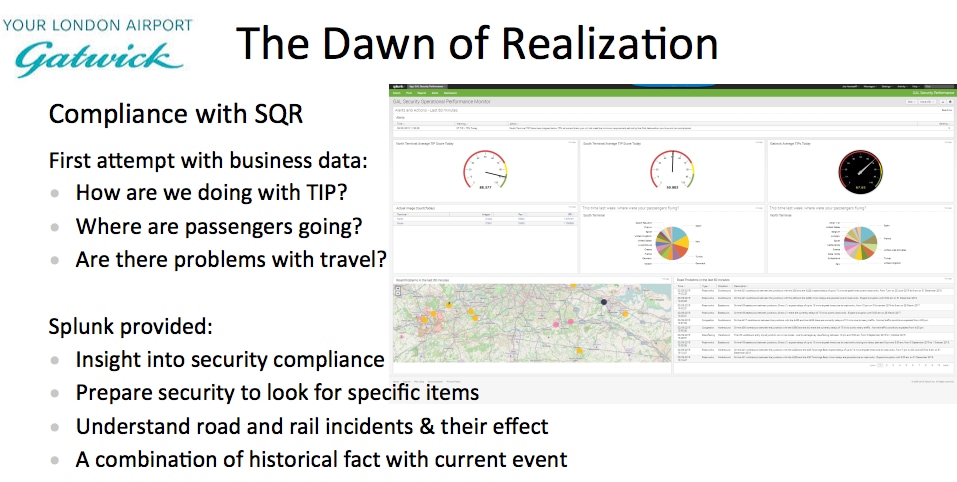 You can see how Gatwick used Splunk Cloud to increase efficiencies and dependability in the IT architecture and processes in the recording and slide presentation below.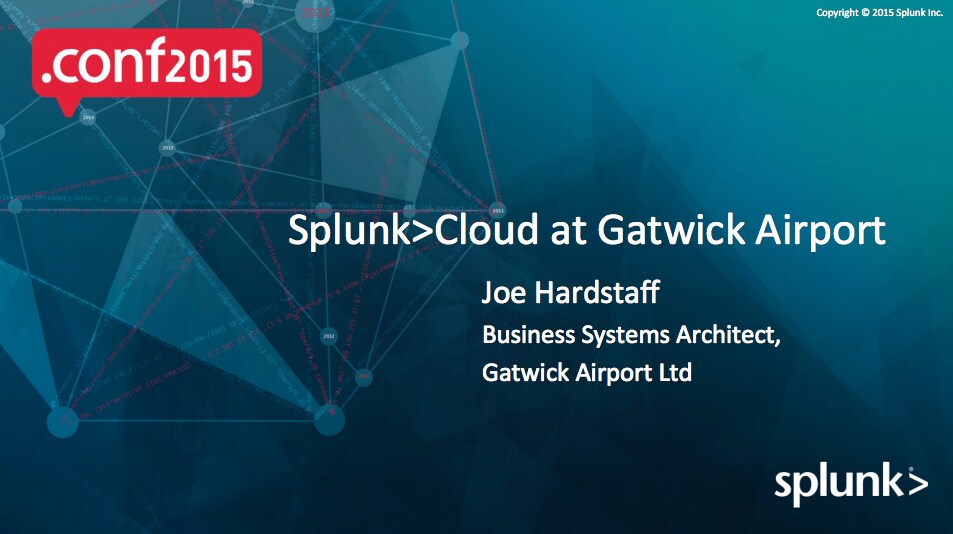 For the full recording, check out:
Driving Efficiency With Splunk Cloud at the Busiest Single Runway Airport in the World.
All presentations from Splunk.conf2015.
Related Reads:
TechWeekEurope UK: How Splunk Is Helping Gatwick Airport Keep Up The Heathrow Rivalry
V3.co.uk: Gatwick's IT future will take off with cloud-powered predictive analytics