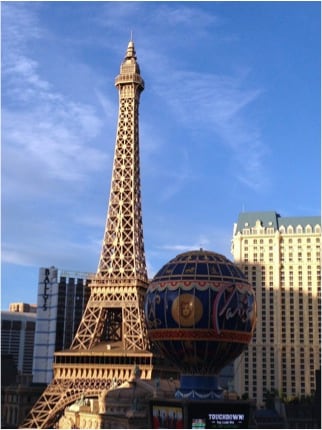 I've just got back from Splunk's .conf2013 in Las Vegas (my first .conf) and it was quite a week.
It was my first time to Las Vegas so after getting over the hot air balloon alongside the Eiffel Tower which was opposite a pirate ship which was next to a water volcano – the conference began in earnest on Monday.
There was a great buzz around the whole show. Splunk pretty much took over the Cosmopolitan Hotel so you ended up with an interesting mix of gamblers, people from the pool party and customers proud of their Splunk t-shirts stating "Data Models > Dating Models".
The numbers
2000 – the number of people at the conference from all over the world
3 – Where #Splunk and #Splunkconf were trending on Twitter on Tuesday morning
500 – people attended the Splunk University on Sunday and Monday with courses ranging from advanced security through to development and dashboard building.
130 – the number of different sessions covering everything from Hadoop to security to mobile to cloud to customer experience to how to Splunk your FitBit data.
15 – the number of breakfast muffins and Danish pastries that I ate (due the highly addictive substance they appear to have laced them with)
The customers
We had a lot of Splunk users speaking at the event and that included a number of EMEA customers such as:
Vodafone – how they used advanced data visualization techniques to extract value from real-time information about how customers buy digital goods on their devices
UniCredit – how they achieve Operational Intelligence and their "Big Data Journey from Daily Troubleshooting to Business Analytics"
Credit Suisse – How they deployed Splunk Enterprise across a global financial institution
John Lewis – How they use Splunk for application management and getting improved insight about the billion pound a year website of the UK's largest department store and leading omni channel retailer – they told their Splunk story about customer experience here.
Worldpay – "Securing Splunk for the Enterprise – How to Keep Accreditors Away from Your Splunk"
Swisslos – their first impressions of using Splunk 6 and its new features including Pivot, Data Models and the Analytics Store
Yota Play – "Splunk as a BI Tool: Business Metrics to Know Everything about your Product"
Between them they covered the whole range of Splunk use cases and shared a lot of industry knowledge across FS, Telco, Retail and Media. A special thank you to those who spoke.
The products
There were a number of big product announcements. In the order they were announced:
Splunk Enterprise 6 – the goal of this release is to make big and machine data available for everyone.
To enable the business user we've introduced the data model (to abstract away underlying complexity), Pivot tables (if you can use a pivot in Excel – you can use it in Splunk) and the high performance analytics store (enabling significant performance increases over Splunk 5). The Splunk 6 UI has been made much easier to use and there are all kinds of improved ways to visualize the data. To enable IT and operations, the management of large scale Splunk deployments has been simplified. If you're a developer then we've spent a lot of time on the REST API, Web toolkit, SDKS and developer environment. There is a good DevOps overview here and an overview of Splunk 6 here
Splunk Cloud
We announced the launch of Splunk Cloud – powered and running on AWS. To quote James Staten from Forrester – "Splunk Cloud – same Splunk value – no on-premise requirement" You can read more about it here. We've also updated Splunk Storm so that it is now free with 20GB of storage to enable you to build, monitor and analyze your apps.
Splunk for Mobile/BugSense
We got more insight into how recent acquisition, BugSense, will extend Splunk Enterprise and provide analytics for machine data generated by mobile devices. Splunk for Mobile Applications looks like it will add a lot of value to mobile app performance, app quality, troubleshooting and usage based on data from all major mobile platforms, including Android, iOS and Windows Phone.
Hunk – Splunk Analytics for Hadoop
We had a great demo that shows how Hunk can bring value to an organization's data at rest in Hadoop. We put a data scientist with a command line up against Hunk – a highly entertaining experiment. You can read more about Hunk here or watch the short video here
Splunk for Unix
There was a demo of the new version of the Splunk for Unix app (more here) with new out of the box alerting capability, service-based hosts grouping, and easier management of many data sources. The visualizations of the Unix data were really impressive and made good use of the new Splunk 6 UI.
Splunk for VMWare
You may have seen the new version of the VMWare app announced a few weeks ago – the nice touch was that everyone at .conf was given a free license for the product as a thank you for attending. You can see the VMWare app in action here
The Internet of Things
We had a run through of some of the new ways Splunk is being used and there was a strong Internet of Things theme running through it. There were many examples of how Splunk is being used to get value from the machine data from electric cars, buildings, flood sensors, airliners, home energy management, personal activity monitoring etc. There were some great real life examples of this in the solution showcases with light switches, magnets and temperature sensors all being managed and driven by Splunk.
Security
Not so much a product announcement but a second keynote of the first day from Prescott Winter, former CIO and CTO of the NSA. He gave an interesting insight into the world of security and advanced persistent threats best summed up with the following quote
"The essence of cyber security problem is to be able to see what's happening in your enterprise well enough to catch activities quickly and stop damage before it becomes unacceptable. If you can't see it, you can't protect it. See everything to protect the right things."
The awards
There were a few awards given out last week both at .conf but also by a number of publications. At the .conf party – we gave out the Splunk Revolution awards – congratulations to Darren Dance from Worldpay who was awarded "Splunk Ninja" and Aleem Cummins from John Lewis who was awarded the "Splunk Enterprise" award.
Splunk was also recognized as "Most Innovative Big Data Solution" by ComputerWoche magazine. Also, TechTarget readers chose Splunk as the "Best of SIEM" 2013 award.
Leaving Las Vegas
All in all, a great event and way too much to write about. I liked the summary from Nick Booth who described the event as a turning point for machine data and Splunk as the company that wants to make it easier for us to talk to machines – sort of a Digital Dr Dolittle.
I'm already looking forward to next year. Also – The Cosmopolitan Hotel was great if you're in Las Vegas – the views weren't bad…

I'm at SplunkLive South Africa next week – if any of you are around, it would be good to see you there.
Thanks for reading