By Keegan Dubbs August 14, 2017
If you're like most companies out there, you've got a strategy for migrating applications and workloads to the cloud. But the process is not always seamless, and there are pitfalls if you aren't careful.
To help you navigate your cloud journey, today Splunk announced the availability of Splunk Insights for AWS Cloud Monitoring. Splunk Insights for AWS Cloud Monitoring provides organizations with end-to-end insights into security, operations and cost management—from the critical point of migration to long after deployment on AWS. All for as little as $4 per day*.
Splunk Insights for AWS Cloud Monitoring is built on the trusted power of the Splunk platform and can be deployed via AWS Marketplace to correlate data across hybrid environments, from a single platform with prebuilt dashboards and visualizations powered by the Splunk App for AWS.
As you navigate your cloud journey from planning, to migration execution, to monitoring after the fact, here are three things to keep in mind...
It's entirely possible that even though an app or workload ran fine on-premises, it won't be stable in the cloud. You'll need to migrate your workload to the cloud, monitor it and then troubleshoot it in the event something breaks.
In the below scenario, Buttercup Enterprises—my favorite fictional company—just migrated its web service to AWS and we got a call that some customers are experiencing outages.
From looking at the topology map in Splunk Insights for AWS Cloud Monitoring, I can pinpoint that I might have some unattached EBS volumes. We're going to dig into that further, see if it's impacting customers, and resolve the issue.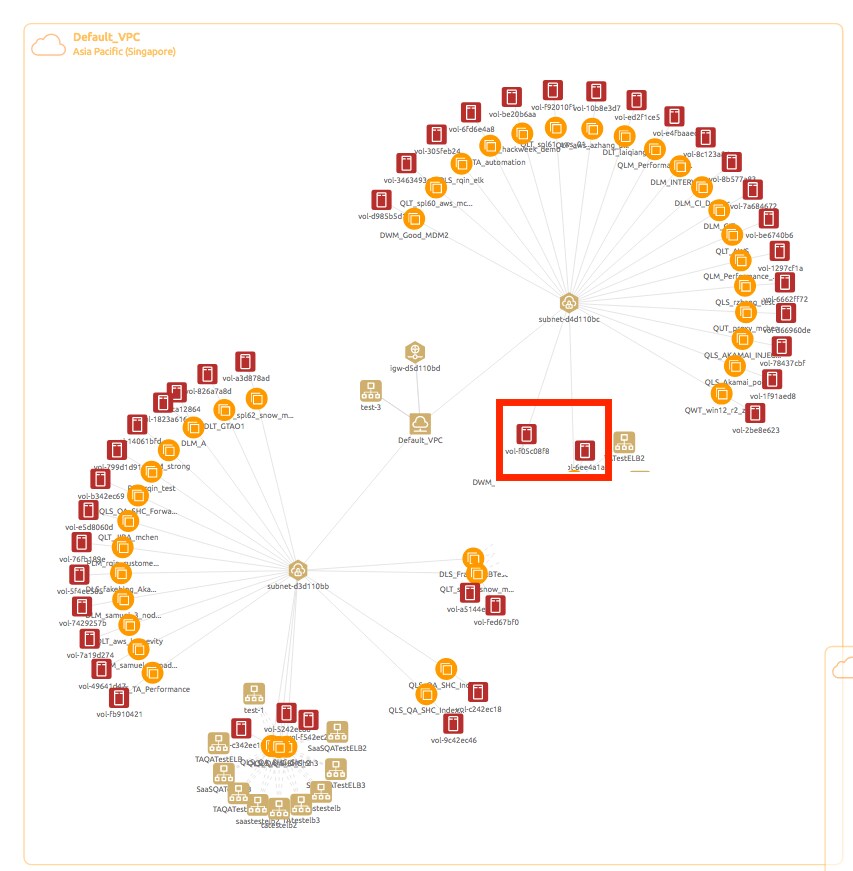 Image 1: Splunk Insights for AWS Cloud Monitoring Topology Map powered by the Splunk App for AWS
2. Are you secure? How do you know?

Imagine that you've just migrated your application into AWS. Great!... Well, how do you know that there are no unauthorized access attempts or simultaneous logins from disparate locations? Without the ability to monitor AWS audit activity, unauthorized users, and key-pair and security group violations, this can be a pretty tedious and intensive task.
The good news is that with Splunk Insights for AWS Cloud Monitoring, it's as easy as looking into the user activity dashboard under "security."
Image 2: User Activity Dashboard showing 121 error activities and 101 unauthorized activities
Uh-oh...it looks like Buttercup Enterprises has a pretty high number of error activities and unauthorized activities. We better dig into that one!
With Splunk Insights for AWS Cloud monitoring, we can investigate the raw cloudtrail event data by clicking on the dashboards. Dang, it looks like a few rogue users are attempting to delete users. We'd better have security jump on that right away.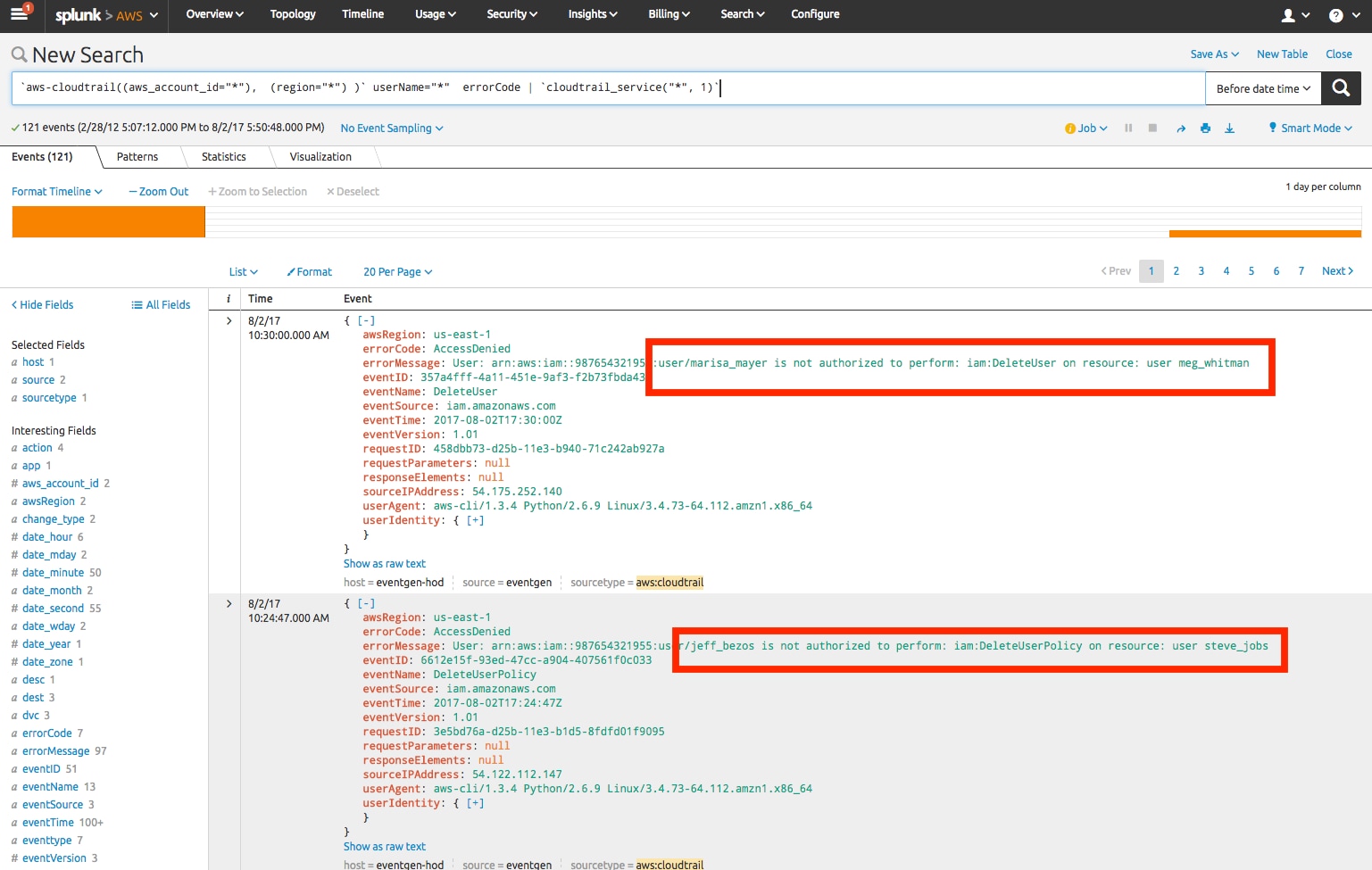 Image 3: SPL search of the cloudtrail sourcetype showing 2 unauthorized user activity events
3. How can you manage costs more effectively?

You've restructured your apps into a microservices architecture and you've successfully migrated everything—great, you're cooking with gas! But wait, how can you optimize your costs?
With Splunk insights for AWS Cloud monitoring, you can easily see how much is being spent on services right from the overview page. In the example below, you can see that Buttercup Enterprises had a pretty hefty overage last month. Luckily, it looks like we are on-track for August.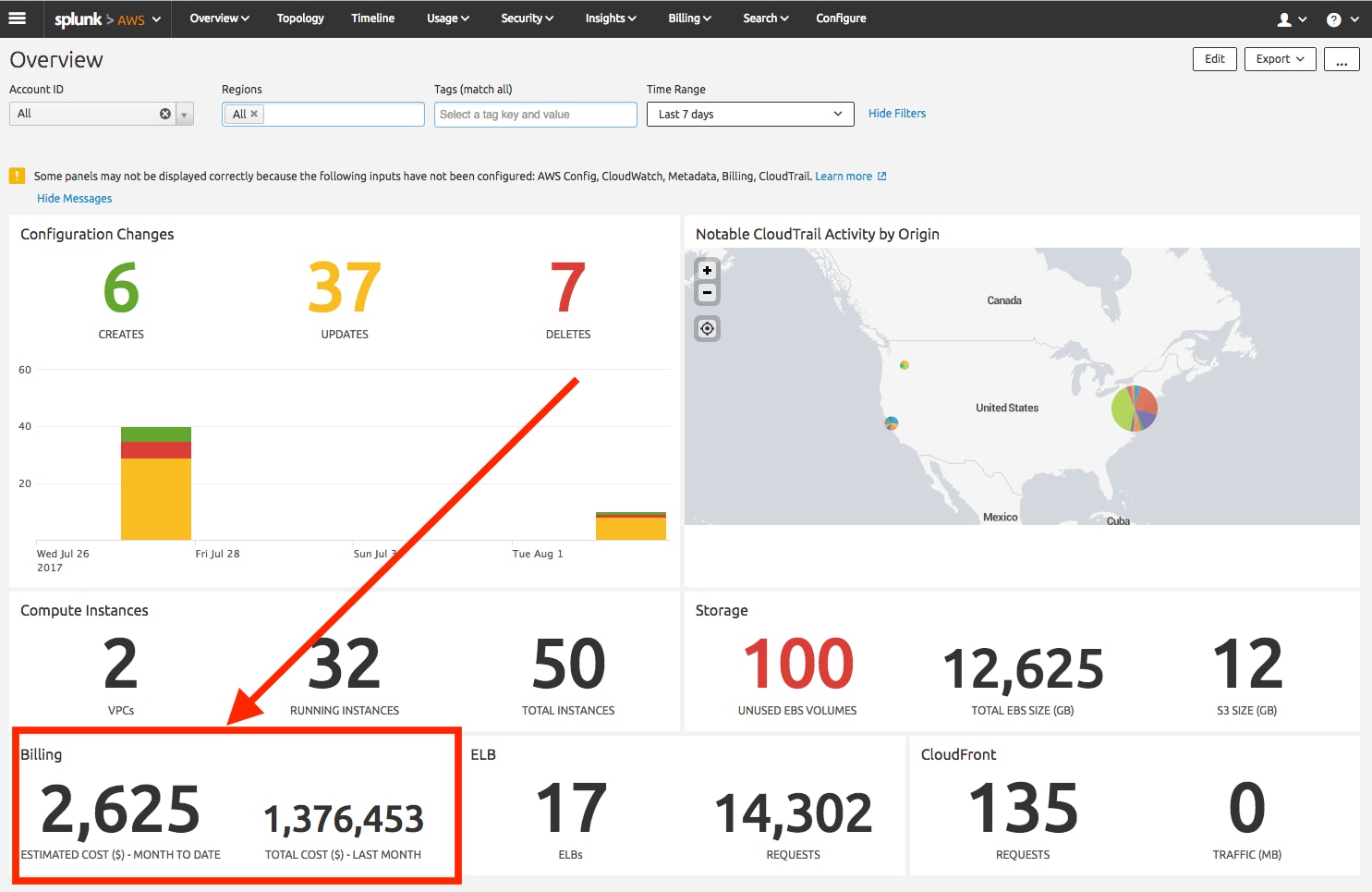 Image 4: Overview Dashboard within Splunk App for AWS showing last month total cost of $1.4MM and estimated monthly costs to date of $2k.
Additionally, with the reserved instance planner, we can optimize our costs and purchase compute in advance by buying reserved instances instead of instances on-demand. Using historical data, we can use the reserved instance planner to look at the usage history for a particular instance type.

Image 5: Reserved Instance Planner Dashboard allows users to optimize costs by purchasing reserved instances instead of instance on demand.

Image 6: Predictive analytics powers the Reserved Instance Planner Dashboard to predict instance spend based on historical data.
Splunk then takes our historic data and uses predictive analytics to estimate our future usage over the course of the year. We can update the estimates based on seasonality and then use the planner to purchase instance upfront, partially upfront or not upfront. The reserved instance planner will then suggest purchasing options for us to optimize our costs—in this case, buying 6 reserve EC2 instances.
In conclusion, when migrating workloads to AWS you need to think about your operational, security and financial visibility. To help you make your cloud transitions both successful and stress-free, the Splunk Insights for AWS Cloud Monitoring simplifies data collection and analysis with prebuilt dashboards and visualizations, making it easy to get insights into the mission critical workloads you're running or migrating to AWS.
If you're interested in getting started with Splunk Insights for AWS Cloud Monitoring, try it free for 30 days.
*The $4 per day price estimate is based on an annual term license fee of U.S. $7,500 for up to five users for indexing up to 10 gigabyte of data per year using Splunk Insights for AWS Cloud Monitoring software. Note that this offering is available only as a term license on an annual basis and you will be billed in the beginning of each anniversary [if renewed].