By Matt Davies February 28, 2014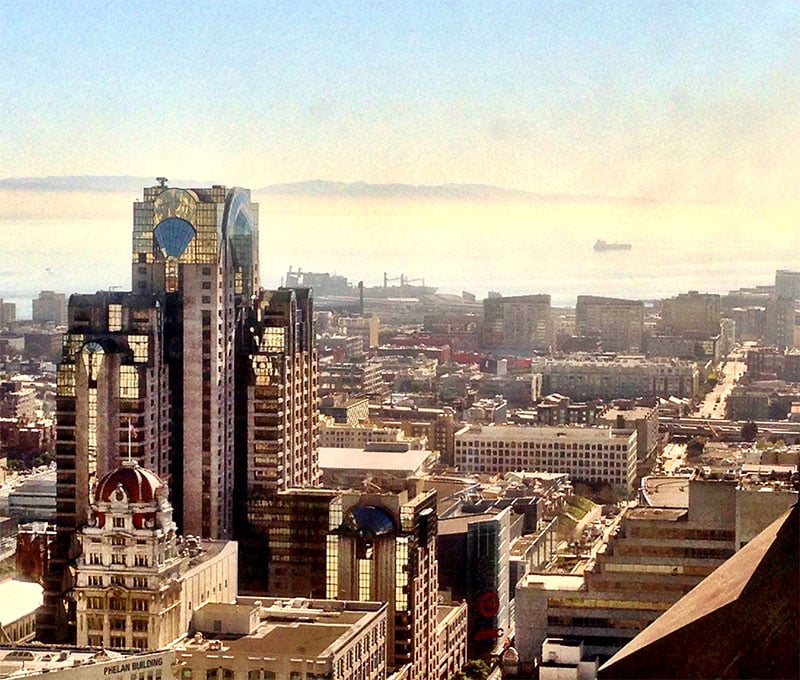 I was lucky enough to spend last week in San Francisco for the Splunk Annual Sales Kickoff – always nice to spend some time "Sitting by the dock of the bay" (or at least the Union Square Westin Hotel). Having watched Pacific Rim on the plane I was expecting something to come out of the fog and take out the Golden Gate Bridge…
While I was there, we had the great news that Splunk had been nominated for "Cloud management product of the year" at the UK Cloud Awards. The basis for the award was the work we'd done at UCAS and Cognia and how they manage their AWS, Azure and cloud based applications in Splunk.
The great news was that UCAS and AWS were also up for awards. UCAS were nominated for "Best Public Sector Project" for their A-Level results project. AWS were nominated for "Best Cloud Provider of the Year".
For those international readers who might not know UCAS, they are a charitable organization responsible for managing applications to higher education institutions (HEIs) in the UK on behalf of its university and college members. It processes over 650,000 applications from students each year.
Although UCAS is active year-round operating application services, the service peaks in mid-August on A level results day as students log into Track, UCAS' online application system, to find out whether they have been accepted into their chosen university or college. This places much more pressure on UCAS' IT infrastructure than any other point of the year.
You can read more about how UCAS use Splunk and AWS in the case study we recently published. (There's a case study for Cognia coming soon so keep an eye out for that – it is a really interesting story about voice based compliance in the cloud).
I'm please to announce that UCAS, AWS and Splunk all won our respective categories. I managed to get a picture of Steve Jeffree (UCAS COO), Ed Jackson from AWS and I with our awards.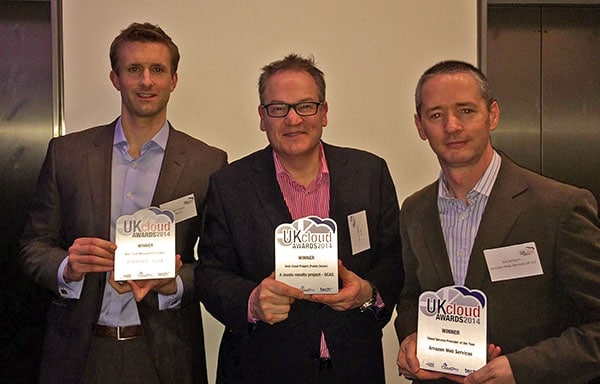 All credit to Steve and Peter Raymond (the UCAS architect for the project) that their cloud architecture and migration went so well with such positive results at their peak time of year (A-level results and clearing day).
If you wanted to find out more – there's a great Splunk for AWS paper. You can download the Splunk AWS App for free and if you want to try out the Splunk AMI (Amazon Machine Image) for free – you can find it here.
As well as all the great things that Splunk does normally, when it comes to cloud management – there are a few things that make Splunk stand out:
Customers are using us to make sense of data generated in all tiers of the cloud (IaaS, PaaS, SaaS) and use it to proactively troubleshoot, monitor cloud health or resolve problems easily.
With capabilities like the pivot table and business analytics in Splunk 6 – we put cloud data in context of business problems with strong visualisation, trending, reporting and statistical analysis capabilities.
Through the use of machine data Splunk acts as a hybrid platform: Customers gain single pane of glass visibility across on-premises and public, private or hybrid cloud deployments with Splunk, getting central views into operational status, security postures, customer analytics as well as any other KPIs related to the business. By combining IaaS data from solutions such as AWS/Azure and virtualisation information with the Splunk App for VMWare, organisations can get a holistic view of hybrid cloud operations.
Cloud-specific apps: There are a number of Splunk apps that customers can deploy alongside Splunk Enterprise to make cloud management simple and intuitive. For example:

The Splunk App for AWS integrates with AWS CloudTrail and offers pre-built dashboards and reports to analyse activity in detail, enabling organisations to accelerate their AWS deployment through increased visibility into user behaviour and resource utilisation, ensure adherence to security and PCI compliance standards and continuously monitor user actions.
The Splunk App for Microsoft Azure enables organisations to monitor their Azure based cloud offering and the applications deployed on it. This app gives pre-built searches and dashboards to assist with the management of Azure based clouds.
The Splunk Enterprise AMI enables organisations to benefit from standardised, pre-configured instances that can be rapidly accessed in the Amazon Elastic Compute Cloud (EC2). Using the Splunk Enterprise AMI, customers can rapidly gain insight from their machine data.
On an amusing side note, the person giving the awards was Piers Linney from the UK TV program "Dragon's Den". The premise of the program (for those who don't know it) is that potential entrepreneurs pitch their business idea to five multi-millionaires (the "Dragons") who decide if they want to invest in their business idea.
My colleague Jenny and I got our picture taken with him holding the award and he asked us what Splunk did – I got the chance to do the 2 minute Splunk pitch to a real Dragon!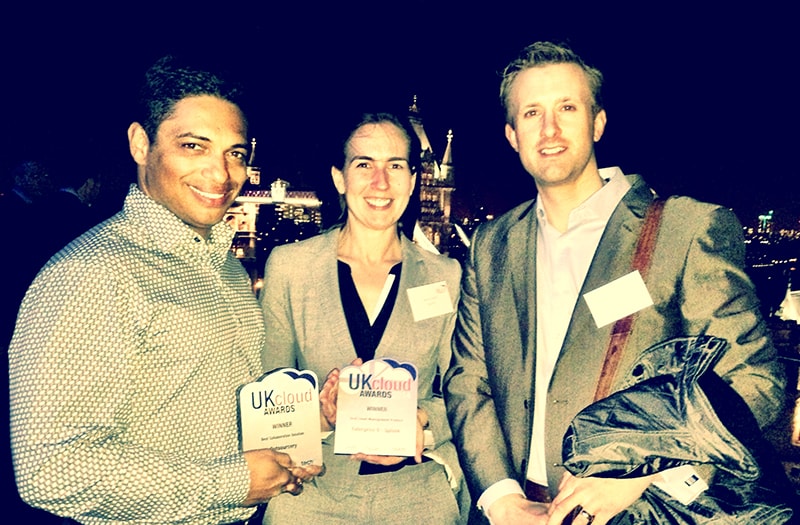 I'll let you know if I make the TV program on Twitter 😉 (I'm @mattdavies_uk).
As always – thanks for reading.